A senseless shooting | REFF, SAM union drives | End no-knocks
Tuesday, February 8, 2022
---
COVID
► LIVE from the Seattle Times — Coronavirus daily news update, Feb. 8 — The latest count of COVID-19 cases in Washington totals 1,382,782 infections (14-day average of cases per day: 12,874) and 11,099 deaths.
► From the Spokesman-Review — COVID hospitalizations high, but declining in Washington — Eastern Washington COVID numbers are expected to peak as early as this week, mirroring the decrease in cases and hospitalizations seen in Western Washington.
► From the LA Times — New COVID-19 sick pay for California workers approved by lawmakers — California lawmakers passed legislation on Monday to provide most workers with up to two weeks of COVID-19 supplemental paid sick leave, a move policymakers hope will slow the spread of the coronavirus across the state.
---
LOCAL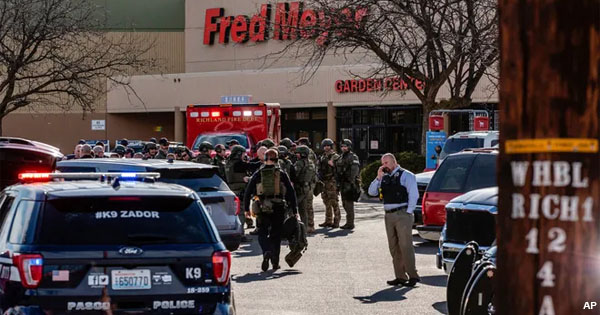 ► From the USA Today — Suspect arrested in 'senseless' Washington grocery store shooting; 1 dead, 1 injured — Police arrested a man late Monday who they said killed one person and wounded another during a shooting inside a Washington state grocery store. The shooting unfolded Monday morning inside a Fred Meyer store in Richland, Wash., after an interaction between the suspect and victim, which was recorded by security cameras, according to police. The wounded person, who is a store employee, was taken to a hospital and underwent surgery, police said.
► From the Tri-City Herald — Shopper describes terror, hiding as shots rang out inside Fred Meyer
TODAY at The Stand — UFCW expresses deep concern in Richland Fred Meyer shooting
NEW: Striking concrete workers in Seattle have shut down the city's $23 billion construction industry.

The @teamsters are fighting for higher wages & better health benefits for retirees.

34 workers walked out in November. Now 300+ workers at 6 companies are on a general strike. pic.twitter.com/d4xSn0FZpM

— More Perfect Union (@MorePerfectUS) February 8, 2022
ALSO at The Stand — Teamsters' concrete strike enters 3rd month with no progress (Feb. 4)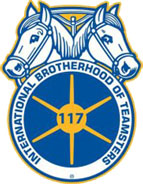 ► From Teamsters 117 — REEF Parking workers at Climate Pledge Arena join Teamsters 117 — Workers at REEF Parking who staff the garages and lots in and around Seattle's new Climate Pledge Arena have chosen to join Teamsters Local 117. The Seattle-area Local Union was authorized as the workers' exclusive bargaining representative through a card check process conducted by an independent arbitrator on Friday, February 4. The group of 28 employees – cashiers, flaggers, valets, and other classifications – cited the need for job security, secure scheduling, and family wages as reasons to come together as a union.
EDITOR'S NOTE — Want job security, secure scheduling, and family wages? Get more information about how you can join together with co-workers and negotiate a fair return for your hard work. Or go ahead and contact a union organizer today!
► From the Seattle Times — SAM security guards join unionization push among museum workers — Security workers at Seattle Art Museum have moved to join a union, part of a growing movement of museum employees across the nation seeking unionization to address concerns including wages, benefits and working conditions during the pandemic. Last month, more than 70% of SAM's 75 internal security workers submitted authorization cards to their employer signaling they would like to be represented by IUPAT Local 116. But there's a hitch: Now the security workers are dependent on SAM voluntarily recognizing IUPAT as the representative of its security workers — something SAM says it's not willing to do.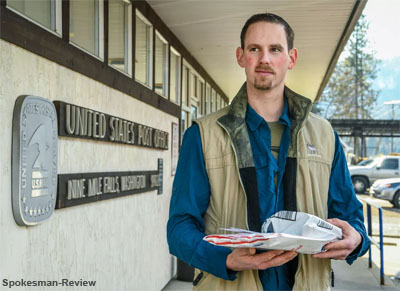 ► From the Spokesman-Review — Rural post worker says root cause of post office staffing shortages started long before COVID — The U.S. Postal Service's worker shortage during the recent COVID-19 surge was worsened by shifts on rural routes that run too long without proper compensation, according to a rural letter carrier whose last day on the job was Friday. Don Sneesby, president of Local 316 Washington and Alaska, and Western region vice president at the National Postal Mail Handlers Union, said the postal service has experienced a 30 -40% turnover rate mostly because it cannot compete with other jobs that pay more and offer better paid leave options.
► From Crosscut — How WA farmworkers push for climate justice amid heat and wildfire — Over the next few days, temperatures crept into triple digits. In Oregon, emergency rules to protect farmworkers go into effect when the heat index reaches 90 degrees Fahrenheit. In California, additional rules are triggered at 95 degrees. But in Washington, second only to California in producing labor-intensive crops like apples, asparagus, hops and berries, the mercury has to hit 100 before employers are required to provide shade or guarantee rest breaks. In an industry notorious for not complying with labor standards and workers' rights statutes, Victoria Ruddy, the UFW's regional director for the Pacific Northwest, was skeptical that those rules would be enforced. So she and the others had organized a heat caravan: They would visit farms around Sunnyside to hand out water, Gatorade, KN95 masks and information on avoiding heat-related illnesses.
---
THIS WASHINGTON



► Subscriber exclusive from the union-busting Columbian — Nurses unions in Washington back safe-staffing legislation — Dangerous assignments are being reported at record rates by hospital workers at PeaceHealth Southwest Medical Center in Vancouver.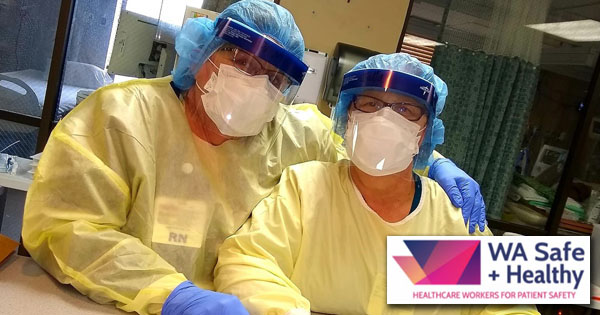 PREVIOUSLY at The Stand:
Video: Why Washington needs safe staffing standards (Jan. 19)
Lawmakers introduce bipartisan healthcare safe staffing bills (Jan. 11)
Nurses to WA State Legislature: Address hospital staffing crisis (Dec. 14, 2021)
ALSO see the WSLC one-pager on this safe staffing bill.
► From the Olympian — Lt. Gov. Denny Heck tests positive for COVID, will work remotely until cleared
► From the AP — WA House quadruples number of lawmakers allowed on floor
► From the Seattle Times — Personal info from WA state licensing agency database may already be on 'dark web'
---
AEROSPACE



► From Bloomberg — FAA proposes shielding Boeing employees overseeing safety — Aviation regulators are taking steps to shield U.S. aviation-industry engineers from the kind of pressures that helped lead to the design flaw on the Boeing Co. 737 MAX linked to twin fatal crashes. The Federal Aviation Administration on Monday proposed new policies that would shield employees at Boeing and other planemakers who act in behalf of the federal government to review safety from company pressures.
► From the AP — Boeing jet deliveries and orders rise from a year earlier
---
THAT WASHINGTON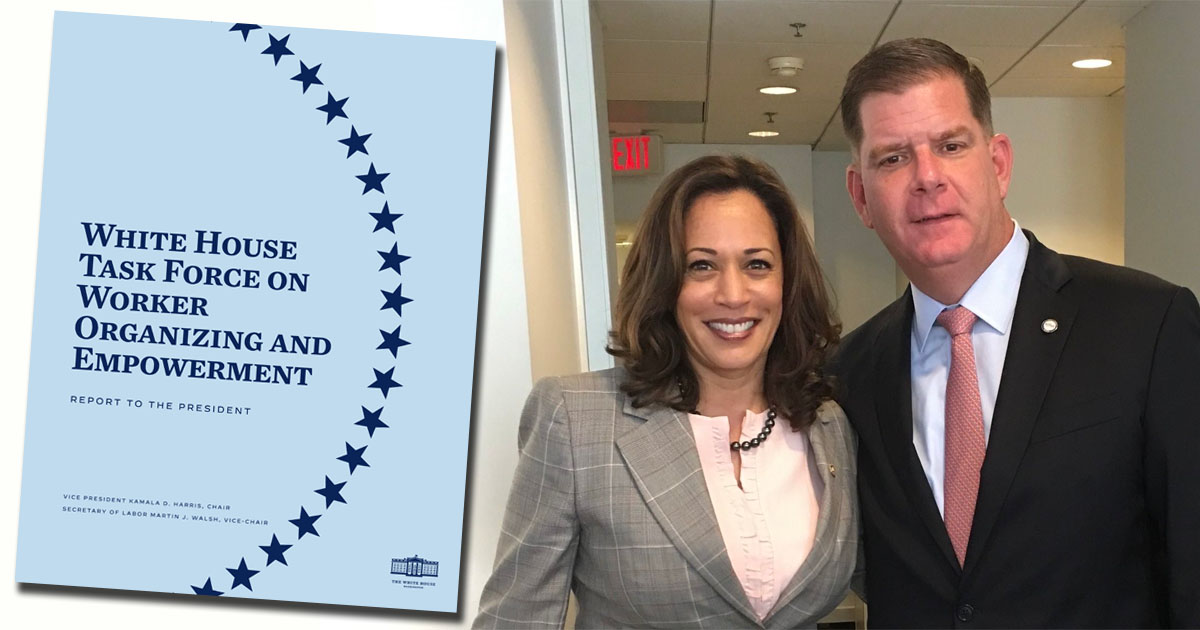 ► From Reuters — Over 300,000 U.S. federal workers eligible for unions, White House says — The White House on Monday released a highly anticipated report from its labor task force that highlights low union participation in the U.S. government, and includes nearly 70 recommendations on how the government can help workers join labor unions and bargain collectively. More than 300,000 employees in the federal government, the country's largest employer, are eligible to join a union but have not, the report said. The government will offer unions seeking to build membership greater access to federal employees, the reports says, and push agencies such as the National Labor Relations Board and the Federal Labor Relations Authority to coordinate on worker organizing.
TODAY at The Stand — White House report calls for bold action to boost unions
► From Business Insider — Schools are struggling to feed kids lunch, and Biden has a solution: Cafeteria workers should be full-time and unionized — It's a measure that could cut down on labor shortages in the sector and give another frontline group the power to bargain for benefits as a collective unit. The suggestion shows how Biden may be rethinking the low-wage work that supported much of the economy pre-pandemic.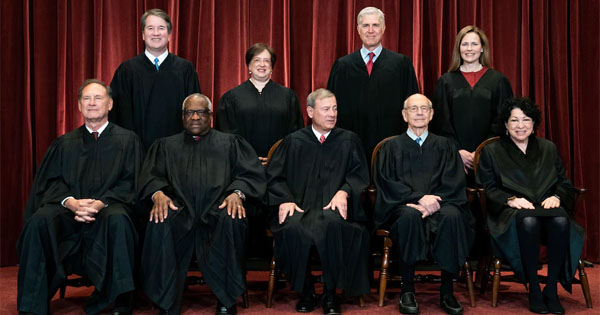 ► From the Washington Post — Supreme Court stops lower court order requiring Alabama to draw a new district voting map favorable to Black residents — A divided Supreme Court on Monday restored an Alabama congressional map that creates only one district favorable to a Black candidate, and put on hold a lower court's order that said a second district was necessary to comply with the Voting Rights Act. Over the objections of Chief Justice John G. Roberts Jr. and the court's three liberals, its five most consistently conservative justices halted a decision last month by three federal judges. The panel threw out Alabama's new congressional map, which included only one congressional district with a majority of Black voters even though they make up more than a quarter of the state's population.
► From Roll Call — Immigration agency extends work permit validity — Refugees and those granted asylum may now renew their work permits in two-year increments rather than having to renew annually, U.S. Citizenship and Immigration Services said Monday in an effort to address lengthy processing delays.
► From the AP — White House: Top scientist resigns over treatment of staff — President Biden's top science adviser Eric Lander resigned, hours after the White House confirmed that an internal investigation found credible evidence that he mistreated his staff, marking the first Cabinet-level departure of the Biden administration.
---
NATIONAL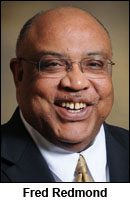 ► From USW — USW International Vice President Fred Redmond announces retirement — United Steelworkers (USW) International Vice President Fredrick D. Redmond today announced that he will retire from the union on March 31, 2022. Redmond will continue to serve as secretary-treasurer of the AFL-CIO alongside federation President Liz Shuler. Redmond's career with the Steelworkers began in 1973 when he went to work at Reynolds Metal Co. in Chicago. He rose through the ranks and served three terms as president of Local 3911 before joining the international's staff in 1998, where he held various staff and leadership roles.
The Stand (Dec. 8) — AFL-CIO's Fred Redmond visits Teamsters picket
► From Forbes — Alaska Airlines exec confronts pilots as they stand silently on picket line — Last week, a top Alaska Airlines executive walked slowly past about three dozen protesting pilots, stopping briefly to engage with each one, before she entered a building where she was about to speak. The Feb. 3 incident, near the Yale Club in midtown Manhattan, was disturbing to pilots. They were arrayed side by side, holding protest signs, wearing masks, not saying anything. To some, the actions of Constance von Muehlen, the carrier's executive vice president and chief operating officer, had the appearance of being an intimidating stare down.
► From the NY times — As baseball fights over the short term, long-term problems loom — Arguments over the sport's financial structure could delay or shorten the season, but owners and players should address a bigger issue: improving the product.
► From the NY Times — What we lose when work gets too casual (by Elizabeth Spiers) — The loss of workplace formalities like fixed start and stop times, managerial hierarchies with clear pathways for advancement and professional norms that create boundaries between personal and professionally acceptable behavior only hurt workers. Though the pandemic-era transformation of white-collar work seems empowering at first, we should not be deceived: Many of these changes mostly benefit employers.
---
POLICE ACCOUNTABILITY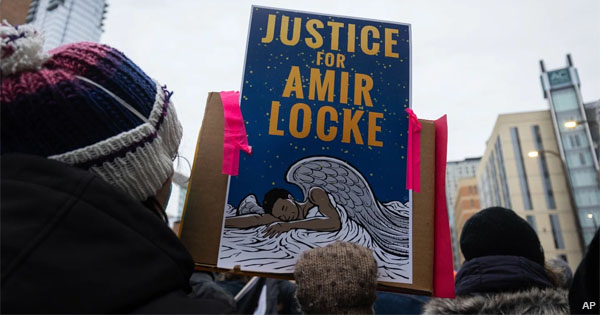 ► From The Hill — New killing reinvigorates national debate on no-knock warrants — A national debate over no-knock police warrants has been reignited by the police killing of Amir Locke, a 22-year-old Black man shot last week during a pre-dawn raid that employed the contentious law enforcement tactic. Locke was shot and killed after SWAT agents in full tactical gear unlocked an apartment door with a key and surprised him while he was laying on a couch under a blanket. His parents, Andre Locke and Karen Wells, said police "executed" their son when he was startled from his sleep and reached for a legal weapon to defend himself. Locke was not the subject of the search warrant that police used to enter the apartment. He had no prior police record and was in possession of a legal firearm.
EDITOR'S NOTE — The AFL-CIO supports passage of the George Floyd Justice in Policing Act, which would ban no-knock warrants, among other things.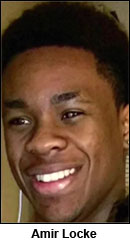 ► From the Washington Post — Once again, the police have killed a Black man for legally possessing a gun (by Eugene Robinson) — There are two infuriating issues in this latest unjustified police killing. As in the case of Breonna Taylor in 2020, the officers who fatally shot Locke were carrying out a no-knock warrant that allowed them to force their way into the premises first and ask questions later. And as in the case of Philando Castile in 2016, the Second Amendment's guarantee of the right to keep and bear arms clearly does not, in practice, apply to African Americans.

---
The Stand posts links to Washington state and national news of interest every weekday morning by 10 a.m.
WASHINGTON IS A UNION STATE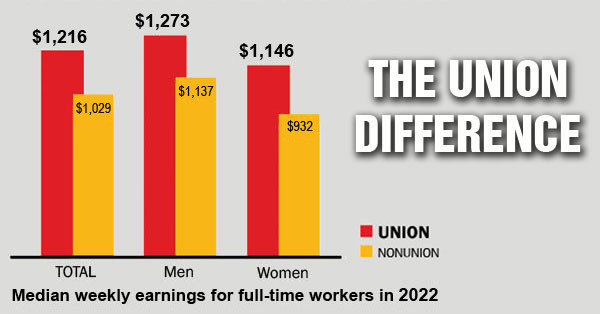 CHECK OUT THE UNION DIFFERENCE in Washington state: higher wages, affordable health and dental care, job and retirement security.
FIND OUT HOW TO JOIN TOGETHER with your co-workers to negotiate for better working conditions and respect on the job. Or go ahead and contact a union organizer today!