For now, keep your mask on | Where's Charlie? | How to help nurses
Thursday, February 10, 2022
---
COVID
► LIVE from the Seattle Times — Coronavirus daily news update, Feb. 10 — The latest count of COVID-19 cases in Washington totals 1,391,026 infections (14-day average of cases per day: 10,649) and 11,194 deaths.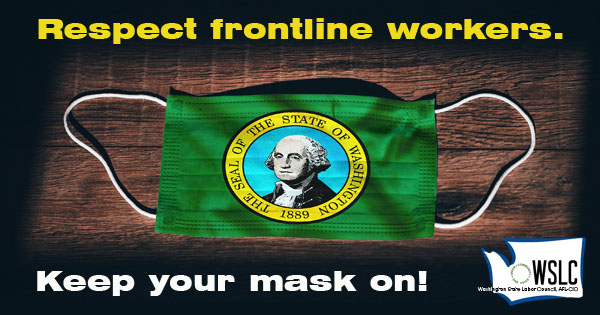 ► From the Seattle Times — WA to end outdoor mask mandate next week, as Inslee considers more actions for indoor requirements — Gov. Jay Inslee said that he expects next week to announce some details for when the state will end COVID-19 emergency mask requirements that cover schools and businesses. He also announced that an outdoor mask requirement for people at gatherings of 500 or more would end Feb. 18.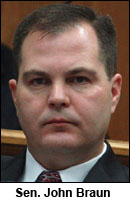 ► From the News Tribune — There's no rush to end WA's indoor mask mandate. Stop putting politics over public health. (by Matt Driscoll) — Barring another alarming COVID variant or surge, an end to Washington's indoor mask mandate is clearly coming soon. It's only a matter of time, which is something Inslee and others have readily acknowledged. Until then, what we're hearing from leaders like Sen. John Braun (R-Centralia) is more of the same: politics over public health.
EDITOR'S NOTE — Meanwhile, in the senator's hometown…
► From the Seattle Times — Centralia warehouse fined $285K for not following COVID rules — With close to 1,000 workers  at the warehouse, United Natural Foods Inc. (UNFI), Capstone Logistics and Prime360 disregarded workers' safety by failing to enforce mask use or verify vaccination statuses, not reporting hospitalizations, and allowing workers who had tested positive for COVID into the workplace, the Department of Labor and Industries said.
The Stand (Feb. 9) — UNFI cited for severe COVID violations at Centralia warehouse
► From the union-busting Columbian — COVID-19 outbreak reported at Larch Corrections Center — Larch Corrections Center was placed on facilitywide outbreak status Monday due to new COVID-19 infections among inmates and staff.
► From the NY Times — Angry customers, more work and longer hours strain pharmacists — Pharmacists and technicians, who have played a critical role in administering COVID-19 tests and vaccines, say they are burned out nearly two years into the pandemic.
EDITOR'S NOTE — Feeling burned out? Get information about how you can join together with co-workers and negotiate for better working conditions and a fair return for your hard work. Or go ahead and contact a union organizer today!
---
CONCRETE STRIKE

► From Teamsters 174 — WHERE'S CHARLIE?! — Yesterday morning, the entire Teamsters Local 174 bargaining committee waited more than three hours outside Gary Merlino Construction headquarters, ready to negotiate a new contract to end the strike that has gone on for 83 days with no end in sight. But Merlino subordinate Charlie Oliver, who is in charge of the company's contract negotiations, never emerged. While the Teamsters asked, "Where's Charlie?" King County Executive Dow Constantine announced that the county intends to take matters into its own hands to prevent such work disruptions from impacting major construction projects in the future. These actions by the Teamsters and the county are certain to increase pressure on the six employers of the striking Teamster workers. These companies continue to hold taxpayer-funded projects hostage, including affordable housing projects that are desperately needed in this region.
The Stand (Feb. 4) — Teamsters' concrete strike enters 3rd month with no progress
► From the PS Business Journal — 15K laborers will soon be idled if concrete strike continues, contractors estimate — Real estate developers and builders on Tuesday called on 300-plus striking Teamsters and concrete companies to return to the bargaining table to resolve the monthslong dispute that has shut down dozens of projects and idled thousands of construction workers, who aren't on strike but whose labor depends on concrete deliveries.
► From KING 5 — West Seattle Bridge reopening could be delayed if concrete union strike continues — The ongoing strike of concrete truckers and drivers is slowing down or stopping major projects in the Seattle region.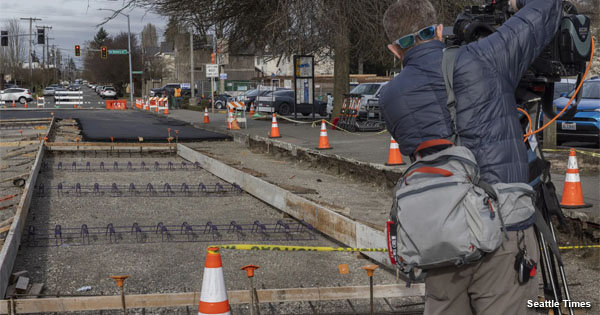 ► From the Seattle Times — King County pushes for end to monthslong concrete strike — As a monthslong concrete-mixer driver strike threatens government projects and thousands of construction jobs, King County officials hope an exclusive multimillion-dollar proposal can jump-start talks between six Seattle-area concrete companies and their unionized workers. The county is soliciting bids from concrete companies to become the county's exclusive suppliers for at least three years. The catch: to qualify, companies need a union contract with their workers. King County Executive Dow Constantine said:
"My sincere hope is that by having the opportunity to really secure the business for themselves — $30 million over the course of next three years, much more in the future — that they will understand that there are larger issues and really more money at stake than what's represented in the relatively minor differences between the Teamsters and concrete companies in this negotiation."
The proposal, unveiled Wednesday, represents a last-ditch effort to end the strike, which is creating costly delays on taxpayer-funded roads, light rail lines and other projects. The concrete companies had not commented on the morning announcement by the end of the day Wednesday. The Teamsters welcomed it.
---
SOUTH OF THE BORDER

► From the Oregonian — Portland averts major municipal strike as city, union reach 11th hour agreement — Members of the District Council of Trade Unions accepted a final offer made by the city late last week, which includes a 1.6% cost-of-living adjustment retroactive to last July and another 5% increase beginning next fiscal year. More than 1,100 city employees, from maintenance workers to clerical staff, had been prepared to walk off their jobs beginning Thursday morning.
---
THIS WASHINGTON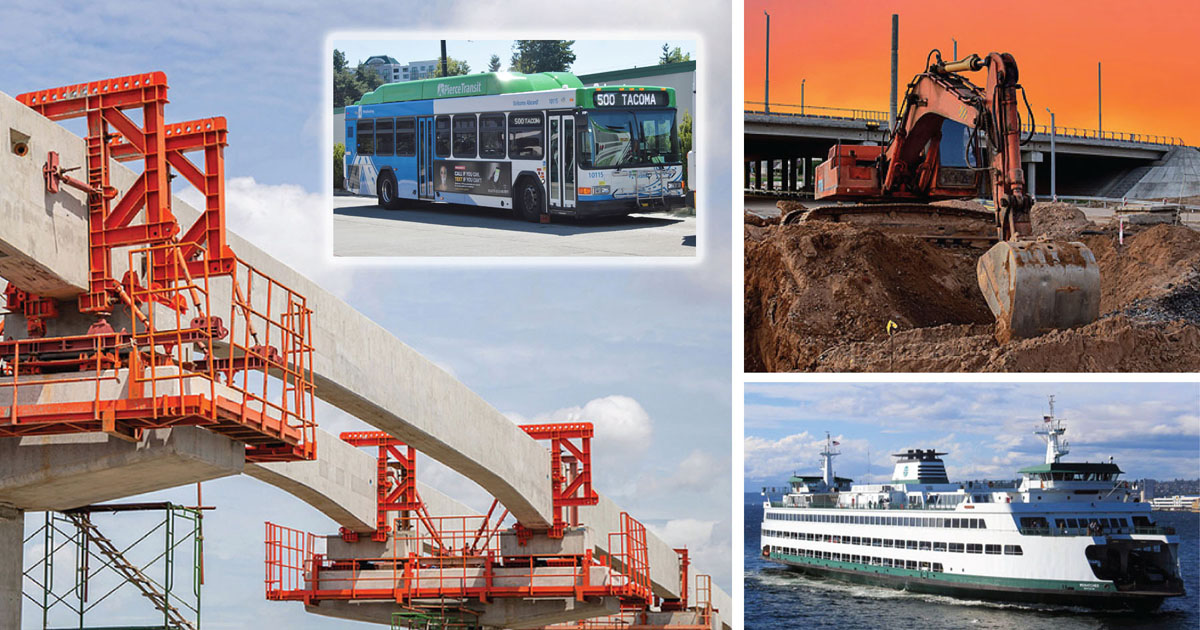 ► From the Seattle Times — We can modernize WA transportation priorities without raising the gas tax (by Sen. Marko Liias and Rep. Jake Fey) — Past transportation investments haven't met our state's modern needs. Without adequate support for aging infrastructure, local maintenance projects have been stalled. Working people sit in traffic because there aren't other options to reach their destinations. Tomorrow's generations are counting on us to take meaningful action against climate change, while today's low-income, Black, Indigenous and people of color, and rural communities confront economic and environmental harm from previous transportation decisions. We deserve better, and that's why we introduced Move Ahead Washington.
The Stand (Feb. 9) — Coalition backs 'Move Ahead Washington' — Labor, business, and environmental interests support Democrats' bold transportation package.
ALSO see the WSLC one-pager on transportation investments.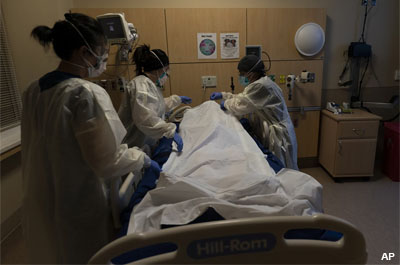 ► From KUOW — A healthcare researcher weighs in on the nurse-to-patient ratio debate — State lawmakers are considering a new law that would set nurse-to-patient ratios at hospitals. A group of healthcare unions called Washington Safe + Healthy is pushing hard for the proposal. They say even before COVID, nurses had way too many patients, which was leading to burnout and poor outcomes for patients. What's the evidence that's true? Patricia Pittman, a health policy researcher at George Washington University and director of its Health Workforce Research Center, said:
"One of the reasons that nurses are leaving is precisely because they feel that they're working in unsafe conditions, and that has everything to do with nurse staffing. The problem is, in the last 20 years, despite this massive evidence base, hospitals have really not been investing in nurses to the extent that is needed to improve health outcomes, and nurses under the current circumstances are fed up. I think if hospitals want to attract nurses back to the bedside, things are going to have to change."
PREVIOUSLY at The Stand:
Video: Why Washington needs safe staffing standards (Jan. 19)
Lawmakers introduce bipartisan healthcare safe staffing bills (Jan. 11)
Nurses to WA State Legislature: Address hospital staffing crisis (Dec. 14, 2021)
ALSO see the WSLC one-pager on this safe staffing bill.
---
THAT WASHINGTON
► From The Hill — Congressional staffers 'have a home in America's unions' — AFL-CIO President Liz Shuler: "To the brave congressional staffers sharing their stories and speaking out for change, we stand with you."
EDITOR'S NOTE — Meanwhile in THIS Washington…
The Stand (Jan. 21) — We must extend bargaining rights to legislative branch employees
► From the Washington Post — Biden to propose 4.6% pay raise for federal employees, the biggest hike in 20 years — Federal employees and military service members would receive average raises of 4.6 percent next January under the budget President Biden will propose in March, marking what would be the workforce's largest salary hike in two decades. The pay increase would follow an average 2.7 percent raise that took effect last month for 2.1 million executive branch workers, as Biden proposed early last year.
► From The Hill — Unions urge Biden to protect airport agents from unruly passengers — Labor unions representing airport service agents on Thursday urged the Biden administration to protect their members from abusive and violent travelers. The unions said that Attorney General Merrick Garland's effort to crack down on assaults against flight crews does not extend protections to airport agents working at gates, ticket and reservation areas and other ground-based locations.
► From Politico — Texas officials bemoan 'lack of foresight' as they struggle with GOP's new voting law — Local election officials in Texas have rejected more ballot applications under their interpretations of guidelines stipulated by the state's new voting laws.
► From the NY Times — The Supreme Court has crossed the Rubicon (by Linda Greenhouse) — You know the Rubicon has been crossed when the Supreme Court issues a conservative voting rights order so at odds with settled precedent and without any sense of the moment that Chief Justice John Roberts feels constrained to dissent… This is no mere squabble over procedure. What happened Monday night was a raw power play by a runaway majority that seems to recognize no stopping point.
---
NATIONAL
► From the AP — U.S. inflation jumped 7.5% in the past year, a 40-year high — Shortages of supplies and workers, heavy doses of federal aid, ultra-low interest rates and robust consumer spending combined to send inflation accelerating in the past year.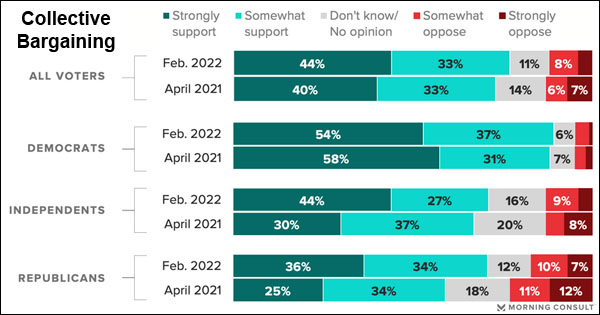 ► From Morning Consult — Amid Amazon warehouse union push, nearly 4 in 5 voters support collective bargaining — Support among registered voters for employees' rights to collectively bargain remains robust at 77 percent, a figure that is virtually unchanged since last year, according to a new Morning Consult/Politico poll. In the survey, nearly half of the respondents were asked whether they backed workers' "right to bargain collectively" for various workplace protections, while the other half were asked simply about their support for "labor unions." Voter support was substantially higher for the former.
► From the NY Times — Starbucks workers in the New York City area seek to unionize — Employees at three Starbucks stores in Manhattan, Brooklyn and Long Island filed petitions by Thursday with the NLRB to organize with Workers United, an affiliate of the SEIU. These locations join more than 60 Starbucks stores that have sought to unionize over the last several months.
► From The Guardian — Target directing store managers to prevent workers from unionizing — At the end of January 2022, Target emailed store management new training guidelines on labor relations to complete, prompting managers to look for warning signs of worker and labor union organizing within their stores and coordinate with corporate human resources to quell union organizing campaigns.
---
The Stand posts links to Washington state and national news of interest every weekday morning by 10 a.m.
Short URL: https://www.thestand.org/?p=105812
Posted by
David Groves
on Feb 10 2022. Filed under
DAILY LINKS
. You can follow any responses to this entry through the
RSS 2.0
. Both comments and pings are currently closed.