Bread and tulips | A+ for Jackson | Who's getting paid at Amazon
Thursday, March 24, 2022
---
TULIP STRIKE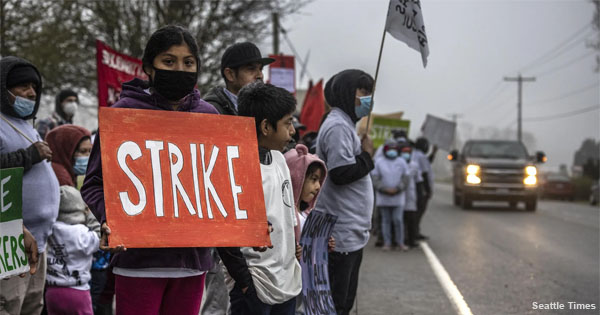 ► From the Seattle Times — Skagit Valley tulip, daffodil farmworkers on strike over working conditions and wages — Rosa Martinez held up a sign over her head Wednesday that read "huelga" — Spanish for "strike" — with hands covered in clusters of sores she says were caused by the caustic liquid daffodils release when cut. Martinez said she and other field workers are left to buy their own medical-grade disposable gloves, which can cost $30 a box, and are only provided a small container of ointment the size of a ketchup packet to treat sores upon request. That and several other complaints prompted Martinez and more than 70 other farmworkers employed by Washington Bulb Co. in Mount Vernon to walk off the job Wednesday morning. With the help of Familias Unidas por la Justicia, an independent union of Indigenous families, the workers are also demanding an increase in wages, guaranteed eight-hour workdays, improved sick leave and safer application of pesticides.
MORE coverage in the Bellingham Herald, KING, KOMO, Skagit Valley Herald.
EDITOR'S NOTE — Get the latest at the Familias Unidas por la Justicia Facebook page.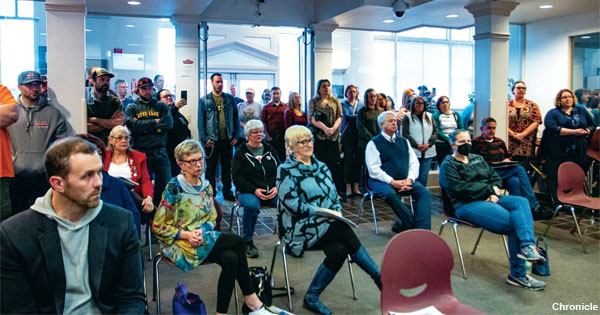 ► From the Centralia Chronicle — Teamsters express frustration at Centralia council meeting — The Centralia City Council chambers had standing room only Tuesday night as city employees spilled out into city hall's entryway in a show of support for the Teamsters union in its collective bargaining pursuits with the city. Rob DeRosa of Teamsters Local 252 expressed frustration with the city's contract-negotiating tactics on behalf of its streets and parks employees:
"Your staff, your employees, are frustrated. We are frustrated because we came in good faith to negotiate a contract. It expired Dec. 31. And we have not gotten the same from the city. I just want to make sure that the council knows what's going on."
► From KIRO — More Starbucks across the country deciding to unionize (video)
EDITOR'S NOTE — Want better pay and benefits? Get more information about how you can join together with co-workers and negotiate a fair return for your hard work. Or go ahead and contact a union organizer today!
---
AEROSPACE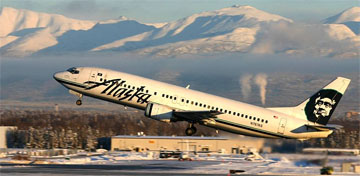 ► From Reuters — Alaska Air doubles down on growth plans — The company said the goal is to expand the fleet from 300 to 400 airplanes by 2025 and increase annual revenue by $400 million within the next five years. Alaska said it will accelerate by six months the retirement of its 150-seat Airbus A320neos, replacing them with 178-seat Boeing 737 MAX 9s and MAX 10s that will have about 190 seats.
@AlaskaPilots are standing in protest @AlaskaAir Investor Relations Day in NYC. While company execs present future financial targets to Wall Street, pilots are making sure mgmt's lack of an earnest effort to address pilot contact concerns is part of that story #ValueAlaskaPilots pic.twitter.com/k1M7oABDCi

— Alaska Airlines Pilots (@AlaskaPilots) March 24, 2022
► From Politico — Former Boeing 737 MAX technical pilot found not guilty in Texas trial — Mark Forkner, a former Boeing employee who was the lead technical pilot during the development of the 737 MAX, was found not guilty by a Texas jury on four counts of wire fraud to deceive officials on the aircraft's performance prior to flight.
► From the NY Times — China Eastern pilots were highly experienced, adding to crash's mystery — Two industry veterans were at the controls of Flight 5735, which took a sudden dive in good weather. At the crash site in southern China, search crews found wing and engine parts on Thursday.
---
SUPREME COURT



► LIVE from the Washington Post — American Bar Association says Jackson is 'A-plus' on final day of confirmation hearings — The ABA says everyone they interviewed used terms such as "brilliant," "beyond reproach," "impeccable" and "A-plus" to describe her.
► From HuffPost — Sen. Cory Booker brings Ketanji Brown Jackson to tears with his 'joy' at her nomination — The Democratic senator noted the "indignities that are still faced" by Black women as the Supreme Court nominee endured ugly GOP attacks at her hearing.
Sen. Cory Booker to Judge Ketanji Brown Jackson: 'When that final vote happens and you ascend onto the highest court in the land, I'm gonna rejoice … The greatest country in the world, the [USA], will be better because of you' pic.twitter.com/QI51Ny3i6v

— NowThis (@nowthisnews) March 24, 2022
EDITOR'S NOTE — Although they dominate this morning's "news" coverage of yesterday's hearing, The Entire Staff of The Stand has no time for the childish, disrespectful antics of certain Republican senators. All you need to know about the motivations of those jackasses was revealed when the biggest one of all was caught checking his social media mentions as soon as he finished, rather than paying attention.
Instead, we'll just leave this right here…
Being the first often means you have to be the best — and the bravest. ? @sbmaneyphoto for @nytimes pic.twitter.com/DSZiawlnDd

— Sarahbeth Maney (@sbmaneyphoto) March 24, 2022
► From the AP — Supreme Court quiet on Justice Clarence Thomas' hospitalization — The Supreme Court declined to say Wednesday whether 73-year-old Justice Clarence Thomas remains in the hospital, though he had been expected to be released by Tuesday evening.
---
THAT WASHINGTON
► From Roll Call — Competition bill could carry high-skilled immigration changes — Both the House and Senate measures would provide funds to boost American manufacturing and scientific research to better compete with China and other global powers. Chief among those differences are a slate of immigration provisions added by the House that would create a new visa category for entrepreneurs and exempt foreign citizens with doctoral degrees in STEM fields from annual green card limits.
EDITOR'S NOTE — If you want to see some high-skilled immigrants at work, follow the United Farm Workers on Twitter:
Omar shared this video of his coworker. He calls her the champion picker because she quickly & agilely fills her baskets w/the berries. Strawberry pickers in Salinas CA are paid by piece rate so they often run in and out of the rows to maximize their time and earnings. #WeFeedYou pic.twitter.com/pjLVfc2vpS

— United Farm Workers (@UFWupdates) March 17, 2022
► From Roll Call — Longshoremen seek workers' comp law change for COVID-19 coverage — Maritime workers must prove they were infected on the job if they want to get workers' compensation when missing work with COVID-19. Because of that hurdle, the AFL-CIO Transportation Trades Department reports that, while the Department of Labor has accepted 86 percent of the COVID-19 claims for federal workers, it accepted only 7 percent from longshoremen and other harbor workers between April 2020 and October 2021.
---
NATIONAL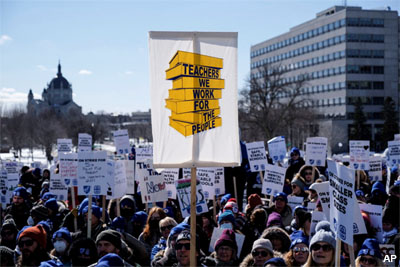 ► From PBS — Thousands of Sacramento teachers strike as Minneapolis walkout continues — Thousands of teachers and other school workers in Sacramento walked off the job Wednesday as the California capital became the second big U.S. school district this month to see a work stoppage over pay and staffing shortages as a teachers strike in Minneapolis entered its third week.
► From the Minneapolis S-T — Minneapolis teachers strike standoff intensifies as talks stall — No negotiations on Wednesday as texts between district official, union president are publicized.
► From Reuters — Union workers at Chevron's Los Angeles refinery ratify contract — Union workers at Chevron Corp's Los Angeles refinery in El Segundo, California, ratified the U.S. oil producer's last, best and final contract offer on Wednesday, the USW said. The ratification comes as USW members at the company's San Francisco Bay-area refinery in Richmond remained on strike for a third day after twice rejecting a similar contract proposal.
► From the Quad City Times — 'On the right side of history': Worker describes end to strike at Davenport defense supplier — The International Association of Machinists and Aerospace Workers announced the end of the strike against Eaton-Cobham Mission Systems. More than 400 members of Local 388 and Local 1191 returned to work Wednesday with a new five-year contract.
---
UNION BUSTING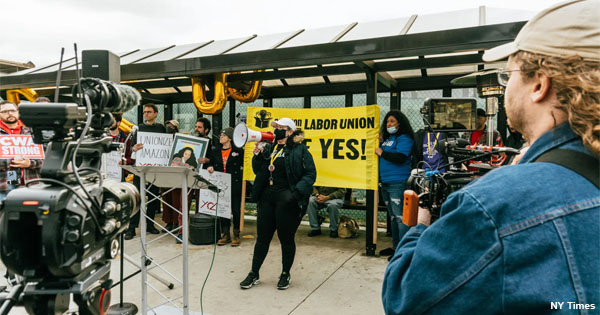 ► From the NY Times — Mandatory meetings reveal Amazon's approach to resisting unions — The company has held hundreds of meetings with workers to discourage them from supporting a union in two upcoming elections. Companies are allowed to hold anti-union sessions, often known as "captive audience" meetings, until a prohibition takes effect shortly before mail-in ballots go out to workers or in-person voting begins. Amazon has typically held more than 20 meetings per day before those deadlines at the two warehouses. In labor board hearings about last year's union election in Alabama, a senior Amazon employee relations official said the company had brought in up to 29 employee relations officials from elsewhere, many of whom led the meetings. Labor Department filings showed that one consulting firm had charged Amazon $3,200 per day per consultant, after expenses, and that Amazon had paid over $350,000 to another consulting firm.
---
The Stand posts links to Washington state and national news of interest every weekday morning by 10 a.m.
WASHINGTON IS A UNION STATE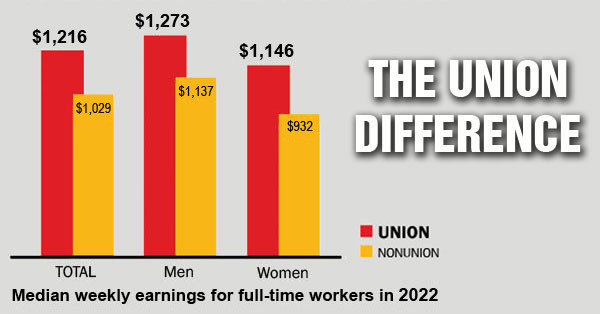 CHECK OUT THE UNION DIFFERENCE in Washington state: higher wages, affordable health and dental care, job and retirement security.
FIND OUT HOW TO JOIN TOGETHER with your co-workers to negotiate for better working conditions and respect on the job. Or go ahead and contact a union organizer today!