Tulip talks begin | Progress in concrete talks? | Radical Elton
Friday, March 25, 2022
---
LOCAL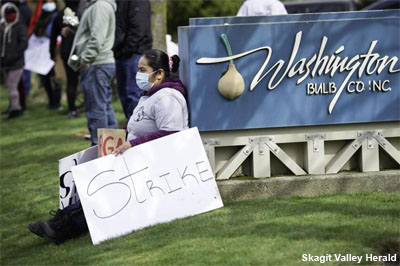 ► Yesterday from the Skagit Valley Herald — Farmworkers continue strike at Washington Bulb Co. — The Washington Bulb Co. worker strike continued Thursday in front of one of the company's daffodil fields on Best Road west of Mount Vernon. An elected committee of seven workers presented management with a petition Wednesday afternoon that stated workers' desire to negotiate a union contract with the company, Edgar Franks, political director for farmworker union Familias Unidas por la Justicia, said. Washington Bulb Co., a commercial grower of bulbs and flowers, rejected the petition and said it would listen to complaints from individual workers, but not from the union.
EDITOR'S NOTE — But last night, FUJ posted this on Facebook: Workers voted to suspend strike and talk with the company. Thanks to those who came out to support and now we try to find a fair solution.
► From the PS Business Journal — Fiery rhetoric overshadows some progress in concrete strike — Wednesday started with hope for forward movement as Teamsters Local 174 and representatives of four concrete-supply companies met to move toward a settlement of the concrete driver strike now in its fourth month. But talks lasted for only five minutes, according to the union, before the employers caucused and then left without saying when they would respond to the union's offer to move negotiations to arbitration. About 90 minutes later, the union issued a statement assailing "Seattle's greedy concrete companies" for delaying an end to the strike. Later, the companies said they need more time to evaluate the offer.
► From KOMO — Amid ongoing concrete strike, reopening date for West Seattle Bridge still up in the air
---
THIS WASHINGTON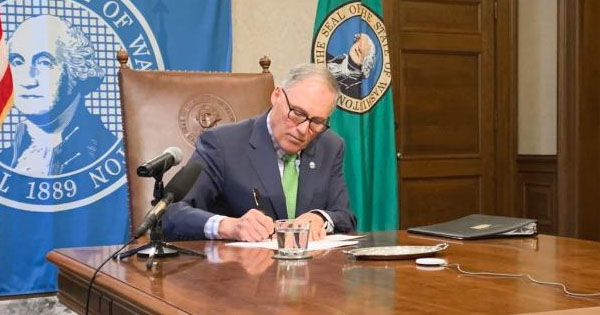 ► From the Spokesman-Review — Get ready for more staff, outdoor school and earthquake upgrades: Inslee signs K-12 bills into law — Gov. Jay Inslee on Wednesday signed a wide range of bills into law to increase funding and support for K-12 schools. Some of the new laws provide money for school support staff, outdoor education opportunities and retrofits for school buildings with high-risk seismic hazards. Inslee said:
"The budget reinvests hundreds of millions of dollars in the education of our kids. These investments are needed more than ever if we're going to close the opportunity gaps, particularly in the light of the pandemic."

► From WSCFF — WSCFF efforts result in passage and signing of LEOFF 1 Benefit Enhancement bill — The Washington State Council of Fire Fighters was instrumental in getting HB 1701 and SB 5791 passed. Governor Inslee has now signed these LEOFF 1 and LEOFF 2 bills that provide substantial benefit enhancements to retired, active and future LEOFF members.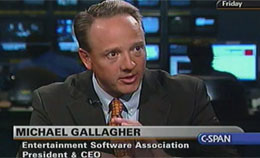 ► From the PS Business Journal — Washington Policy Center names former Bush administration official as CEO — The Washington Policy Center has named Michael Gallagher, a former CEO of the Entertainment Software Association, to lead the conservative think tank. He stepped down from his ESA role in 2018 following an investigation of his management and behavior by board members.
EDITOR'S NOTE — The WPC is a business-funded right-wing organization that seeks to influence public policy to cut taxes for the wealthy, privatize schools, and oppose unions (among other things). Of its new leader, Variety reported:
Several employees described Gallagher as a boss who was very difficult to work with, saying he was seen as manipulative, moody and sometimes nasty. He told at least one person in the game industry that he liked to pit his employees against one another to elicit the best work from them as they vied for his approval. He would occasionally send what sources said were vicious, belittling emails to employees.
Dear WPC staff: Let us know if you'd like to speak to a Union Organizer.
---
AEROSPACE

► From the Seattle Times — FAA tells Boeing it doubts MAX 10 will meet safety standard deadline — In a critical letter to Boeing this month, the local oversight office of the FAA said it will be difficult for Boeing to complete certification of the 737 MAX 10 by the end of this year — a crucial deadline. Given current progress, the FAA letter casts doubt on Boeing's publicly stated timelines for certifying both the MAX 10 and the 777-9X jets, and it asks the plane maker to provide updated schedules for both programs.
► From the PS Business Journal — Alaska Airlines details plans to phase out Airbus, Bombardier jets — Alaska Airlines stepped up its timeline to transition to an all-Boeing mainline fleet and said it planned to phase out its use of Bombardier aircraft on its regional routes.
► From ABC News — Search goes on for 2nd black box in China Eastern crash
---
SUPREME COURT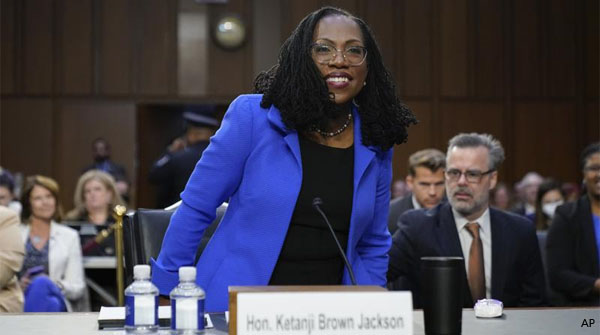 ► From the AP — Supreme Court nominee's 'empathy' is flashpoint for Senate — Empathy is not a quality many Republican senators want to see in the next Supreme Court justice. Traditionally considered an admirable attribute, the ability to empathize with another's plight has become a touchstone for GOP opposition to Judge Ketanji Brown Jackson. They say she sentences criminals — in particular, child pornography defendants — too leniently as a judge, despite fact checks of her record that show she's largely in line with protocol in most cases.
The Stand (March 17) — Take action to support KBJ's nomination
► From the NY Times — Critics of Jackson's child sex abuse sentences backed judges with similar records — Republican senators criticized Judge Ketanji Brown Jackson for imposing sentences lower than prosecutor recommendations in child sexual abuse cases. Other nominees had done the same thing.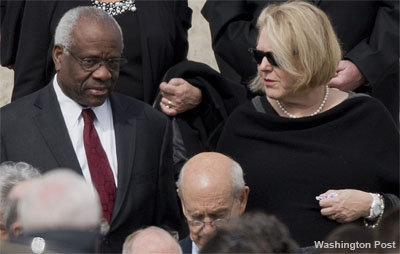 ► From the Washington Post — Virginia Thomas urged White House chief to pursue unrelenting efforts to overturn the 2020 election, texts show — In messages to Chief of Staff Mark Meadows in the weeks after Election Day, the wife of Supreme Court Justice Clarence Thomas called Biden's victory "the greatest Heist of our History" and told him that President Donald Trump should not concede.
► From The Hill — Supreme Court silent on Thomas health status — The Supreme Court on Thursday did not respond to inquiries about the health status of Justice Clarence Thomas and whether he remained hospitalized after being admitted late last week.
---
THAT WASHINGTON
► From the Washington Post — Biden administration to give federal employees time off to vote, work the polls — Vice President Kamala Harris highlights efforts to expand voting access.
---
NATIONAL
► From The Hill — Minneapolis teachers reach tentative deal to end strike — "These historic agreements contain important wins for our students and the safe and stable schools they deserve. These deals are what 4,500 MFT members went on strike for," said Minneapolis Federation of Teachers in a statement.
► From the Washington Post — Thousands of New York Amazon workers begin historic union vote — On Friday, thousands of Amazon workers on Staten Island will have the chance to cast their vote for an upstart union led by a former co-worker. If the vote succeeds, the warehouse would be the first Amazon facility to unionize in the country — dealing a major blow to the e-commerce giant's efforts to keep organized labor out.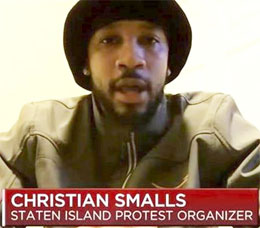 ► From Bloomberg — Amazon fired and disparaged him. Then he started a labor union. — One can argue with his methods—and some do—but it's hard to deny Christian Smalls' achievement. In mid-February and early March, his fledgling Amazon Labor Union won two important victories: approval from federal labor officials to hold a union election at one warehouse and sufficient worker support to hold a vote at a second facility nearby.
► From the Washington Post — Microsoft says it will respect outcome of Activision Blizzard union drive — Microsoft "will not stand in the way" if Activision Blizzard recognizes a union, said the company's corporate vice president and general counsel, Lisa Tanzi, in a statement to The Washington Post on Thursday:
"Microsoft respects Activision Blizzard employees' right to choose whether to be represented by a labor organization and we will honor those decisions."
EDITOR'S NOTE — Nice, but we long for the day that an employer agreeing to obey the law isn't worthy of mention, much less headlines.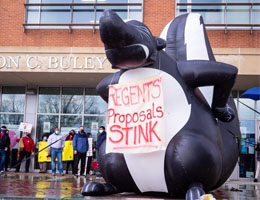 ► From the Washington Post — America's next union battlefield may be on campus — Not long after they were recognized for helping keep their universities and colleges running during the pandemic, faculty are coming under new pressure to prove their value while dealing with attacks on job security, demands for greater productivity and criticism over what and how they teach.
► From the LA Times — Black Tesla employees describe a culture of racism: 'I was at my breaking point' — In their own words, former Tesla employees describe what they call a racist work environment that led California to file a civil rights lawsuit against the company.
► From the Washington Post — GOP lawmakers push historic wave of bills targeting rights of LGBTQ teens, children and their families — The explosion of legislation is in part the culmination of efforts by a trio of conservative organizations, which are helping state legislators write and promote the bills. One of the most active — the Alliance Defending Freedom — has a decades-long history of fighting LGBTQ rights, including in battles to preserve state laws criminalizing consensual sex between gay adults, court records show.
---
COVID
► LIVE from the Seattle Times — Coronavirus daily news update, March 25 — The latest count of COVID-19 cases in Washington totals 1,448,779 infections (14-day average of cases per day: 1,006) and 12,392 deaths.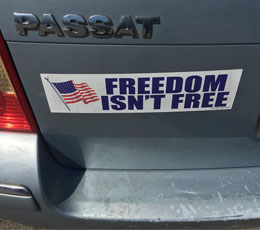 ► From Reuters — Costs of going unvaccinated in America are mounting for workers and companies — Vaccine hesitancy likely already accounts for tens of billions of dollars in preventable U.S. hospitalization costs and up to hundreds of thousands of preventable deaths, say public health experts. For individuals forgoing vaccination, the risks can include layoffs and ineligibility to collect unemployment, higher insurance premiums, growing out-of-pocket medical costs or loss of academic scholarships. For employers, vaccine hesitancy can contribute to short-staffed workplaces. For taxpayers, it could mean a financial drain on programs such as Medicare, which provides healthcare for seniors.
---
T.G.I.F.
► Happy 75th birthday to Sir Elton John! The Entire Staff of The Stand is celebrating today with this complex gem of a song. It's about a guy trying to inspire an uprising by a poor community oppressed by the rich. "Burn down the mission, if we're gonna stay alive." Alas, he ends up getting taken away by the authorities. We think of it as a cautionary tale. Instead of resorting to violence and anarchy in times of desperation, you'd be better off organizing the poor to withhold their labor until they got better treatment. Just sayin'.
---
The Stand posts links to Washington state and national news of interest every weekday morning by 10 a.m.
Short URL: https://www.thestand.org/?p=107162
Posted by
admin
on Mar 25 2022. Filed under
DAILY LINKS
. You can follow any responses to this entry through the
RSS 2.0
. Both comments and pings are currently closed.