Sign AFL-CIO petition, make calls to support Judge Ketanji Brown Jackson
WASHINGTON, D.C. (March 17, 2022) — Three weeks ago, when President Joe Biden nominated Judge Ketanji Brown Jackson to be the first Black woman to serve on the U.S. Supreme Court, AFL-CIO President Liz Shuler applauded the historic nomination and her "strong legal track record of fighting on behalf of working people, including during her tenure as an assistant federal public defender in Washington, D.C."
The AFL-CIO also called for a speedy and fair confirmation process. Now that Judge Jackson has met with U.S. Senators and her confirmation hearings are set to begin on Monday, the AFL-CIO is calling on union members and their supporters to contact their U.S. Senators today and urge them to confirm her immediately.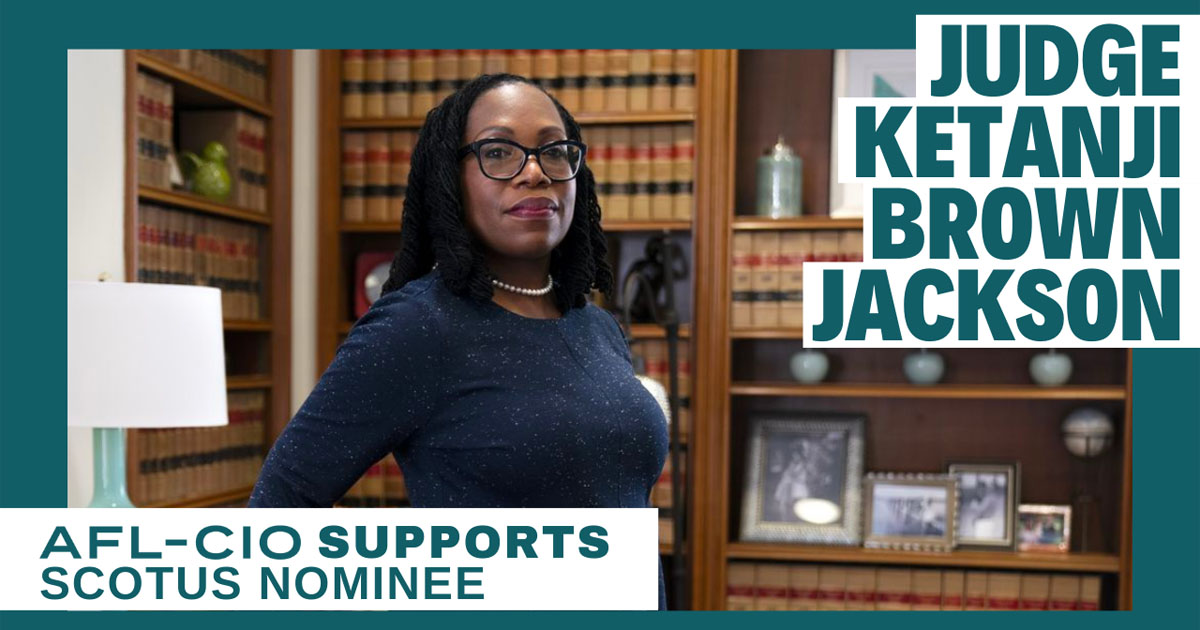 TAKE A STAND — Please do two things today — sign this petition and call your U.S. Senator — to support Judge Ketanji Brown Jackson's nomination as U.S. Supreme Court Justice.
When Judge Jackson's nomination was announced, AFL-CIO President Liz Shuler said:
"Judge Jackson has had a distinguished legal career, and she is eminently qualified for this critical lifetime position. Working people need a champion on the bench who will defend and protect our civil rights, including our right to organize in the workplace. Judge Jackson has a strong legal track record of fighting on behalf of working people, including during her tenure as an assistant federal public defender in Washington, D.C., and we are confident that she will bring that leadership to the highest court in the land. Representation matters and that is especially true in our nation's legal system, which can disproportionately impact or lift up Black and Brown communities. Today's nomination aligns with President Biden's ongoing efforts to diversify the roster of individuals who are nominated and confirmed for the judiciary.

"Being the first is never easy and Judge Jackson is doing what so many women have done before her, breaking barriers to ensure that she is not the last. We call on the U.S. Senate to deliver a speedy and fair confirmation process."
Please sign the petition and make the call today to support Judge Jackson's nomination.
Posted by
David Groves
on Mar 17 2022. Filed under
NATIONAL
. You can follow any responses to this entry through the
RSS 2.0
. Both comments and pings are currently closed.