Seattle Starbucks workers win | Public concrete | Tulip workers strike
Wednesday, March 23, 2022
---
LOCAL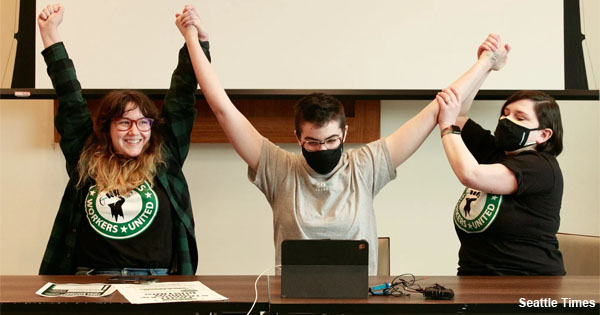 ► From the Seattle Times — Workers at a Seattle Starbucks vote to unionize, hoping to send a signal of change to the food-service industry — A mile away from the flagship location where Starbucks launched in Seattle 50 years ago, a small group of local Starbucks employees huddled around an iPad under the bright lights of a hotel conference room and watched as they became the only unionized company-owned store in town.  "Unanimous!" they shouted, hands clasped in the air. The vote, which the NLRB announced Tuesday, is an especially symbolic win in the coffee giant's hometown as Howard Schultz returns as interim chief executive officer and workers at more than 100 stores say they want to unionize. The store at Broadway and East Denny Way in the Capitol Hill neighborhood will become the seventh in the country where employees have voted in favor of unionizing with Workers United, an affiliate of the SEIU.
MORE coverage from the Associated Press, KING, KOMO, KUOW and the PSBJ.
TAKE A STAND — Are you ready to get some respect at work? Get more information about how you can join together with co-workers and negotiate a fair return for your hard work. Or go ahead and contact a union organizer today!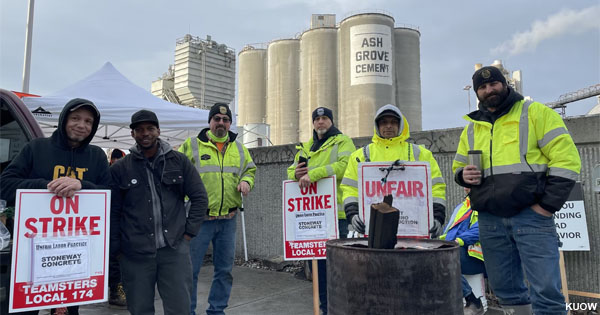 ► From KUOW — A new idea: King County Public Concrete — A concrete strike has delayed many projects, from the West Seattle Bridge to light rail for months. There are four big concrete companies that do most of the work in King County. Now, the county wants to look at creating a fifth company owned by the government. You could call it "King County Public Concrete." It would negotiate its own labor contracts. That means it wouldn't get held up when private concrete companies fail to reach a labor agreement with their workers. Today, the King County Council voted unanimously to study the idea, which is being promoted by King County Executive Dow Constantine.
The Stand (March 15) — Teamsters 174 offers limited return to work in concrete strike
► From KOMO — Concrete strike continues leaving many roads in Seattle, King County unfinished — The longer the strike among concrete workers go on, the longer people in Seattle and King County have to see roads like the West Seattle Bridge and other projects sit unfinished. "All of that is at risk without a reliable source of concrete," said King County Executive Dow Constantine.

► From KING — Tulip farm workers go on strike one week before popular Mount Vernon festival — Some Skagit County tulip farm workers went on strike Tuesday to demand better working conditions. The strike comes about a week before thousands of tourists are expected to visit Skagit Valley for the annual tulip festival. At least 70 Washington Bulb Company workers were planning to picket Wednesday morning at Roozengaarde. Workers walked out over issues with wages and demanded better health and safety protocols.  Employees said they often work in harsh winter conditions with exposure to pesticides.
EDITOR'S NOTE — Get the latest at the Familias Unidas por la Justicia Facebook page.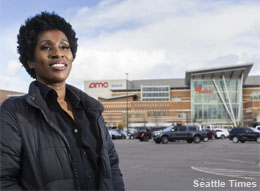 ► From the Seattle Times — Initiative aimed at Southcenter could raise minimum wage in Tukwila to match SeaTac, Seattle — The Transit Riders Union decided to target Tukwila partly because it includes Southcenter, general secretary Katie Wilson said. The chain stores and restaurants in and around the mall, plus hotels, are a hub for low-wage jobs. Tukwila also has an Amazon warehouse. There are equity considerations, too: Tukwila is super diverse, with people of color making up 70% of residents and with 52% speaking a language other than English at home, according to U.S. Census data.
► From KIRO — Seattle Pride drops Amazon as sponsor for 2022 parade — Seattle Pride is dropping Amazon as a sponsor for their 2022 parade, the organization announced Tuesday. The organization says Amazon's financial donations to politicians "who actively propose and support anti-LGBTQIA+ legislation" contributed to their decision to no longer partner with the tech company.
The Stand (Feb. 18) — Tell Crossroads Trading Co. to stop union busting in Seattle
---
POLICE ACCOUNTABILITY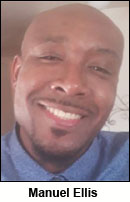 ► From KUOW — Pierce County settles with Manuel Ellis' family for $4M in lawsuit over police killing — Pierce County will pay roughly $4 million to settle a civil rights lawsuit over the killing of Manuel Ellis by police in 2020. The Pierce County Council approved the terms of the settlement at their meeting Tuesday. It was tucked into a vote on the council's meeting agenda. The agenda itself was unanimously approved and council members said nothing about the settlement publicly during the meeting.
---
AEROSPACE

► From the AP — Voice recorder found in wreckage of China Eastern plane — Investigators have found what they believe to be the cockpit voice recorder in the wreckage of a China Eastern flight that crashed in the country's south with 132 people on board, a Chinese aviation official said Wednesday. The outer casing of one of the two "black boxes" aboard the plane and its storage component both suffered damage, but the unit is "relatively intact."
---
THIS WASHINGTON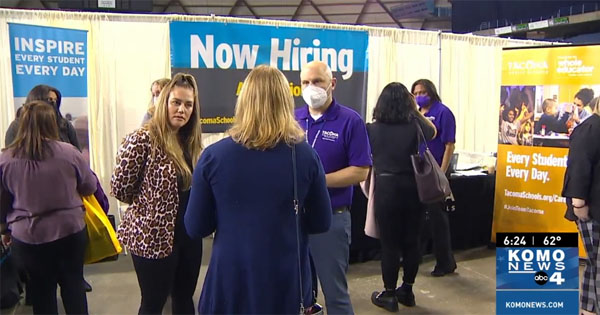 ► From KOMO — Washington Education Association expects statewide teacher shortage to get worse — The search is on for hundreds of qualified teachers as schools across the state need to fill crucial positions and as the Washington Education Association expects the state's teacher shortage to grow worse. WEA data shows schools districts requested the state superintendent's office grant so-called emergency certificates for substitutes to fill 11,000 openings statewide over the past two years, with the biggest impacts in small and rural communities.
► From the Seattle Times — State of our politics: Even a call for a lynching brings weary silence (by Danny Westneat) — Two weeks ago, a repeat offender in Seattle named Alexander Jay was arrested and charged with felony assault for shoving a 62-year-old innocent bystander down the stairs at a light rail station. Here is how Loren Culp, a Republican congressional candidate in central Washington, reacted: "Get a Rope!" Culp is a former police chief so he surely knows how toxic speech like this can be in the criminal justice system… If a candidate keeps saying extreme and hateful things, and isn't disowned by his party, and meanwhile everyone else starts shrugging because we think he's a nut or we're worn down or we just can't keep pace with the firehose of lunacy, well, that's a case study of how something as rancid as a call for a lynching becomes politically normal.
---
SUPREME COURT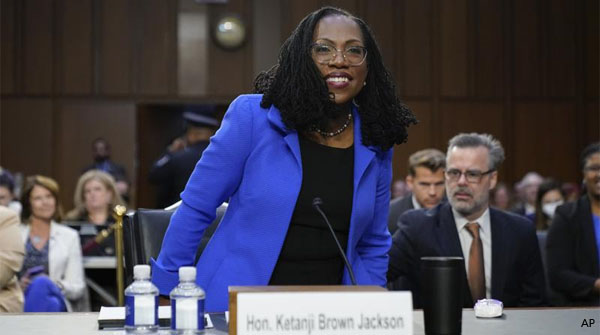 ► From the AP — Defending her record, Jackson back for 3rd day of hearings — Supreme Court nominee Ketanji Brown Jackson returned to the Senate for a third day of hearings Wednesday as Republicans try to paint her as soft on crime and Democrats herald the historic nature of her nomination to become the first Black woman on the high court.
The Stand (March 17) — Take action to support KBJ's nomination
► From Vox — The GOP's attacks on Ketanji Brown Jackson are nasty even by Republican standards — Republicans turned the hearing into a blizzard of misleading attacks, many of which seem designed to appeal to QAnon supporters.
► From Bloomberg — Clarence Thomas misses Supreme Court arguments for third day
---
THAT WASHINGTON
► From The Hill — Democrats press Biden to extend freeze on student loan payments — Democrats in Congress are pressing the Biden administration to extend the suspension of student loan payments before it's set to expire May 1 as they seek to avoid cutting off a pandemic-induced benefit in the middle of an election year.
---
NATIONAL

► From Pasadena Now — SoCal grocery workers begin balloting in strike-authorization vote — Thousands of grocery workers across Southern California began voting Monday on whether to authorize their union to call a strike amid continued contract negotiations with the owners of stores including Ralphs and Vons/Pavilions/Albertsons. UFCW officials said votes will be cast over several days, with results expected to be announced Sunday. A "yes" vote would not automatically result in a strike. It would only authorize the union to call one if no progress is made in labor negotiations.
► From KSTP — Minneapolis Public Schools says district, union closer to agreement — Tuesday marks the 11th day of missed class for students in Minneapolis Public Schools as the teachers strike continues. According to the Minneapolis federation of Teachers, the two sides have moved closer, but adds the district's latest offer isn't good enough to end the strike.
► From KCRA — Sacramento City Unified teachers unions strike after no deal reached — Teachers with the Sacramento City Unified School District have confirmed they will went on strike Wednesday morning as attempts to reach a bargaining deal between the school district and unions have failed.
► From the IAM — Strike ends for Machinists Locals 388 and 1191 members at Eaton Mission Systems Division of Davenport, Iowa
---
The Stand posts links to Washington state and national news of interest every weekday morning by 10 a.m.
Short URL: https://www.thestand.org/?p=107071
Posted by
admin
on Mar 23 2022. Filed under
DAILY LINKS
. You can follow any responses to this entry through the
RSS 2.0
. Both comments and pings are currently closed.