Concrete strike continues after Merlino's 'union busting' offer
Teamsters 174: In further proof of failure to bargain in good faith, Merlino Construction proposes contract offer that moves dramatically backwards from prior proposals
The following was posted Wednesday by Teamsters Local 174:

SEATTLE (March 10, 2022) — If there was any doubt to the Union's claim this strike was a blatant attempt at "union busting" from the onset, those fears were made abundantly clear today. The 34 dump truck drivers at Merlino Construction were the first to walk off the job in protest of their Employer's refusal to bargain in good faith on November 19, 2021.  After 111 days on strike, and at the first meeting since the strike began, management presented a proposal to their employees that resulted in the parties being further apart than when the strike began.
At the negotiating session attended by a large contingent of the striking Gary Merlino Construction workers, company management doubled down on their bad-faith bargaining by presenting a shockingly regressive proposal, exacerbating their refusal to bargain in good faith. The proposal struck directly at the heart of the contract, attempting to gut the right to honor picket lines at any property owned by Gary Merlino Construction. This would include having to cross a Teamsters Local 174 picket line set up by their brothers and sisters at Stoneway Concrete. They made this proposal knowing the Teamsters could never agree.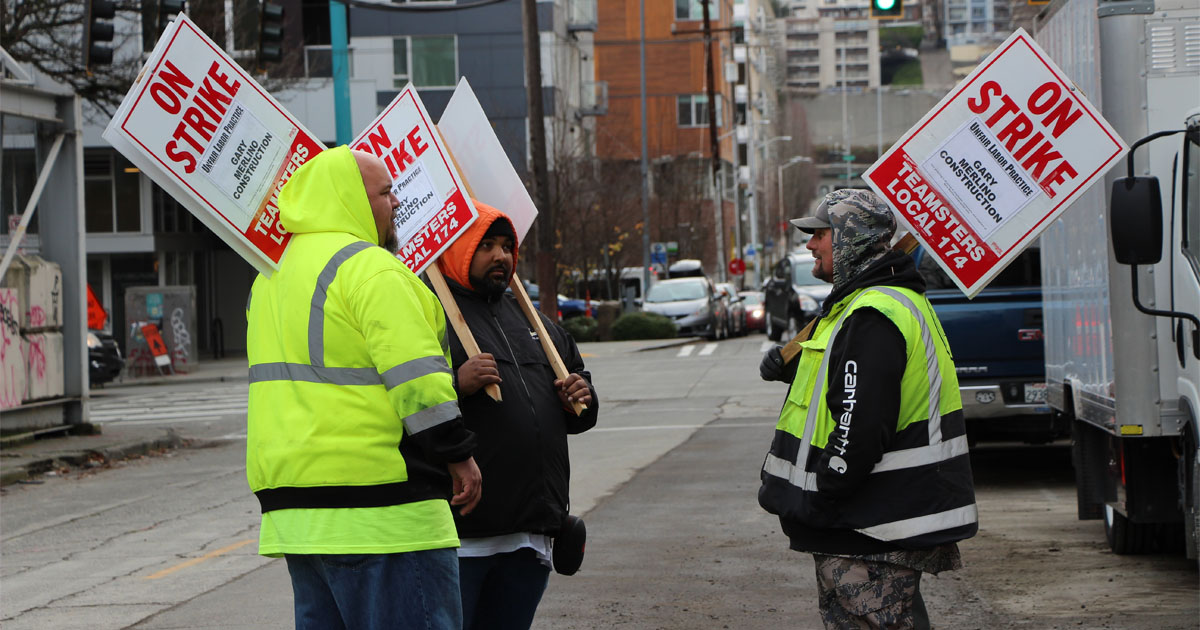 Despite this clear evidence of bad-faith bargaining by the Employer, the Teamsters attempted good-faith discussions in an attempt to reach a deal and get these members back to work. Unsurprisingly, those conversations with the Employer went nowhere and negotiations came to an abrupt end when the Employers bargaining committee barged into the Union caucus room at 3 p.m., led by the company attorney, announcing they had a hard stop (something more important to the Company than ending a strike) and they would contact the Union in the future.
"For someone who hasn't been in a union and maybe doesn't understand the importance of picket line language, it is the holy grail to us." said Bryan Ayers, dump truck driver at Gary Merlino Construction and member of the rank-and-file Teamster Bargaining Committee. "They put that in their proposal to make sure we didn't get a contract today. The regressive proposals were bad, but we will never let them gut our picket line language, the foundation upon which unions are built."
"Now that the employers have again demonstrated a refusal to bargain in good faith, we will be continuing to strike until they return to the table with a real proposal," said Teamsters Local 174 Secretary-Treasurer Rick Hicks. "We are so disappointed that the employer is sticking with their smug, insulting nonsense without a single thought to the 15,000 people currently out of work because of this ongoing strike. Today they just threw fuel on the fire, and it was a waste of time for every person in that room. The members have now seen firsthand how little their employer really cares about them."
Founded in 1909, Teamsters Local 174 represents 8,600 working men and women in Seattle and the surrounding areas. "Like" us on Facebook at www.facebook.com/TeamstersLocal174.
---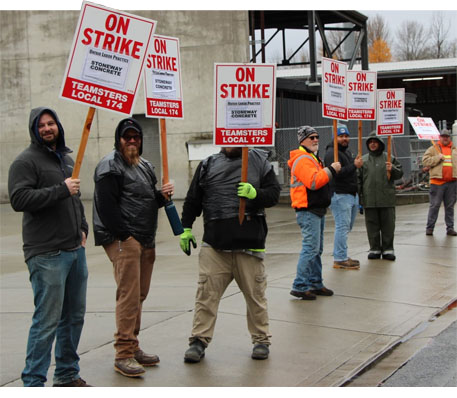 TAKE A STAND — Here's how you can support these striking workers and help them hold the line "one day longer." Make a contribution to the Teamsters Local 174 Merlino Heavy Highway and Sand & Gravel / Cement Industries Striking Workers Assistance Fund. Checks made out to "Teamsters 174 Worker Assistance Fund" can be mailed to: Teamsters Local 174, 14675 Interurban Ave. S. Suite 303, Tukwila, WA, 98168.
You can also visit a picket line from 7 a.m. to 3 p.m. — donations of firewood for burn barrels, food, drinks are greatly appreciated — at the following locations: Calportand Seattle – 5900 West Marginal Way SW, Kenmore – 6425 NE 175th St, Snoqualmie – 5601 396th Dr SE; Cadman Seattle – 5225 E Marginal Way S, Redmond – 18816 NE 80th St; Lehigh Cement Seattle – 5225 E Marginal Way S; Stoneway Seattle – 3803 E Marginal Way S; and Merlino South Park – 9125 10th Ave S.
Learn more at Teamsters174.net.
---
YESTERDAY from Teamsters 174 — Teamsters again gain court protection for their picketing — After additional dangerous incidents of trucks charging though picket lines, and roughing up of picketers, Teamsters Local 174 returned today to King County Superior Court to protect its picketing members and their peaceful picketing and were successful in obtaining additional protection from the court.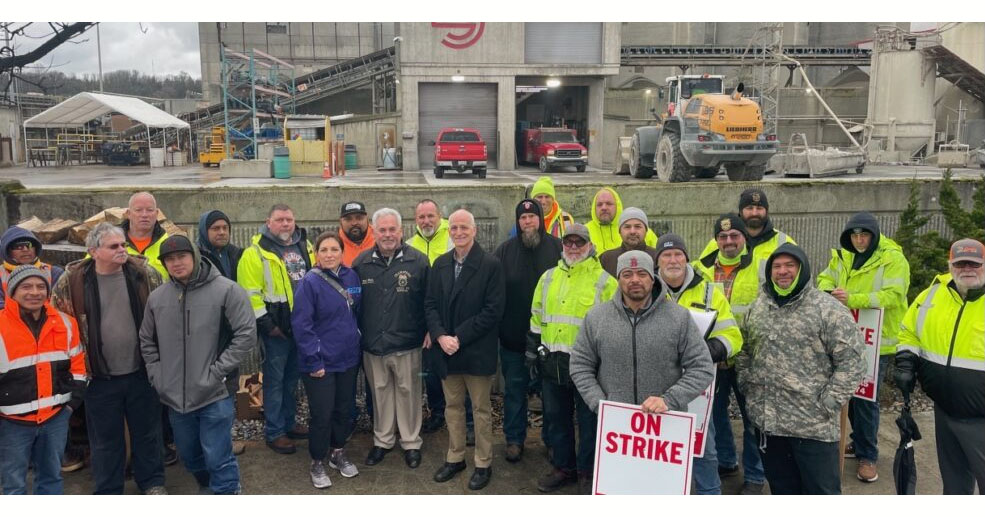 The Stand (Feb. 14) — Rep. Smith: Concrete employers must return to bargaining table — Congressman Adam Smith (D-9th): "The actions by employers seem to indicate a greater interest in undermining unions rather than coming to the table to negotiate in good faith."
PREVIOUSLY at The Stand:
Teamsters' concrete strike enters 3rd month with no progress (Feb. 4)
In strike's 6th week, Teamsters shut down Port of Everett (Jan. 12)
Stop Grinch bosses from stealing Christmas for Teamsters families (Dec. 15)
AFL-CIO's Fred Redmond visits Teamsters picket (Dec. 8)
Concrete solidarity: Strike grows in King County (Dec. 6)
Gary Merlino drivers' ULP strike continues (Nov. 29)
WASHINGTON IS A UNION STATE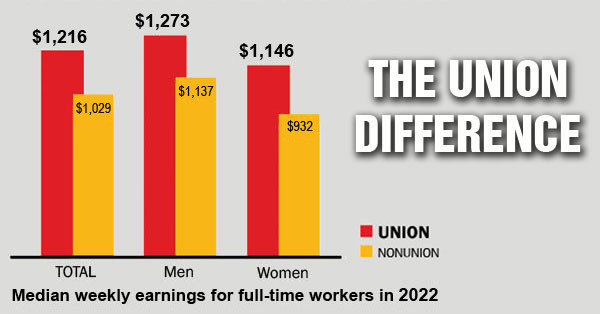 CHECK OUT THE UNION DIFFERENCE in Washington state: higher wages, affordable health and dental care, job and retirement security.
FIND OUT HOW TO JOIN TOGETHER with your co-workers to negotiate for better working conditions and respect on the job. Or go ahead and contact a union organizer today!