History at Amazon | Alaska pilots picket | FUJ gets it in writing | Benton's back
Friday, April 1, 2022
---
AMAZON
► BREAKING NEWS from American oligarch Jeff Bezos's Washington Post — Amazon workers vote to join a union in New York in historic move — Workers voted Friday to unionize an Amazon Staten Island warehouse, a historic decision that marks the first successful U.S. effort at the e-commerce giant and a major victory for the domestic labor movement. Amazon, the country's second-largest private employer, has long fended off attempts to unionize workers at its warehouse — a highly prized target among traditional labor groups who have seen membership wane in recent years. But a small, upstart independent union led by a former employee of the Staten Island warehouse mounted the first successful campaign to unionize Amazon workers, breaking many of the traditional organizing rules and relying on workers' momentum.
EDITOR'S NOTE — Follow @AmazonLabor for the latest.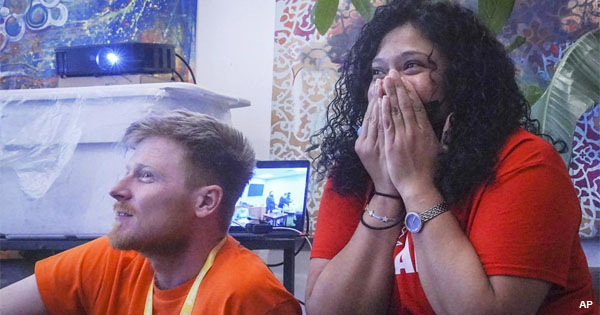 ► Last night from the AP — Labor groups close in on Amazon in two tight union elections — Labor organizers always knew it would be tough to convince Amazon workers to unionize. But a surprisingly strong early showing in a New York election and a still-uncertain outcome in an Alabama election are giving them hope. In Staten Island, New York, 1,518 warehouse workers have so far voted "yes" to forming a union while 1,154 have voted "no," according to an early tally Thursday evening by the NLRB, which is overseeing both elections. Ballots will continue to be counted Friday morning. Meanwhile, Amazon workers in Bessemer, Alabama, appear to have rejected a union bid but outstanding challenged ballots could change the outcome. The votes were 993-to-875 against the union. A hearing to review 416 challenged ballots is expected to begin in the next few days.
EDITOR'S NOTE — Ready to have fun and make history? Get more information about how you can join together with co-workers and negotiate for better working conditions and a fair return for your hard work. Or go ahead and contact a union organizer today!
► From the AFL-CIO — Every vote in the Amazon union election must be counted — AFL-CIO President Liz Shuler: "We will not allow Amazon to bully workers out of exercising their basic freedom. Every single contested ballot must be counted. The National Labor Relations Board must take swift action to hold Amazon accountable for any further misconduct."
► From HuffPost — Amazon spent $4.3 million on anti-union consultants last year — The online retailer held "captive audience" meetings to dissuade workers from unionizing, with consultants receiving $3,200 a day for their work.
► From CNN Business — House committee probes labor practices at Amazon — A House committee will investigate how Amazon treats its workers, following the death of six employees in December when the distribution center they were working in was struck by a tornado.
---
LOCAL

► BREAKING from KING 5 — Alaska Airlines faces flight cancellations amid pilot picket, contract negotiations — Early Friday morning, more than 16% of Alaska Airlines flights in and out of Sea-Tac Airport were canceled. The cancelations come amid a planned informational picket by some Alaska Airlines pilots up and down the west coast with others planned in Portland, San Francisco and Los Angeles. The Air Line Pilots Association, International says there could be more than a hundred pilots as well as supporters lining International Boulevard Friday at noon.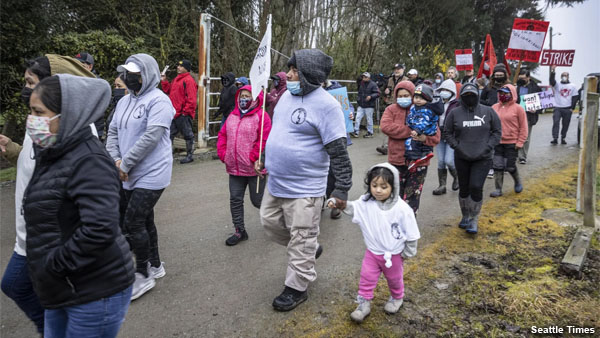 ► From the Seattle Times — Tulip farmworkers and company sign deal, agree to continued talks after strike — A committee representing farmworkers who went on strike last week has signed an agreement with the Mount Vernon-based Washington Bulb Co. in which company leaders say they will address workers' concerns. Signing the document is a milestone for workers who have been advocating for improvements, said farmworker Octavia Santiago Martinez, a member of the elected seven-member worker committee. The company has agreed to ensure that workers have access to protective gear, including gloves, rain gear, boots, goggles and hydrocortisone cream, said Edgar Franks, political director with Familias Unidas por la Justicia. The independent farmworker union helped workers with the strike and negotiations.
​The Stand (March 28) — Tulip workers unionize with FUJ, bargain with Washington Bulb
► From the PS Business Journal — Providence, Swedish rebrand under unified name in Puget Sound area — Ten years after Providence acquired Swedish Health Services, the two organizations are unifying their Puget Sound-area operations under one name: Providence Swedish. The change will affect eight hospitals and 200-plus clinics stretching from Everett to the Olympia area. For example, Providence Regional Medical Center Everett will become Providence Swedish Everett. Similarly, Swedish Edmonds will be renamed Providence Swedish Edmonds.
The Stand (March 9) — Coalition: Hospital staffing crisis isn't going away, neither are we
► From the union-busting Columbian — Don Benton running for Clark County Council District 5 seat — Although Benton, a Republican, was elected to both the state House of Representatives and Senate, he is likely best known for being terminated from his role as the county's director of environmental services in 2016.
EDITOR'S NOTE — He's also best known, as the Seattle Times' Danny Westneat once wrote after Trump appointed Benton to an EPA job, for having "an almost perfect track record of failure and interpersonal conflict, often resulting in legal or disciplinary action, at every public position he's held… With the insults, grievance-mongering and litigiousness, he's Trump's mini-me. Now he's in a position of influence over a federal agency with 15,000 employees. What could go wrong?" Well, what went wrong at EPA was that he reportedly "piped up so frequently during policy discussions that he had been disinvited from many of them." Ultimately, the Trump administration moved him to a second federal appointment at the U.S. Selective Service System, where he promptly mandated that women at his new office wear pantyhose.
---
THIS WASHINGTON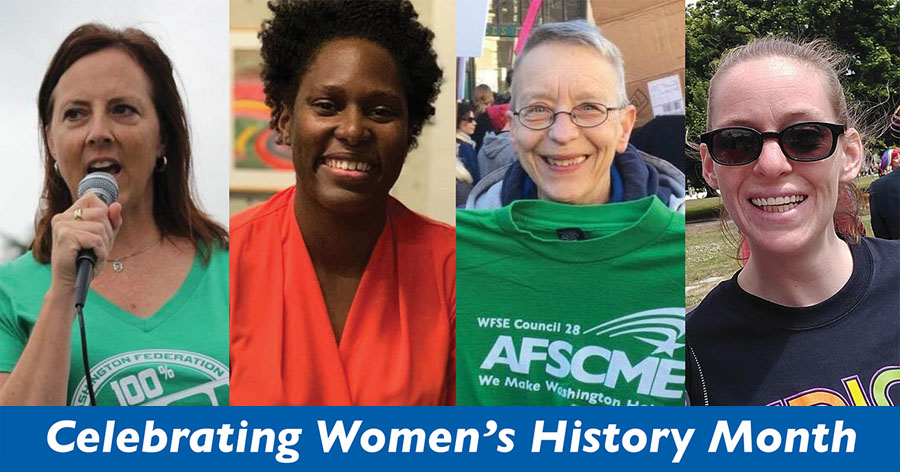 ► From WFSE — Courage, leadership, and creating space for others: The powerful women leaders of WFSE — Each year, Women's History Month is a chance to thank and appreciate the many women in our movement who give their talent, time, and passion to lift up their union siblings. We spoke with four women leaders in WFSE — Leanne Kunze, Riley Ingram-Sowell, Paula Lukaszek and Ashley Fueston — who exemplify the courage and solidarity that unionism is all about.
► From the Spokesman-Review — Inslee signs $64 billion supplemental budget into law — Gov. Jay Inslee on Thursday signed a $64.1 billion supplemental budget that will make new investments in K-12 schools, programs designed to reduce poverty and homelessness, behavioral health and helping the state recover from the COVID-19 pandemic… The budget includes a significant amount of funding for K-12 education, including money to adjust for inflation for salaries and materials, as well as funding for additional nurses, counselors and support staff. It also funds a number of initiatives to increase the number of nurses and health care workers in the state.
► From the Olympian — Jennifer Belcher, WA's first female lands commissioner, dies at 78
---
AEROSPACE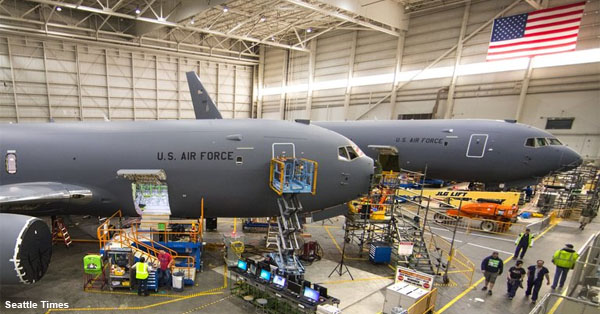 ► From the Seattle Times — Boeing gets out the Velcro to patch over another glitch with the Air Force tanker — Boeing this month discovered the latest in a long line of glitches on its KC-46 aircraft: Some trim hanging down above the over-wing emergency exit doors prevents them from opening. The timing of the discovery is awkward. Last Friday, Air Force Secretary Frank Kendall told reporters that the Pentagon will likely not allow Airbus to compete for the next tranche of Air Force tankers, as had been expected, but will instead opt to stay with Boeing and ask only for "a modified KC-46."
► From the PSBJ — Irish cargo operator places order for up to 20 Boeing converted 737 freighters
---
THAT WASHINGTON
<
► From the AP — U.S. added 431,000 jobs in March in sign of economic health — America's employers extended a streak of robust hiring in March, adding 431,000 jobs in a sign of the economy's resilience in the face of a still-destructive pandemic and the highest inflation in 40 years. The Labor Department's report Friday showed that last month's job growth helped shrink the unemployment rate to 3.6%, the lowest level since the pandemic erupted two years ago.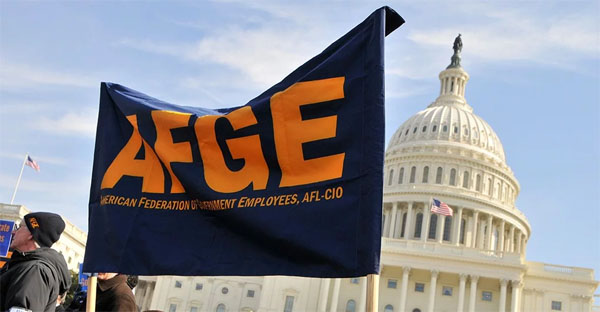 ► From the Washington Post — Some agencies resist Biden's pro-labor orders, federal union says — At the American Federation of Government Employees (AFGE) legislative conference this week, union officials were full of praise for President Biden but equally frustrated at the slow pace of change in two agencies. They also are furious at his administration's controversial — though still preliminary — proposal to close some veterans health-care operations.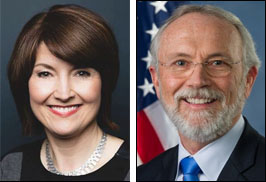 ► From the NY Times — House passes bill to limit cost of insulin to $35 a month — A bill to limit the cost of insulin to $35 a month for most Americans who depend on it passed the House on Thursday, raising Democrats' hopes that the party could take at least one step toward fulfilling its promise of lowering drug costs. The bill attracted unanimous support from Democrats who voted, as well as from 12 Republicans, making it a rare piece of bipartisan policy legislation.
EDITOR'S NOTE — Washington Republican Reps. Cathy McMorris Rodgers and Dan Newhouse voted AGAINST lowering the cost of insulin. Rep. Jaime Herrera Beutler joined all Washington Democrats in voting "yes."
► From The Hill — Overwhelming majority disapproves of job Congress is doing: Gallup — More than three-fourths of Americans say they disapprove of the job that Congress is doing, while only 21 percent approve of the legislators' work, according to a new poll by Gallup. Congress saw a brief spike in approval ratings of 31 percent in 2020, following the passing of emergency relief bills for the COVID-19 pandemic but those ratings have rescinded back to levels from last fall.
► From Politico — Sanders looks to shoot down Bezos' moon plans — (American oligarch) Jeff Bezos's space company is back in the running to return NASA astronauts to the moon, but Sen. Bernie Sanders wants him to do it without using taxpayer money.
---
NATIONAL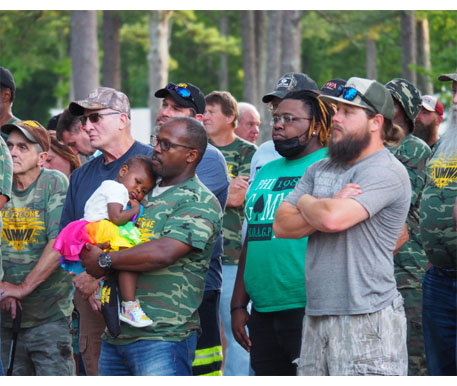 ► From AL.com — Warrior Met Coal strike reaches one year mark, possibly longest in Alabama history: 'We didn't want to do this' — "We didn't want to do this." United Mine Workers of America International President Cecil Roberts said the words in thinking back on the last year, one day short of the first anniversary of the union's strike against Warrior Met Coal. It is believed to be the longest strike in Alabama history. By all accounts, no one saw it lasting this long. The work stoppage, the first for the Alabama miners in four decades, began April 1, 2021.
TODAY at The Stand — Warrior Met Coal strike hits one-year mark
TAKE A STAND — Please mark today's one-year anniversary by making a generous contribution to the UMWA's Strike Aid Fund for the Warrior Met strikers. These donations are being used to help these union siblings in their time of need and provide additional support on top of the selective strike benefits they receive.
► From Vox — Local jails are helping drive America's mass incarceration problem — The majority of people sitting in local jails haven't been convicted of a crime.
---
T.G.I.F.
► One week ago today, we lost a great one with the sudden and shocking passing of Foo Fighters drummer Taylor Hawkins at age 50. He joined Dave Grohl's band in 1997 after previously serving as Alanis Morrissette's drummer during her Jagged Little Pill tour. By all accounts, Hawkins was beloved by the music community not only for his talent but his congeniality. Paul McCartney, who inducted the Foo Fighters into Rock and Roll Hall of Fame last year, said this of Hawkins:
"Not only was he a GREAT drummer but his personality was big and shiny and will be sorely missed by all who were lucky to live and work alongside him… Thanks Taylor for sharing some glorious minutes with me. You were a true Rock and Roll hero and will always remain in my heart."
Here's Hawkins in his final concert, taking over the lead vocals on a cover of Queen's "Somebody to Love." R.I.P.
---
The Stand posts links to Washington state and national news of interest every weekday morning by 10 a.m.
Short URL: https://www.thestand.org/?p=107375
Posted by
David Groves
on Apr 1 2022. Filed under
DAILY LINKS
. You can follow any responses to this entry through the
RSS 2.0
. Both comments and pings are currently closed.