'Ripple effect' at Amazon | BPA's public power | Prince, 11, backs strike
Monday, April 4, 2022
---
COVID
► LIVE from the Seattle Times — Coronavirus daily news update, April 4 — The latest count of COVID-19 cases in Washington totals 1,456,264 infections (14-day average of cases per day: 798) and 12,510 deaths.
► From the NY Times — The end of the COVID emergency could mean a huge loss of health insurance (by Dr. Elizabeth Rosenthal) — Many of the millions of people who lose Medicaid coverage, either because they no longer qualify or because they are otherwise dropped from the state's rolls, sometimes mistakenly, are likely to discover they are uninsured only when they next seek medical care, such as when they visit a clinic or go to a pharmacy to refill a prescription. And that's in a country where an inhaler can cost $50 to $100, a doctor's visit typically costs over $100, and a hospitalization for Covid-19 can run tens of thousands of dollars.
---
AMAZON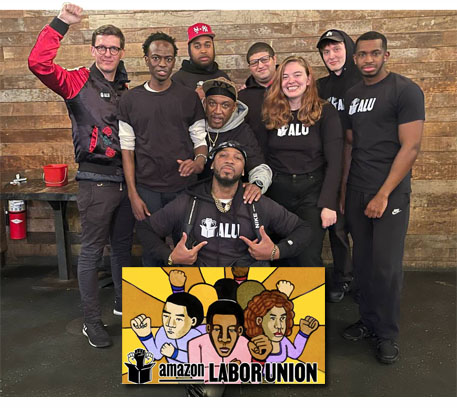 ► From the Spokesman-Review — Lasting effects of Amazon union vote unknown but could point to change in labor movement, Washington experts say — While it's too early to tell the lasting effects of the decision of Amazon workers in New York to unionize, experts in Washington say the vote is one of the most important events in the American labor movement in recent decades. Tina Morrison, secretary-treasurer at the Spokane Regional Labor Council, AFL-CIO, said she's hopeful that this will be the start of a "rebalancing." WSLC President Larry Brown and Secretary Treasurer April Sims congratulated the Amazon Labor Union as "becoming the first – hopefully of many – Amazon workers" to unionize for safer working conditions and better pay, adding:
"It is a testament to the power of these working people that this historic victory was achieved in the face of a multi-million-dollar union-busting campaign."
The Stand (April 1) — WSLC congratulates NYC Amazon workers
► From the Seattle Times — Rallied by Amazon union's win, Seattle workers see surge in unionization — A Seattle thrift shop used momentum from a Starbucks union drive a few blocks away to secure its own union victory this week. Now, a group of security workers who have contracts with companies like Amazon, Microsoft and Sound Transit, are planning to use the momentum from a successful union drive at an Amazon warehouse across the country to bring more workers into the union fold.
► From KUOW — Seattle reacts to Amazon union election at New York warehouse — "It has a ripple effect," said Katie Garrow, Executive Secretary of MLK Labor. "I think we can't underestimate the impact that the Bessemer initial election had on these workers fighting for their union in Staten Island. You captured the imagination of workers around what is possible."
► From the PSBJ — Amazon paid more than $4M to labor consultants union busters in 2021 as unionization efforts spread — Amazon gave cash payments to five different labor consulting union-busting firms totaling $4.26 million in 2021 as it responded to union organization efforts.
► From the Washington Post — Worker-led win at Amazon warehouse could provide new labor playbook — Amazon fought to beat back the unionization effort, and the victory against one of the country's largest private employers could provide a new playbook for workers that are trying to reverse a historic trend away from union rights. And while Amazon confronts this new reality, other companies are dealing with restless workers, including railroad engineers, coal miners, baristas, nurses and teachers.
---
LOCAL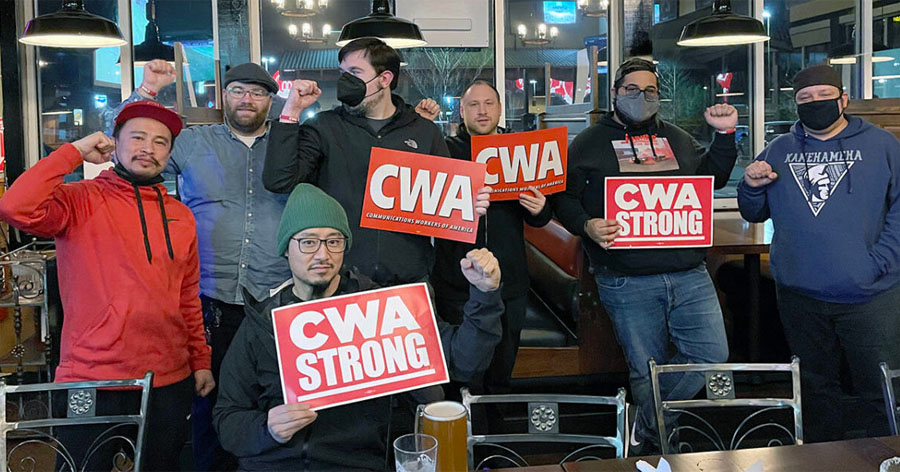 ► From the (Everett) Herald — Verizon workers in Everett, Lynnwood voting on union effort — Employees at two Verizon stores in Everett and Lynnwood are voting on forming a union, joining scores of other workers pushing to unionize nationwide. If workers vote in favor, the stores would become the only unionized Verizon stores in the nation, aside from three in Brooklyn, N.Y., according to an organizer with the CWA. "There's really a movement of workers right now across the country and we're going to be successful," said Austin Hitch, a specialist at the Verizon stores in Everett and Lynnwood.
The Stand (March 31) — Local Verizon workers fight for union in NLRB election
The Stand (March 8) — Verizon workers seek union with CWA in Everett, Lynnwood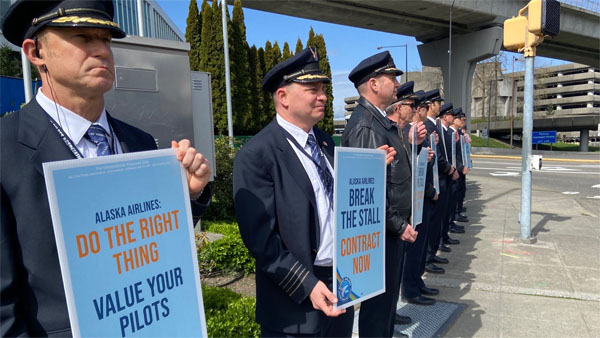 ► From KING 5 — Alaska Airlines cancels more flights on 4th day of pilot shortages — Alaska Airlines canceled 26 flights on Monday morning, and more are expected throughout the afternoon as they enter the fourth straight day of pilot shortages. The cancellations come as several off-duty pilots along the West Coast began picketing over contract negotiations last Friday, demanding better pay, more flexible schedules and better job protections. A representative for the pilots said the Friday picket didn't cause any of these cancelations and delays, but his group warned the airline of staffing issues ahead of the busy spring travel season. Will McQuillen, a pilot and union chairman, said:
"Staffing has been a concern and something we've spoken to them about for many, many months, actually starting the conversations back last year that this would be inevitable if we didn't have a contract in place to help us retain and attract pilots."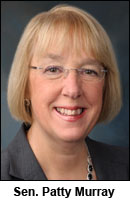 ► From the union-busting Columbian — $10M in federal dollars to benefit Southwest Washington projects — Southwest Washington public institutions and nonprofits are set to receive $10 million in federal funding for rural health care, youth workforce programs and infrastructure. Sen. Patty Murray (D-Wash.), who is a senior member of the Senate Appropriations Committee, met with recipients during a virtual roundtable Thursday to discuss the congressionally directed funding she secured in the 2022 government spending package. "These funds are going to make a big difference for community projects in Southwest Washington," Murray said.
► From the NW Labor Press — Shipyard workers vote again to authorize strike — Shipyard workers in Portland and Puget Sound voted overwhelmingly to authorize a strike at facilities owned by Vigor Industrial, the Metal Trades Council of Portland & Vicinity said this week. The Metal Trades Council is planning a community support rally at the Portland shipyard's main gate at 9:30 a.m. April 9.
► From the Seattle Times — DoorDash drivers form WA advisory group to discuss gas prices, safety — The Washington Dasher Advisory Group launched March 22 as an advocacy group of delivery workers across the state. Like Uber and Lyft, DoorDash partners with drivers who are independent contractors.
---
THIS WASHINGTON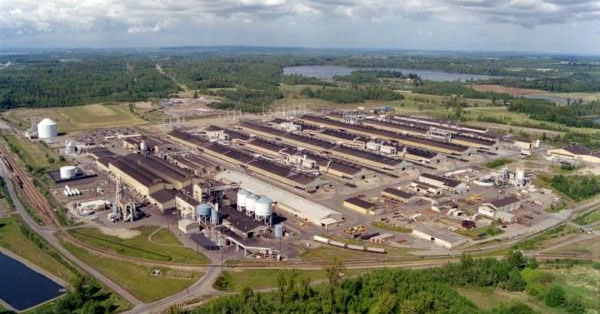 ► From KUOW — 'Green' aluminum inches closer in Northwest, if only they can power the last remaining smelter — The prospective new owners of the idled Alcoa Intalco Works smelter near Ferndale, Washington, secured $10 million in taxpayer support to upgrade the decades-old factory. But the smelter requires a significant amount of energy to operate. And that is now the central problem. The Bonneville Power Administration said it turned down a request for reduced-rate electricity to operate the big facility. Talks are ongoing though, since the stakes are high.
The Stand (March 14) — BPA power deal is the last hurdle to restarting Intalco (by WSLC President Larry Brown) — Restoring power to aluminum plant near Ferndale will boost jobs and the environment.
The Stand (March 14) — Larsen to BPA: 'Work in good faith' for deal to restart Intalco
---
THAT WASHINGTON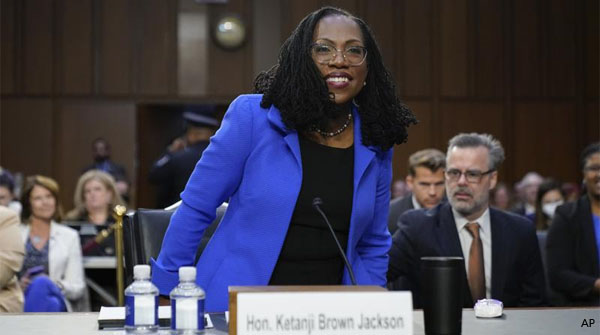 ► From the AP — Senate panel to vote on Jackson nomination to Supreme Court — Democrats are launching a whirlwind of votes and Senate floor action Monday with the goal of confirming Ketanji Brown Jackson as the first Black woman on the Supreme Court by the end of the week. The Senate Judiciary Committee kicks off Monday morning with a vote on whether to move Jackson's nomination to the Senate floor. Democrats will then wind the nomination through the 50-50 Senate.
From the Washington Post — Republican excuses for rejecting Ketanji Brown Jackson are absurd (editorial) — For now, by heaping praise on Judge Jackson while opposing her nomination, Republicans seek to obscure the unattractive image of their almost entirely White caucus rejecting the first Black woman ever nominated to the high court. Kind words cannot disguise the fact that they are grasping for pretexts, each more preposterous than the last, to oppose this historic nominee. Their actions will speak louder now — and in the history books.
---
NATIONAL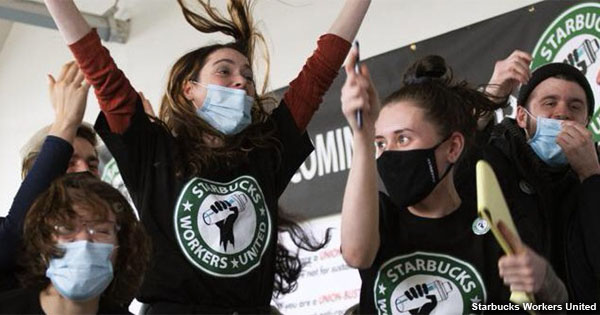 ► From Vox — How a bunch of Starbucks baristas built a labor movement — Since the first corporate Starbucks location voted to unionize late last year, 10 others have voted. Only one store has voted against unionizing. The latest and largest Starbucks to unionize is the company's flagship store in Manhattan, which voted 46-36 on Friday to unionize. Starbucks employees around the country say they're seeing successful union votes at other locations and thinking they could improve conditions at their own stores by doing the same. Some 160 other locations in 28 states are slated to vote in the coming weeks and months. They're hoping to use collective bargaining to get a number of improvements, including higher pay, more hours, and better safety protections.
EDITOR'S NOTE — Get more information about how you can join together with co-workers and negotiate a fair return for your hard work. Or go ahead and contact a union organizer today!
► From Reuters — Starbucks' Schultz announces halt to stock buybacks, shares fall — The suspension, effective immediately, will allow Starbucks to invest more in employees and stores, Schultz said in a letter to Starbucks workers, customers and shareholders. The move comes as Starbucks faces a growing unionization of its U.S. workforce. Employees at 10 U.S. Starbucks locations have voted in recent months to join Workers United, an affiliate of the SEIU.
► From KABC — SoCal grocery store workers, owners resume contract negotiations as possible strike looms — Negotiations resumed Saturday between grocery workers and store owners in Southern California, but with no deal in sight, unionized workers are preparing for possible picket lines. Grocery workers gathered Saturday at the UFCW 770 union headquarters to make picket signs in case of a potential strike at Ralphs, Albertsons, Vons and Pavilions stores.
► From WCCO — Film of Prince at age 11 discovered in archival footage of 1970 Minneapolis teachers strike — With a smile as his friends surrounded him, young Prince said: "I think they should get a better education too cause, um, and I think they should get some more money cause they work, they be working extra hours for us and all that stuff."
---
THE ROLES UNIONS PLAY

► Margaret Levi, a distinguished Professor of Political Science and former University of Washington Harry Bridges Endowed Chair, delivered a TEDxSeattle talk last month on what roles labor unions play in our lives and futures, and how we need to imagine and build better labor organizations for the 21st century. Check it out.
---
The Stand posts links to Washington state and national news of interest every weekday morning by 10 a.m.
Short URL: https://www.thestand.org/?p=107426
Posted by
David Groves
on Apr 4 2022. Filed under
DAILY LINKS
. You can follow any responses to this entry through the
RSS 2.0
. Both comments and pings are currently closed.