Stay masked | Wanting 'a democratic say' | Union busters lose sway
Wednesday, April 13, 2022
---
COVID
► From KUOW — COVID hospitalizations tick up in King County — COVID cases have risen 35% in King County over the last seven days, with a daily average of 455 new cases. Hospitalizations in King County have increased by 95% in the past week, with an average of six people hospitalized each day.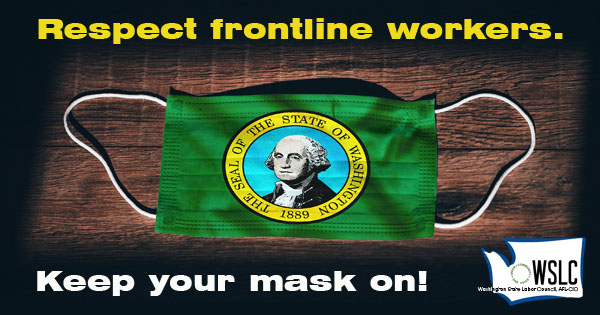 EDITOR'S NOTE — When you're in indoor spaces interacting with public-facing workers, wear a mask! You may only spend 10 minutes in a grocery store or other public space, but the people working there spend the entire day interacting with hundreds of people who are potentially spreading COVID-19. It doesn't matter whether masks is required or not, wear one. It's an easy and important way to show respect to these frontline workers.​
► From the AP — COVID-19, overdoses pushed U.S. to highest death total ever in 2021 — COVID-19 deaths rose in 2021 as variants spread and many Americans refused to get vaccinated or follow public health measures, like wearing masks.
► From HuffPost — Health experts warn COVID cases may be undercounted as testing stalls — Dr. Ashish Jha, the new White House COVID coordinator, said other tools are being used to track the pandemic, including community-based surveys.
► From The Hill — Deadline looms for mask mandate on planes, trains — The White House has only days to decide if it will renew the mask mandate on public transportation systems as COVID-19 cases once again show signs of rising.
---
LOCAL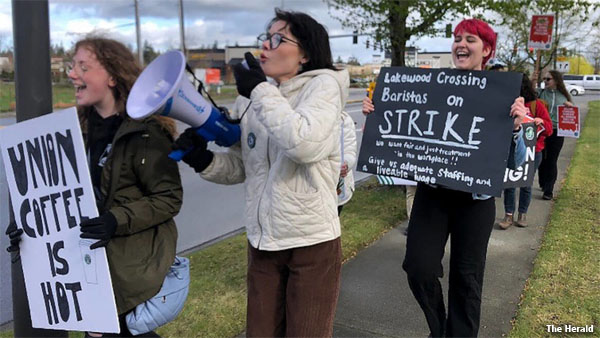 ► From the (Everett) Herald — After 3-day strike, Marysville Starbucks workers move to unionize — Employees continued the strike on Friday, Saturday and Sunday, picketing for hours each day in front of the store at 17101 27th Ave. NE. "Our message was to show that we want fair working conditions in our store, and a democratic say in our workplace," said Starbucks employee and strike organizer Katie McCoy. Meanwhile, more than 70% of the store's employees have signed cards in support of a union, becoming at least the second Starbucks in Snohomish County to seek a union authorization vote. The first store was in Everett in February.
EDITOR'S NOTE — If you're keeping count, that's 12 Starbucks stores in Washington state that have filed for and/or already won union elections.
Are you ready for a democratic say in your workplace? Get more information about how you can join together with co-workers and negotiate a fair return for your hard work. Or go ahead and contact a union organizer today! Meanwhile…
---
AMAZON

► From Vice — Amazon cracks down on organizing after historic union win — Less than two weeks after a small upstart union won the first election at an Amazon warehouse in U.S. history, the fiercely anti-union company is cracking down on organizing at a smaller neighboring warehouse, known as LDJ5, that is scheduled to begin its own union election on April 25. Amazon has hired a veteran union buster, Rebecca Smith, to work at LDJ5. Smith has more than a decade of experience fighting union drives and has ties to "ultra-conservative" political circles.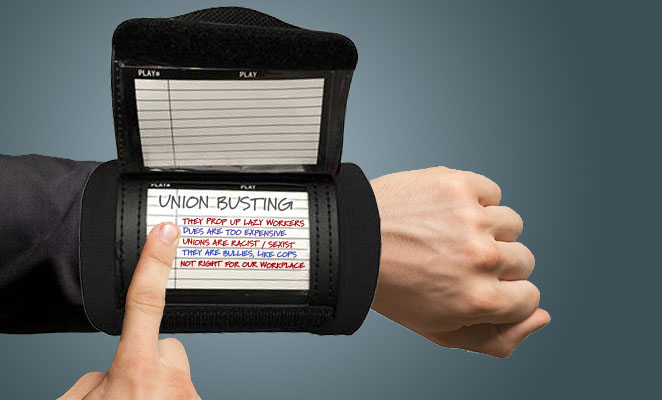 ► From the Guardian — Wave of union victories suggests union-busting consultants may have lost their sway — The nation's anti-union consultants and lawyers – who have made millions of dollars fighting against union drives – have just been through some of their worst weeks ever as unions racked up wins at Amazon, Starbucks, REI, the New York Times, MIT and other places. John Logan, a professor who has studied "union avoidance" efforts for two decades, said anti-union consultants are often no longer as effective because workers and their attitudes have changed: workers, especially younger workers, are braver about speaking out, they're using social media to outmaneuver the consultants, and they're embracing highly effective strategies, like worker-to-worker organizing and interrupting so-called captive audience meetings, where consultants discuss the supposed evils of unions. 
---
THIS WASHINGTON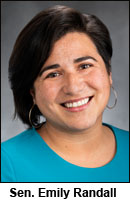 ► From Crosscut — How salary transparency could impact the job hunt in Washington state — Frustration is common among job seekers, who historically don't have much leverage when it comes to learning what a position will pay until they're deep into the interview process. But a bill passed by the Washington Legislature and signed by Gov. Jay Inslee on March 30 will change that. SB 5761 requires employers to disclose a salary range upfront in print or online job postings and provide general information about the position's benefits. In addition to saving time for both employers and applicants, bill sponsor state Sen. Emily Randall (D-Bremerton) argues, the measure will improve transparency by empowering applicants with more information when they negotiate their salaries. She also hopes it will help narrow stubborn pay gaps for women and people of color, she said.
► From the Walla Walla U-B — L&I fines Walla Walla Foundry $94K for safety violations — World-renowned, contemporary fine-art workshop Walla Walla Foundry faces $93,600 in fines after a state Department of Labor & Industries inspection uncovered more than 40 violations of health and safety regulations.
---
ELECTION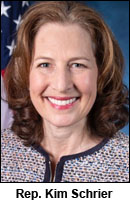 ► From Roll Call — New lines, interesting races in Washington state — In the fight for the 8th Congressional District, Joe Biden won the district by about 7 points in 2020, but that margin puts it within reach for a GOP takeover if the key 2021 races are any guide. Aside from Democratic Rep. Kim Schrier defending her 8th District seat, the 3rd and 4th Districts are worth watching because Republican Reps. Jaime Herrera Beutler and Dan Newhouse voted to impeach President Trump, and the former president has made it his mission to oust all 10 Republicans who did.
► From Crosscut — What the fight for a Latino voting district means for Central WA politics — Yakima County, a hotbed for voting rights cases, is at the center of yet more lawsuits after a messy state redistricting process.
---
THAT WASHINGTON
► From Politico — Harris unveils OSHA program to protect workers from extreme heat (video) — Vice President Kamala Harris announced a new program by the Occupational Safety and Health Administration to protect workers from heat-related injuries. Speaking at the Sheet Metal Workers Local 19 in Philadelphia, Harris said OSHA was initiating the National Emphasis Program on heat, under which the agency will begin nationwide workplace heat inspections in more than 70 high-risk industries for the first time.
---
NATIONAL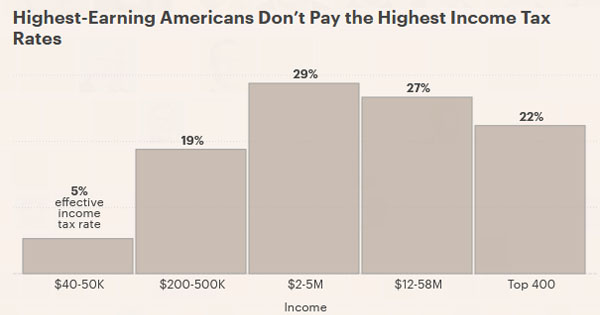 ► From the ProPublica — America's highest earners and their taxes revealed — To make it into the top 400 list, each person had to make an average of at least $110 million each year. A typical American making $40,000 would have to work for 2,750 years to make what the lowest-earning person in this group made in one. Many of the top 400 hit the sweet spot of high incomes and low taxes on much of that income — landing them in the cluster to the right on this chart. Their income mostly stems from stock sales taxed at the lower rate. Since 2013, that long-term capital gains rate has been 20%, about half the top rate on ordinary income (37% in 2018).
► From the NY Times — Actors in 'Waitress' tour seek to join labor union — Employees of a nonunion production are seeking improved compensation and safety protocols, saying a union version of the same musical pays better. The number of people affected is small — there are 22 actors and stage managers employed by the tour, according to Actors' Equity Association — but the move is significant because it is the first time Equity has tried to organize a nonunion tour since an unsuccessful effort two decades ago to unionize a touring production of "The Music Man."
► From NPR — Over 50 gig workers were killed on the job. Their families are footing the bills. — Bella Lewis was one of more than 50 gig workers killed while driving for companies like Lyft, Uber and DoorDash since 2017, according to a new report. And while it is hard to know what companies could have done to prevent the deaths, the worker advocates say there was a lack of support in the aftermath of the killings. Unlike regular employees, gig workers' families do not receive compensation, like survivor benefits, even if they have been killed while on the job.
► From the Washington Post — Postal workers are being attacked — so a block's mail service was cut off — Residents on the 1300 block of 14th Street in Santa Monica, Calif., will no longer find their mail in their mailboxes. Instead, they'll have to pick it up at their local post office, the city postmaster said in a letter last week.
---
The Stand posts links to Washington state and national news of interest every weekday morning by 10 a.m.
Short URL: https://www.thestand.org/?p=107660
Posted by
David Groves
on Apr 13 2022. Filed under
DAILY LINKS
. You can follow any responses to this entry through the
RSS 2.0
. Both comments and pings are currently closed.