Another local Starbucks strike | We're #1 for teachers | High stakes at ports
Tuesday, April 12, 2022
---
COVID
► LIVE from the Seattle Times — Coronavirus daily news update, April 12 — The latest count of COVID-19 cases in Washington totals 1,467,059 infections (14-day average of cases per day: 1,125) and 12,566 deaths.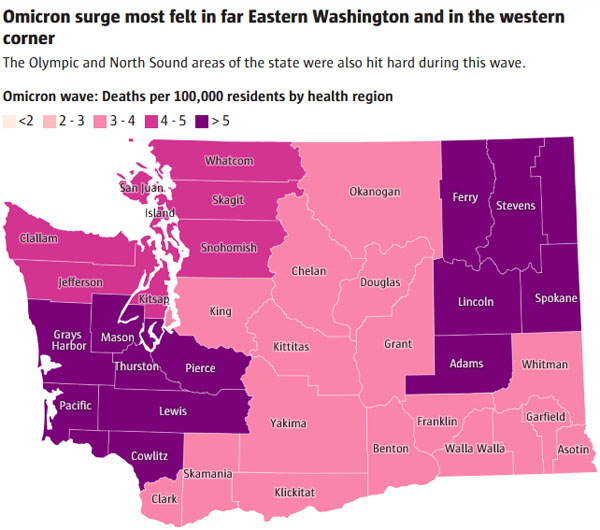 ► From the Seattle Times — Tracking COVID's unequal, unpredictable toll across Washington state — During the most recent wave, fueled by the Omicron variant, infections and hospitalizations soared, yet the number of deaths remained relatively low.
EDITOR'S NOTE — Relatively low: more than 2,000 Washingtonians died from COVID-19 between mid-December and mid-February during the Omicron surge. A lower rate than Delta, but… more than 2,000. Meanwhile, COVID cases are back on the rise again, locally and nationally…
► From HuffPost — Universities bring back indoor mask mandates as COVID cases rise again — On Monday, American University announced that masks would be required in campus buildings, except if people are alone, in their rooms with only their roommates, or if they are eating or drinking. In recent days, a handful of other universities have reimplemented similar measures, including Columbia, Georgetown, Johns Hopkins and Rice universities.
► From HuffPost — Philadelphia restores indoor mask mandate amid new wave of COVID-19 cases — The city reinstated the mandate, set to take effect April 18, as Dr. Anthony Fauci warned Americans to weigh out their own personal risk in the spread of the virus.
► From The Hill — Biden seeks to resume federal worker vaccine mandate — The Biden administration on Monday asked a federal appeals court to clear a procedural hurdle that remained after a key legal victory last week and allow the administration to quickly resume enforcement of its COVID-19 vaccine mandate for federal employees.
The Stand (Oct. 18, 2021) — WSLC position on vaccine mandates
---
STARBUCKS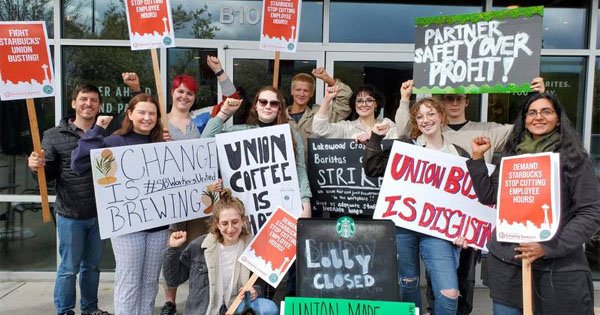 ► From KIRO — Workers at Marysville Starbucks go on strike over lack of staffing, working conditions — Employees at a Starbucks in Marysville are on strike, citing what they say have been unfair working conditions and a lack of adequate staffing. Strike organizer Kaitlyn McCoy described she's been typically working double shifts "because of being severely understaffed." She says that the last straw came when there was no one available to cover for a sick employee, leaving only two people to work a shift, one of whom was nearly nine months pregnant. "We didn't have enough coverage because they don't schedule enough coverage," she added. "Corporate's been cutting hours nationwide."
EDITOR'S NOTE — If you're keeping count, that's 11 Starbucks stores in Washington state that have filed for and/or already won union elections. Are you ready for a voice at work? Get more information about how you can join together with co-workers and negotiate a fair return for your hard work. Or go ahead and contact a union organizer today!
The Stand (March 30) — Starbucks workers 'burnt out, sick and tired' — As company continues union-busting tactics, employees strike in Olympia and another store in Seattle files to unionize.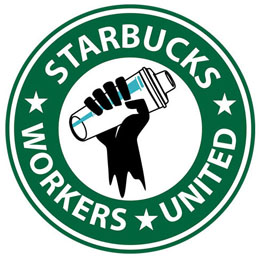 ► From WGBH — Two Starbucks stores in Boston area unanimously secure union wins, the first in Massachusetts — Joined by union organizers and supporters from around the state, baristas from Starbucks locations in Coolidge Corner and Allston erupted in cheers and embraced one another as election results were announced by an official from the NLRB: 14-0 in Brookline and 16-0 in Allston.
EDITOR'S NOTE — If you're keeping count, that makes 18 wins in 19 elections.
► From Truthout — Labor officials find Starbucks illegally fired 7 union organizers in Memphis — NLRB prosecutors have determined that Starbucks illegally fired seven union organizers who formerly worked in a unionizing store in Memphis, Tenn., backing up the union's claims that the terminations were clearly unlawful.
The Stand (Feb. 14) — Tell Starbucks: Reinstate fired workers, stop union busting!
► From Spectrum Local News — Firing of union leader leads to protest outside Raleigh Starbucks — The protesters say former employee Sharon Gilman was fired in retaliation for her role in trying to unionize the midtown Starbucks location, days before ballots were set to go out for the union election of her store.
---
AMAZON
► From the Seattle Times — Amazon's injury rate jumped 20% last year, new report shows — The Strategic Organizing Center, a coalition of four labor unions, analyzed data Amazon has submitted to OSHA about its warehouses in 2021. That analysis found Amazon accounted for nearly half of all injuries in the warehouse industry last year and had a higher rate of injury than other non-Amazon facilities. The serious injury rate at Amazon warehouses in 2021 was 6.8 per 100 workers, compared to a rate of 3.3 per 100 at other non-Amazon warehouses, according to the study. For workers who were seriously injured, Amazon employees needed an average of 19 more days to recover than workers at other non-Amazon warehouses.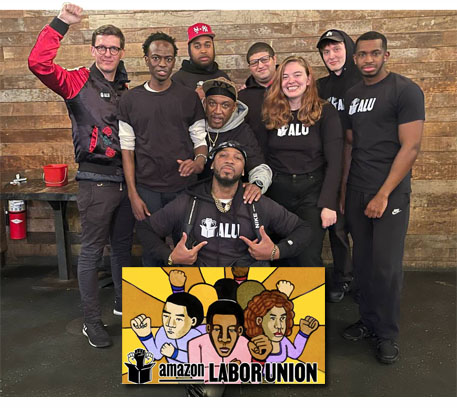 ► From Truthout — Workers at more than 100 facilities have contacted Amazon union in just one week — If Christian Smalls's count is accurate, that means that workers at 10 percent of the company's roughly 1,000 fulfillment and packing centers are interested in unionizing. Amazon employs around a million workers, primarily in warehouse and delivery jobs, meaning that these union efforts could cover over a hundred thousand workers — a remarkable scope.
EDITOR'S NOTE — Interested in gaining a real voice at work? Get more information about how you can join together with co-workers and negotiate a fair return for your hard work. Or go ahead and contact a union organizer today!
► From Mother Jones — Amazon wants to redo historic union election they lost — The company is seeking an election do-over, according to a legal filing. Amazon outlined 25 objections against the union. They say that organizers intimidated workers to vote for the union, inappropriately distributed cannabis to workers, and failed to control media presence at the polls, among other objections. An attorney for the Amazon Labor Union called the claims "patently absurd."
► From HuffPost — Amazon union vote becomes flashpoint in Staten Island congressional race — Since the union win took place in New York's 11th Congressional District, a swing seat that Democrats hope to retake this November, Democratic candidates have flocked to express solidarity with the workers and are already using the union success as a cudgel against Republican Rep. Nicole Malliotakis. In the days following the Amazon vote, Malliotakis, who voted against the PRO Act, did not comment on the union election.
---
LOCAL

The Stand (March 31) — Local Verizon workers fight for union in NLRB election
The Stand (March 8) — Verizon workers seek union with CWA in Everett, Lynnwood

► From the Olympian — 17 Port of Olympia employees say they have formed a new union — ILWU Local 47 represents dockworkers at the Port of Olympia, Local 47A covers marine terminal maintenance workers and now 17 additional workers at the port have joined forces to form a new union.
The Stand (Jan. 20) — Unions post big gains in Washington state — With 72,000 more members, state now ranks 3rd in union membership.
► From the UFW — If you don't follow @UFWupdates on Twitter, you should…
---
BOEING
► From the Seattle Times — Sanctions on Russia force Boeing order revision, while ongoing 787 halt reduces jet deliveries — In the monthly update of its jet orders and delivery data released Tuesday, Boeing removed orders for 141 jets from the official backlog — most of which were planes formerly destined to be flown in Russia, where ultimate delivery is now in doubt because of international sanctions. The data otherwise showed a steady flow of new airplane orders in March, including 35 net new orders for the 737 MAX.
► From the PS Business Journal — Air Force budget signals work ahead for Boeing's Puget Sound-area factories — The surprises included continued commitment to the Everett-built KC-46 tanker, said J.J. Gertler, director of defense analysis agency Defense Concepts Organization. The bigger surprise came in plans to retire the E-3 Sentry, an airborne warning and control system based on the Boeing 707. Signs suggest the Air Force will replace it with the E-7 Wedgetail, a modified 737 built in Renton.
---
THIS WASHINGTON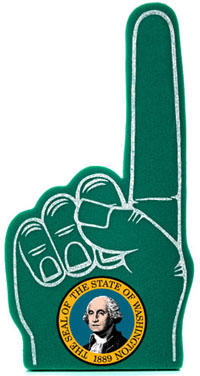 ► From the News Tribune — Washington ranks as the nation's best state for teachers. Here's why. — Washington ranked No. 1 on Scholaroo's list of "Best & Worst States for Teachers." The study compared career accessibility, salary and compensation, work benefits, work environment and student performance across all 50 states.
TODAY at The Stand — WEA hosts Art Build to support public schools on April 15-17 — The Washington Education Association, Highline EA, Seattle EA and Federal Way EA are hosting the first Art Build in the Pacific Northwest to amplify their advocacy for students, schools, educators and public education. This fun event, which is open to all union members and community supporters of quality public schools, will be from Friday, April 15 to Sunday, April 17 at Highline High School, 225 S. 152nd St. in Burien.
► From Q13 — Washington State Ferries pushes for 'cultural shift' to solve worker shortage — Facing a shortage of engine room workers, Washington State Ferries is looking to drum up enrollment at the Seattle Maritime Academy.
---
THAT WASHINGTON
► From the Washington Post — Prices climbed 8.5% in March, compared to last year, amid growing fears of economic slowdown — Prices rose 8.5 percent in March compared with a year ago, the largest annual increase since December 1981, as Russia's war in Ukraine drove up energy prices and policymakers launched a major effort to get soaring inflation under control.
► From the Washington Post — Why gasoline prices remain high even as crude oil prices fall — When crude prices eased — they're now down more than 20 percent from their March high — pump prices eased somewhat but have remained elevated. This pattern is so common, especially with gas prices, that economists have a pet name for it: rockets and feathers. When crude prices jump, pump prices tend to rise like a rocket. But when crude prices fall, pump prices tend to descend gently, like a feather.
► From Politico — COVID deal hampered by GOP opposition to Biden immigration policy — Just a day after Republican Sen. Mitt Romney and Majority Leader Chuck Schumer announced a deal on billions for therapeutics, vaccines and testing, GOP senators threw in a wrench that could mean Congress will break with nothing. Senate Republicans say they want a vote on an amendment that would keep in place the Title 42 border restrictions, which allows limits on immigration due to the pandemic. Without one, they say the bill can't proceed.
---
NATIONAL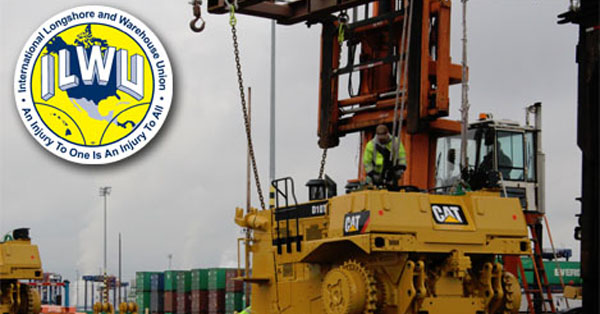 ► From Politico — West Coast port labor talks carry high stakes for economy, midterms — More than 22,000 unionized workers at nearly 30 ports along the West Coast are set to begin renegotiating their contract next month against the backdrop of an already imperiled supply chain, a historically tight labor market and looming midterm elections. The whirlwind of economic and political factors significantly ups the stakes for the talks, which take place every six years and have in the past stalled traffic at the busiest ports in the U.S. The Biden administration plans to keep close tabs on the talks — and intervene immediately should a breakdown appear imminent. The current contract between employees represented by the ILWU and employers represented by the Pacific Maritime Association expires July 1.
► From CBS 8 — SoCal grocery workers at Albertsons, Vons, and Ralphs vote on new contract — Grocery workers at locations throughout southern California began voting Monday morning on a new three-year contract. UFCW 135 members in San Diego County will vote on April 11-13. Union members said the results will be released after all UFCW locals have concluded voting on the evening of Saturday, April 16.
► From Vox — Congrats! You formed a union. Now comes the hard part. — The harder part, experts say, is getting companies like Amazon and Starbucks to agree on contracts. That's not for lack of trying on the unions' part. Rather, unions often face uphill battles with uncooperative companies and toothless labor laws. Some 30 percent of unions don't establish a contract within three years.
EDITOR'S NOTE — Which is why American workers need the Protecting the Right to Organize (PRO) Act. Among other things, it would require employers to follow a process for reaching a first agreement when workers organize, a process that uses mediation and then, if necessary, binding arbitration, to enable the parties to reach a first agreement in a timely manner.
---
The Stand posts links to Washington state and national news of interest every weekday morning by 10 a.m.
Short URL: https://www.thestand.org/?p=107618
Posted by
David Groves
on Apr 12 2022. Filed under
DAILY LINKS
. You can follow any responses to this entry through the
RSS 2.0
. Both comments and pings are currently closed.