(More) Starbucks strikes | WFSE demands safety | How Billy got big
Friday, April 15, 2022
---
LOCAL

► From KOMO — Downtown Starbucks employees picket after facing 'intense union-busting' from corporate — Workers at a downtown Starbucks are on strike months after filing for a union election. Chants of "Hey hey, ho ho, union busting has got to go!" rung outside of the Starbucks on 5th Avenue and Pike Street Friday morning, with another picket planned for 9 a.m. both Saturday and Sunday.
FROM The Calendar at The Stand — Join Starbucks Workers United Seattle for a rally tomorrow (Saturday, April 16) at 4 p.m. at Cal Anderson Park. Hear from Starbucks workers, enjoy music and food, and help put up solidarity posters to spread the word in Seattle neighborhoods about what Starbucks workers are fighting for.
The Stand (March 30) — Starbucks workers 'burnt out, sick and tired' — As company continues union-busting, employees strike in Olympia and another Seattle store files to unionize.
► A related story from the PS Business Journal — Starbucks hit with second NLRB complaint alleging mistreatment of pro-union workers — The NLRB has filed a second complaint against Starbucks for unfair labor practices against pro-union baristas in Arizona. In March, NLRB investigators in Arizona became the first to advance a complaint against the Seattle-based company, saying they had found sufficient evidence of alleged retaliation and intimidation. On Wednesday, investigators in the same office filed a second complaint, alleging further mistreatment, including discipline, interrogation, coercive statements, according to agency records.

► From the PS Business Journal — Here's the deal Teamsters seek with Seattle-area concrete suppliers — The way Teamsters Local 174 Secretary-Treasurer Rick Hicks lays it out, the two sides in the bitter strike against sand-and-gravel companies aren't that far apart. According to the union, over the three years of the proposed contract, the companies and union are separated by a total of 71 cents plus $3,000 in bonuses. But the big sticking point is the cost of retiree medical benefits.
► From KUOW — Seattle's payroll tax is thriving, but faces next legal challenge — Seattle's new payroll tax survived its first court challenge last June, and the city collected $231 million from affected businesses in 2021. The city is forecasting continued growth: $277 million in tax proceeds for 2022 and almost $300 million next year. Now, the lawsuit heads the state Court of Appeals, which is scheduled to hear oral arguments Friday.
► From the Tri-City Herald — Ben Franklin Transit board debates 'blindly' cutting its own sales taxes — The Ben Franklin Transit Board voted to table indefinitely a resolution to temporarily reduce sales tax collections for the bus service and a resolution to ask voters whether to permanently reduce sales tax collections.
► From the Seattle Times — New leader takes reins at Seattle Schools with a markedly different style — A self-described introvert, Seattle's new superintendent, Brent Jones, has taken on a job that many consider one of the toughest public service jobs in the city.
---
THIS WASHINGTON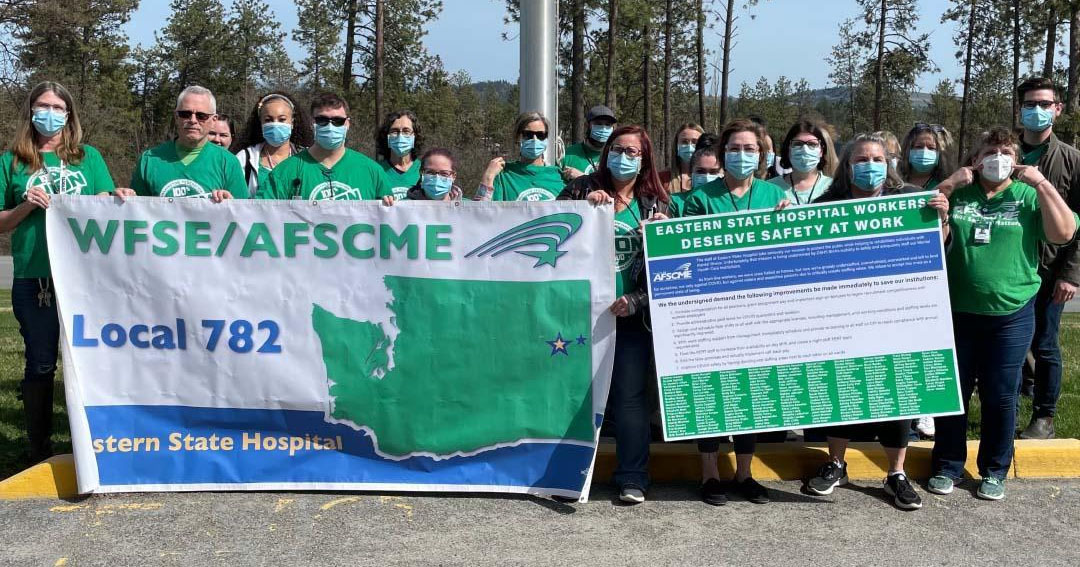 ► From WFSE — 400 employees at Western/Eastern State Hospitals demand safety — In a coordinated effort, over 400 Western State Hospital and Eastern State Hospital employees signed petitions demanding safe working conditions and fair compensation. Both petitions were delivered to management over the last week. The workers at both hospitals are calling for:
Increased compensation and sign-on bonuses to improve recruitment and retention and achieve safe staffing levels
Improved COVID-19 safety measures and paid leave for COVID-19 quarantine and isolation
Training opportunities to improve safety
Assign floor shifts to all staff with licenses, including management, until conditions significantly improve
An end to false promises and to actually implement call-back pay
And more
► From the union-busting Columbian — State Rep. Vick will not seek reelection — The 18th District representative, now in his 10th year in office, said he has enjoyed his time serving in the Legislature but believes it's time for new representation.
► From the Tri-City Herald — Apparent phishing scam leads candidate Loren Culp to claim cancellation by Facebook — Republican congressional candidate Loren Culp claimed this week that Facebook had notified him it was about to delete his campaign page — a move he decried as an example of Big Tech censorship of conservatives. But Facebook says it sent no such notice, and it appears Culp may have fallen for a common phishing scam.
---
THAT WASHINGTON
► From Roll Call — Agencies announce plans for more equity in federal programs — Dozens of federal agencies launched plans Thursday that focus on minority groups and other underserved communities, meant to open federal programs to more people and reduce racial disparities caused by government decisions.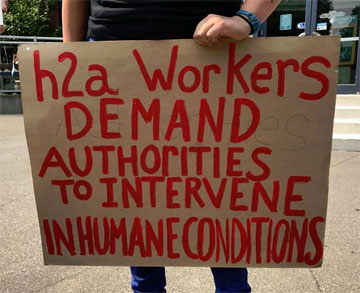 ► From Politico — Georgia farm labor indictments raise pressure on Biden for farmworker reforms — The U.S. attorney for the Southern District of Georgia described it as "modern-day slavery." A human smuggling ring allegedly trafficked over 200 workers from Mexico, Honduras and Guatemala to provide labor on south Georgia onion farms, according to a federal indictment. They obtained agricultural worker visas for their victims and then forced them to perform physically demanding labor for little or no pay and live in squalid conditions. Members of the ring sold or traded some workers among themselves and sexually assaulted some… The blockbuster nature of the abuses uncovered in Georgia, and the level of impunity with which the violators operated for so long, have drawn renewed attention to the flaws in the federal agricultural visa program, even as demand for farmworkers has intensified amid a historically tight labor market. And it is testing President Joe Biden's commitment to addressing those problems, one slice of an immigration agenda that has idled since his inauguration.
---
NATIONAL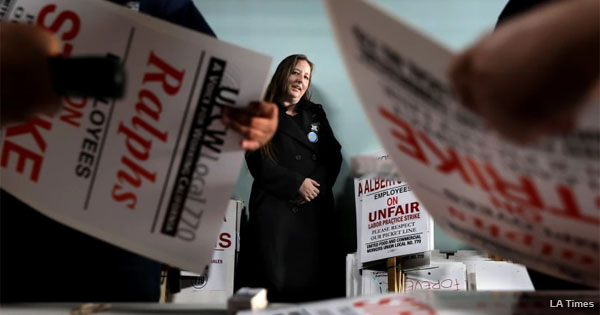 ► From the LA Times — 'Unified and militant': Grocery workers get double-digit pay raises in new contract — Whipsawed by the pandemic, spurred by fury over wage stagnation and alarmed by inflation, Southern California's unionized grocery workers gained their biggest pay raises in decades Thursday as they ratified a new contract with the region's largest food chains. The three-year contract's overwhelming approval, by 87%, followed strike authorization votes two weeks earlier by union locals representing 47,000 employees at 540 Ralphs, Albertsons, Vons and Pavilions stores. After four months of bargaining, Kroger, the parent company of Ralphs, and Albertsons, which owns Pavilions and Vons, agreed to raises of 19% to 31% over current pay levels for most workers. Part-time employees, about 70% of the workforce, are guaranteed 28 hours weekly, up from 24.
EDITOR'S NOTE — How does a double-digit pay raise sound to you? Get more information about how you can join together with co-workers and negotiate a fair return for your hard work. Or go ahead and contact a union organizer today!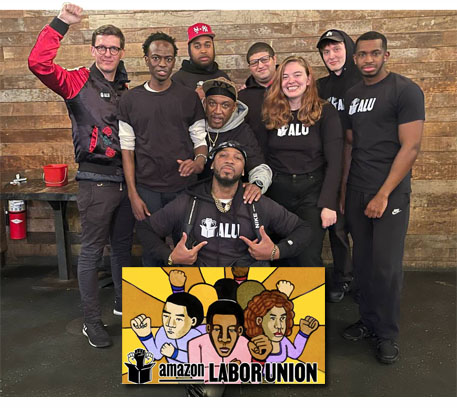 ► From Vice — Amazon Labor Union is inspiring Amazon workers around the country to unionize — When Amazon warehouse workers in Staten Island made national headlines for voting to form the first union at Amazon in the United States two weeks ago, the news traveled quickly on social media, reaching Amazon warehouses across the country and beyond. Hundreds of workers from the Southwest, East Coast, and Midwest have contacted Amazon Labor Union for help organizing unions, and organized groups of warehouse workers inspired by Amazon Labor Union's victory, formed or expanded at Amazon warehouses across the country.
► From the WSJ — Transformed labor market puts odds of being laid off at historic lows — New claims for unemployment benefits are trending at their lowest levels since 1968, underscoring few layoffs in the tightest labor market in half a century.
► From Business Insider — A company that switched to a 4-day work week to stop employees quitting in droves says business has never been better — After employees of an education nonprofit began "quitting in droves," the CEO implemented a four-day workweek — and now the workers have never been more productive. The Boise-based nonprofit Healthwise says workers are "dramatically happier," revenue has increased, and customer satisfaction scores are "outstanding."
► From the Washington Post — Economic toll in Texas worsens as trucks remain stopped at Mexico border — Economic fallout worsened Thursday even as Texas Gov. Greg Abbott (R) moved incrementally to roll back new inspection rules for commercial trucks entering from Mexico, with some companies saying they aren't able to fulfill orders because trucks are stuck in multi-mile backups at a number of entry points.
---
T.G.I.F.
► In 1972, young Billy Joel was struggling. His first album on a small record label had been mastered at too high a speed and was a technical and commercial disappointment. But 50 years ago today, he played a concert at Sigma Sound Studios in Philadelphia which was broadcast by the local radio station WMMR. After the show, the station puts his performance of "Captain Jack" in rotation, and he began to build a following that led to a contract with Columbia Records, which released Joel's breakthrough album, Piano Man, the following year. Here he is playing a song that was a B side from his classic 1977 album The Stranger. In an excellent New York Times interview from 2008, Joel said this is one of his two favorite songs from his catalogue. Apparently, the kids agree. It has gone from a deep album cut to become his #1 streamed song on Spotify. Enjoy.
---
The Stand posts links to Washington state and national news of interest every weekday morning by 10 a.m.
Short URL: https://www.thestand.org/?p=107738
Posted by
David Groves
on Apr 15 2022. Filed under
DAILY LINKS
. You can follow any responses to this entry through the
RSS 2.0
. Both comments and pings are currently closed.