Wear it anyway | Starbucks sweep | Dem union busters at Amazon
Wednesday, April 20, 2022
---
COVID
► From the AP — In a reversal, masks requirements dropped on Seattle-area buses and trains — Face coverings are no longer required on buses or trains in the Puget Sound region. Transit agencies issued a joint press release on Tuesday, announcing the change.
MORE coverage of the lifting of local mask requirements in the Bellingham Herald, (Everett) Herald, Kitsap Sun, Olympian, Peninsula Daily News, Tri-City Herald, and the Walla Walla Union-Bulletin.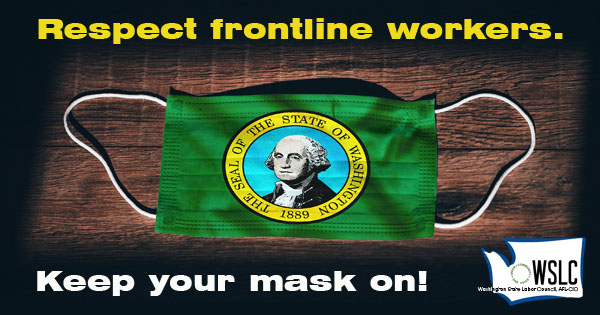 EDITOR'S NOTE — It's no longer required, but it's still recommended. Stay masked in crowded public spaces. It remains a great (and easy) way to protect yourself and others — particularly high-risk and elderly folks with underlying conditions — from getting sick. And it's a great way to show respect for airport, transit and all other frontline workers in public-facing jobs who interact with hundreds of people every shift.
► From the Washington Post — You don't have to wear a mask on planes. Do it anyway, experts say. — Health experts say those who want to protect themselves as cases rise again should continue to cover their faces — with the best possible mask.
► From the Washington Post — Masks work. The judge's ruling does not change that. (editorial) — They work to protect against infection and are worth wearing in crowded indoor spaces, regardless of the legal ruling. Common sense still makes good sense.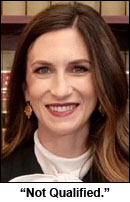 ► From the AP — Feds will appeal mask ruling only if mandate still needed — The Justice Department said Tuesday it will not appeal the ruling unless the CDC believes the requirement is still necessary. As of Tuesday, the agency hadn't made a determination.
► From The Hill — Judge's 'textualist' ruling on airline mask mandate sparks backlash — Mizelle's ruling largely turned on the meaning of the word "sanitation."
► From Vox — The Trump judge's opinion striking down the airplane mask mandate is a legal disaster — This decision is what happens when judges don't care what the law actually says.
---
STARBUCKS

► From the Bellingham Herald — Employees at this Bellingham Starbucks are petitioning for a union election — Employees of the Starbucks on Iowa at King street announced that they have petitioned for a union election. In its letter signed by 11 employees, they noted a desire to improve overall work conditions at the drive-through coffee spot. They said the decision to petition for an election was made after several attempts to work with Starbucks management were unsuccessful.
EDITOR'S NOTE — Ready to improve your working conditions? Get more information about how you can join together with co-workers and negotiate for better conditions and a fair return for your hard work. Or go ahead and contact a union organizer today!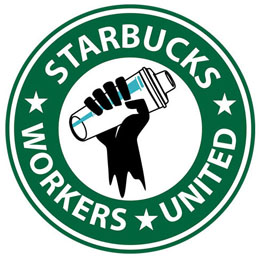 ► From HuffPost — Starbucks union spreads to Virginia with 5 election victories — The union representing Starbucks workers won a clean sweep of five store elections in the Richmond, Va., area on Tuesday, showing no signs of slowing as they try to organize the coffee chain store by store. The campaign, known as Starbucks Workers United, has now won more than 20 union elections and lost just two since the first votes were held late last year, although not all election results have been certified.
---
LOCAL

► From KIRO — Delta pilots picket at Sea-Tac, citing fatigue from staffing shortfall — Off-Duty Delta Air Lines pilots picketed Tuesday outside Seattle-Tacoma International Airport, citing fatigue from working overtime to cover for a pilot shortage as the airline's flight schedule returns to pre-pandemic levels.
► From KNKX — 'It's a huge deal': Federal dollars speed up Port Angeles project — The $7.3 million grant from the U.S. Department of Commerce will pay for infrastructure improvements at the Port of Port Angeles, which will clear the way for the port to build a Marine Trades Industrial Park on the site of a former plywood mill.
► From the (Everett) Herald — $16M in cuts loom if Marysville school funding measures fail
► From KOMO — Bethel School District says they faces hundreds of job cuts if levy is not approved
---
SOUTH OF THE BORDER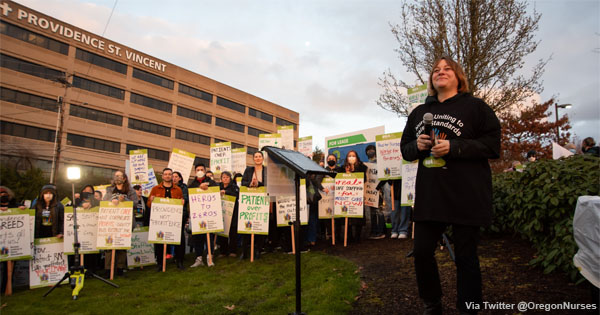 ► From KGY — Providence St. Vincent nurses to vote whether to strike over unfair labor practices — Hundreds of nurses at Providence St. Vincent Medical Center will vote to decide whether to strike over unfair labor practices, the Oregon Nurses Association (ONA) announced Monday. The strike vote will run from April 19 to May 3. The nurse's union has accused Providence of engaging in "illegal attempts to discriminate, threaten and retaliate against nurses who engage in protected union activity and exercise their rights to speak up for patient and caregiver safety."
---
THIS WASHINGTON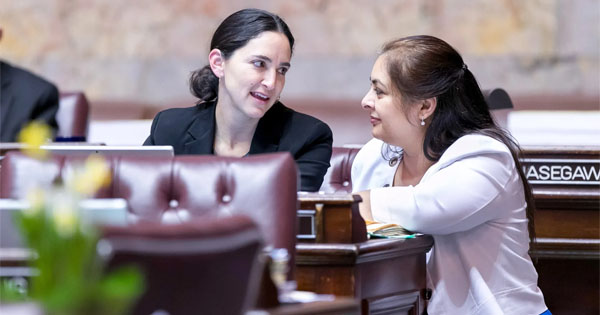 ► From the Seattle Times — Women of color are changing the dialogue in WA's Legislature (by Manka Dhingra and Rebecca Saldaña) — We have seen clear evidence during the pandemic that when women assume political leadership, it leads to improved outcomes. That is one of many reasons to celebrate the strides that women, and especially women of color, are making in American public life. We are finally catching up to the rest of the world.
---
THAT WASHINGTON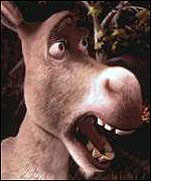 ► From Politico — Democratic Party weighs banning its consultants from anti-union activity — The Democratic Party is considering banning its army of consultants from engaging in anti-union activity following a report that one of its pollsters had helped Amazon combat organizing efforts, according to a document obtained by Politico. The move comes less than a month after a report that Global Strategy Group, a prominent Democratic pollster based in New York, had aided Amazon's campaign to fend off organizing efforts at several of its Staten Island facilities, including by producing videos and distributing flyers that featured company executives extolling the benefits of remaining non-unionized. AFL-CIO President Liz Shuler:
"By amending their contracts and RFP processes to exclude firms actively working with clients who seek to prevent or limit working people's basic rights to act collectively or otherwise act against their interests as union members, the committees demonstrate their commitment to democracy and shared prosperity."
► From the NY Times — From Amazon to Starbucks, America is unionizing. Will politics catch up? (podcast) — On today's episode of "The Argument," Jane Coaston asks two leading labor voices in America — AFL-CIO President Liz Shuler and Jane McAlevey, an organizer and campaign strategist — to debate the current role of unions, how the watershed vote at an Amazon warehouse is changing their work and whether Democrats have failed workers.
► From Politico — Hire now, fire later. Schools flush with cash face a funding cliff in 2 years — School districts and administrators can tap the use-it-or-lose-it COVID relief money approved by Congress to address emergencies and attract in-demand workers like bus drivers and substitute teachers. But schools could face a "funding cliff" when federal monies run dry in September 2024.
---
NATIONAL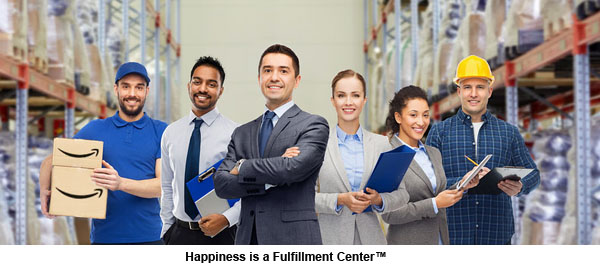 ► From Business Insider — Amazon engaged anti-union consultants at a weekly rate of up to $20,000 each to work in its Staten Island warehouses, documents suggest — The presence of anti-union consultants had been noted by workers inside JFK8, an Amazon warehouse on Staten Island, which voted on April 1 to form the company's first union. In leaked audio from a mandatory meeting inside the warehouse, a union avoidance consultant told workers that if they unionized, pay negotiations with Amazon could start as low as the minimum wage. The employer of this consultant isn't known.
---
The Stand posts links to Washington state and national news of interest every weekday morning by 10 a.m.
Short URL: https://www.thestand.org/?p=107866
Posted by
admin
on Apr 20 2022. Filed under
DAILY LINKS
. You can follow any responses to this entry through the
RSS 2.0
. Both comments and pings are currently closed.