Starbucks strike and vote | Subsidized union busting | Fight back
Thursday, April 21, 2022
---
STARBUCKS

► From The Stranger — Starbucks Roastery union vote livestreams today — Seattle Roastery workers will be counting ballots today at 1 pm, and you can watch the count live via Zoom. Will this be another unanimous vote? We're about to find out. Meanwhile, Starbucks workers in the International District will continue their strike this morning, and workers at Union Station walked out after an employee was asked to leave for wearing union apparel:
EDITOR'S NOTE — If you're keeping count, 13 Starbucks stores in Washington state have filed for and/or already won union elections. Are you ready for a voice at work? Get more information about how you can join together with co-workers and negotiate a fair return for your hard work. Or go ahead and contact a union organizer today!
► From Vice — The Starbucks union movement is 'unstoppable' — Despite Starbucks' very best efforts to prevent the union drives at the coffee chain from spreading—bringing back former CEO Howard Schultz, firing union organizers, holding extensive captive audience meetings—the momentum of Starbucks stores filing for union elections isn't showing any signs of slowing. More than 200 stores nationwide have filed for union elections with Starbucks Workers United, and new stores are filing most days of the week.
The Stand (March 30) — Starbucks workers 'burnt out, sick and tired' — As company continues union-busting tactics, employees strike in Olympia and another store in Seattle files to unionize.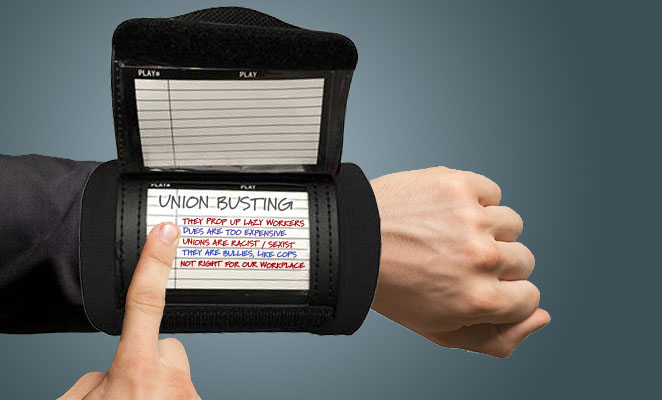 ► From Labor Notes — 'Add personal story here': Starbucks anti-union one-on-ones fall flat (by Starbucks employee Sara Mughal) — For our first round of one-on-ones, these meetings were framed as "reviewing our benefits." Basically, they intended to tell us how great our benefits are—and that they could take them away… Our manager accidentally handed the (one-on-one meeting talking points) sheet corporate had given her to the barista in the meeting before mine. This sheet had detailed guidelines on how to run a one-on-one, automating heartwarming moments through directions like, "Add a personal story here" and "Share your favorite Starbucks memory."
---
LOCAL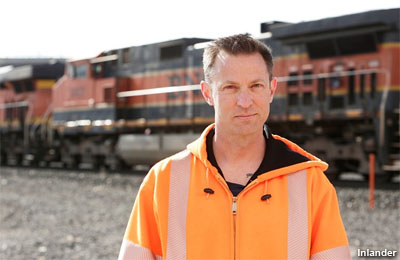 ► From the Inlander — Some BNSF workers say a Kafkaesque scheduling system has turned railroad work into a dangerous nightmare — Like other corporations, the Burlington Northern Santa Fe Railway sent out a flier to their employees encouraging them to get plenty of rest to prepare for the Daylight Saving Time change in March. But Shawn Blackburn, a 49-year-old BNSF engineer in Spokane, thought that hilarious. The very idea of it, of just a one-hour time difference being the thing that could disrupt his sleep schedule. Thanks to his ever-changing work schedule, he'd just gone 27 hours without sleep.
► From the AJOT — Dispatchers at Alaska Airlines ratify new five-year contract — Alaska Airlines' 100 dispatchers represented by the Transport Workers Union have ratified a new five-year contract. The contract was approved by 81% of those employees who voted. The new contract includes increased pay with a mid-term market review to ensure wage rates stay competitive, along with enhanced benefits and streamlined training.
► From the PS Business Journal — Nintendo faces labor complaint from Washington-based employee — The complaint, filed anonymously in Washington, alleged Redmond-based Nintendo of America and one of its recruiting firms, Aston Carter, engaged in "coercive actions," "coercive statements," "discharge," and "concerted activities." Examples given for these allegations include surveillance, threats, refusals to hire and retaliation.
► From the Seattle Times — Some unvaccinated Seattle-area firefighters are pushing to get their jobs back — Over the past few weeks, as city councils and other government panels resume in-person meetings, unvaccinated firefighters and their supporters are continuing to push for the first responders to return to work.
► From KING — President Biden to arrive in Seattle on Thursday — On Friday, President Biden will discuss his administration's efforts to continue growing the country's clean energy economy.
---
AEROSPACE

► From the Seattle Times — Mystery persists after initial report into Boeing 737-800's crash in China — A preliminary report released Wednesday by China's aviation safety regulator failed to dispel much of the mystery about why a China Eastern jet suddenly went into a nosedive in clear weather last month and crashed into a muddy hillside, killing all 132 people aboard. The report mainly cataloged what was previously known about the crash.
---
THAT WASHINGTON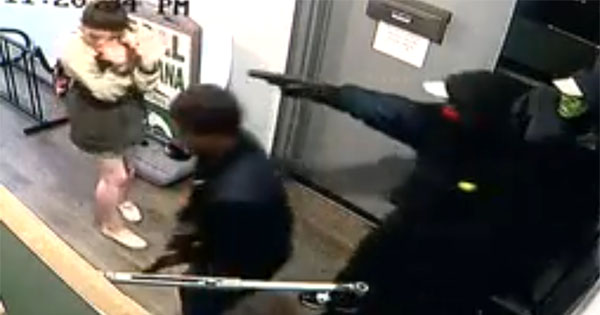 ► From the Kitsap Sun — Washington cannabis shop robberies, deaths fuel calls for federal banking reforms — A surge in robberies at licensed cannabis shops — including a pistol-whipping, gunshots and killings in Washington state last month — is helping fuel a renewed push for federal banking reforms that would make the cash-dependent stores a less appealing target. "It makes absolutely no sense that legal businesses are being forced to operate entirely in cash, and it's dangerous — and sometimes even fatal — for employees behind the register," said Sen. Patty Murray (D-Wash.)
► From the Washington Post — FAA makes 'zero tolerance' policy for unruly passengers permanent — The special order meant the agency could take immediate action, including issuing civil fines, against passengers who threatened, assaulted, intimidated or otherwise interfered with crew members while on an aircraft. Before the order, the agency often had to take intermediate steps, such as issuing warnings or recommending counseling before moving to more serious punishments.
► From Politico — DOJ to appeal travel mask mandate ruling after CDC says masks still needed on public transportation — The CDC said that it would continue to "monitor public health conditions" to determine whether the mask mandate remains necessary.
► From HuffPost — Biden administration urges global trade chief to speed up COVID-19 patent waiver process — It's been nearly a year since the U.S. announced support for waiving vaccine patents, but influential countries in the WTO have yet to release a possible agreement.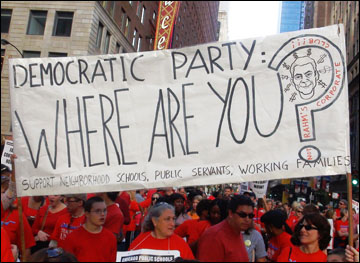 ► From Vox — Does Democrats' support for unions extend to their own employees? — At the moment, there's no clear answer. In February, top Democrats — including House Speaker Nancy Pelosi and House Majority Leader Steny Hoyer — declared their full-throated support for a unionization effort among congressional staffers. Two months later, however, a resolution that would authorize the effort is stalled. Two Democratic aides, who declined to comment on the record because the process is ongoing, have cited a procedural glitch for the hold-up, but the union's organizers, who are eager to make progress before the midterm elections, are losing patience with the delays.
► From the NY Times — If Biden's plan is like a 'New Deal,' why don't voters care? — The $1.9 trillion pandemic-relief law unleashed a massive wave of spending on local construction projects and programs. Democratic candidates aren't getting much credit.
► From Common Dreams — Bernie Sanders to visit Amazon workers in NYC on eve of second union election —  The LDJ5 Amazon warehouse in Staten Island is set to begin voting on whether to unionize on April 25, less than a month after a company facility across the street won its union election.
---
NATIONAL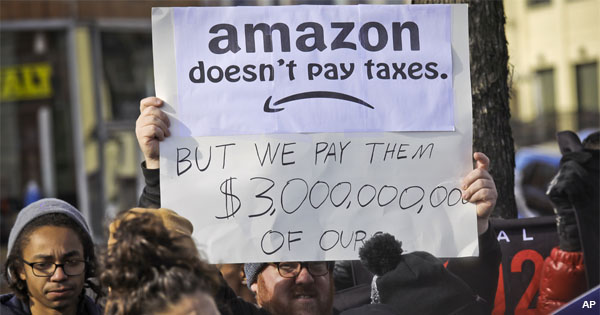 ► MUST-READ from Jacobin — Amazon's union busting is subsidized by the government — As Amazon now faces investigations over allegations that it violated labor laws, the company continues to benefit from lucrative subsidies and tax breaks, even though most of these funds are conditioned on complying with regulations, including labor law. In all, the company has received more than $4.1 billion in subsidies from state and local governments nationwide, according to data collected by Good Jobs First. In New York, the relationship between public money and Amazon's union busting is front and center. The company was just found to have illegally fired a worker for speaking out at that Staten Island warehouse two years ago. Now an attorney for the Amazon Labor Union has filed a complaint asking New York's Democratic Attorney General to investigate whether Amazon has violated labor laws and thus nullified its eligibility for subsidies.
► From Vice — The first Apple Store in the United States files for union election — An Apple Store in Atlanta has filed for a union election with the CWA, becoming the first of Apple's 272 brick-and-mortar stores in the country to do so. Derrick Bowles, an Apple Genius worker at the unionizing Apple store:
"A number of us have been here for many years, and we don't think you stick at a place unless you love it. Apple is a profoundly positive place to work, but we know that the company can better live up to their ideals and so we're excited to be joining together with our coworkers to bring Apple to the negotiating table and make this an even better place to work."
---
FIGHT BACK
► ICYMI… from Michigan state Sen. Mallory McMorrow:
► From the Washington Post — GOP turns to false insinuations of LGBTQ grooming against Democrats — The rapid escalation in public support for the LGBTQ community's rights in recent years had quieted much of the blatant homophobia in the nation's political discourse. But, in recent weeks, Republicans have reverted to verbal and legal assaults on the community, sometimes employing baseless tropes that suggest children are being groomed or recruited by defenders of gay rights. The efforts ahead of the midterm elections are intended to rile up the Republican base and fill the campaign coffers of its candidates, without offering evidence that any Democrat had committed a repugnant crime.
---
The Stand posts links to Washington state and national news of interest every weekday morning by 10 a.m.
Short URL: https://www.thestand.org/?p=107895
Posted by
admin
on Apr 21 2022. Filed under
DAILY LINKS
. You can follow any responses to this entry through the
RSS 2.0
. Both comments and pings are currently closed.