Unionizing WA | Biden tackles healthcare costs | Amazon workers rally
Monday, April 25, 2022
---
LOCAL
► From KING 5 — 'They can't fire all of us': Seattle Verizon employee allegedly fired for organizing union — The Communications Workers of America filed an Unfair Labor Practice charge with the National Labor Relations Board against Verizon Wireless.
TODAY at The Stand — CWA: Verizon illegally fired employee after union win — "Verizon management targeted me for organizing a union," said Jesse Mason. "It's illegal to do that, and I'm confident that I will eventually be reinstated. I'm not scared because I know that there's a growing movement of retail workers  — from Verizon Wireless, to Starbucks, to Apple — who are joining together to demand a voice on the job. They can fire me, but they can't fire all of us, and we won't stop fighting until every worker who wants a union has a union."
► From KUOW — NLRB sues Starbucks for retaliating against 3 workers involved in unionizing — The National Labor Relations Board has sued the coffee shop chain Starbucks for allegedly retaliating against three employees who were involved in organizing a union. One worker was disciplined, suspended and discharged; another was "constructively discharged" and a third was put on unpaid leave after the company revoked "recently granted accommodations," the NLRB said in a press release.
EDITOR'S NOTE — How it's going…
The Stand (April 22) — Seattle Starbucks Roastery workers unionize
► From KING 5 — Unionization pushes continue across Washington state — Organizers from across the nation joined Seattle-area Starbucks workers Saturday in a march and rally, where they shared stories of and strategies for unionization. "We're hoping we can send that message to stores everywhere- not just to Starbucks, but for workers everywhere," Beto Sanchez said. "Big movements like these always just need a little push, with changes in history, sometimes people need something to fight for." Meanwhile, other local unions and organizing efforts continue to make headlines.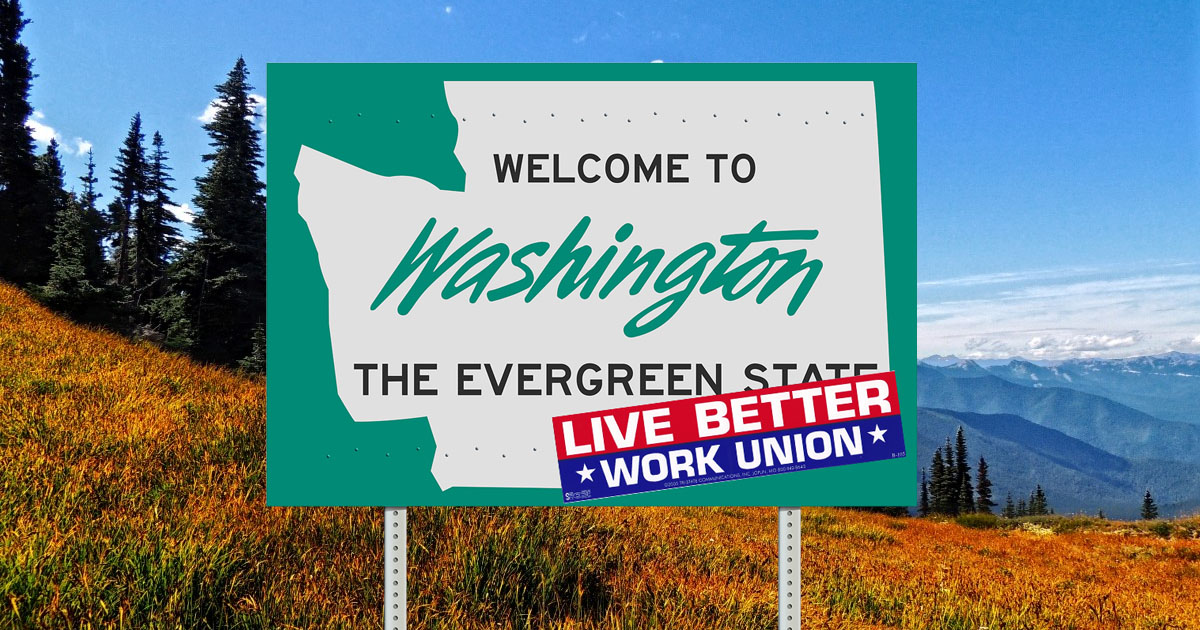 ARE YOU READY FOR A VOICE AT WORK?  Get more information about how you can join together with co-workers and negotiate a fair return for your hard work. Or go ahead and contact a union organizer today!
The Stand (Jan. 20) — Unions post big gains in Washington state — The state's union membership rate increased to 19 percent of the total workforce in 2021, up from 17.4 percent in 2020, according to a report released today by the U.S. Department of Labor's Bureau of Labor Statistics. With an additional 72,000 workers joining the ranks last year, there are now an estimated 629,000 union members in Washington, making it the third most unionized state in the nation behind only Hawaii and New York.
---
THIS WASHINGTON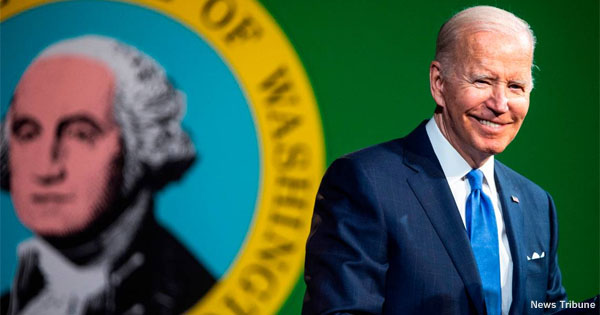 ► From the News Tribune — Biden visits Washington state, signs order protecting forests, discusses health care costs — President Joe Biden made an appearance at Green River College in Auburn on Friday, speaking to a closed room of press, local elected officials and several other individuals about growing the nation's economy, lowering the cost of health care and his administration's attempts to help American families burdened by the costs of rising inflation.
MORE local coverage of President Biden's visit from the Associated Press, Seattle Times, and the union-busting (Vancouver) Columbian.
TODAY at The Stand — Biden visit reminds us why elections matter (by Larry Brown)
► From the Seattle Times — Police misconduct is costing Washington taxpayers millions. Is George Floyd's murder one of the reasons? — Last year saw Washington cities and counties settle 15 misconduct and wrongful death cases for a total of at least $34.3 million, a 146% increase over what was paid out in 2020 — and a 363.5% increase over the 2019 amount. In fact, Washington cities and counties have paid more than $100 million over the past five years to resolve lawsuits and claims arising from allegations of police misconduct.
► From the (Everett) Herald — Police agencies here lag in diversity and want to change that — Police departments are trying to diversify, but it won't happen overnight. A Herald analysis shows how far they have to go.
► From the Seattle Times — Washington is offering more college aid than ever, plus new admission guarantees. Will students buy in?
---
AEROSPACE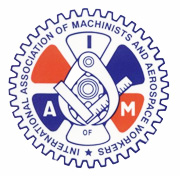 ► From CBS DFW — Machinists' union at Lockheed in Fort Worth ratifies new contract —  About 5,000 members of the International Association of Machinists and Aerospace Workers (IAM) District 776 in Fort Worth, Texas voted on Sunday, April 24, 2022 to ratify a new contract with Lockheed Martin. The four-year, two-month contact takes effect on Monday, April 25 and includes historic pay increases and strong benefits.
---
THAT WASHINGTON
► From the AFL-CIO — Unions demand justice for seasonal workers — AFL-CIO President Liz Shuler on the reintroduction of the Seasonal Worker Solidarity Act in Congress:
"The Seasonal Worker Solidarity Act will hold corporations accountable for their current misuse of the H-2B visa program and ensure that all seasonal workers are treated with dignity and respect on the job… (It) provides us with a bold opportunity to rework a broken system, and America's unions are committed to leveraging our power to advance these overdue reforms."
► From the Texas Signal — Joaquin Castro, Texas AFL-CIO back bill to support seasonal workers — The legislation would reform the H-2B guest worker visa program to facilitate recruitment, require safe and fair workplace conditions, and require benefits like workers' compensation insurance, and adequate transportation and housing.
EDITOR'S NOTE — Rep. Pramila Jayapal (D-Wash., 7th) is a co-sponsor.
► From The Hill — Election-year politics complicates Senate immigration talks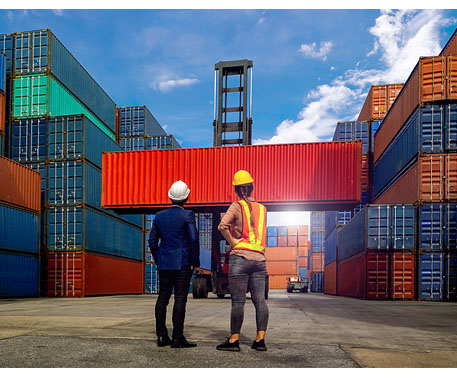 ► From Politico — Progressive and export-dependent: Oregon is a test for Democrats on trade — The state's economy is highly dependent on free trade and yet its progressive-leaning voters are typically skeptical of its benefits. That tug-of-war is vexing both parties as lawmakers weigh how much to push for more foreign market access for U.S. companies and investors despite the potential for political backlash.
EDITOR'S NOTE — This story reads like something from 20 years ago: labelling progressive values on trade as "protectionist" and blithely dismissing those who hold them as ignorant to the importance of trade. As The Stand reported last year, neo-liberal "free trade" is dead. The people of this country want trade policies that respect basic human rights and the environment. Case in point…
► From the Guardian — Britain's hopes of post-Brexit US trade deal 'depend on workers' rights' — Britain's hopes of a favourable post-Brexit trade deal with the US risk being undermined by the government's lack of engagement on workers' rights, trade unions have warned. As a second round of US-UK talks begins this week, union leaders from both countries said Washington would push for a "worker-centred approach to trade" to help unlock a deal.
---
NATIONAL
► From CBS News — The resurgence of unions and the fight against Amazon — The number of Americans who belong to labor unions had been dropping for decades. But suddenly, in the last year or so, the winds have changed. Unionization efforts are underway at tech companies like Apple and Google; media organizations like The New York Times and Condé Nast; and among grad students, delivery drivers and baristas.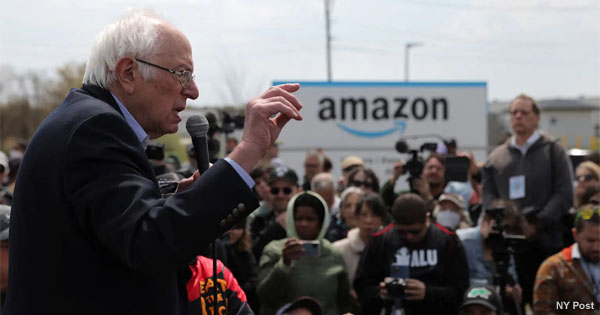 ► From the NY Post — Bernie Sanders and AOC headline rally for unionized Staten Island Amazon workers — Lefty powerhouse duo Sen. Bernie Sanders and Rep. Alexandria Ocasio-Cortez headlined a rally outside Amazon's JFK8's warehouse on Staten Island on Sunday to show support for its workers' newly formed union. The pols' appearance came as employees at Amazon's LDJ5 warehouse, also on Staten Island, prepared to vote Monday on whether to unionize.
► From the Guardian — AOC to Amazon workers: Victory is 'just the beginning'
► From Reuters — Two-thirds of workers might seek new jobs if forced back to office – global survey — Worker demands for more flexibility and security, bolstered by the pandemic and a tight labor market, are only growing more intense as the world economy reopens and some firms begin trying to pull employees back to offices, payroll provider ADP reported in a survey of nearly 33,000 people worldwide.
► From the Guardian — U.S. gas prices are over $4 a gallon. These oil CEOs took home over $20M — Among the highest earners were Michael Hennigan of Marathon Petroleum, who received over $21 million, $5 million more than 2020, and Darren Woods of Exxon, who received over $23 million, $7 million more than 2020.
---
The Stand posts links to Washington state and national news of interest every weekday morning by 10 a.m.
Short URL: https://www.thestand.org/?p=108001
Posted by
admin
on Apr 25 2022. Filed under
DAILY LINKS
. You can follow any responses to this entry through the
RSS 2.0
. Both comments and pings are currently closed.