COVID still kills | Regressive initiative | I found a way…
Friday, April 29, 2022
---
COVID
► From the Seattle Times — COVID still the leading cause of work-related deaths in WA — COVID-19 was responsible for around a quarter of the 106 work-related deaths reported in Washington in 2021, the Washington State Department of Labor & Industries said this week. The figure makes coronavirus the leading cause of work-related deaths in the state for the second year in a row. In 2021, 26 people died after contracting the coronavirus while in a workplace — an increase from 24 people in 2020.
ALSO at The Stand — We must join together to demand safer jobs — Workers' Memorial Day events planned Saturday in Spokane and Wednesday in Vancouver.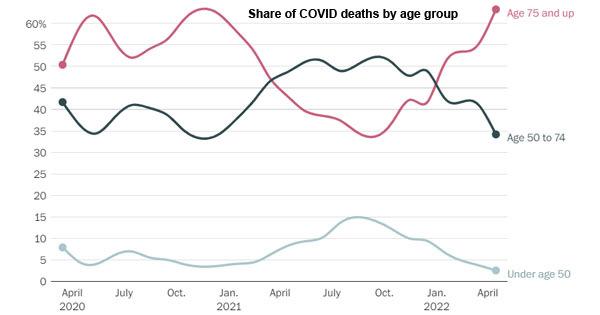 ► From the Washington Post — COVID deaths no longer overwhelmingly among unvaccinated as toll on elderly grows — The pandemic's toll is no longer falling almost exclusively on those who chose not to get shots, with vaccine protection waning over time and the elderly and immunocompromised — who are at greatest risk of succumbing to COVID-19, even if vaccinated — having a harder time dodging increasingly contagious strains. As a group, the unvaccinated remain far more vulnerable to the worst consequences of infection — and are far more likely to die — than people who are vaccinated, and they are especially more at risk than people who have received a booster shot.
► From the Seattle Times — Hottest U.S. COVID hot spot swells to 3 dozen counties
► From HuffPost — Racial split on COVID-19 endures as restrictions ease in U.S. — Black and Hispanic Americans remain far more cautious in their approach to the COVID-19 pandemic than white Americans.
---
THIS WASHINGTON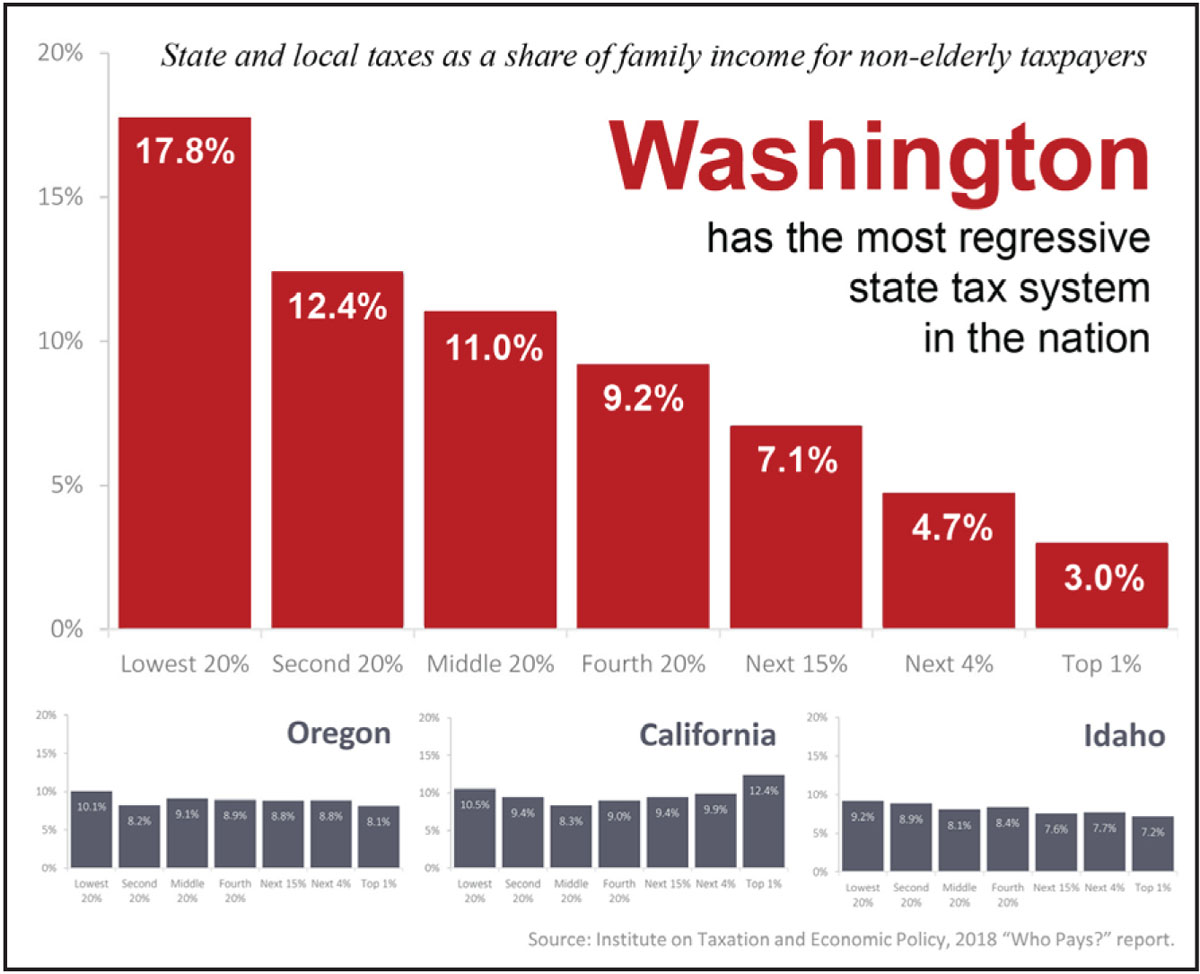 ► From the (Everett) Herald — Judge clears way for initiative to repeal capital gains tax — A Thurston County judge cleared the way Thursday for opponents of the state's new capital gains tax to begin gathering signatures on an initiative to repeal the law. Sponsors of Initiative 1929 got the green light after Thurston County Superior Court Judge Indu Thomas approved final wording for how the measure would be described on the ballot and the initiative petitions. However, it wasn't immediately clear when, or if, they would proceed with collecting signatures.
The Stand (March 23) — WSLC's COPE Endorsing Convention will be May 21 — The Washington State Labor Council, AFL-CIO will hold its 2022 Committee on Political Education (COPE) Endorsing Convention on Saturday, May 21 at the Machinists District 751 Hall, 9125 15th Pl. South in Seattle. WSLC-affiliated unions should register now to participate!
► From the Olympian — Washington justices unanimously reject Inslee recall effort — The Washington Supreme Court on Thursday unanimously rejected an effort to recall Democratic Gov. Jay Inslee over his handling of the coronavirus pandemic. The justices upheld a Thurston County Superior Court decision that the charges made against Inslee did not provide factually or legally sufficient grounds to support a recall campaign.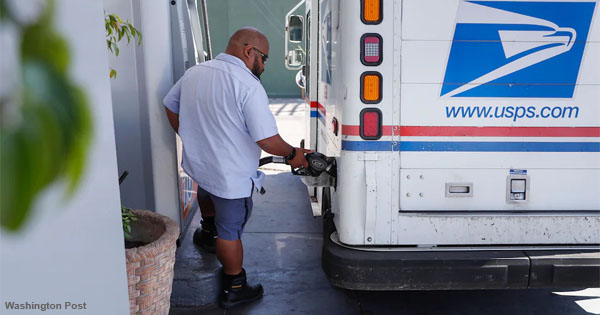 ► From the Seattle Times — WA, other states sue Postal Service over new gas-powered delivery fleet — Washington and 15 other states Thursday sued the U.S. Postal Service, claiming it violated federal law by choosing new gas-powered trucks over an electric fleet. The lawsuit asserts Postmaster General Louis DeJoy violated the National Environmental Policy Act when the USPS decided in February during a "deficient review process" to replace nearly 165,000 mail trucks primarily with vehicles powered by gasoline, not electricity, in its nationwide fleet of 212,000.
► From the Seattle Times — WA's largest tuberculosis outbreak in 20 years connected to at least one state prison — Washington's largest tuberculosis outbreak in two decades is connected to at least one state prison (Stafford Creek Corrections Center), as cases rise in other parts of the region, the state Department of Health announced Thursday afternoon.
---
LOCAL

► From the Seattle Times — Trader Joe's to pay $44k for alleged violations of Seattle worker scheduling law — According to the Seattle Office of Labor Standards, the grocery store chain faced allegations of failing to post employees' work schedules with two weeks notice, as required by the law, between May and October last year at the company's University District store.
---
THAT WASHINGTON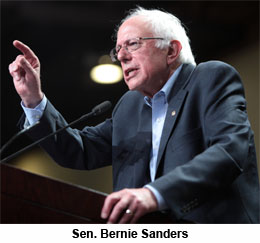 ► From Vanity Fair — Sen. Bernie Sanders wants Democrats to make Unions their biggest message — The moment is finally meeting the man, as national unionization efforts grow.  As Biden's sweeping legislative agenda looks interminably stalled and Democrats search for a winning electoral message in the upcoming midterms, Sanders said it is time for the party to embrace what he has long been arguing for and make backing unions a core part of their pitch to voters. They must decide, he said, whether to "become a party which stands for the working class of this country" or to "remain a corporately controlled party beholden to [their] wealthy campaign contributors and to the corporate media as well."
► From Government Executive — More than 60 Democratic lawmakers want a 5.1% raise for federal employees — The lawmakers asked the leadership of the House Appropriations Committee to override President Biden's plan to offer an average 4.6% raise for federal employees in 2023.
EDITOR'S NOTE – Washington Democratic Reps. Pramila Jayapal, Rick Larsen and Adam Smith were among those who requested the higher raises.
---
INFLATION UPDATE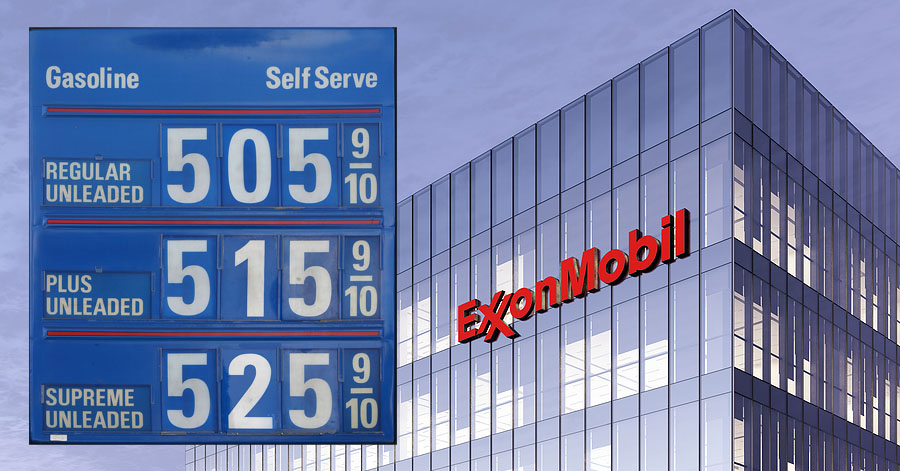 ► From the Financial Times — Exxon triples buybacks and Chevron posts best profits since 2012
► From Reuters — Phillips 66 beats profit estimates, to resume share buybacks
► ICYMI, from the Guardian — Revealed: Top U.S. corporations raising prices on Americans even as profits surge — One widely accepted narrative holds that companies and consumers are sharing in inflationary pain, but a Guardian analysis of top corporations' financials and earnings calls reveals most are enjoying profit increases even as they pass on costs to customers, many of whom are struggling to afford gas, food, clothing, housing and other basics. The analysis of SEC filings for 100 U.S. corporations found net profits up by a median of 49%, and in one case by as much as 111,000%. Those increases came as companies saddled customers with higher prices and all but ten executed massive stock buyback programs or bumped dividends to enrich investors.
---
NATIONAL
EDITOR'S NOTE — Ready for a voice at work? Get more information about how you can join together with co-workers and negotiate a fair return for your hard work. Or go ahead and contact a union organizer today!
► From the Guardian — 'Hurtful and insulting': Florida teachers react to the 'don't say gay' bill — Clinton McCracken, an art teacher in Orange County, Florida, grew up in a small midwest town where he didn't experience a person out as LGBTQ until he went away to college. He's concerned Florida's recent controversial "don't say gay" bill is dangerous, hateful legislation that poses many risks to LGBTQ youth in the state.
► From The Onion — Florida bans schools from teaching anything besides misadventures of best friends George Washington and Jesus Christ
---
T.G.I.F.
► Today, for no reason other than it happens to be one of The Entire Staff of The Stand's favorite songs of all time, we present R.E.M. performing "At My Most Beautiful." Singer Michael Stipe wrote this song as a gift to his bandmates, who were major Brian Wilson/Beach Boys fans. Stipe said he had grown tired writing ironic love songs and instead set out to write "the most romantic song I'd ever written." Mission accomplished. Enjoy.
---
The Stand posts links to Washington state and national news of interest every weekday morning by 10 a.m.
Short URL: https://www.thestand.org/?p=108140
Posted by
admin
on Apr 29 2022. Filed under
DAILY LINKS
. You can follow any responses to this entry through the
RSS 2.0
. Both comments and pings are currently closed.