We must join together to demand safer jobs
Workers' Memorial Day events planned throughout Washington
WASHINGTON, D.C. (April 21, 2022) — Last year, 5,333 workers were killed on the job and another 95,000 died from occupational diseases. That means that, on average, 275 workers in this country lose their lives every day from hazardous working conditions.
Employers reported 3.5 million work-related deaths, injuries and diseases in 2021, but the real number is probably at least double that because of unreported injuries. According to the Strategic Organizing Center, Amazon alone accounted for 34,000 serious injuries in its warehouses. That's nearly 100 serious injuries at Amazon warehouses every single day.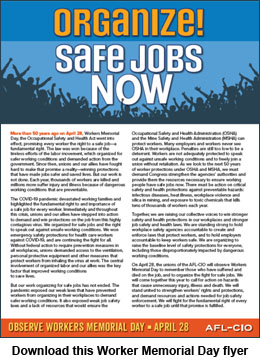 The COVID-19 pandemic devastated working families and highlighted the fundamental right to and importance of a safe job for every worker. Immediately and throughout this crisis, unions and their allies stepped into action to demand and win protections on the job from this highly contagious virus. They organized for safe jobs and the right to speak out against unsafe working conditions. They won emergency safety protections for health care workers against COVID-19, and are continuing the fight for all.
But labor's work organizing for safe jobs has not ended. The pandemic exposed our weak laws that have prevented workers from organizing in their workplaces to demand safer working conditions.
(Download this AFL-CIO flyer for more information. Also available in Spanish.)
On April 28, Workers' Memorial Day will be observed. The Occupational Safety and Health Act of 1970 was signed into law on April 28 that year to address the grievous working conditions that were harming far fewer American workers then than are harmed today. The anniversary of that signing is now Workers' Memorial Day.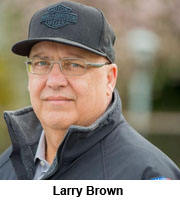 "Workers' Memorial Day is a solemn but important time to reflect on the lives lost at worksites throughout Washington state," said Larry Brown, President of the Washington State Labor Council, AFL-CIO. "COVID-19 has awakened many to the harm that workers face on the job every day when they are not protected from known hazards. It's never been more clear that workers need to join together in unions and demand safer working conditions if they want that to change."
Among the Workers' Memorial Day events planned in Washington state are:
SEATTLE — Join the UW Dept. of Environmental and Occupational Health Sciences on Wednesday, April 27 at 11:30 a.m. via Zoom webinar for the annual Workers' Memorial Day ceremony honoring those in King County who lost their lives on the job in 2021. Special guest speaker will be MLK Labor Executive Secretary-Treasurer Katie Garrow. Register here.

EVERETT — The Snohomish County Labor Council will hold its annual Workers Memorial Observance on Wednesday, April 27 at 5 p.m. in the Mission Building Courtyard on the Snohomish County Campus at the corner of Wetmore and Pacific in Everett.

LAKEWOOD — The Pierce County Central Labor Council invites all its affiliates to a Worker Memorial Day observance, hosted by WFSE Local 793, on Thursday, April 28 at 11 a.m. on the grounds of Western State Hospital, 9601 Steilacoom Blvd. SW. Hamburgers and hot dogs will be served. Speakers at noon.

BELLINGHAM — The Northwest Washington Central Labor Council, AFL-CIO will conduct its Worker Memorial Remembrance on Thursday, April 28 at noon at the Worker Memorial Monument outside the Bellingham City Library (back lawn), 210 Lottie St.

TUMWATER — The Washington State Department of Labor and Industries will hold its annual Workers' Memorial Day commemoration remotely on Thursday, April 28 from 2 to 3 p.m. Get details.

SPOKANE — The Spokane Regional Labor Council will hold its 2022 Workers Memorial Ceremony starting on Saturday, April 30 at 11 a.m. at Mission Park at Mission and Perry streets in Spokane. Get details.

VANCOUVER — The Southwest Washington CLC will hold a Workers Memorial Day commemoration on Wednesday, May 4 at 6:00 p.m. at LiUNA 335 and Teamsters 58 Labor Center, 2122 NE Andresen St. in Vancouver. Get details.
Given the incredibly high incidence of workplace injury and death in 2021, more than thoughts and prayers are needed to reverse the trend of increasing workplace-related safety and health problems and incidents. Too often, the onus for safety is laid entirely on workers while employers responsible for unsafe conditions get by unnoticed or minimally penalized when people are injured or killed.
Often, workers' safety and health concerns are only heard when they have a voice in the workplace through a union. One reason that Amazon and other anti-union, anti-worker companies oppose the right to organize is precisely because they would be compelled to accept their responsibility for making work safer.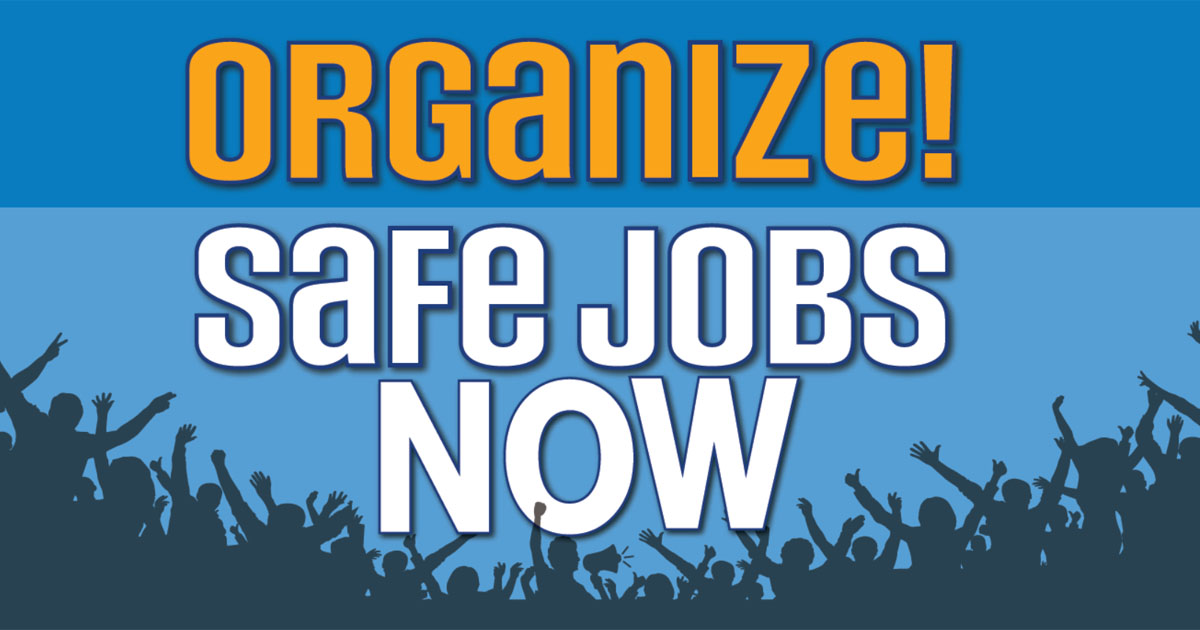 Together, workers are raising their collective voices to win stronger safety and health protections in their workplaces and stronger job safety and health laws. Unions are standing strong to hold workplace safety agencies accountable to create and enforce laws that protect workers, and to hold employers accountable to keep workers safe. They are organizing to raise the baseline level of safety protections for everyone, including those disproportionately impacted by dangerous working conditions.
If you want to improve workplace safety at your job, get more information about how you can join together with your co-workers and negotiate for better, safer conditions and a fair return for your hard work. Or go ahead and contact a union organizer today.
Short URL: https://www.thestand.org/?p=107905
Posted by
admin
on Apr 21 2022. Filed under
NATIONAL
,
TAKE A STAND!
. You can follow any responses to this entry through the
RSS 2.0
. Both comments and pings are currently closed.