Rights under attack | Historic wage increases | Union YES at Starbucks
Tuesday, May 3, 2022
---
REPRODUCTIVE RIGHTS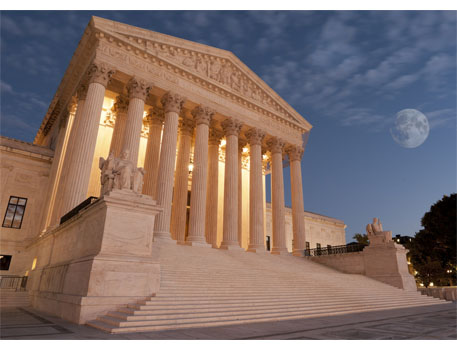 ► From Politico — Supreme Court has voted to overturn abortion rights, draft opinion shows — The Supreme Court has voted to strike down the landmark Roe v. Wade decision, according to an initial draft majority opinion written by Justice Samuel Alito circulated inside the court and obtained by Politico. The draft opinion is a full-throated, unflinching repudiation of the 1973 decision which guaranteed federal constitutional protections of abortion rights and a subsequent 1992 decision – Planned Parenthood v. Casey – that largely maintained the right. "Roe was egregiously wrong from the start," Alito writes.
TODAY at The Stand — 'Reproductive rights are workers' rights' — The Washington State Labor Council, AFL-CIO will fight to defend healthcare choices and abortion rights.
► From the Washington Post — What would happen if Roe v. Wade were overturned — If the Supreme Court overturns the 1973 precedent, the legality of abortion will be left to individual states. Many have already made their intentions clear.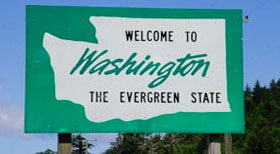 ► From the Spokesman-Review — Washington likely will see influx of women seeking abortion if Roe v. Wade is overturned — The state of Washington likely would become even more important to women seeking an abortion if Roe v. Wade is struck down. Idaho approved a law in 2020 that will criminalize abortions if that happens. Planned Parenthood health centers in Washington could expect to see a 385% increase in patients seeking abortion care if Roe v. Wade is overturned, said a spokesperson.
► From the Guardian — U.S. states could ban people from traveling for abortions, experts warn — A fresh wave of restrictions will probably center around patients who leave their state to obtain legal abortions in other states, or who order medications to manage their abortions at home.
► From The Hill — Biden declares right to abortion 'fundamental' — President Biden declared Tuesday that a woman's right to have an abortion is "fundamental" and called on voters to elect more pro-abortion officials at the federal level in November so that Democrats can pass legislation protecting abortion rights.
EDITOR'S NOTE — Also see today's statement by President Joe Biden.
► From the Guardian —  'An abomination': Pelosi leads outcry on Supreme Court draft abortion ruling — Speaker warns scrapping Roe v Wade would be "greatest restriction of rights in the past 50 years" as AOC calls for Senate reform.
► From The Hill — Sanders: End filibuster to codify Roe v. Wade
► From Murray.senate.gov — Sen. Patty Murray: 'We need to fight back with everything we've got right now'
"After ringing these alarms, for years now: it's time to break the glass. It's time for every single person—in every single state—to realize this impacts you, your choices, your rights. It's not happening to someone else, in some other state—it's happening everywhere, and the highest court in the land is preparing to rip away your rights at this very moment. We need to fight back with everything we've got right now. The right to abortion is on the line, and I'll never stop fighting to protect it."
► From Jezebel — In leaked abortion decision, Justice Alito relies on jurist who supported marital rape, executed 'witches' — In case you needed any further proof that the modern anti-abortion movement is an outgrowth of many centuries of virulent misogyny and violence against women, Justice Samuel Alito's leaked opinion draft striking down Roe v. Wade relies heavily on a 17th century English jurist who had two women executed for "witchcraft," wrote in defense of marital rape, and believed capital punishment should extend to kids as young as 14.
► From The Hill — Republicans condemn leak of Supreme Court draft abortion ruling
---
LOCAL

► From the Kitsap Sun — Union wins historic wage increases for nearly 2K grocery workers in Kitsap, Puget Sound — Sara Llorenty, 64, of Bremerton, has worked at Safeway in Silverdale for almost 18 years as a deli clerk. With the approval of a three-year contract negotiated by labor union UFCW 3000 with the owners of Safeway, Albertsons and Kroger, Llorenty and other journey grocery workers at stores in western Washington, including Safeway and Fred Meyer, will have their wages increase between $4 to $9 an hour over three years, maintain a health plan with no increased costs, get safety training they need in their workplaces and more.
The Stand (May 2) — Central Puget Sound grocery workers ratify new contract — Three-year deal includes wage increases of $4 to $9 an hour, gains in safety and training, health care benefits protected with no increased costs, a secured pension and more.
EDITOR'S NOTE — Ready for a historic wage increase? Get more information about how you can join together with co-workers and negotiate a fair return for your hard work. Or go ahead and contact a union organizer today!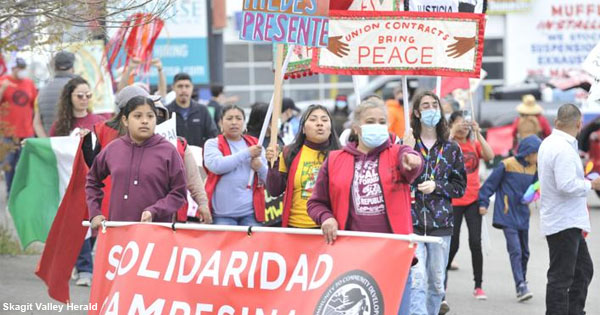 ► From the Skagit Valley Herald — Skagit County march held in support of agriculture and labor reforms — Hundreds of farmworkers, union groups and community members marched Sunday to celebrate and push for local and statewide agriculture and labor reforms. The 4-mile May Day march, which organizers called Marcha Campesina, stretched from Mount Vernon to Burlington. It was held to recognize accomplishments in union and labor advocacy, including a successful strike at county tulip farm RoozenGarde, and to support causes such as unionization for Amazon and Starbucks employees.
► From the Olympian — Tumwater superintendent says $4 million in district budget cuts is needed, eyes staffing — Superintendent Sean Dotson's proposed cuts includes about 22 full-time positions and reducing funding off the top of programs across the board.
---
STARBUCKS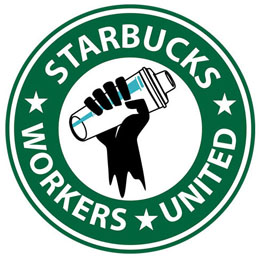 ► From the Olympian — Olympia Starbucks employees have cast their votes on unionizing. Here are the results. — The Starbucks on Cooper Point Road in Olympia voted to unionize on April 29, joining a nationwide movement among the coffee giant's workers. The workers at the location voted 19-2 in favor of being represented by Starbucks Workers United, joining a Seattle location in becoming the third and fourth corporate Starbucks stores in the state to be unionized, according to a press release. These two bring the national total to 43 stores that have voted to unionize. There are more than 230 stores that have petitioned to unionize and are awaiting elections.
Here's where Starbucks workers are organizing—amazing that they've gone from a handful of Starbucks in Buffalo in December to petitioning for elections at 250 stores in 36 states.

Plus, the union has won at 47 Starbucks, with votes like 20-0, 23-1 & 33-2 https://t.co/9uAtndA2yg

— Steven Greenhouse (@greenhousenyt) May 3, 2022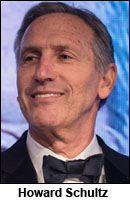 ► From CNBC — Starbucks union claims CEO Schultz violated labor law by 'threatening to withhold' benefits — The union representing Starbucks baristas is taking aim at the coffee giant's interim chief executive, Howard Schultz, alleging his recent comments about an improved benefits plan amounted to illegal threats and had a "chilling effect" on impending union votes. The union, Starbucks Workers United, claims in an April 22 filing with the NLRB that Starbucks, via Schultz's comments, violated the NLRA and asks the agency to issue a complaint in the union's favor.
---
AEROSPACE
► From the PS Business Journal — Boeing will produce more freighters in Everett in face of 777X delay — The Boeing Co. said it will shift gears in Everett in the wake of its decision to pause its 777X program through 2023 as it works to meet certification requirements. It will focus in the meantime on producing more high-demand freighter aircraft, the company said.
---
NATIONAL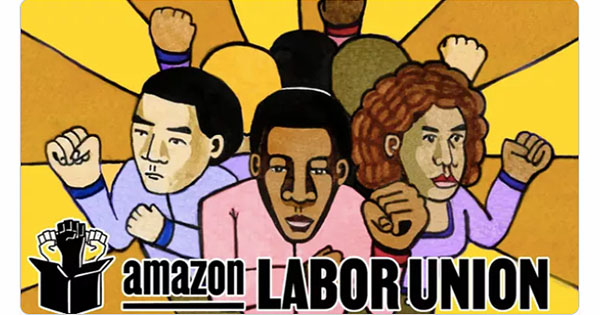 ► From the NY Times — Amazon union loses vote at second Staten Island warehouse — The growing labor organizing efforts at Amazon were dealt a blow on Monday when workers voted by a wide margin to reject joining a union at a warehouse on Staten Island, just weeks after the union won a landmark victory at a larger facility nearby. Employees cast 380 votes to be represented by the union and 618 against, according to the NLRB. About 1,600 workers at the warehouse were eligible to vote.
► From the AP — Front-line Amazon workers will no longer receive COVID-19-related paid leave in the U.S. — Amazon is no longer providing U.S. front-line workers with paid leave for COVID-19-related sickness, starting Monday, May 2. Amazon announced U.S. employees will receive five unpaid days of leave if they test positive for COVID-19, CNBC reported.
► From the Jeff Bezos-owned Washington Post — Amazon could stymie unions for years by going to the courts — Amazon has already sent objections over the union vote to the National Labor Relations Board, the federal agency which enforces America's labor laws. If it loses the objection, it will have several more chances to appeal. But even if the NLRB orders it to sit down with workers and bargain, the company could simply refuse, forcing a court battle that could play out for years.
EDITOR'S NOTE — Which is why we need to pass the PRO Act!
► From Reuters — Snarled-up ports point to worsening global supply chain woes — Global supply chain problems look to set to worsen, a new report published on Tuesday said, as China's COVID-19 lockdowns, Russia's invasion of Ukraine and other strains cause even longer delays at ports and drive up costs.
TODAY at The Stand — AFL-CIO on inflation: Good jobs, wages are the solution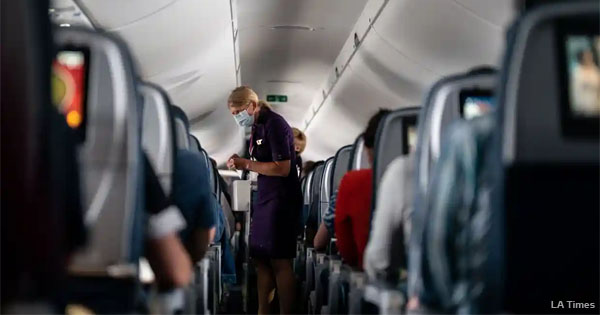 ► From the Guardian — 'We're just robots': U.S. airline workers stranded amid staff shortages — U.S. airlines are still experiencing staffing shortages as air travel rebounded after initial COVID-19 shutdowns in 2020 when many airline workers were encouraged to go on furlough, resign, or retire early. Gary Peterson of Transport Workers United says JetBlue and other carriers have been competing in a race to the bottom terms of how workers are treated, retaining enough workers, and maintaining airline jobs as career jobs:
"I think there's a systemic problem in the industry – everybody's trying to compete against the lowest carrier, instead of setting themselves up to be the premier carrier. Sleeping in the hallway at the airport – that never used to happen in the industry, and now it's becoming the new norm."
► From Reuters — Analysis: Foreign pilots rush in as U.S. carriers struggle to staff up — U.S. immigration lawyers report a surge in inquiries and visa applications from pilots based in countries where traffic is still recovering from pandemic lows. That could bring some relief to an industry struggling to rebuild capacity after a two-year slump, but the trend is stirring a backlash from domestic unions.
---
The Stand posts links to Washington state and national news of interest every weekday morning by 10 a.m.
WASHINGTON IS A UNION STATE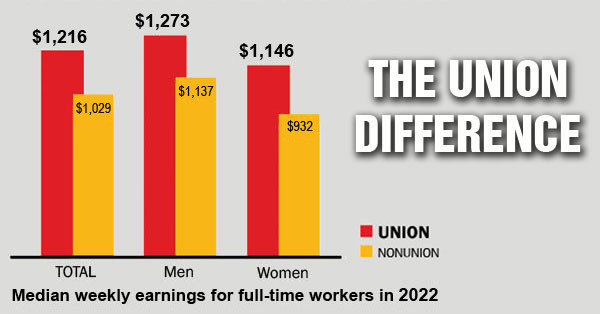 CHECK OUT THE UNION DIFFERENCE in Washington state: higher wages, affordable health and dental care, job and retirement security.
FIND OUT HOW TO JOIN TOGETHER with your co-workers to negotiate for better working conditions and respect on the job. Or go ahead and contact a union organizer today!