WA will 'fight like hell' | 'Squealing' sheriff sued | Lock Howard up
Wednesday, May 4, 2022
---
REPRODUCTIVE RIGHTS
► From KUOW — Inslee vows to 'fight like hell' to keep Washington pro-choice after SCOTUS leak — Washington state officials rallied Tuesday in defense of abortion rights, saying the state will continue to serve anyone who needs access to a safe, affordable abortion. "Washington state was a pro-choice state, Washington state is a pro-choice state, and we are going to fight like hell to keep Washington a pro-choice state," said Gov. Jay Inslee during a rally at Seattle's Kerry Park.
The Stand (May 3) — 'Reproductive rights are workers' rights' — The Washington State Labor Council, AFL-CIO will fight to defend healthcare choices and abortion rights.
LOCAL coverage of abortion rights rallies from the Bellingham Herald, (Everett) Herald, Olympian, Seattle Times, Spokesman-Review, Tri-City Herald, and from the union-busting Columbian.
► From the HuffPost — Protests erupt nationwide to support abortion rights after SCOTUS draft leak — With the Supreme Court poised to overturn abortion protections, people took to the streets in cities across the country to protest for the right to safe, accessible abortion care for all.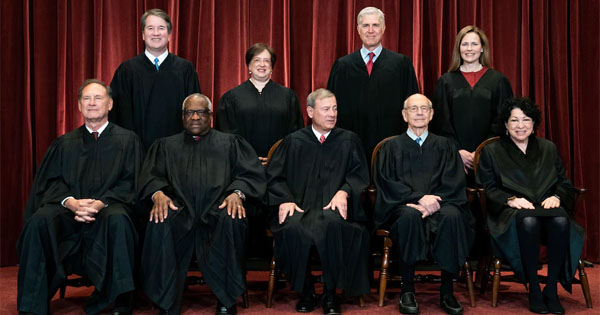 ► From the Washington Post — The Supreme Court might never recover from overturning Roe v. Wade (editorial) — The draft ruling's dreadful reasoning and extreme potential consequences are far more concerning than what the leak says about the court's internal dynamics. Written by Justice Samuel A. Alito Jr., the document would declare Roe "egregiously wrong," obliterate its guarantees of reproductive choice and empower lawmakers to abridge at will this long-held right… By betraying the American tradition in which freedom extends to an ever-wider circle of people, and siding with the minority of Americans who want to see Roe overturned, the justices would appear to be not fair-minded jurists but reckless ideologues who are dangerously out of touch and hostile to a core American ethic.
► From the News Tribune — Think tossing Roe doesn't affect WA? Try again. State must protect abortion, other rights (by Matt Driscoll) — On Monday, U.S. Rep. Marilyn Strickland (D-Tacoma) issued a stark warning. If a Supreme Court now packed with conservative jurists is willing to toss 50 years of precedent to eradicate one constitutional right — thus fulfilling the long-promised goal of an increasingly dangerous and belligerent national Republican party — what's stopping the next assault? Strickland said:
"Let's be honest about this stunning decision: desegregation of schools (Brown v. Board of Education), gay marriage (Obergefell v. Hodges), interracial marriage (Loving v. Virginia), and other rights are now in danger. This is a threat to the health, safety, economic security, and basic freedoms that we cherish."
---
COVID

► From the Olympian — 8 more Thurston residents die of COVID amid 'high' virus activity — Thurston County confirmed eight new deaths due to COVID-19 and 490 additional cases over the past week amid increasing virus activity.
► From the (Everett) Herald — Not a mandate, but a 'call to action' for return of masks — As hospitalizations surge, Snohomish County health officials recommend people wear masks indoors and in crowds.
► From the KING — Passengers say COVID overwhelmed Carnival Cruise ship docked in Seattle — Passengers said they waited hours for meals, weren't properly isolated and couldn't get ahold of medical staff.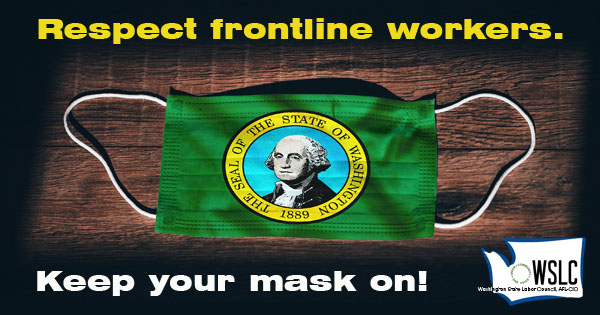 ► From the Washington Post — CDC reiterates importance of masks on airplanes, public transportation — Federal health officials on Tuesday repeated their recommendation that masks be worn on airplanes, buses and in other public transportation settings where large numbers of people congregate. Despite a federal judge's order last month striking down the federal transportation mask mandate, the CDC said masks continue to be an important tool for stopping the spread of the coronavirus.
---
LOCAL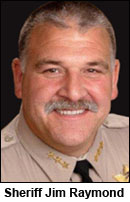 ► From the Tri-City Herald — Teamsters sues sheriff and Franklin County. Union demands more jail access — Teamsters Local 839 is taking the Franklin County sheriff to court over his decision to limit the union's access at the jail. The union represents the county's corrections deputies. The civil suit aims to force the sheriff and county commissioners to enforce a Feb. 18 decision by an arbitrator.
The Stand (March 2) — Sheriff blocks deputies' access to union reps at county jail — Franklin County Sheriff Jim Raymond set out to block corrections officers from "squealing" to their union. An arbitrator ruled he was violating their contract, but he refuses to back down, instead vowing a costly legal battle.
► From the Yakima H-R — Facing staff shortages, Yakima County commissioners approve 5% pay increase — Responding to an unprecedented number of job vacancies and increasing inflation, Yakima County commissioners approved a sweeping 5% pay increase for employees across several county departments. Yakima County employs 994 full-time workers and 41 of those positions are vacant.
► From the Seattle Times — Travel chaos returns as Alaska Airlines blames … the calendar? — After more than 15,000 Alaska Airlines passengers had their flights canceled Sunday and Monday, Alaska blamed the turn of the month. But Will McQuillen of the Alaska Airlines council for the Air Line Pilots Association said the problems run deeper than the calendar:
"I gotta tell you, there's a month-to-month transition, literally every month. The fact that April and May were such a problem, that really does point to the greater issue that they're having with attracting and retaining pilots."
---
THIS WASHINGTON



► From the (Everett) Herald — Rep. Mike Sells: He fought for WSU Everett and worker rights — The retiring state legislator leaves an impressive legacy and is the recipient of this year's Elson S. Floyd Award, which is named for the former WSU president who played a key role in establishing the WSU Everett campus. The award recognizes a visionary leader who through partnership, tenacity and a strong commitment to community has created lasting opportunities to the improve quality of life and positively impact the regional economy, according to Economic Alliance Snohomish County.
► From KOMO — Washington state reaches $518M settlement with opioid distributors — Months into a complex trial over their role in flooding Washington with highly addictive painkillers, the nation's three largest opioid distributors agreed Tuesday to pay the state $518 million, with the vast majority being directed toward easing the addiction epidemic. Attorney General Bob Ferguson announced the deal, noting that it's worth tens of millions of dollars more than Washington would have received from the companies if it had signed onto a national settlement reached last summer.
---
NATIONAL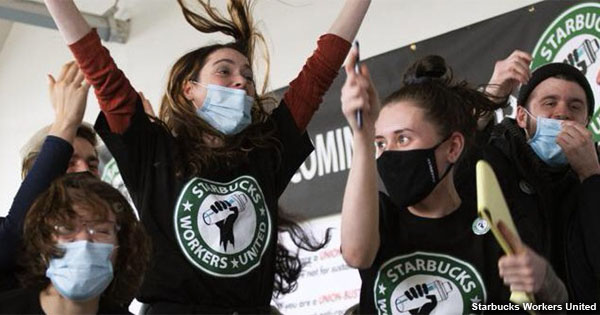 ► From HuffPost — Starbucks workers have unionized more than 50 stores in the U.S. — The effort to organize Starbucks hit a milestone on Tuesday: More than 50 stores have now unionized, with many more likely on the way. So far the campaign known as Starbucks Workers United has won the vast majority of union elections that have been held. As of noon, the union was victorious in 46 out of 54 contests, or 85% of them, according to data from the NLRB. The union had lost only five elections, and the results were still not clear in another three.
► From the Guardian — 'Pure propaganda': inside Starbucks' anti-union tactics — For one Denver store, where labor culture isn't strong, their union drive is notable – and as soon as it was announced, high-ranking company figures began visiting.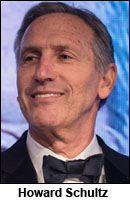 ► From the Seattle Times — Starbucks plans wage increases that won't apply to unionized workers — Starbucks announced Tuesday that it was raising pay and expanding training at corporate-owned locations in the United States. But it said the changes would not apply to the recently unionized stores or to stores that may be in the process of unionizing, such as those where workers have filed a petition for a union election. Labor law experts said that it could be illegal to withhold wages and benefits from only unionized employees or employees voting on a union. In a formal charge already filed with the NLRB, Workers United has accused the company of coercing employees who were voting in a union election by suggesting that it would withhold new benefits if they unionized.
EDITOR'S NOTE — "The union contract will not even come close to what Starbucks offers you," CEO Howard Schultz said on yesterday's earnings call. He just broadcasted that he is/will be bargaining in bad faith, which is illegal. And he knows it. That's why this country needs labor law reform: because the penalties are so weak, billionaire bosses routinely break the law and violate workers' rights. Committing illegal acts to bust unions is standard operating procedure in America today. #PassThePROAct
► From Jacobin — Starbucks is facing a wave of worker organizing — but so are its local competitors — Starbucks isn't the only coffee shop whose workers are unionizing. Boston has seen a wave of organizing at independent coffee shops. The latest: 1369 Coffee House, whose workers recently filed for union recognition.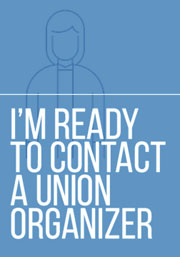 EDITOR'S NOTE — Ready for a voice at work? Get more information about how you can join together with co-workers and negotiate a fair return for your hard work. Or go ahead and contact a union organizer today!
► From NPR — Employees at another Apple store are unionizing, this time in Maryland — Retail employees at Towson Mall in Towson, Md., have formed CORE, the Coalition of Organized Retail Employees. They sent a letter to Apple CEO Tim Cook saying the majority of employees at the store support forming a union.
► From the Guardian — 'A longstanding crisis': California workers fight to reform nursing homes — SEIU Local 2015, which represents 400,000 nursing home and home care workers in California, is advocating for a proposal to create a statewide Quality Standards Board to oversee the state's nursing home industry in the wake of the pandemic that has decimated staffing in the industry.
---
The Stand posts links to Washington state and national news of interest every weekday morning by 10 a.m.
Short URL: https://www.thestand.org/?p=108270
Posted by
admin
on May 4 2022. Filed under
DAILY LINKS
. You can follow any responses to this entry through the
RSS 2.0
. Both comments and pings are currently closed.