WA leads on overtime pay | Protect democracy | Find a direction
Friday, June 10, 2022
---
OVERTIME PAY



After decades of decline in overtime pay, the Biden administration is considering action to sharply expand access in a time of high inflation. Following is a recent four-part series by Capital & Main examining the 40-year effort by big business and elected officials to deny Americans extra pay for extra work.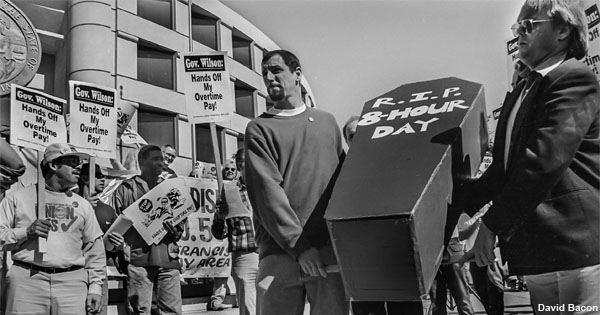 Overworked and underpaid — The vast majority of people who work more than 40 hours are excluded from overtime for earning too much, but the income threshold for exclusion has long been notably low. In 2016, people earning more than $23,000 in salary — equivalent to about $11 an hour on a full-time schedule — were ineligible. That overtime pay eligibility threshold, which topped out at much less than the median salary in the country, hadn't changed in over a decade. Nor had it kept pace with inflation since Gerald Ford was president, meaning that millions of workers saw their overtime eligibility slide away as their income increased, in some cases very moderately.
Can Biden sharply expand overtime pay? — To do so, he will need to learn from the failures of Obama and Carter.
You probably aren't getting paid overtime. Here's why.— Millions of workers in the United States lose overtime pay when employers do things like manipulate the accounting of their work hours. It is difficult to nail down the precise losses to workers from such employer tactics, but a 2017 Economic Policy Institute study of the nation's 10 most populous states calculated that employees living in them lose more than $8 billion a year due to wage theft.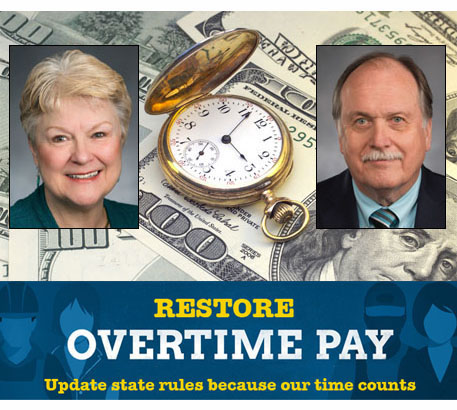 Several states are taking the lead on restoring overtime pay — Washington has long been known for its strong labor movement anchored to the shipping industry and major manufacturers like Boeing and Honeywell Aerospace. Many of the state's workers became part of a strong middle class based on solid jobs with secure pensions, respectable salaries and overtime pay for those who worked extra hours. By the 1990s, Washington state's manufacturing sector was eroding and the labor movement began to lose sway. Washington made early strides to address the changing equation for workers when in 1998 it became the first state to automatically peg its minimum wage to increases in the cost of living. In 2016, voters passed an initiative that established increases in the state's lowest legal hourly pay rate, which currently stands at $14.49. Washington also made sick leave into a legal right for nearly all workers… In late 2019, having reached a broad consensus, the state decided to phase in its own overtime rule that included staggered increases in the overtime income threshold so that it would rise from 1.25 times the minimum wage in 2020 to twice the minimum wage in 2024, and finally to 2.5 times the state's minimum wage — equaling $83,000 — in 2028. It is slated to become the highest salary threshold for overtime in the country, and will sharply increase the number of eligible residents.
---
LOCAL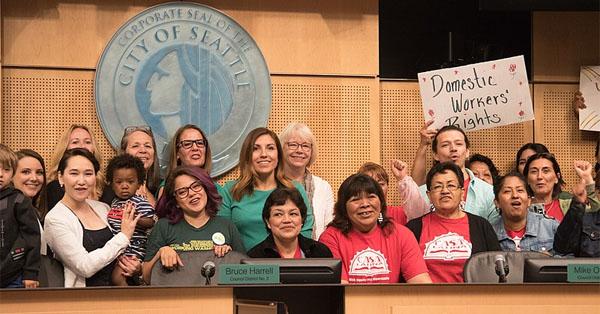 ► From KING 5 — Seattle wants to raise awareness about domestic workers' rights — Domestic workers like nannies, house cleaners, gardeners, and cooks became the focus of legislation in Seattle in 2018. The city was the first in the United States to adopt a domestic workers bill of rights. Now, four years later, the city is announcing funding to raise awareness about the law. In the last seven years, the city of Seattle has been able to settle nearly a thousand cases where employers agreed to pay wages owed to their workers at a total of more than $24 million.
► From the Oregonian — New Seasons workers launch union push at 2 Portland-area stores — Workers at New Seasons' store on SE Division Street in Portland announced their intent to form an independent union, the New Seasons Labor Union. Staff at New Seasons' Hillsboro store filed paperwork the same day to form a union with UFCW Local 555.
► From Willamette Week — Safeway blames 'unforeseen glitch' for missing wage hike — UFCW Local 555 filed a class action grievance against Albertsons/Safeway for not meeting the timeline of its new contract.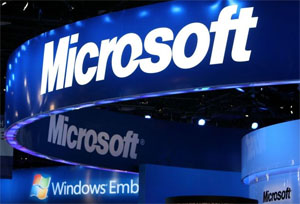 ► From the Seattle Times — Microsoft's shrewd move on unions offers a smart path for Big Tech (by Jon Talton) — Unionization is something tech companies don't have much experience with, and we're seeing in real time how they react. At the Staten Island warehouse that unionized, Amazon made senior managers at the first warehouse walk the plank, a not uncommon reaction against organized labor by inhabitants of C-suites. Yet across Lake Washington, Microsoft appears to be taking a different approach.
---
THIS WASHINGTON
► From KUOW — New report lists legislators linked to far-right Facebook groups — Researchers are studying how right-wing extremism helped fueled the "big lie" about the 2020 election, COVID denial, and other misinformation. A new report found that 875 state legislators, including 30 in Washington state, had joined one or more far-right Facebook groups.
► From the Spokesman-Review — Washington high court says race should be considered in police encounters — A person's race and ethnicity must be considered in deciding when they go from a casual encounter with police to being under an officer's control, the state Supreme Court said in a decision that expands rulings that acknowledge the justice system's historic discrimination against minorities.
---
THAT WASHINGTON
► From the AFL-CIO — As Jan. 6 hearings begin, working people demand renewed focus on protecting democracy — Joint statement from AFL-CIO President Liz Shuler and AFL-CIO Secretary-Treasurer/Executive Vice President Fred Redmond:
"On Jan. 6, the deadly attack at the U.S. Capitol threatened the foundation of free and fair elections that our nation was built upon. Those attempting to erode democracy and voting rights threaten the gains working people have won over generations, and jeopardize our ability to stand together to fight for an equitable future for our families."
► From the Washington Post — Jan. 6 committee blames Trump for 'carnage' at U.S. Capitol — At a rare evening congressional hearing, aired live by broadcast networks, the nine-member panel pinned blame for the violence squarely on Trump, who knew he had lost the 2020 presidential election but lied to the American people that his defeat was due to fraud and then actively worked to subvert democracy. After conducting 1,000 interviews and gathering 140,000 documents over the course of the year, the committee launched its presentation with a blunt reminder of the vicious violence unleashed by the mob that day.
► From the Washington Post — 6 takeaways from the Jan. 6 committee's powerful case against Trump
► From The Hill — Senate leaves town without a deal on gun legislation — Senators have wrapped up their work and left Washington, D.C., without reaching a deal on gun-violence legislation.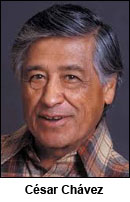 ► From HuffPost — Latino lawmakers want a national park honoring César Chávez and farmworkers — California Democrats Sen. Alex Padilla and Rep. Raul Ruiz introduced a bill to preserve several sites in California and Arizona as the César E. Chávez and the Farmworker Movement National Historical Park. The park would include the César E. Chávez National Monument in Keene, California, as well as designate as a National Historic Trail the over 300-mile route which farm workers marched from Delano to Sacramento calling for the state to allow them to unionize.
---
INFLATION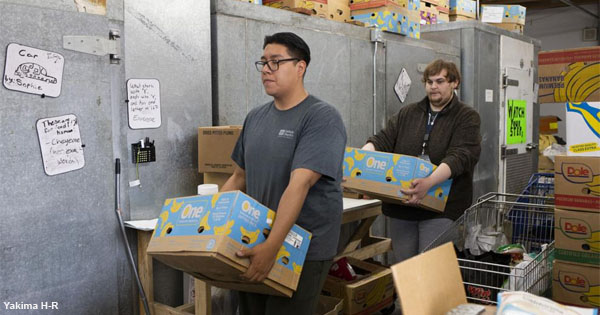 ► From the Yakima H-R — Inflation hits Yakima Valley food banks two ways: More demand and fewer donations — As families across the Yakima Valley, state of Washington and the U.S. feel the effects of inflation, local food banks are not immune. In fact, officials say the steady increase in food and other prices hurts them in two ways.
► From the AP — U.S. inflation hit a new 40-year high last month of 8.6% — The costs of gas, food and most other goods and services jumped in May, raising inflation to a new four-decade high and giving American households no respite from rising costs. Lower-income and Black and Hispanic Americans, in particular, are struggling because, on average, a larger proportion of their income is consumed by necessities.
► From the Economic Policy Institute — Debunking 5 top inflation myths — Myths debunked: (1) workers' wage growth is driving inflation; (2) corporate profits are not contributing to inflation; (3) federal relief and recovery measures overheated the economy and fed inflation; (4) removing import tariffs would be a major tool to fight inflation; and (5) investments in child and elder care would accelerate inflation.
---
NATIONAL
#Amazon has terminated Pasquale "Pat" Cioffi, a lead organizer with the ALU. Pat is a process assistant who was instrumental in the JFK8 victory, and is one of our most influential and outspoken supporters.

He was fired for arguing with a manager about mistreatment of workers. pic.twitter.com/469eqHFEKs

— Amazon Labor Union (@amazonlabor) June 10, 2022
► From the AP — NLRB denies Amazon's ask to close union hearing to public — A federal labor board has denied Amazon's request to bar the public from a hearing on the company's bid to overturn a historic union win at one of its Staten Island, New York, warehouses. Hearings by the NLRB are typically held in person and open to the public. But the Seattle-based company filed a motion Tuesday arguing the agency should make the hearing on the Staten Island union vote private because it will be held over Zoom.
Michigan won 8 union elections THIS WEEK ALONE! Workers in Ann Arbor started the week off strong followed by stores in Clinton Township, Lansing, East Lansing, and Flint.

Workers at the East Lansing showed @Starbucks how strong this movement is with a 19-0 unanimous win! pic.twitter.com/OQOUveUqMj

— SBWorkersUnited (@SBWorkersUnited) June 9, 2022
EDITOR'S NOTE — Ready for a voice at work? Get more information about how you can join together with co-workers and negotiate a fair return for your hard work. Or go ahead and contact a union organizer today!
---
T.G.I.F.
► Jim Seals, one half of 1970s soft-rock duo Seals and Crofts, died this week at the age of 80. Seals (on the right with the hat) said that this song, the duo's breakthrough 1972 hit, was "a very simple song about a man coming home from work and hearing the dog barking and things like that, and to a lot of people the song's about looking for security. Our meaning goes further than that, for a prison can be the prison of self and a person can become insecure and paranoid if he doesn't have a direction in his personal life."
Here's to more Americans finding direction in their personal lives.
---
The Stand posts links to Washington state and national news of interest every weekday morning by 10 a.m.
WASHINGTON IS A UNION STATE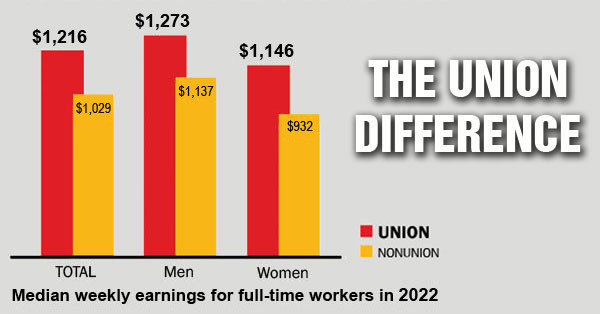 CHECK OUT THE UNION DIFFERENCE in Washington state: higher wages, affordable health and dental care, job and retirement security.
FIND OUT HOW TO JOIN TOGETHER with your co-workers to negotiate for better working conditions and respect on the job. Or go ahead and contact a union organizer today!