AFL-CIO Convention | Initiative 1929 is 86'd | The union benefit
Monday, June 13, 2022
---
AFL-CIO CONVENTION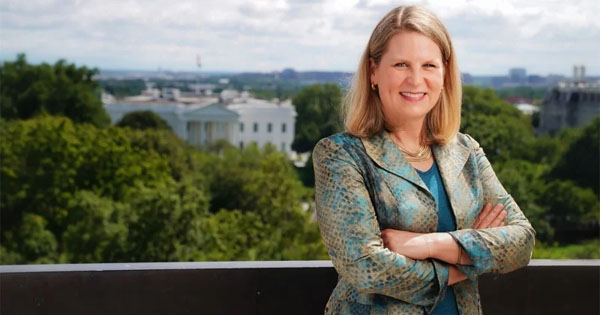 ► From Bloomberg Law — Shuler wins AFL-CIO presidency, first woman elected to role — AFL-CIO President Liz Shuler won election to a four-year term at the federation's national convention Sunday, solidifying her spot at the helm of the US labor movement. Delegates from the federation's member unions selected Shuler, who was elevated to the job after Richard Trumka died unexpectedly last year. She ran unopposed.
TODAY at The Stand — Liz Shuler, Fred Redmond elected to lead AFL-CIO
► From The Hill — New AFL-CIO leader eyeing tech sector for organizing — Liz Shuler, the new leader of the nation's largest federation of labor unions, the AFL-CIO, said in an interview published Sunday that she is eyeing the tech sector for organizing efforts amid shifts in the U.S. workforce.
► From CBS — President Joe Biden will visit Philadelphia Tuesday for AFL-CIO National Convention — President Biden will give the keynote address when at Tuesday's afternoon session.
EDITOR'S NOTE — Watch the AFL-CIO Convention LIVE at aflcio.tv and follow its progress at #AFLCIOConv.
---
LOCAL

► From My Northwest — Researchers at UW vote yes on unionization — In a vote of 606-104, researchers at the University of Washington have voted to unionize across all three campuses, with the Washington State Public Employment Relations Commission (PERC) to certify the union in the next few weeks. The bargaining unit is made up of a total of 1,450 employees of the university across all research areas.
The Stand (June 10) — 'Thrilled' UW Researchers vote Union YES! — New bargaining unit includes 1,450 Research Scientists/Engineers from every discipline across all three UW campuses.
The Stand (June 13) — Join RPEC in celebrating state's first Women Veterans Day
► From the Spokesman-Review — 'We are not invisible': Women veterans gather Sunday at Hillyard VFW post — Women veterans from all branches of the service and all eras came from far and wide to gather at the Hillyard Veterans of Foreign Wars post Sunday for the first in-person Women Veterans Day celebration.
---
AEROSPACE

► From the PS Business Journal — Report to FAA could be costly for Boeing's Max 10 plans — A report to the FAA casts considerable doubt on Boeing's chances of receiving a critical extension from Congress to certify its newest variant of the 737 Max. Boeing currently has until the end of the year to receive FAA approval for the 737 Max 10 — its largest Max jet yet — before the close of a two-year grace period that has shielded it from updating its cockpit alerts. Unless Congress grants an additional extension, the company faces costly delays for hundreds of orders of the plane.
---
THIS WASHINGTON

► From Crosscut — Abortion rights in WA fall into limbo at religious hospitals — With the U.S. Supreme Court expected to overturn Roe v. Wade this month, Washington state, a longstanding haven for abortion care, is positioning itself as a sanctuary for an influx of out-of-state patients. But abortion access is already out of reach in some parts of the Northwest — especially in communities where Catholic hospitals proliferate.
The Stand (May 3) — WSLC: 'Reproductive rights are workers' rights'
► From the Seattle Times — Conflicts escalate amid surge in WA solar farm proposals — Much of the power produced by these large-scale solar projects would be delivered to the Puget Sound region and other parts of Western Washington. Most of the proposed sites are east of the Cascades, with the greatest concentration in the sun-drenched Columbia Basin plateau.
---
ELECTION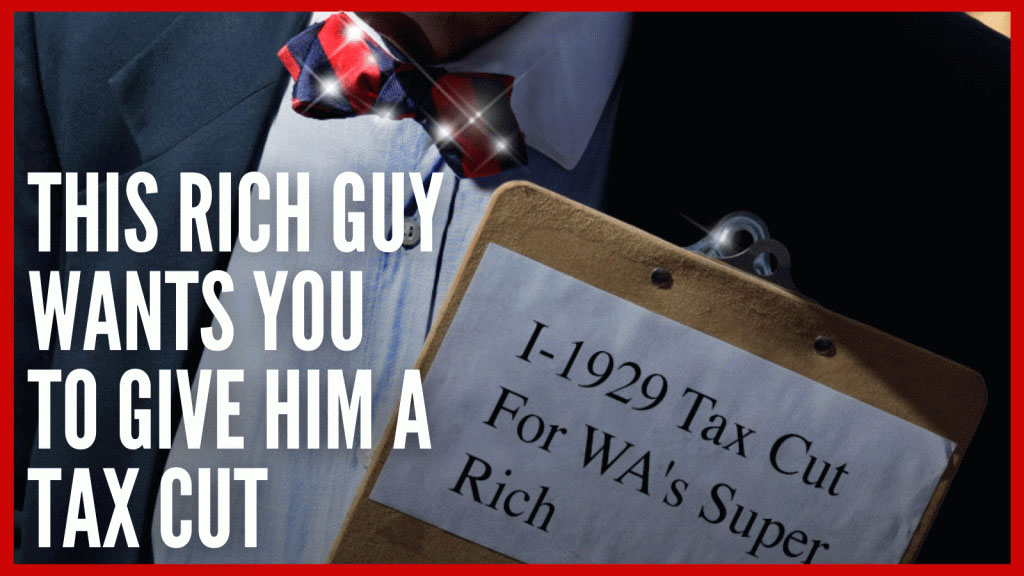 ► From the (Everett) Herald — Foes of state's capital gains tax drop plans for initiative — An initiative to repeal the state's new capital gains tax is dead for this year. Sponsors of Initiative 1929 said Friday they won't proceed and will instead await the outcome of a lawsuit challenging the legality of the tax.
EDITOR'S NOTE — Delegates representing unions across the state voted to OPPOSE Initiative 1929 at the Washington State Labor Council's COPE Convention on May 22.
► From Politico — State supreme courts: Bottom of the ballot but top concern if Roe falls — The possible end to federal abortion protections is spotlighting down-ballot races in the upcoming midterm elections.
EDITOR'S NOTE — For Washington State Supreme Court, WSLC delegates voted to endorse Mary Yu (Pos. 1), Barbara Madsen (Pos. 5) and G. Helen Whitener (Pos. 6).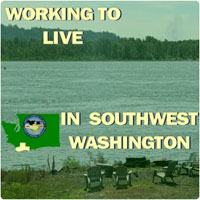 ► From the SW Washington CLC — Why (and how) do unions get involved in elections? (podcast) — How does organized labor pick candidates to endorse… and why are unions involved in the political process at all? Shannon and Harold sit down with Shaun Gundert and Shawn Nyman, who chair the political committees for the Southwest Washington Central Labor Council and Cowlitz Wahkiakum Central Labor Council, to pull back the curtain on the endorsement process and let you know who labor is endorsing for the upcoming primary on Aug. 2.
The Stand (May 22) — Wash. State Labor Council makes 2022 election endorsements
---
THAT WASHINGTON
► From The Guardian — Feel the benefit: Union workers receive far better pay and rights, Congress finds — Workers represented by labor unions earn 10.2% higher wages than their non-union peers, have better benefits and collectively raise wages industry-wide, according to a report released by the House and Senate committees on Friday.
The Stand (Jan. 20) — Unions post big gains in Washington state — With 72,000 more members, state now ranks 3rd in union membership.
EDITOR'S NOTE — Ready for a voice at work? Get more information about how you can join together with co-workers and negotiate a fair return for your hard work. Or go ahead and contact a union organizer today!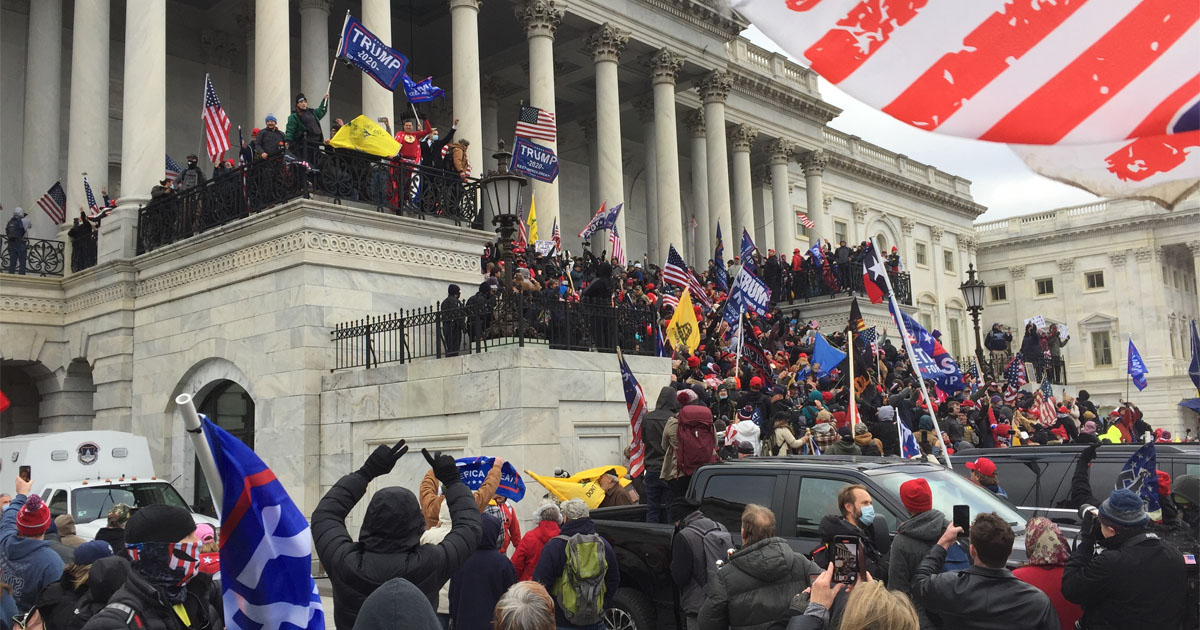 ► From The Hill — Trump's 'Big Lie' takes center stage in second Jan. 6 hearing — A former Trump campaign director and a U.S. attorney the then-president weighed firing are among those who will testify Monday as the Jan. 6 committee works to show how Trump forged ahead with plans to remain in power despite being "told again and again that he didn't have [the] numbers to win."
► From HuffPost — Jan. 6 panelists: Enough evidence uncovered to indict Trump — Members of the House committee investigating the Capitol riot said Sunday they have uncovered enough evidence for the Justice Department to consider an unprecedented criminal indictment against former President Donald Trump for seeking to overturn the results of the 2020 election.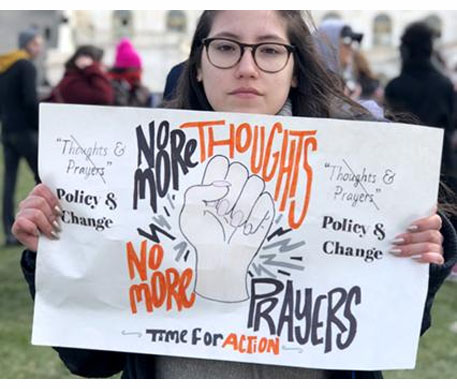 ► From the Washington Post — Senators strike bipartisan gun deal, heralding potential breakthrough — A bipartisan group of senators announced Sunday that it had reached a tentative agreement on legislation that would pair modest new gun restrictions with significant new mental health and school security investments — a deal that could put Congress on a path to enacting the most significant national response in decades to acts of mass gun violence.
The Stand (May 25) — Teachers union: We know this problem can be solved — AFT calls for action to end gun violence in our schools and communities.
► From the NY Times — Gun deal is less than Democrats wanted, but more than they expected — Though the compromise does not go as far as many would have preferred, it is still seen as a serious step that could save lives.
► From the Seattle Times — What the new gun deal could mean for Washington state — It could provide the state with money for mental health clinics and school security, although its modest gun restrictions would have little effect. Many of those efforts already have been enacted in Washington over the years.
LOCAL coverage of the weekend's "March for Our Lives" protests in today's Bellingham Herald, (Everett) Herald, Olympian, and the union-busting (Vancouver) Columbian.
---
NATIONAL
► POINT from the Washington Post — Microsoft enters agreement to respect Activision Blizzard unionization — Microsoft said Monday it would respect the rights of Activision Blizzard workers to join a union, and would enter into a so-called labor neutrality agreement with major media union Communications Workers of America, which has been helping video game workers organize. If Microsoft's acquisition of Activision Blizzard is approved, the new labor agreement will take effect for the video game giant 60 days after the deal is finalized.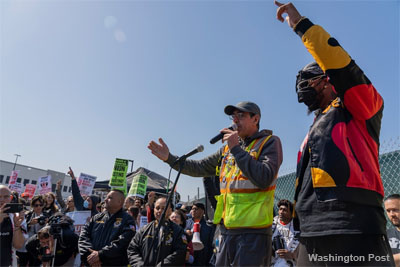 ► COUNTER-POINT from the Washington Post — Amazon calls cops, fires workers in attempts to stop unionization nationwide — Employees at Amazon facilities around the country whose union hopes were buoyed by the labor victory at a warehouse in Staten Island in April say in labor board filings and interviews that the company has been calling police, firing workers and generally cracking down on labor organizing since that historic win. Amazon has been accused of illegally firing workers in Chicago, New York and Ohio, calling the police on workers in Kentucky and New York, and retaliating against workers in New York and Pennsylvania, in what workers say is an escalation of long-running union-busting activities by the company.
► From HuffPost — Starbucks union says Howard Schultz broke the law during New York Times interview — Starbuck Workers United says that in a conversation at a policy forum on Thursday, Schultz threatened to refuse to bargain in good faith with the union. "We have to demonstrate to our people they can trust us," Schultz said, but when asked if he could ever envision "doing that and embracing the union as part of it?" Schultz flatly answered, "No."
► From Capital & Main — Its workers keep unionizing but does Starbucks smell the coffee?
► From the NY Times — Google agrees to pay $118 million to settle pay discrimination case — The tech giant admitted no wrongdoing as it resolved four women's claims of widespread pay biases. The company will also allow an outside monitor to review its practices.
---
The Stand posts links to Washington state and national news of interest every weekday morning by 10 a.m.
Short URL: https://www.thestand.org/?p=109108
Posted by
admin
on Jun 13 2022. Filed under
DAILY LINKS
. You can follow any responses to this entry through the
RSS 2.0
. Both comments and pings are currently closed.