Biden at AFL-CIO | Raising Tukwila's wages | The big grift
Tuesday, June 14, 2022
---
AFL-CIO CONVENTION
Watch the AFL-CIO Convention LIVE at aflcio.tv and follow its progress at #AFLCIOConv.
► From the Washington Post — Biden courts labor ahead of tough midterms — President Biden is heading to Philadelphia today to address the AFL-CIO convention — his latest show of solidarity with the labor movement as Democrats confront a tough midterm election forecast… "I'll be 60 years old in six weeks, and in my lifetime nobody's even come close to doing for working people what this guy's done," said Sean McGarvey, NABTU's president. "Not close."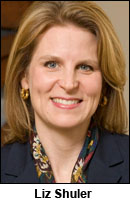 ► From the People's World — AFL-CIO President Shuler's goal: "More than one million new" unionists — AFL-CIO President Liz Shuler, formally elected to her first full term in office, has set a goal to "grow our movement by more than one million working people" in a decade. If it succeeds—and she admits it won't be easy—that would mark a substantial increase in organized labor's density, especially in the private sector, where it has fallen from one-third in the early 1950s to just over 6 percent.
► From Axios — Axios interview: Inside the plans of the country's top union leader — New AFL-CIO President Liz Shuler and Secretary-Treasurer Fred Redmond want to build upon unprecedented union victories at companies like Amazon and Starbucks. To do so, they plan to reallocate resources toward organizing and pare back AFL-CIO leadership, a shift from Trumka's approach.
► From AL.com — Alabama Amazon union organizers get standing ovation at AFL-CIO convention — Isaiah Thomas, an Amazon Bessemer worker and organizing committee member, said the Amazon union campaign is important for the future of labor in an atmosphere where labor decisions are being made through technology. He called Amazon's working conditions "absolutely dystopian."
---
LOCAL

► From the Seattle Times — King County, Seattle to give $7M in payments to child care workers — Seattle Mayor Bruce Harrell and King County Executive Dow Constantine announced a batch of jointly funded one-time payments for child care workers Monday morning, allocating $5 million from the county's Best Start for Kids levy and $2.4 million from the city's JumpStart tax to aid child care workers who make an average of about $9 an hour less than the state median.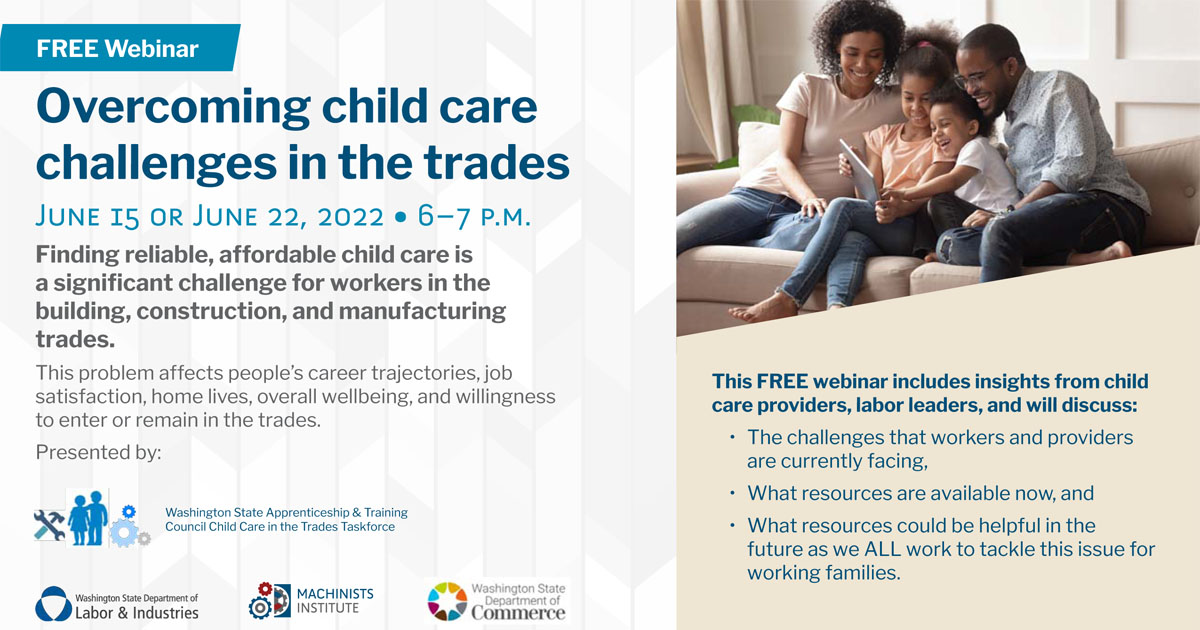 The Stand (April 8) — Help is available to find quality child care — The taskforce is hosting "Overcoming Child Care Challenges in the Trades," a webinar offered on both June 15 and June 22 from 6 to 7 p.m. Get details here, including how to register.
► From the Seattle Times — Graduating students give SPU interim president pride flags, protesting anti-LGBTQ+ policy
---
ELECTION

► From KIRO — Community coalition pushes to get minimum wage increased in Tukwila — The community coalition "Raise the Wage Tukwila" has collected signatures it believes could improve the lives of thousands of minimum-wage workers. The city's minimum wage is currently $14.49. However, the coalition would like to see the minimum wage raised to $17.54 by next year, which would put it on par with neighboring SeaTac and Seattle.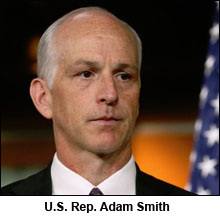 ► From the Seattle Times — Adam Smith for Congressional district 9 (editorial endorsement) — Voters in the 9th Congressional district have a long and distinguished record to examine when deciding whether to return U.S. Rep. Adam Smith to the nation's capital yet again. Reelection would give Smith, D-Bellevue, his 14th term in Congress, the longest service in Washington's House delegation. Smith's experience, ability and political strength as chair of the House Committee on Armed Services serve the state well. He is easily the best choice in this election.
EDITOR'S NOTE — Delegates representing unions across the state voted to endorse Rep. Adam Smith at the Washington State Labor Council's COPE Convention on May 22.
---
INSURRECTION AND OTHER FAR-RIGHT EXTREMISM

► From Roll Call — Trump pushed 'big lie' despite knowing it was false, ripped small donors off, Jan. 6 panel says — Despite being told by the attorney general, his own campaign lawyers and many other senior advisers that his claims of election fraud were wrong, Donald Trump pressed ahead with the "big lie" that the election was stolen and undertook a fundraising enterprise based off of those claims that steered most of that money to Trump's Save America PAC rather than to election-related litigation.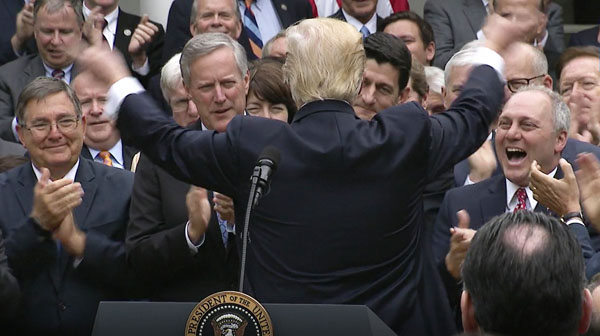 ► From the Washington Post — More than 100 GOP primary winners back Trump's false fraud claims — The analysis offers a fresh portrait of the extent to which embracing Trump's false claims has become part of a winning formula in this year's GOP contests, and what it means for the immediate future of American democracy. The majority of the election-denying candidates who have secured their nominations are running in districts or states that lean Republican, according to Cook Political Report ratings, meaning they are likely to win the offices they are seeking.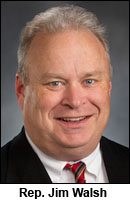 ► From the (Longview) Daily News — Walsh singled out by report on far-right influence on state politicians — State Rep. Jim Walsh was one of 10 politicians singled out in a recent report on how state legislators amplify the arguments of far-right groups, as measured in part by their Facebook activity. The report, "Breaching the Mainstream," was issued in May by the Institute for Research and Education on Human Rights, a nonprofit that tracks far-right extremism as a threat to democracy. The report called Walsh the "Ultimate Joiner" because he belonged to more far-right-adjacent Facebook groups than any other state politician. Walsh was part of 24 Facebook groups since 2015, the Institute found, 10 times more than the average state legislator covered by the report.
► From the Spokesman-Review — Former GOP Rep. Matt Shea claimed U-Haul in CdA was filled with Antifa. But among those arrested was man who attended Shea's church
---
THAT WASHINGTON
► From Roll Call — Future of DACA program remains uncertain, a decade after it began — A decade after the DACA program began, its fate is deeply uncertain following numerous court challenges and years of legislative inaction. That also means uncertainty for original so-called Dreamers, as well as a younger generation of immigrants who can't access the benefits at all.
► From Politico — Bipartisan resentment grows as Biden pursues new trade talks — The White House is pursuing a new and unconventional approach to global economic engagement that eschews traditional free trade agreements — and the congressional approval they require. Members of both parties complain they are being kept in the dark as a result, receiving last-minute briefings with few details about the administration's boldest initiatives.
The Stand (July 1, 2021) — 'Free trade' died this week – with a whimper
---
NATIONAL
► From the Washington Post — In the wake of Uvalde, Ohio will arm more teachers — As Congress wrestles over gun control, Ohio Gov. Mike DeWine (R) signed into law a bill Monday that would arm more schoolteachers by reducing training requirements for staffers to carry guns on campus. Shari Obrenski of the Cleveland Teachers Union noted the effort to arm teachers comes after state lawmakers sought to ban how teachers talked about race in classrooms:
"Educators are being told we are not trusted to decide what to teach in the classroom, a job we study for and are licensed to do. But we are trusted to have loaded guns around children with far less training than is required to drive a car."
► From the Philadelphia Inquirer — Union to vote Wednesday on authorizing Atlantic City casino strike — Atlantic City's main casino workers union (UNITE HERE 54) will vote Wednesday on whether to authorize a strike against the city's casinos, with whom they have yet to reach new contract agreements.
► From the Hollywood Reporter — Vox Media Union reaches tentative deal, averting threatened strike — The bargaining unit's approximately 350 editorial and video staff members will soon participate in a ratification vote.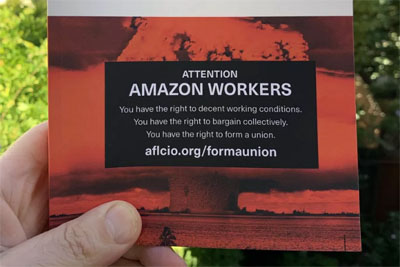 ► From the Guardian — Why is Starbucks' union drive speeding ahead while Amazon's founders? — Isaiah Thomas, a pro-union worker at the Amazon warehouse in Bessemer, Alabama, sees many reasons for the different pace – and said the biggest was the different size of the workplace. "Another thing that makes it harder at Amazon is that the turnover rate is ridiculous, 150%," he said. That rapid coming-and-going of employees makes it harder to get the 30% of workers to sign cards needed to request a union election, and once an election is scheduled, harder to explain to all the workers why they should vote in favor.
EDITOR'S NOTE — Ready for a voice at work? Get more information about how you can join together with co-workers and negotiate a fair return for your hard work. Or go ahead and contact a union organizer today!
---
INTERNATIONAL
► From Reuters — South Korea strike disrupts shipments of key cleaning agent for chipmaking — A nationwide strike by truck drivers in South Korea has disrupted shipments to China of a key cleaning agent used by makers of semiconductor chips.
---
The Stand posts links to Washington state and national news of interest every weekday morning by 10 a.m.
Short URL: https://www.thestand.org/?p=109195
Posted by
admin
on Jun 14 2022. Filed under
DAILY LINKS
. You can follow any responses to this entry through the
RSS 2.0
. Both comments and pings are currently closed.