Joe from Scranton | Schultz vs. employees | Skilled workers needed
Thursday, June 16, 2022
---
AFL-CIO CONVENTION
► From the Washington Post — Biden's rousing speech before the AFL-CIO is exactly the message Democrats need (by Jennifer Rubin) — President Biden sounded like he used to as vice president and on the campaign trail when he inhabited the persona of "Joe from Scranton." His delivery was punchier and at times angrier than usual. He mocked and knocked Republicans' plutocratic economics. And he made a stronger-than-usual case that Republicans are blocking economic progress. He was rewarded with multiple ovations.
EDITOR'S NOTE — Watch the entire speech here.
---
STARBUCKS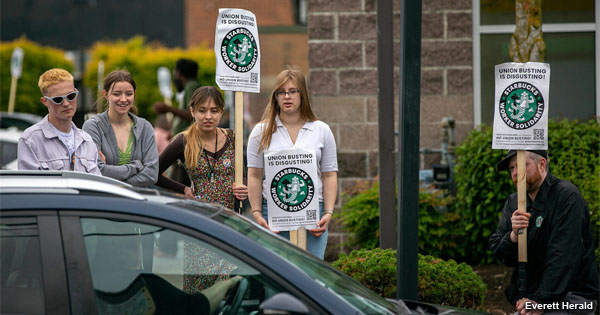 ► From the (Everett) Herald — Everett Starbucks workers go on strike after employee fired — Employees at a Starbucks on Broadway went on strike after a coworker was fired Tuesday. About a dozen people picketed Wednesday morning on the sidewalk at 37th Street and Broadway near the shop. The store was closed to customers. Artemis Moraine has worked at the store for three years. She said she went to work as usual for a 7 a.m. shift Tuesday. When her manager and a Starbucks district manager walked in, Moraine made their drinks. Then they asked to speak with her in the back room, where they fired her, she said. Moraine, a 31-year-old single mother, said she believes it was retaliation for her support of the Starbucks Workers United union:
"They pulled me out at the busiest time of the day to have this conversation. I sat out in the cafe for about an hour, sobbing."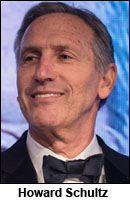 ► From the PS Business Journal — Howard Schultz vows success in 'battle' for hearts and minds of Starbucks workers — When Howard Schultz returned to Starbucks in April, he made his intentions clear: His job is to reinvent how public companies treat their workers, he has said, while also heading off one of the largest unionization pushes in the country. "We are in a battle for the hearts and minds of our people, and we are going to be successful," Schultz said last week.
EDITOR'S NOTE — This billionaire just doesn't get it. He's battling his own employees. By firing, threatening and intimidating employees, Schultz is not only sticking with the worn-out playbook of his expensive union-busting consultants, he is breaking the law. He has clearly chosen to listen to anti-union attorneys rather than his employees, which is why he considers this a "battle." With 150 stores (and counting) now unionized in just six months, how's that strategy working out for you, Howard?
Ready for a voice at work? Get more information about how you can join together with co-workers and negotiate a fair return for your hard work. Or go ahead and contact a union organizer today!
---
LOCAL

The Stand — Support Homegrown sandwich workers June 16 in Seattle
► From KUOW — How's Tacoma's guaranteed basic income program going? — Tacoma is piloting its own guaranteed income initiative. It's called GRIT, an acronym for "Growing Resilience in Tacoma." Since December 2021, 110 families experiencing poverty in Tacoma have received $500 a month to spend as they need. There are no strings attached, and no work requirements.
---
THIS WASHINGTON

► From the Seattle Times — Retail slump hammers WA job market, even as Boeing and Amazon push hiring — In a worrying sign for the state's recovery, hiring in Washington stalled last month amid fears over inflation and consumer spending, even as big players like Boeing stepped up their recruitment campaigns. Washington lost 2,300 jobs in May, the first month in the red since January 2021, according to new data.
► From KNKX — Aide who blew whistle on mistreatment of staff fired from Washington Office of Insurance Commissioner
► From the union-busting Columbian — U.S. should follow Washington's lead on guns (editorial) — A deal in the U.S. Senate to strengthen gun laws will not have a huge impact in the state of Washington. Many proposals in the tentative legislation have already been enacted in our state, which has demonstrated there is room for reforms that balance individual rights with public safety.
---
THAT WASHINGTON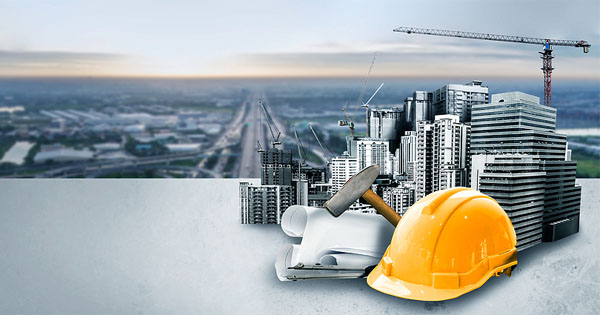 ► From McClatchy — 'It's gonna take us a little time': Labor market a challenge for infrastructure law — The proposed upgrades aren't going to magically build themselves — and that's already becoming a problem for the federal government. Top federal officials say that finding skilled workers to build the new infrastructure, especially amid a tight labor market, has been among their top challenges. It's why they have undertaken a significant effort to streamline the hiring process for the federal government and help identify, train and deploy a new generation of skilled laborers, understanding that a too-small workforce threatens the heart of the $1.2 trillion law.
► From the NY Times — Bracing for the end of Roe v. Wade, the White House weighs executive actions — The Biden administration has been deluged with ideas to help mitigate a Supreme Court ruling overturning abortion rights, but many come with legal risks.
► From Murray.senate.gov — Murray to Biden: We need an executive order to defend Americans' right to an abortion NOW — Sens. Patty Murray (D-WA) and Elizabeth Warren (D-MA) led a press conference Wednesday reiterating their call to President Biden to immediately issue an executive order to defend Americans' reproductive rights, including their right to an abortion. Murray said:
"We need an all-of-government plan to protect reproductive rights. We need the Biden administration to step up to the plate and do everything it possibly can to protect the right to abortion."
The Stand (May 3) — WSLC: 'Reproductive rights are workers' rights'
The Stand (May 12) — Nurses' unions: All deserve reproductive health care
► From Roll Call — Supreme Court ends challenge over 'public charge' rule — More than a dozen Republican-led states sought to join a lawsuit and defend the Trump-era immigration policy.
► From Roll Call — Staffers got raises in the House. Now it's the Senate's turn, says Schatz — "You shouldn't already have to be wealthy in order to serve here," the Hawaii Democrat says.
---
NATIONAL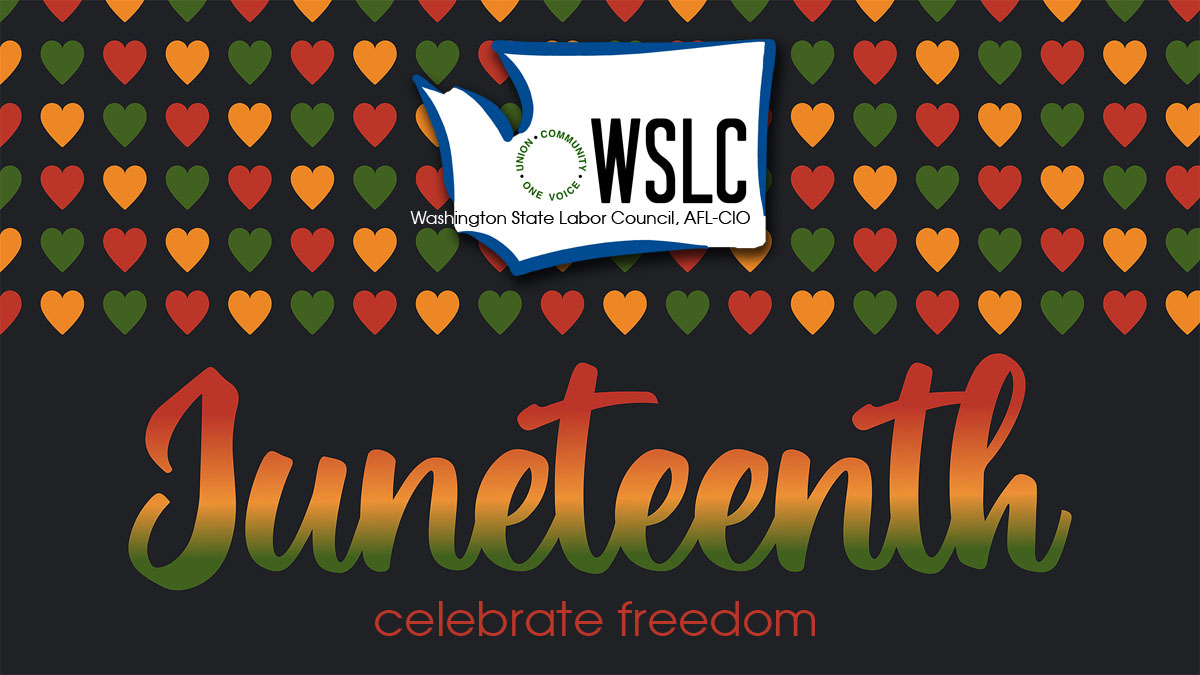 ► From The Hill — Familiarity with Juneteenth grows in year since federal holiday designation: Gallup — The survey from Gallup showed that 88 percent of respondents said they knew at least a little bit about Juneteenth, compared to 71 percent in May 2021.
The Stand (June 14) — Celebrate Juneteenth at these labor events
► From the LA Times — Supreme Court limits California labor law that allows private suits against employers — In a victory for California employers, the Supreme Court on Wednesday sharply limited a state labor law that has authorized private lawsuits on behalf of groups of workers, even if they had agreed to resolve their disputes through individual arbitration. In an 8-1 decision, the court ruled the Federal Arbitration Act preempts or overrides the state law.
---
The Stand posts links to Washington state and national news of interest every weekday morning by 10 a.m.
Short URL: https://www.thestand.org/?p=109261
Posted by
admin
on Jun 16 2022. Filed under
DAILY LINKS
. You can follow any responses to this entry through the
RSS 2.0
. Both comments and pings are currently closed.