Don't agonize, organize | Unanimous in Bellingham | 787 woes
Monday, June 27, 2022
---
ABORTION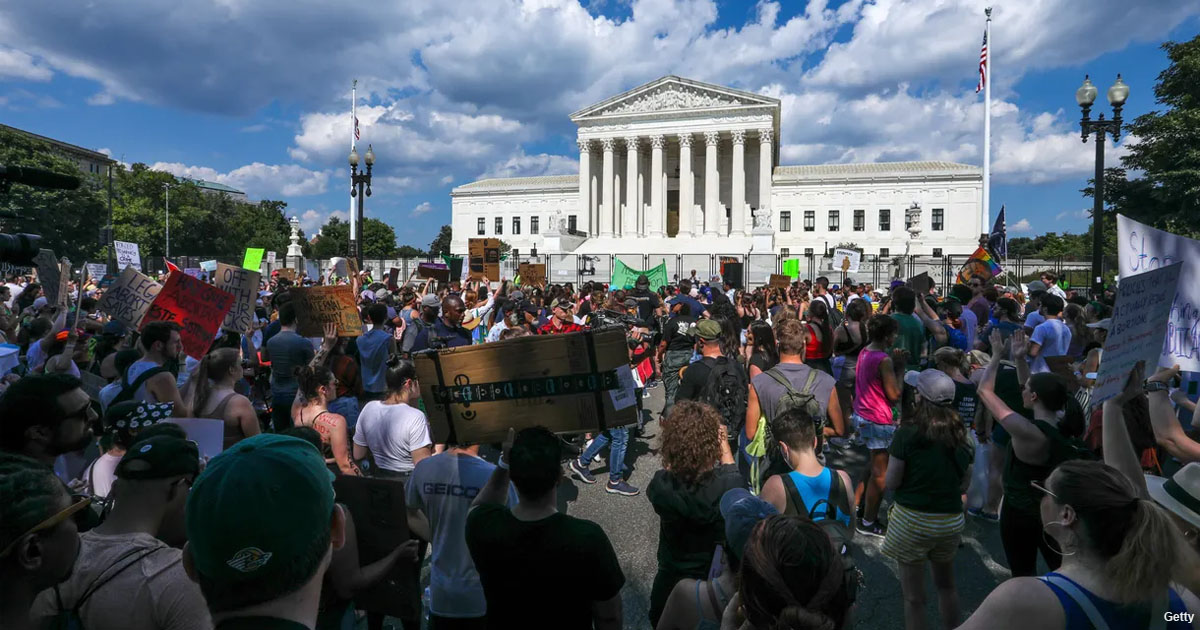 ► From Vox — In 48 hours of protest, thousands of Americans cry out for abortion rights — Pro-choice activists and reproductive rights supporters have been making their voices heard through mass protests in response to the Supreme Court's Friday decision on Dobbs v. Jackson Women's Health Organization, which effectively overturned 1973's Roe v. Wade ruling that gave Americans a constitutional right to an abortion. "It's a betrayal against women," Natasha Mitchell of Denver told CNN during an abortion rights protest in Colorado, a state that recently codified abortion rights into law. "I'm fortunate that I live in a state that respects the reproductive rights of women but I fear for women who don't."
MORE coverage of local protests: Bellingham Herald, (Everett) Herald, Kitsap Sun, (Tacoma) News Tribune, Olympian, Peninsula Daily News, (Spokane) Spokesman-Review, Tri-City Herald, and the Wenatchee World.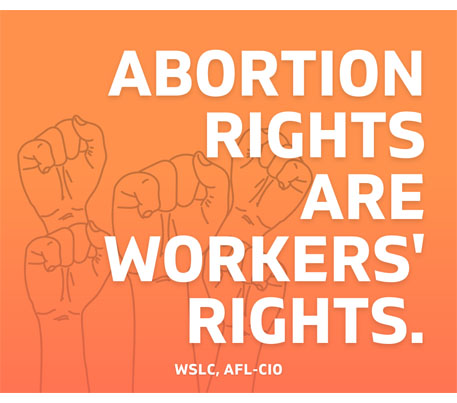 TODAY at The Stand — Amid attacks on abortion rights, unions must fight back (by Shaunie Wheeler James and Cherika Carter)
The Stand (June 24) — WSLC decries overturning of Roe v. Wade — WSLC President Larry Brown and Secretary-Treasurer April Sims: Abortion rights are workers' rights. Our movement fought for our rights as working people long before the government decided to protect them. We will continue to defend these rights now.
► From the Seattle Times — Stand up for women's rights in face of abhorrent abortion ruling (editorial) — This radical decision by the conservative majority strikes at long-established precedent and denies women the right to control their own bodies. The tragic ruling expands how far government can interfere in people's personal lives. Also significant is that it further erodes trust in the legitimacy of the court. Washington — a state where voters have recognized access to abortion as a fundamental protection — must continue to stand up for that freedom and serve as a haven for those who seek to safely terminate their pregnancies.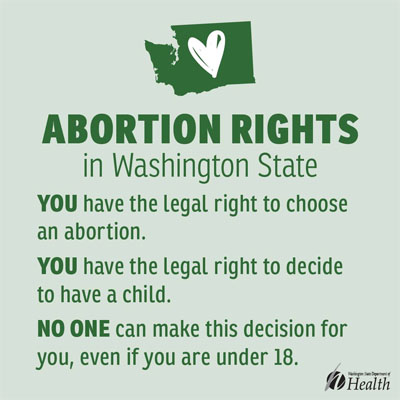 ► From the AP — Inslee seeks abortion rights amendment to state constitution — Washington Gov. Jay Inslee said he will push for a state constitutional amendment to protect abortion rights within his state's borders, as well as laws that will make it difficult for other states to investigate whether their own residents have visited Washington for abortion care.
► From the News Tribune — 'Don't agonize, organize.' State Democrats' Tacoma convention offers rally cry after Roe
► From the Seattle Times — Major WA employers commit to maintaining abortion access for employees — Several major Washington employers responded to Friday's U.S. Supreme Court decision throwing out constitutional protections for abortion with renewed pledges to pay the way for employees who must travel to access reproductive health care. Washington state's umbrella labor organization, the Washington State Labor Council, described the high court decision as a blow to workers' rights. Abortion rights are connected to bodily autonomy, and it's a decision that impacts wages, benefits and working conditions, the council said in a statement endorsed by Larry Brown, the council president, and council Secretary-Treasurer April Sims.
EDITOR'S NOTE — But…
► From Reuters — Legal clashes await U.S. companies covering workers' abortion costs — A growing number of large U.S. companies have said they will cover travel costs for employees who must leave their home states to get abortions, but these new policies could expose businesses to lawsuits and even potential criminal liability, legal experts said.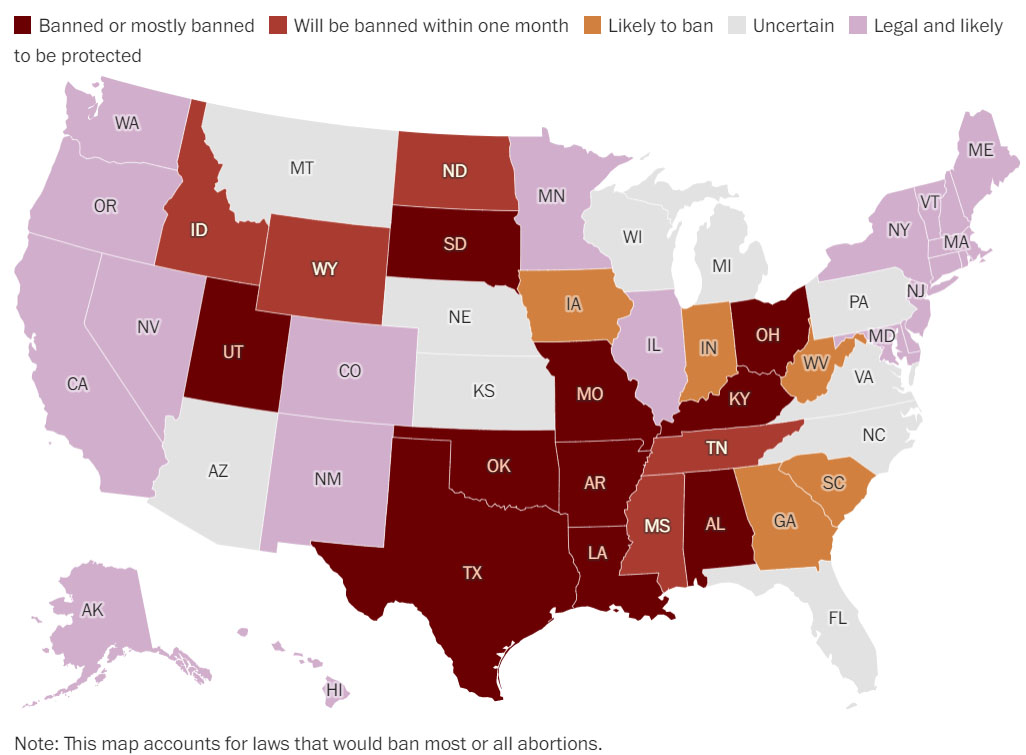 ► From the Washington Post — Abortion is now banned in these states. Others will follow.
► From Reuters — Roe v Wade ruling disproportionately hurts Black women, experts say
► From the AP — GOP lawmaker calls Roe ruling 'victory for white life' as Trump rally cheers
► From the Washington Post — Chasm opens between states over abortion pills and out-of-state care — The decision is expected to trigger new battles between states over abortion access, as women and advocates try to get around newly enacted bans by seeking the procedure out of state and using hard-to-trace medications. The fights promise to raise tensions between states in ways not seen since the era of slavery, experts say.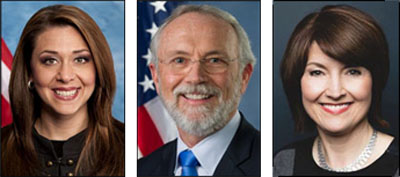 ► From Vox — Republicans are eyeing a nationwide abortion ban. Can they pull it off? — In the wake of Friday's Supreme Court ruling overturning Roe v. Wade, Republicans made clear that their ambitions don't stop there: Some are already lining up to support a nationwide abortion ban if they recapture control of Congress in November's midterm elections. Former Vice President Mike Pence tweeted Friday that Republicans "must not rest and must not relent until the sanctity of life is restored to the center of American law in every state in the land."
EDITOR'S NOTE — Washington's Republican members of Congress all oppose abortion. Rep. Jaime Herrera Beutler said: "Southwest Washington residents know where I stand on honoring and protecting life and my efforts in Congress will remain consistent." Rep. Dan Newhouse said: "Today, life wins." Rep. Cathy McMorris Rodgers said: "This is one of the most momentous days in American history for the dignity and sanctity of every human life. This is just the beginning…"
► From The Hill — Thomas opinion strikes fear in Democrats over how far court will go — Justice Clarence Thomas' concurrent opinion calling on the Supreme Court to reconsider landmark cases protecting access to contraceptives and LGBTQ rights is striking fear among Democrats, with many worried about how far the conservative court will go after it took the extraordinary step of reversing Roe v. Wade.
---
LOCAL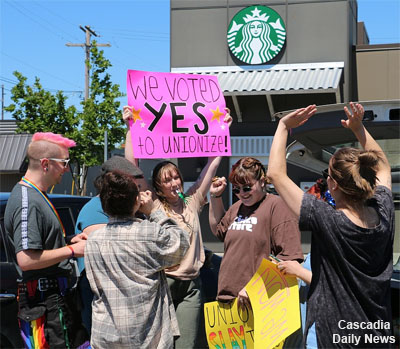 ► From the Cascadia Daily News — Bellingham Starbucks unanimously votes to unionize — Employees at Bellingham's drive-through Starbucks on Iowa and King Street unanimously voted Friday to unionize, making it the first unionized Starbucks location in Whatcom County. Toting signs and tooting sparkly noisemakers, employees celebrated in the parking lot while representatives from the NLRB in Seattle counted the vote Friday afternoon. Barista Shannon Butler said:
"We're having a watch-slash-celebration party for our union. We want to have protections for our own benefits and hours, as well as being able to advocate for ourselves more and having more say in the place we work."
EDITOR'S NOTE — Ready for a voice at work? Get more information about how you can join together with co-workers and negotiate a fair return for your hard work. Or go ahead and contact a union organizer today!
Multiple Starbucks stores in Seattle were on strike over the weekend in protest of firings of union supporters and the company forcing employees at three flagship stores there to reapply for their jobs amid union organizing drives. Follow @SeattleSBWU to get the latest updates, including how you can support their relief fund.
► From the Tri-City Herald — Feds get more time to start up massive Hanford plant. Construction began 20 years ago. — A federal judge has agreed to give the Department of Energy more time to start treating waste at the $17 billion Hanford vitrification plant under construction since 2002. Because of delays due to the COVID-19 pandemic that deadline has been extended to August 2025 under a court order filed Friday.
► From the Daily Record — Ellensburg School District officials stand by decision to cut librarians — Despite criticism from the Ellensburg community, teachers, and parents, the Ellensburg School District's decision to cut the certified librarian positions from secondary education hasn't changed.
► From KING — Seattle Pride Parade returned in person for the first time in 3 years Sunday — There were over 20,000 people signed up to march in this year's parade, according to Seattle Pride's Executive Director.
► From The Stranger — Seattle Pride's biggest sponsors also give big to homophobic politicians — Alaska Air, Chateau St. Michelle, and T-Mobile line GOP pockets.
---
AEROSPACE

► From the Wall Street Journal — What's holding back Boeing's 787 Dreamliner? — After debuting in 2011, Boeing's 787 Dreamliner has become popular among the world's airlines. But heightened scrutiny both inside and outside the company in recent years has revealed a number of production flaws and largely prevented Boeing from delivering new Dreamliner jets for nearly two years. The plane's largely carbon composite frame reduced fuel costs, helping make the airplane economical to connect more of the world's cities with direct flights. The Dreamliner also marked a shift for Boeing: It farmed out much of the work to a global network of suppliers, making it the first of the company's planes to be designed largely by other companies.
► From the Seattle Times — Boeing wants more workers in the office to ramp up production. Not everyone wants to go back — Boeing has ordered some of its remote workforce back to the office to help the company ramp up production and fix supply-chain problems. But like many employers navigating the pandemic as it winds down, the aerospace giant is getting pushback from workers who resent giving up their "home" offices when other colleagues don't have to.
► From the NY Times — Boeing 737 MAX flies again, but crash victims' kin say risks remain — Families are working with industry insiders to press for new safety precautions and a review of production practices for the aircraft.
► From Reuters — Russia to spend $14.5B to boost local aircraft production amid sanctions
---
THIS WASHINGTON



► From the Seattle Times — How nursing in WA is recovering from staff shortages and pandemic burnout — As thousands of students finish their classes this summer, the state's newest crop of registered nurses will start to bolster the strained health care systems throughout the region. Recent legislative action has boosted efforts to patch staffing holes within hospitals and long-term care facilities. But nationwide attrition rates among health care workers reveal a lot has been lost, leading to big questions over the future of an industry at a crossroads.
---
THAT WASHINGTON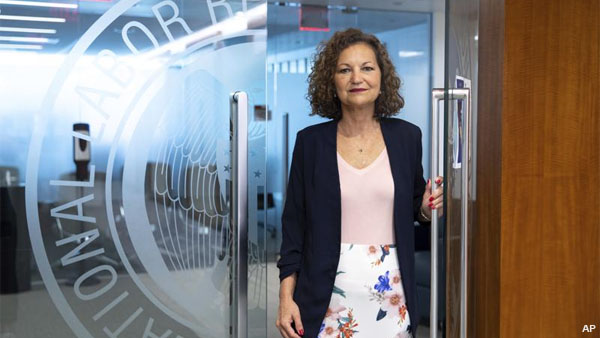 ► From the AP — NLRB's top prosecutor seeks big changes, faces uphill battle — In the past year, the Biden-appointed top prosecutor Jennifer Abruzzo has been seeking to overturn precedent and revive decades-old labor policies that supporters say would make it easier for workers to form a union. To get her wish, Abruzzo must have buy-in from the five-member board, whose Democratic majority is expected to be sympathetic to her proposed changes. As for President Joe Biden, he has vowed to be "the most pro-union president" in American history.
► From The Hill — Experts see risk with little upside in Biden's gas tax break — Experts are warning that President Biden's proposed gas tax holiday would do little to defray pain at the pump and actively take a toll on infrastructure and the environment.
---
NATIONAL
► From the Guardian — 'People are walking off the job': Workers blame American Red Cross for U.S. blood shortage — Employees say staff shortages and low pay are causing donors to leave before giving blood, amid delays over union contract.
---
The Stand posts links to Washington state and national news of interest every weekday morning by 10 a.m.
Short URL: https://www.thestand.org/?p=109518
Posted by
admin
on Jun 27 2022. Filed under
DAILY LINKS
. You can follow any responses to this entry through the
RSS 2.0
. Both comments and pings are currently closed.