Support Garden Cycles workers | Paid in Longview | Heat rules tested
Wednesday, June 29, 2022
---
LOCAL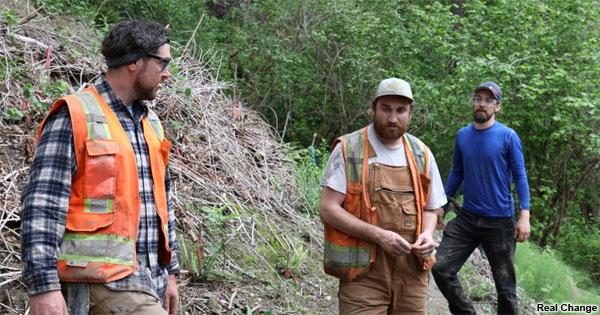 ► From Real Change — Restoration technicians fight for better working conditions — In December, restoration technicians at the company Garden Cycles voted 13-0 to unionize (with LiUNA Local 242) in order to fight for health care and retirement benefits. The workers, whose company contracts with the city of Seattle under the Green Seattle Partnership, care for the ecosystem by clearing invasive species and restoring native plants in Seattle's parks and greenspaces. Workplace safety was one of the main factors that encouraged Garden Cycles staff to unionize, said Samuel Edson, a restoration technician who works for Garden Cycles.
TAKE A STAND — Please sign this petition to support Garden Cycles workers' first union contract.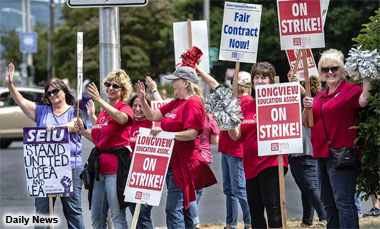 ► From the (Longview) Daily News — Longview school board approves pay increases for teachers, secretaries — Teachers and public employees in the Longview School District will get a pay bump after school board members Monday approved two union contracts representing the groups. Assistant Superintendent Tony VanderMaas said during the board meeting the contracts secured a 6.5% pay increase for members of the Longview Education Association and the Longview Classified Public Employees Association, an increase that keeps up with the state's inflation rate.
EDITOR'S NOTE — Ready to get paid for what you've earned? Get more information about how you can join together with co-workers and negotiate a fair return for your hard work. Or go ahead and contact a union organizer today!
► From KOMO — New survey finds that a third of Seattle public school teachers plan to leave in 5 years — About one-third of Seattle educators in a new survey say they plan to leave Seattle Public Schools in the next five years as the teachers' union weighs in on the expected staffing shortage and improvements they'd like to see from the district.
► From the PS Business Journal — Workers at Sea-Tac Airport launch campaign for full-time hours, benefits — Airline pilots aren't the only air travel workers seeking a better deal from their employers. The machinists union announced last week it reached a contract agreement with Alaska Airlines, while Sea-Tac International Airport workers kicked off a campaign in mid-June to secure full-time hours and benefits. The Sea-Tac workers, members of SEIU 6, want a "fair" contract to lock in sick leave and health insurance for employees such as wheelchair agents, cabin cleaners and baggage handlers.
► From KOMO — Providence Medical Center Everett takes extreme measures in wake of staffing shortage — Facing a staffing shortage, officials at Providence Regional Medical Center Everett on Monday activated a plan to shift its nurses to where they are needed most as the healthcare company faces severe staffing shortages similar to other providers around the country. Staff members also got word via email that the pediatrics unit has to close temporarily because there aren't enough nurses.
► From the Seattle Times — Initiative for higher minimum wage in Tukwila qualifies for November ballot — An initiative to boost the minimum hourly wage in Tukwila by more than $3, including at Westfield Southcenter Mall, has qualified for the November ballot. The Raise the Wage Tukwila campaign has submitted enough signatures to qualify for a vote, according to a elections authorities. The initiative process will move to the Tukwila City Council, which can pass the initiative into law or send it to the ballot.
---
THIS WASHINGTON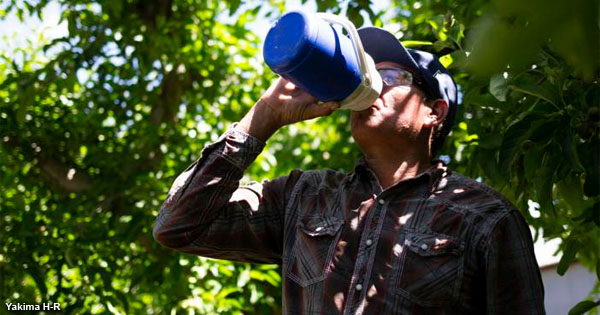 ► From the Yakima H-R — High temperatures test new WA outdoor heat protections for workers — Monday's high of 98 degrees in Yakima didn't set a record, but the high temperatures did prompt a heat advisory in Central Washington. It also was a test of new emergency heat protections for workers issued by L&I heat and wildfire smoke that call for access to cool drinking water, shade, and rest breaks for agricultural labor, construction workers and other outdoor workers. The changes took effect June 15 and will last through the end of September. Provisions for shade and rest kick in at 89 degrees. Workers must receive paid, 10-minute breaks in shade for every two hours of work. That threshold is lower depending on the type of clothing being worn. It is 79 degrees for workers wearing two layers of clothes and 52 degrees for workers in non-breathable clothes, like jumpsuits.
The Stand (June 6) — UFW: Washington's new heat protections are 'strong'
► From KOMO — Staffing shortages spur fears about ferry service delays through July 4th holiday weekend — The run between Kingston and Edmonds had to drop a boat Tuesday afternoon because of staffing shortages and it could be just as limited in the days to come. Ferry officials said the schedule could change by the hour, so just because there is a departure time listed on the timetable doesn't mean there will be a boat and a crew to take passengers across.
---
UNION-BUSTING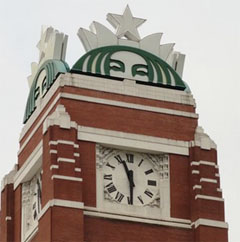 ► From More Perfect Union — Starbucks fires union leader for being late once in her five years on the job — Less than a week after her store in Buffalo won its union election, Starbucks has fired lead union organizer Victoria Conklin in what she says is a clear case of retaliation. Conklin was fired on June 22nd for being late to work for the first time in her nearly five years at the company. The firing came days after the NLRB sought an emergency injunction in federal court to force Starbucks to rehire seven other Buffalo union-leaders that it illegally fired over the past six months.
EDITOR'S NOTE — How's that illegal-firings strategy working out for Starbucks?
► From the St. Louis Labor Tribune — The future of work depends on stopping Amazon's union busting (by Jennifer Sherer) — Amazon's employment model is bad for workers and bad for the economy, and ultimately unsustainable. Shareholders, customers, and policymakers must all play a role in making sure Amazon's union-busting does not succeed. Recent Amazon worker organizing breakthroughs are significant but fragile, and at this moment in particular, it's critical that all workers exercising their right to unionize know they are not alone and that if they are illegally fired by union busters, the whole country will demand justice for them.
---
THAT WASHINGTON
► From Politico — The Supreme Court has chipped away at the Voting Rights Act for 9 years. This case could be the next blow. — The more-conservative Court will hear arguments in the fall about Alabama's redistricting, in a case targeting the other central piece of the Voting Rights Act: Section 2, which prohibits voting practices and procedures that discriminate on the basis of race. The result of the case could make it more difficult for minority communities to claim new election laws are discriminatory — and raise the bar for what has to happen to get relief from the courts.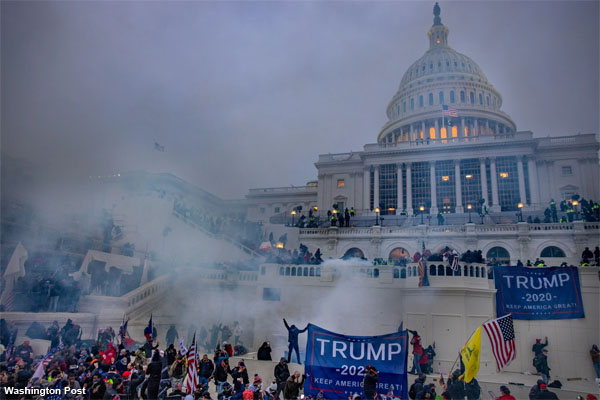 ► From the Washington Post — Trump sought to lead armed mob to Capitol on Jan. 6, aide says — A former White House official revealed explosive new details Tuesday about President Donald Trump's actions on Jan. 6, 2021, telling Congress that he knew his supporters were carrying weapons, insisted on personally leading the armed mob to the Capitol, physically assailed the senior Secret Service agent who told him it was not possible, expressed support for the hanging of his own vice president, and mused about pardoning the rioters. The testimony of Cassidy Hutchinson, who was an assistant to then-White House Chief of Staff Mark Meadows, was the most chilling to date in the House select committee's Jan. 6 investigation.
► From The Hill — Two-thirds back prosecuting Trump over effort to overturn election: survey
---
NATIONAL

► From NPR — With Roe overturned, state constitutions are now at the center of the abortion fight — The legal spotlight has shifted to the states, where abortion supporters and opponents must contend with 50 different constitutions that, in many places, guarantee rights more broadly than their federal counterpart. The legal chaos has already begun. In a half-dozen states and counting, lawsuits argue that new restrictive abortion laws are in violation of state constitutions. So, too, the stakes have grown for ballot measures scheduled this year to amend those constitutions, whether to protect the right to an abortion or eliminate it.
The Stand (June 24) — WSLC decries overturning of Roe v. Wade
The Stand (June 27) — Amid attacks on abortion rights, unions must fight back (by Shaunie Wheeler James and Cherika Carter)
► From the (Everett) Herald — Court's decision a subtraction from our rights (editorial) — The result of Justice Samuel Alito's majority opinion in Dobbs v. Jackson Women's Health will be an escalation in financial inequalities for American women and families; forcing more into poverty and even graver consequences because of poor access to health care.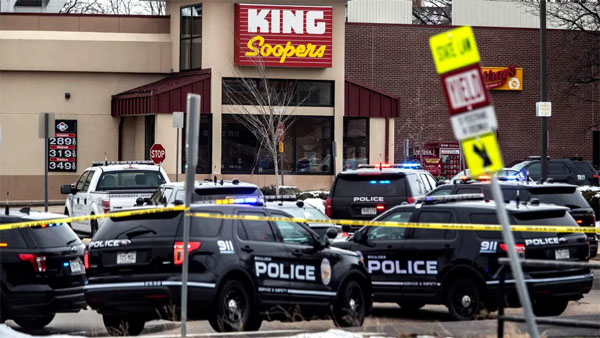 ► From the Seattle Times — Amid attacks and thefts, some retail workers want to fight back — In her 37 years in the grocery industry, said Kim Cordova, a UFCW union president in Colorado, she had never experienced the level of violence that her members face today. So when she was negotiating contracts for 21,000 grocery workers in Colorado this past winter, the usual issues of wages and scheduling were certainly on the table. But just as critical, if not more so, was safety. Her union negotiated a contract that ensures workers have the right to defend themselves if a customer attacks them.
► From HuffPost — Medieval Times workers will vote on forming the company's first union — Employees at the chain's New Jersey castle have launched a union campaign aimed at improving pay and safety at a surprisingly dangerous job.
► From Reuters — Record trade deficit weighs on U.S. economy in first quarter — The U.S. economy contracted in the first quarter amid a record trade deficit, the government confirmed on Wednesday, but that picture is misleading as domestic demand was strong.
---
The Stand posts links to Washington state and national news of interest every weekday morning by 10 a.m.
Short URL: https://www.thestand.org/?p=109565
Posted by
David Groves
on Jun 29 2022. Filed under
DAILY LINKS
. You can follow any responses to this entry through the
RSS 2.0
. Both comments and pings are currently closed.