Homegrown workers strike at Seattle, Redmond locations
SEATTLE (Aug. 26, 2022) — Sandwich workers at Homegrown, makers of Molly's, Tosti, Shine, and Bolt products, voted unanimously to strike and walked off the job Thursday at the company's Queen Anne and Redmond locations. Homegrown workers are demanding fair wages, pay equity, safer working conditions, and a fair process to join together in a union with UNITE HERE Local 8.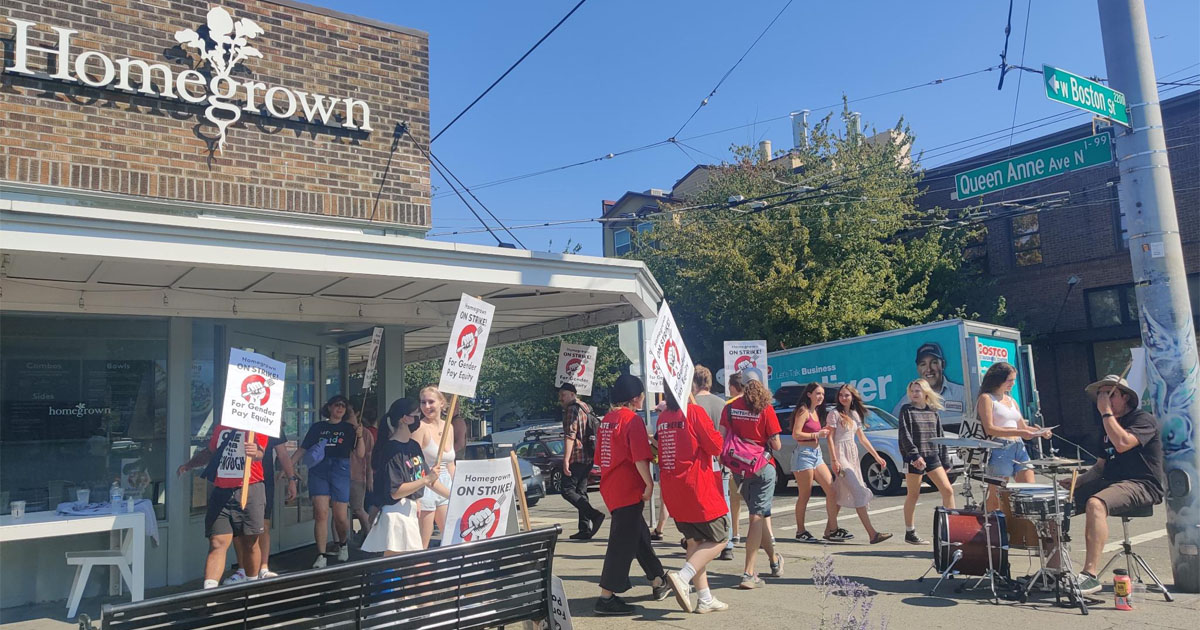 On June 3, Homegrown workers in the cafes and wholesale locations presented a majority petition to the company requesting a fair process to unionize. Since then, they have organized several picketing and leafletting events to educate the public about their fight for fairness.
But they feel like they are still not being heard by Homegrown management so they voted to strike on Thursday.
At the Queen Anne store, Homegrown workers protested the gender pay gap at their restaurant. Three women and non-binary shift leads at the store say they make less than the only male shift lead who works at the cafe.
At the Redmond location, striking Homegrown workers protested the lack of ventilation and poor working conditions. According to the Redmond Reporter:
Quinn Malick, an employee of Homegrown Redmond, said the group was striking because they feel like they're not being heard by corporate leaders, and said action needs to be taken now. Malick said when the oven is on for a long period of time, such as during a lunch rush, the oven starts to burn food because it gets so hot, and as a result, generates high levels of smoke.

Lena Malkasian, an employee of the Homegrown Redmond location, said that if corporate continues to neglect their concerns following the strike, they're going to keep protesting. While finding issues with Homegrown since the onset of the COVID-19 pandemic, such as risking getting COVID or staying home and not getting paid, Malkasian's greatest issue has been the ventilation.

"I am 31 weeks pregnant," said Malkasian. "I'm coughing, my eyes are watering, and it has been an absolute bad issue to the point where sometimes I'm calling out of work just because I'm trying to do what's right for me and my baby."
Meanwhile, more Seattle-area Homegrown locations are also voting to strike.
Follow @OurUnionIsHG for updates.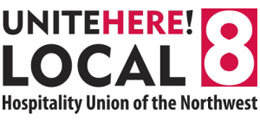 UNITE HERE Local 8 represents about 5,000 workers in the hospitality industries of Oregon & Washington State. Local 8 members work in hotels, restaurants, food service, and airport concessions. They include room cleaners, cooks, bartenders, bellmen, food and beverage servers, bussers, and dishwashers. Local 8′s parent union, UNITE HERE, represents hotel, food service, and gaming workers throughout the US and Canada. Learn more at UNITEHERE8.org.
---
PREVIOUSLY at The Stand:
Sign up for some Homegrown leafleting (Aug. 11)
Seattle leaders to Homegrown: Agree to card-check process (July 12)
Support Homegrown sandwich workers June 16 in Seattle
Short URL: https://www.thestand.org/?p=110780
Posted by
admin
on Aug 26 2022. Filed under
LOCAL
. You can follow any responses to this entry through the
RSS 2.0
. Both comments and pings are currently closed.