Support Weyco strikers | Rail exploitation | The 20th Greatest!
Friday, September 16, 2022
---
LOCAL
The Stand (Sept. 14) — IAMAW members on strike at Weyerhaeuser
EDITOR'S NOTE — Show your solidarity by joining picket lines at Weyerhaeuser facilities and donating food/supplies at the following locations: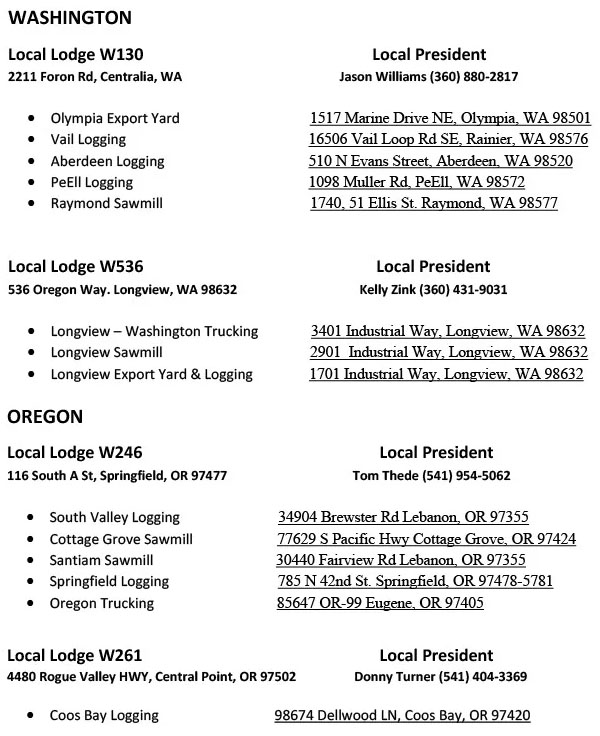 ► From the NW Labor Press — Teamsters reach tentative agreement with American Medical Response — Over 600 ambulance crew members would get more predictable schedules, more paid time off, and raises totaling 17% under a tentative agreement Teamsters Locals 223 and 58 reached with American Medical Response (AMR). The three-year agreement covers AMR paramedics and emergency medical technicians (EMTs) in Multnomah, Clackamas, Clark and Cowlitz counties.
► From the Seattle Times — Seattle Pacific University staffer tells Christian campus: 'I am a lesbian' — Kristi Holt is among 16 staff, faculty, students and alumni who filed suit this week, claiming a group of trustees backing SPU's policy against hiring people in same-sex relationships. They say the policy is violating trustees' fiduciary duty and pushing the school to the brink of ruin as it loses students, faculty, staff and dissenting board members.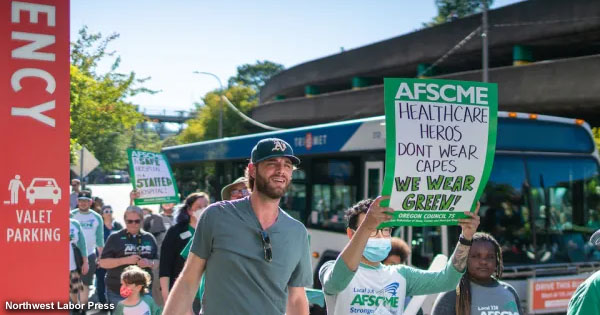 ► From the NW Labor Press — Potential strike draws closer at OHSU — More than 7,000 workers at Oregon Health and Science University could strike as soon as Oct. 7. The workers are represented by AFSCME Local 328 and include most staff at the sprawling medical campus—health care practitioners, hospital technicians, pharmacists and more. With three campuses in Portland, OHSU is among the largest employers in the city.
► From the Walla Walla U-B — Ste. Michelle becomes largest wine producer in Washington and Oregon with new acquisition — A major player in the regional wine industry, the Ste. Michelle portfolio also includes Walla Walla's Northstar Winery and Spring Valley Vineyard.
EDITOR'S NOTE — Chateau Ste. Michelle Winery workers are UNION.
---
TEACHER STRIKES

► From the union-busting Columbian — Ridgefield schools closed Friday as teachers, district continue bargaining — Ridgefield schools will be closed Friday, marking the sixth day of a teacher strike amid stalled contract negotiations between the district and the Ridgefield Education Association. Tensions between the two sides have increased this week, with union leadership leading a rally outside the district office on Tuesday and then announcing a vote of no confidence in top district administrators on Wednesday afternoon.
The Stand (Sept. 15) — Striking Ridgefield teachers vote no confidence in district leaders
► From the News Tribune — Eatonville teachers ratify new contract, ending strike — Teachers in Eatonville ratified a new contract with their school district on Thursday, a day after reaching a tentative agreement, ending a strike more than a week after it began. More than 100 teachers in Eatonville voted for the contract. Eatonville Education Association president Michael Sniezak said:
"We want to thank our community members and those across the state for your generous support. It took marching to get where we are today. I am proud of what we accomplished. Now, we are ready to get back to our students, in our classrooms."
---
AEROSPACE



► From the Seattle Times — Boeing documentary shows a company and system primed for disaster (by Jon Talton) — It's impossible for anyone following Boeing's trajectory to watch the compelling documentary "Flight/Risk" without concluding that the Jack Welch-inspired management of the company has a body count. Boeing has moved away from more than its engineering culture; it also downsized its footprint in the Puget Sound region, the largest aerospace cluster in the world along with Airbus' facility in France. It busted local unions and relocated an assembly to North Charleston, S.C., specifically to punish the company's one-time home. That culture was set in place by Welch acolyte Jim McNerney, who lost out to succeed "Neutron Jack" as head of General Electric. It continues under Dave Calhoun, a 26-year GE veteran. But as the film makes clear, the rot that produced the lethal 737 MAX crashes goes beyond one company. Much of this bears an eerie similarity to the Panic of 2008, which nearly collapsed the economy and caused the Great Recession. Industry captured regulators, risk-taking was encouraged, whistleblowers were ignored and warning flags were dismissed.
EDITOR'S NOTE — Watch "Flight/Risk" on Amazon Prime.
The Stand (April 21, 2016) — Jim McNerney's legacy at Boeing: $29 billion in unpaid 787 bills — McNerney's outsourcing-on-steroids strategy for developing the Dreamliner must have looked pretty good on the back of that Chicago country club napkin. As it turned out, the parts didn't fit together and, lacking necessary engineering expertise, some suppliers went full Radio Shack with their components. Ultimately, the 787 delays weren't measured in months, but in years, and the billions in costs mounted.
► From the Seattle Times — Boeing to resell some 737 MAXs built for Chinese airlines
---
LABOR HISTORY



► From the Seattle Times — How Indigenous and Asian workers established Seattle as an early hub of labor migration (by Megan Asaka) — Indigenous and Chinese migrants' maritime mobility and accessibility made them a desirable source of labor for employers across the region, which lacked a railroad system until the late 19th century. Hop growers, many of them settlers who established farms on the rivers and tributaries of Puget Sound, utilized these urban-based maritime networks, often traveling to Seattle to hire their seasonal workforce…. It also allowed hop growers to exploit divisions between the two in order to depress wages and maintain a profit margin. Though scholars tend to treat Indigenous and Chinese laborers as inhabiting almost separate worlds, their proximity and interconnection made the regional economy possible.
---
RAILROAD WORKERS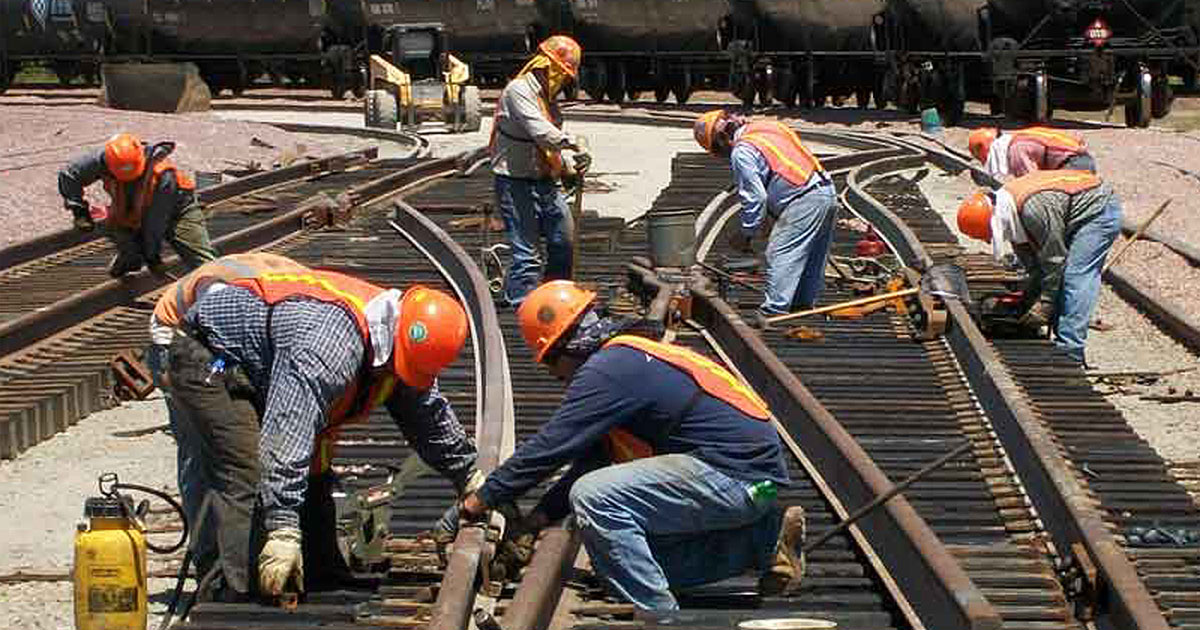 ► From Reuters — U.S. railroads, workers avert shutdown, but work remains to finalize contract deal — U.S. freight railways and unions representing 115,000 workers may have reached a deal to avert a damaging shutdown that could have battered the U.S. economy, but the industry isn't clear of that danger yet. Leaders of the 12 unions involved in the talks must now sell agreements to members, who will vote to ratify or reject them over the next several weeks.
► From The Hill — How Biden helped avert a rail strike – and another economic crisis — In the end, a tentative deal was struck, with both sides crediting the Biden administration with stepping in to help avert a strike that was set to begin on Friday — one that could have further disrupted the nation's fragile supply chain.
► From Politico — 'Could have gone either way': Railroad union deal barely survived — Steering clear of disaster required some 20 straight hours of talks beginning Wednesday that taxed Labor Department coffee supplies, kept West Wing office lights burning through the early hours and left everyone involved bleary-eyed and largely sleepless.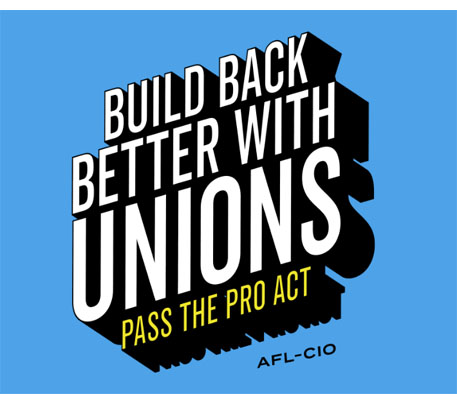 ► From the NY Times — The story behind the averted rail strike is about employers and exploitation (by Jamelle Bouie) — The short story behind the now-averted railroad strike is this: The largest freight railroad carriers in the country were willing to cripple the transportation infrastructure of the United States rather than allow their workers to take the occasional day off to see a doctor or attend to their families…. This more recent episode, then, is a potent reminder that the single best thing President Biden and the Democratic Party could do for workers is to give them the tools and support to build power for themselves. Which is to say that while Democrats do not have the votes to overhaul labor law and protect the right to organize in this Congress, if and when they do, they must.
The Stand (July 22, 2021) — 'Our calling now' is to pass the PRO Act — AFL-CIO President Richard Trumka, addressing the WSLC Convention two weeks before his untimely passing, urged Washington's union leaders and activists to do everything in their power to pass the Protecting the Right to Organize (PRO) Act:
"Our calling now is to pass the most transformative labor law reform in a generation. That's the PRO Act. This landmark, game-changing legislation… will rebalance our economy and strengthen our democracy so that we, the workers, have more power."
---
THAT WASHINGTON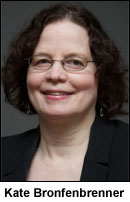 ► From the AFL-CIO — Workers need stronger labor laws now more than ever — Nearly 20 years after the publication of Kate Bronfenbrenner's groundbreaking report on the state of organizing, she testified this week before Congress to preview new data showing that working people continue to face significant barriers in their efforts to form a union. Her testimony was given during a hearing before the House Education and Labor Committee on corporate union-busting and removing barriers to organizing. Bronfenbrenner's testimony highlighted that while election win-rates have increased, the level of opposition workers face has intensified. Her analysis is further evidence for why we must pass the Protecting the Right to Organize (PRO) Act.
► From Roll Call — Same-sex marriage bill stalls in Senate amid Republican opposition — Senate Democrats on Thursday punted a vote on a bill to bolster same-sex marriage rights until after the midterm elections, after a group of bipartisan negotiators said they did not have the votes to overcome Republican opposition.
---
NATIONAL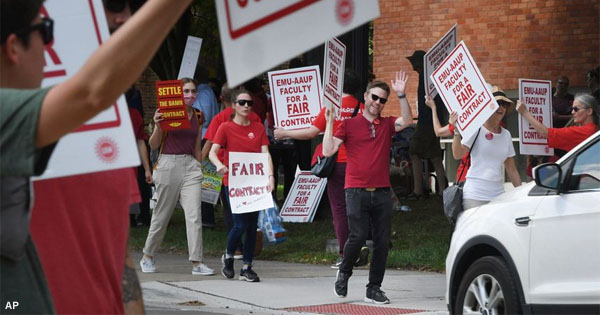 ► From the Wall Street Journal — Strikes becoming more common amid inflation, tight labor market — More workers across a range of industries are going on strike, seeking pay raises to catch up to inflation while the tight labor market has taken away some of the risk of walking off the job. In the past few weeks, thousands of teachers in Ohio and Washington, nursing-home workers in Pennsylvania and mental-health therapists in California have walked picket lines after contract negotiations broke down over wages and other issues. Other workers have held daylong walkouts as they try to unionize coffee shops, distribution centers and other workplaces.
► From CNBC — This map shows where Amazon is closing warehouses — Amazon is paring back its warehouse footprint across the country after it aggressively added more buildings to its network to meet a pandemic-driven surge in e-commerce demand. The retail giant has closed or canceled 44 facilities and delayed the opening of 25 sites as of this week, according to MWPVL International, a supply chain and logistics consulting firm.
EDITOR'S NOTE —  In Washington, a planned Amazon warehouse in Pasco is listed as delayed into 2023.
► From WHYY — Union workers at Philadelphia Museum of Art plan one-day strike — At the end of August, the union representing workers at the Philadelphia Museum of Art voted to strike, if necessary, during ongoing contract negotiations. Now, they've decided to make good on that threat. Union workers will not report to work at the museum on Friday.
► From WBNS — Kroger: Workers' union votes for strike authorization — The Kroger employees' union in Columbus, Ohio, has voted to authorize to strike after members rejected a tentative deal with the company this week.
---
T.G.I.F.
► As it does, Rolling Stone this week has once again revised its clickbaity list of the 500 Greatest Songs of All Time™. The top 3 are songs you can expect to hear at a labor rally; songs that have been celebrated here with TGIF videos in the past. Most of the rest of the Top 20 are unsurprising songs by the likes of Bob Dylan, The Beatles, Nirvana, Marvin Gaye, Stevie Wonder, The Rolling Stones… you get the idea. The only "modern" entries in that Top 20 were Missy Elliott, Outkast, Beyoncé, and this surprise entry by the Swedish disco queen — and favorite of The Entire Staff of The Stand — Robyn! Officially the 20th Greatest Song, RS writes that it "captured all the agony and ecstasy of twirling alone in a corner of the dance floor, spinning around in circles, and losing yourself in the beat for a moment of solitary triumph." Enjoy.
---
The Stand posts links to Washington state and national news of interest every weekday morning by 10 a.m.
Short URL: https://www.thestand.org/?p=111316
Posted by
David Groves
on Sep 16 2022. Filed under
DAILY LINKS
. You can follow any responses to this entry through the
RSS 2.0
. Both comments and pings are currently closed.