Big deal at Swedish | Starbucks charged | Joe Kent ♥s Gab | Boss' birthday
Friday, September 23, 2022
---
LOCAL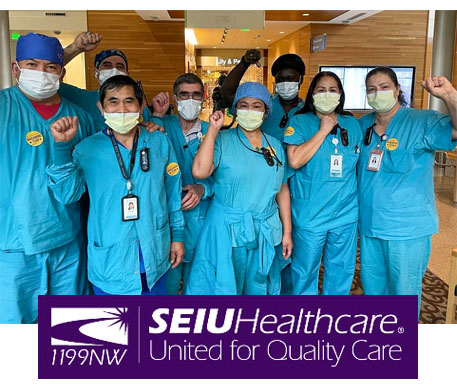 ► From the (Everett) Herald — New deal gives Swedish nurses, health care workers a big boost in pay — Nurses and health care workers at Providence Swedish (SEIU Healthcare 1199NW) have overwhelmingly ratified a new contract that boosts hourly wages by at least 21.5% in the next three years. The deal also increases incentive pay, adds bonuses for service longevity, hikes premium and differential pay and contains other provisions aimed at alleviating staffing shortages that are widespread in hospitals across the region and nation.
The Stand (Sept. 22) — 'Historic economic package' won at Swedish
How do raises like that sound to you? Get more information about how you can join together with co-workers and negotiate a fair return for your hard work. Or go ahead and contact a union organizer today!
► From the Yakima H-R — Ostrom Farmworkers unable to deliver petition for union contract to management — Workers at Ostrom Mushroom Farms said they were unable to deliver their petition for a union contract to Ostrom management on Wednesday. During a rally on Saturday, a workers' committee said more than 70% of workers at Ostrom supported a union. The workers' committee went to deliver the petition Wednesday around noon, but said management did not discuss their grievances. Workers said they were asked to wait outside and then told to go home for the day because they had violated safety procedures by stepping out of the workspace. Daniela Leon, an Ostrom worker, said:
"They were waiting for the CEO and in a little bit, she came out. We waited approximately 40 minutes. When she came out, they started to talk to us about rules that they had. And they didn't let us say anything, they practically silenced our voice."
The Stand (Sept. 16) — Ostrom workers demand fair wages, respect
---
STARBUCKS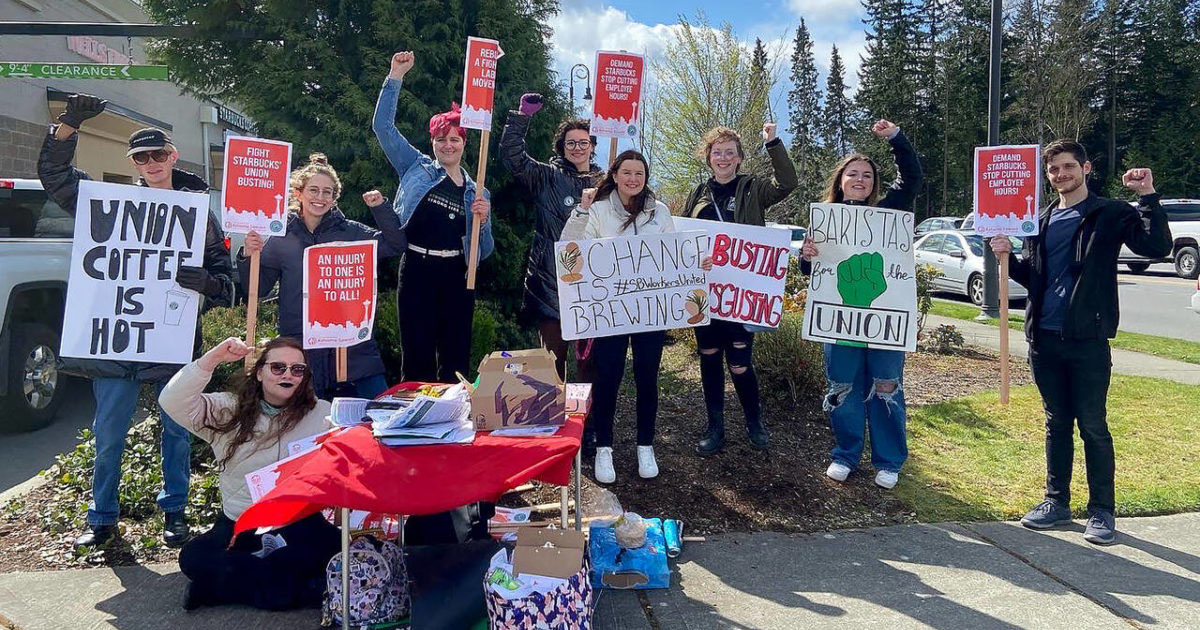 ► From the (Everett) Herald — Complaint accuses Starbucks of anti-union threats in Marysville — The NLRB has filed a complaint against Starbucks, alleging the company interfered with employees' efforts to form a union at a Marysville cafe. The labor board alleges Starbucks managers threatened employees at the Lakewood Crossing store and interfered with union activities, according to a copy of the complaint filed Tuesday and obtained by The Daily Herald. Specifically, employees at the Starbucks were barred from wearing union insignia, while other insignia was allowed, the complaint states. In May, a store employee was denied a promotion and later fired because of her efforts to organize a union, the complaint continues.
The Stand (Sept. 5) — Free, fair elections are under attack—at work (by Larry Brown) — Union-busting by Starbucks and Amazon have made Seattle the epicenter of shameful efforts to undermine workplace democracy. We must hold them accountable.
► From WGBH — Striking Boston Starbucks workers declared victory — here's what that means for organizers nationwide — Starbucks workers declared a strike victory Wednesday after 64 days of around-the-clock picketing at their Boston store, the longest strike of its kind in the country. While Starbucks maintains that no concessions were made, workers said their announcement was a move to hold the company accountable and set a precedent for hundreds of other unionized stores around the country. "We got the things we wanted and we're returning to work," barista Taylor Dickerson said. "I don't know how you can claim that's not a victory."
---
BOEING
► From the AP — Boeing pays $200 million to settle SEC charges over 737 MAX — Boeing will pay $200 million to settle charges that the company and its former CEO misled investors about the safety of its 737 MAX after two of the airliners crashed, killing 346 people. The SEC said Thursday that it charged the aircraft maker and former CEO Dennis Muilenburg with making significant misleading public statements about the plane and an automated flight-control system that was implicated in the crashes in Indonesia and Ethiopia. Neither Boeing nor Muilenburg admitted wrongdoing, but they offered to settle and pay penalties, including $1 million to be paid by Muilenburg, who was ousted in December 2019.
---
ELECTION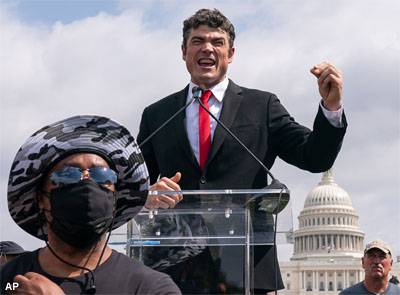 ► From Rolling Stone — There's something fishy happening between Gab and a far-right GOP candidate — Gab is a social media platform that even Republicans have called a "cesspool of bigotry and anti-semitism." In December, months after Republican Joe Kent announced his candidacy for Congress in Washington state, his Gab account saw a sudden spike of over 7,000 new followers, according to analysis by a tech firm that analyzes disinformation. The sudden spike of new users to Gab immediately following Kent's campaign account suggests the Gab platform was intentionally forcing new users to follow the account and drive up its readership — a potential sign that a notorious company could've been rooting for Kent's candidacy.
► From the Guardian — Alarm as Koch bankrolls dozens of election denier candidates — Election watchdogs say Koch's about face after pledging change following Jan. 6 is disturbing given the threats to democracy
---
REPRODUCTIVE RIGHTS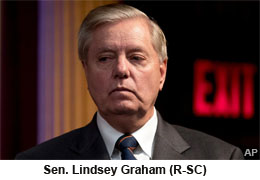 ► From the Washington Post — Biden says Catholic Church wouldn't agree with Graham's abortion ban — "Think about what these guys are talking about," Biden said of Sen. Lindsey O. Graham (R-S.C.) and other Republicans' proposed nationwide abortion ban. "No exceptions — rape, incest — no exceptions, regardless of age… I happen to be a practicing Roman Catholic. My church doesn't even make that argument now."

► From AP — White House: GOP abortion ban would mean a nationwide crisis — The White House and the American College of Obstetricians and Gynecologists said Thursday that a Republican-led proposal to ban abortion nationwide after 15 weeks would endanger the health of women and have severe consequences for physicians.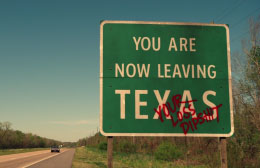 ► From Reuters — How Texas' abortion ban hurts Big Oil's effort to transform its workforce — As Texas officials moved to restrict abortion, promote Christianity in schools and the state's power grid teetered on collapse, oil worker Steven Beaman and his wife Hayley Hollands decided it was time to live elsewhere. Oil companies have spent millions to counter the frayed image of fossil fuels and recruit a younger and more diverse workforce. But a flaring of political culture wars – around abortion, religion and LGBT+ rights – threaten to undo hiring and retention goals.
---
THAT WASHINGTON
► From Murray.Senate.gov — Murray introduces new bill to help Hanford workers access care for beryllium exposure — Currently, federal laws place overly burdensome proof of illness requirement on nuclear weapons complex workers, preventing many workers from getting the care they need for diseases caused by beryllium exposure. Sen. Patty Murray's bill would update these testing requirements consistent with the latest science to ensure that more workers dealing with health issues caused by beryllium exposure receive the benefits they need and deserve.
---
NATIONAL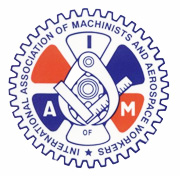 ► From the IAM — IAM files for union election for 3,000 JetBlue ground workers — The International Association of Machinists and Aerospace Workers (IAM), North America's largest airline union, today announced that it will file an application with the National Mediation Board (NMB), the federal agency that conducts union representation elections in the airline and railroad sectors. IAM International President Robert Martinez Jr. said:
"I congratulate all JetBlue Ground Operations workers for uniting in solidarity and demanding that a union representation election be conducted. It's been a long road for these brave workers to get to this point, and the IAM stands shoulder to shoulder with them. We will mobilize our union's significant resources to ensure that these brave and resilient JetBlue workers have a fair and free election."
► From CBS — Nurses at Ascension Seton Medical Center in Austin vote by landslide to unionize — Ascension Seton Medical Center Austin has become the largest private-sector hospital in Texas to unionize. Nurses at ASMCA voted by a landslide this week, with 72% in favor, to join the National Nurses Organizing Committee/National Nurses United (NNOC/NNU), the largest nurses' union in the United States. They formed a union to win improved patient care standards and strong contracts given the proven track record they've seen by NNOC/NNU in Texas and throughout the country.
► From NPR — Workers are changing jobs and getting raises, and still struggling financially — At the end of 2021, the rate of people quitting their jobs hit the highest level ever seen on government records going back to 2000, and that rate has remained at an historic high this year. An NPR poll found that 61% of U.S. workers have gotten a raise in the last year. But that doesn't mean all people's financial situations have gotten better.
► From Vice — Amazon's newest training exec used to be a private prison manager — Dayna Howard now holds the title of "Director, Learning and Development – Consumer" after a recent promotion at Amazon. Learning and Development is what Amazon calls employee training. Earlier in her career, Howard was a quality assurance manager for the Corrections Corp. of America between 2000 and 2005.
The Stand (Sept. 21) — 1,000 Teamsters rally outside Amazon HQ call out union-busting, labor abuses
---
T.G.I.F.
► Happy birthday to The Boss! As he turns 73 — and begins to look disturbingly like Woody Allen — The Entire Staff of The Stand celebrates Bruce Springsteen's legendary career, his many songs about working-class American life, and his support of the labor movement. "Unions have been the only powerful and effective voice working people have ever had in the history of this country," Springsteen said. Here he is with The E Street Band during their legendary performance at the 1979 No Nukes concerts. Enjoy.
---
The Stand posts links to Washington state and national news of interest every weekday morning by 10 a.m.
Short URL: https://www.thestand.org/?p=111510
Posted by
David Groves
on Sep 23 2022. Filed under
DAILY LINKS
. You can follow any responses to this entry through the
RSS 2.0
. Both comments and pings are currently closed.