Weyco strike update | State employees boosted | Beware of Amazon truckers
Thursday, September 22, 2022
---
LOCAL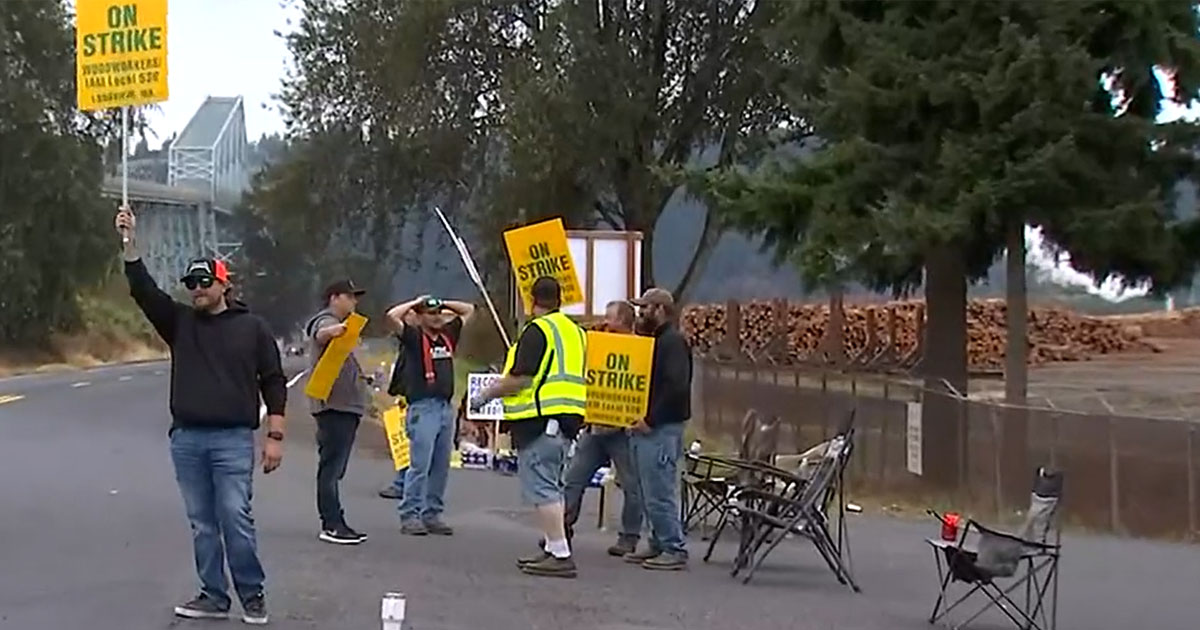 ► From IAMAW District W24 — Weyerhaeuser, union to meet today on Day 10 of strike — IAMAW members have been on strike against Weyerhaeuser for the past ten days. The IAM bargaining team has met with the company one time during that time and has a meeting scheduled with the company bargaining team today, Thursday, Sept. 22. At our first meeting since being on strike, the Union made a proposal that addressed those issues (wages, vacation, retirement, and healthcare) that were the reasons the company's "Best and Final" offer was overwhelmingly rejected by the over 1,100 workers the Union represents.
The Stand (Sept. 19) — Weyerhaeuser strike continues; support the picket lines
► From KING — 'You called us heroes, prove it': UW workers asking for better pay, safety improvements — Workers gathered in Commerce Plaza, located on the University of Washington's Tacoma campus, to hold an informational picket. It was part of a larger call to action from workers on all three of the UW campuses in Seattle, Tacoma, and Bothell, along with Harborview Medical Center and Northwest Hospital in Seattle.
► From KIRO — Hundreds of UW staff picket, demanding pay incentives
TODAY at The Stand — UW staffers picket at all campus sites for a fair contract — With no tentative agreement in sight, union vows to be "back at it" today.
► From the union-busting Columbian — Compromise key in Ridgefield School District teachers' contract — The newly ratified collective bargaining agreement between the Ridgefield School District and the Ridgefield Education Association featured compromises between the two sides on key sticking points, such as the extension of state-provided salary increases and decreases to special education caseloads and class sizes.
The Stand (Sept. 19) — Ridgefield educators reach tentative deal to end strike
► From KOMO — Data shows alarming trend in assaults, incidents against Seattle firefighters — Assaults, threats and slurs are just some of the problems firefighters are facing when they show up to help on the streets around the city. The number of reported incidents have shot way up this year and it's got first responders pleading for solutions from city leaders.
---
THIS WASHINGTON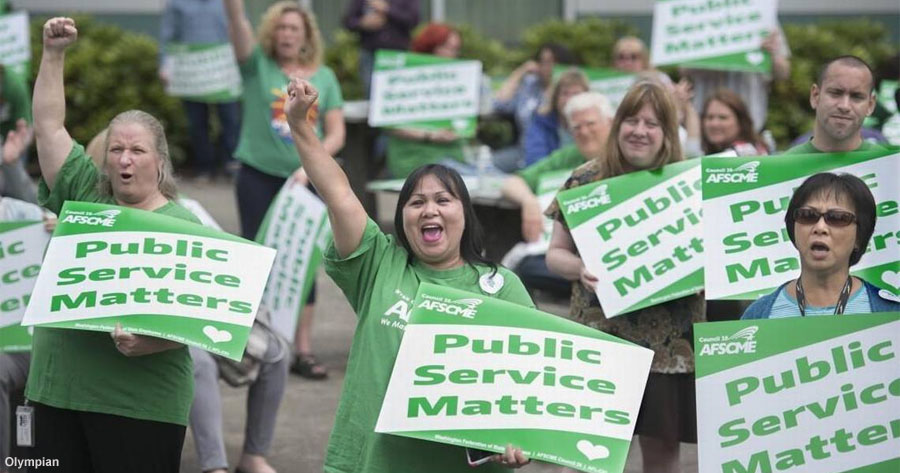 ► From the Olympian — Thousands of state workers would get pay raises, COVID-19 booster bonuses in new contract — A tentative agreement has been reached between Washington state and the Washington Federation of State Employees general government bargaining team for a contract that includes the "largest ever compensation package" in the union's history. Roughly 35,000 state employees would be impacted if the contract is approved by union members, according to a WFSE spokesman.
► From the Kitsap Sun — State employees likely to receive $1,000 bonuses to get COVID-19 booster
The Stand (Sept. 21) — WFSE declares success, reaches TA with state — State employee union hails tentative agreement for general government workers with the "largest compensation package in our union's history."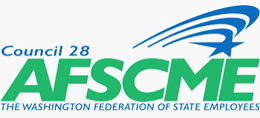 EDITOR'S NOTE — Are you a state employee but not a WFSE member? What are you waiting for? Make your voice heard, vote on this historic agreement, and help the union win its next contract by becoming a WFSE member today.
► From the AP — Projections lowered in latest Washington revenue forecast — Updated numbers released Wednesday show that projected revenue collections for the 2021-2023 budget slightly exceed what had been forecast in June. But for the next two-year budget cycle that that ends in mid-2025, revenue is projected to be about $65.5 billion, down just slightly from the almost $66 billion projected in the June forecast.
---
ELECTION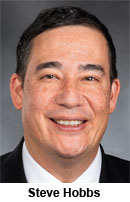 ► From Crosscut — Poll: 40% of WA voters still undecided in Secretary of State race — Washington Secretary of State Steve Hobbs holds a narrow lead in the special election to keep his office against nonpartisan candidate Julie Anderson, according to a new Crosscut/Elway poll. Appointed last year by Gov. Jay Inslee to fill a vacancy, Hobbs, a Democrat, leads Anderson 31% to 29%. Another 40% of voters said they are still undecided, according to the poll.
EDITOR'S NOTE — Steve Hobbs has earned the endorsement of the Washington State Labor Council, AFL-CIO in this race. See all of the WSLC election endorsements.
► From Crosscut — Ahead of midterms, WA voters say abortion, economy are key issues — Washington state democrats show an advantage in the upcoming midterm elections, but races are tightening, according to a new Crosscut/Elway poll.
---
THAT WASHINGTON
► From KNKX — House passes bill to make it harder to overthrow an election — The House on Wednesday passed a set of electoral reforms aimed at shoring up ambiguities and archaic language in the presidential certification process, some of which former President Donald Trump and his allies tried to exploit in their efforts to overturn the 2020 election.
EDITOR'S NOTE — Outgoing Rep. Jaime Herrera Beutler (R-WA, 3rd) joined all Washington Democratic representatives in voting "yes." Reps. Cathy McMorris Rodgers (R-WA, 5th) and Dan Newhouse (R-WA, 4th) voted "no."
► From the People's World — AFL-CIO panel: Blame corporate greed, not workers, for inflation — With the Federal Reserve Board poised to "fight inflation" by raising prime interest rates again—driving up the interest costs consumers pay on everything from credit cards to kids' college loans—AFL-CIO President Liz Shuler and a panel of pro-worker economists warned policymakers to blame corporate greed, not workers, for inflation.
► From Politico — The third rail Republicans can't stop touching — For two decades, campaign after campaign, Republican politicians have floated the idea of privatizing Social Security and Medicare. And campaign after campaign — from Paul Ryan to George W. Bush — it's been a loser. But for some reason, they keep trying.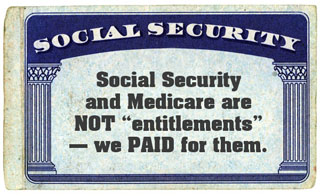 EDITOR'S NOTE — Throughout this report, the author calls Social Security and Medicare "entitlement" programs. They are earned benefits, bought and paid for through decades of hard work and wage withholding by American workers.
ALSO, we should beware of stealth attempts to privatize these essential programs. At its 2022 Convention, the union delegates of the Washington State Labor Council, AFL-CIO approved a resolution opposing ACO REACH, a pilot program to allow profit-driven third-party entities to wedge themselves between patients and their healthcare providers and to draw down the Medicare Trust Fund.
► From, not The Onion, but the Washington Post — Trump says presidents can declassify docs 'even by thinking about it'
---
NATIONAL
► From the Wall Street Journal — Amazon routinely hired dangerous trucking companies, with deadly consequences — Amazon has rapidly built a sprawling network to move merchandise around the nation's highways. Many of the trucking companies it hired for all that driving are more dangerous than their peers, sometimes fatally so. They include one company whose driver was found with a crack pipe after running an Amazon trailer into a Minnesota ditch. He was convicted of driving while high. Another driver hauling Amazon freight was involved in a fatal accident in Kansas after losing control while braking—two months after his employer ignored a police order to fix the truck's brakes, police reports show. Amazon's regular contractors are more than twice as likely to receive unsafe driving scores compared with similar outfits.
The Stand (Sept. 21) — 1,000 Teamsters rally outside Amazon HQ call out union-busting, labor abuses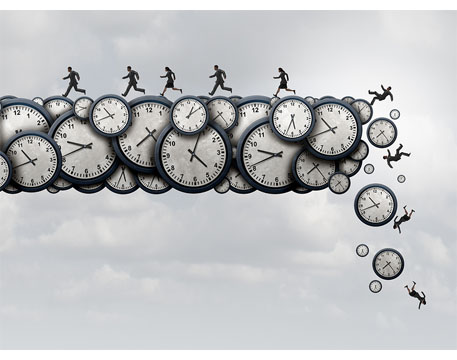 ► From Vox — When overtime isn't optional — Many American workers have very little control over their schedules. For some, that translates to too few hours, or a complete lack of control of when they're expected to work week to week. For others, it means too many hours they can't say no to. Often (but not always), mandatory overtime comes with a carrot of being paid time and a half for their labor. Sometimes, the carrot isn't worth it, but workers have no choice. Their employer also has the stick and can fire them for refusing. "For many, many workers, they don't really have a right to refuse forced overtime. It's just a growing problem," said Paul Sonn, state policy program director at the National Employment Law Project (NELP). "It causes huge stress for families; it fuels greater on-the-job injuries."
EDITOR'S NOTE — One way to regain control of your work hours and personal life: a union contract! Get more information about how you can join together with co-workers and negotiate for better wages, working conditions, and a balance between your work and home lives. Or go ahead and contact a union organizer today!
► From the AFL-CIO — AFL-CIO, Chris Gardner Foundation join forces to give students life-changing job opportunities — The program officially will launch today at two Detroit-area schools⁠—the A. Philip Randolph Career and Technical Center and The School at Marygrove. As part of the program, the AFL-CIO and its affiliated unions and partners will give students in disadvantaged communities the opportunity and support to enter paid, registered apprenticeship programs in the building and construction trades.
---
FUNNY… NOT FUNNY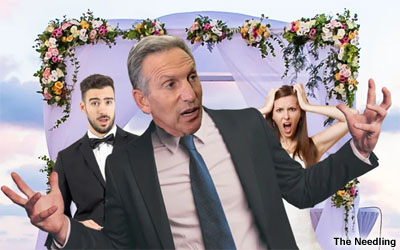 ► A related story from The Needling — Howard Schultz crashes wedding to stop marital union from being recognized — "I had just finished saying 'we're gathered here today to celebrate this union' when Howard Schultz kicked down the door, screamed 'over my dead body!' and started flipping tables over," said wedding officiant Arthur Hernandez. "Then he tried to fire the bride and groom and announced he'd be immediately holding a hiring event to find a new couple that would be willing to represent Starbucks' traditional values in matrimony."
---
The Stand posts links to Washington state and national news of interest every weekday morning by 10 a.m.
Short URL: https://www.thestand.org/?p=111468
Posted by
David Groves
on Sep 22 2022. Filed under
DAILY LINKS
. You can follow any responses to this entry through the
RSS 2.0
. Both comments and pings are currently closed.