WSLC staff changes aim to build power
Joe Kendo named Chief of Staff; Sybill Hyppolite will lead Government Affairs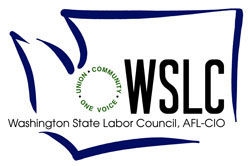 SEATTLE (Dec. 1, 2022) — The incoming leadership team at the Washington State Labor Council, AFL-CIO — President-Elect April Sims and Secretary Treasurer-Elect Cherika Carter — has announced staffing changes intended to further strengthen the state's largest union organization and continue to build power for working people in Washington.
Joe Kendo, who has served as WSLC Government Affairs Director since 2015, has been named Chief of Staff and will oversee all departments at the direction of WSLC officers. Sybill Hyppolite, the WSLC's Legislative and Policy Director since 2019, will become Government Affairs Director to lead the council's state and federal advocacy. The council is in the process of hiring a new Legislative Director.
The new leadership team of Sims and Carter, who were elected this fall by the affiliated unions of the WSLC, begin their four-year terms on Jan. 5, 2023. Current WSLC President Larry Brown announced in March that he would not seek re-election.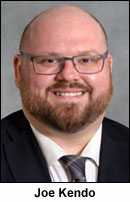 "Joe has been a highly respected leader within the council and throughout the state labor community, and we are very excited to have him step into this new leadership role," Sims said. "While he will continue to take on limited lobbying and policy-making assignments, Joe will be instrumental in coordinating the important work of all WSLC departments to ensure we are meeting the needs and directives of our affiliated unions across the state."
As Chief of Staff, Kendo will directly supervise WSLC administrative and support staff, help inform WSLC elected officers' personnel decisions, collaborate with other staff and partners to develop WSLC policies, support the officers in strategic planning and plan implementation, assist with the council's legislative, political and communications activities, and represent the WSLC on legislative and state agency workgroups, advisory committees, boards and commissions.
Prior to joining the WSLC in 2013, Kendo served as a Council Representative for the Washington Federation of State Employees, AFSCME Council 28, where he did internal organizing in support of contract negotiations and better working conditions, trained shop stewards, and recruited members for WFSE political activities and leadership positions. Prior to that, during the 2008 legislative session, Kendo served as the WSLC's Legislative Intern.
"I'm looking forward to working more closely with the WSLC's new leadership team and to broaden the scope of my activities at the council," Kendo said. "We have an amazing staff at the WSLC that does very important work for our affiliates. In this new role, I can help coordinate that work across all departments and seek out additional spaces to advocate for working people."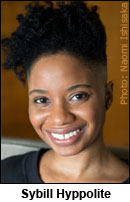 As Government Affairs Director, Hyppolite will help develop and pursue the WSLC's agenda for the Washington State Legislature, promote the AFL-CIO's legislative and policy objectives among Washington's congressional delegation, serve on several internal and external policy committees, and work with affiliated unions and community partners to improve the lives of Washington's working families.
"Sybill has proven herself as a compelling and passionate advocate for working families in Olympia and a strong organizer, particularly on healthcare and social justice issues," Sims said. "As Government Affairs Director, she will make sure that the voice of working families is heard in Olympia and Washington, D.C."
Prior to joining the WSLC in 2019, Hyppolite served for five years as the Healthcare Policy Specialist at SEIU Healthcare 1199NW, where she worked with labor and community partners to advance legislation and co-create policies to improve access to health care. Her career has centered on social justice, empowerment and self-determination. As an organizer at the Chicago Coalition for the Homeless, she worked on a labor-community campaign to advance hospital accountability. She also brings international experience, having conducted policy research in Haiti funded by a Harvard Kennedy School program. At Partners In Health, she coordinated multi-national logistics and partnerships to help patients access medical treatment abroad. Hyppolite holds a Master of Science in Society, Human Development and Health from Harvard University."
"Our movement is a powerful force for achieving economic and racial justice," Hyppolite said. "I'm excited for this opportunity to deepen and expand my collaboration with WSLC's affiliates and community partners. Together, we can use public policy to build power for working people."
---
Widely considered to be the "voice of labor" in Washington state, the Washington State Labor Council, AFL-CIO has more than 600 affiliated local unions and organizations, representing the interests of some 550,000 rank-and-file union members. Learn more at wslc.org.
Short URL: https://www.thestand.org/?p=112845
Posted by
David Groves
on Dec 1 2022. Filed under
W.S.L.C.
. You can follow any responses to this entry through the
RSS 2.0
. Both comments and pings are currently closed.