Sims, Carter make history as WSLC leaders
New president, secretary treasurer sworn in at Washington State Labor Council; first team of Black women to lead an AFL-CIO state federation
TACOMA (Jan. 9, 2023) — April Sims and Cherika Carter made organized labor history on Friday.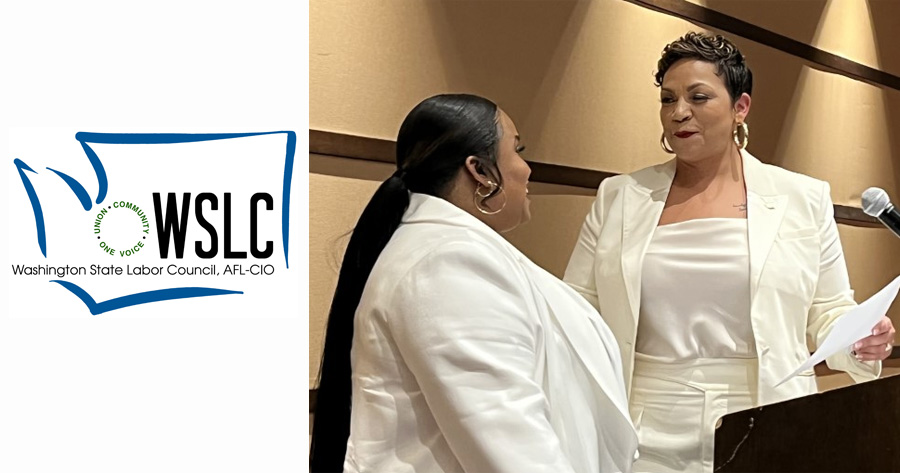 In front of more than 200 family members, friends, labor leaders and elected officials at Tacoma's Hotel Murano, Sims and Carter took their oaths of office to serve as President and Secretary Treasurer, respectively, of the Washington State Labor Council, AFL-CIO. Widely considered to be the "voice of labor" in Washington, the WSLC is the largest union organization in the state, representing more than 600 unions and 550,000 rank-and-file union members.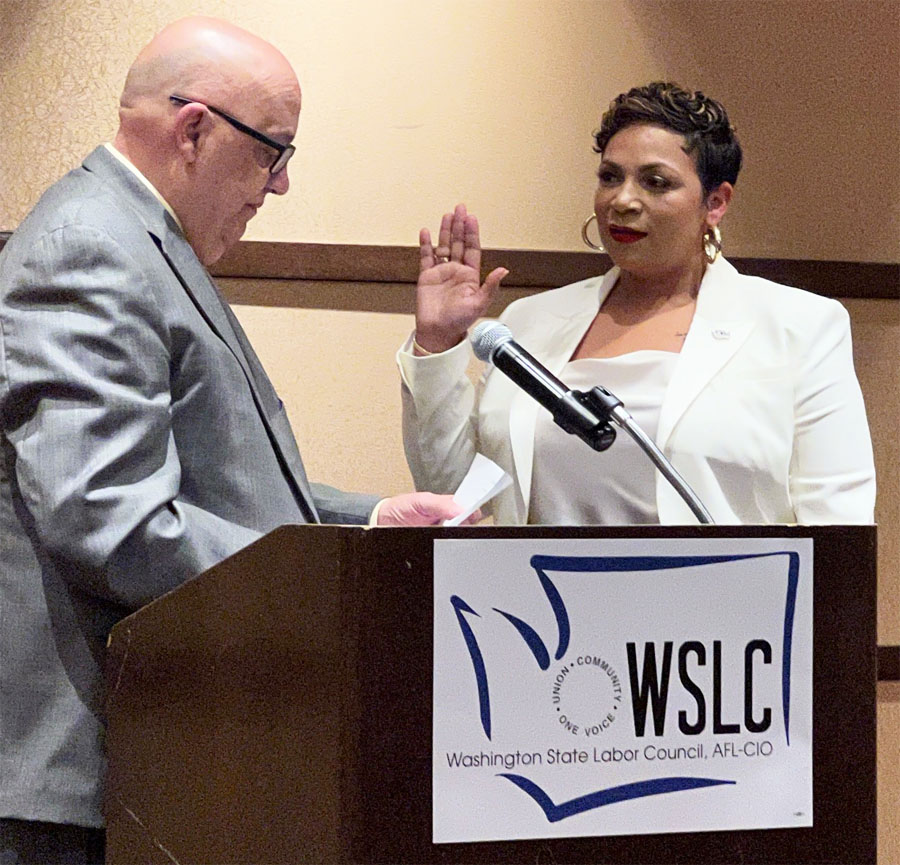 Sims, who has served as WSLC Secretary Treasurer since 2019, is the first woman to be elected President of the WSLC and the first Black woman ever elected to the presidency of an AFL-CIO state federation. She was sworn into the office Friday by outgoing WSLC President Larry Brown, who announced last year that he would not seek reelection. Then as her first official act as President, Sims administered the oath of office to Carter as the WSLC's new Secretary Treasurer, creating the first leadership team of Black women ever to lead an AFL-CIO state federation.
"Thank you to the affiliates of the WSLC, for your trust and confidence in me to lead our labor movement during this time of incredible challenge and opportunity," Sims said. "Collectively, with our commitment to solidarity and with your continued support, I know there is nothing we cannot do. We can fulfill the charge of our constitution to 'fight the forces that seek to enslave the human soul.' Our work can change the world."
Sims was elected WSLC Secretary Treasurer in December 2018. She previously served as the WSLC's Field Mobilization Director and then Political and Strategic Campaign Director. Sims joined the WSLC staff in September 2015 after serving as the Legislative and Political Action Field Coordinator for the Washington Federation of State Employees, AFSCME Council 28. She was a WFSE member, shop steward, elected union officer, and union staffer from 2002-15.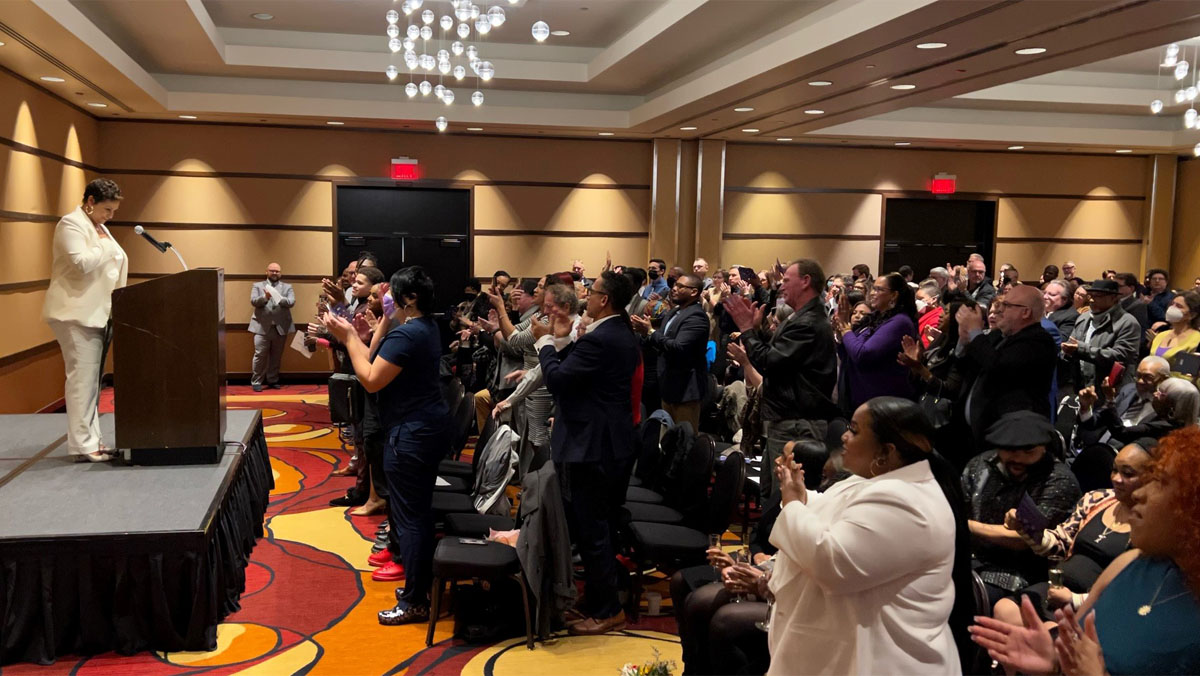 As WSLC President, Sims is the chief executive officer of the council supervising all of its activities and staff, promoting affiliation with the WSLC, representing the council at the national AFL-CIO, and performing any other duties as assigned by the WSLC Executive Board.
Carter joined the WSLC staff in March 2018 and, like Sims, served as both Field Mobilization Director and Political and Strategic Campaigns Director before being elected Secretary Treasurer. Prior to joining the council in March 2018, she was Member Political Organizer of UFCW 1059 in Columbus, Ohio, and a Field Representative of the Ohio AFL-CIO.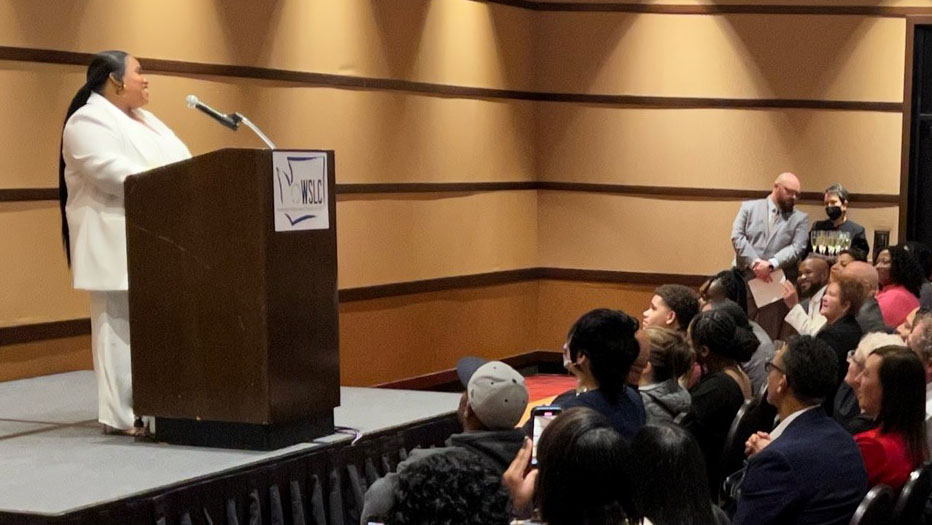 "I'm from the Midwest and I come from a long line of hard workers, state employees, postal workers, educators, healthcare workers, and even some Teamsters in there, too," Carter said. "For families and Black families like my own, the labor movement has been a glide path toward economic stability and the middle class. As a proud UFCW member and a Pharmacy Technician by trade, and the daughter of an AFSCME retiree, I have seen and known the 'union difference' that coming together in a union makes. And because of that, I will always speak truth to power in proclaiming that there can be no economic justice without racial justice."
As WSLC Secretary Treasurer, Carter is the chief financial officer of the council, taking charge of all financial documents and records, overseeing all receipts and expenditures, reporting on those activities to the WSLC Executive Board and convention, and performing any other duties as assigned by the Board.
At Friday's swearing-in ceremony AFL-CIO President Liz Shuler and Secretary Treasurer Fred Redmond welcomed the new WSLC leadership team via video.
"April and Cherika, together you are making history — or should I say, herstory," Shuler said. "There is nothing that makes me more joy than seeing supremely confident women step up and lead our movement into the future. You're bringing groundbreaking ideas and new energy to strengthen the voices of workers and build power for our communities."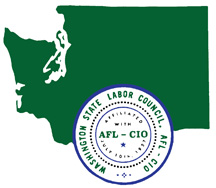 The WSLC was formed in 1957 with the merger of the Washington Federation of Labor and the Washington Congress of Industrial Organizations Council. The executive officers since that time have been:
PRESIDENT
E.M Weston (1957-61)
Joe Davis (1962-79)
Marvin Williams (1980-85)
Larry Kenney (1986-92)
Rick Bender (1993-2010)
Jeff Johnson (2011-2018)
Larry Brown (2019-2022)
April Sims (2023-)
SECRETARY TREASURER
Harold Slater (1957-59)
Marvin Williams (1959-79)
Larry Kenney (1980-85)
Al Brisbois (1986-92)
Al Link (1993-2010)
Lynne Dodson (2011-2018)
April Sims (2019-2022)
Cherika Carter (2023-)
Per the WSLC Constitution, Sims and Carter began their four-year terms as WSLC officers effective Jan. 5, 2023. The council's Vice Presidents who were elected in December will be sworn in at the next WSLC Executive Board meeting on Feb. 2 in Olympia.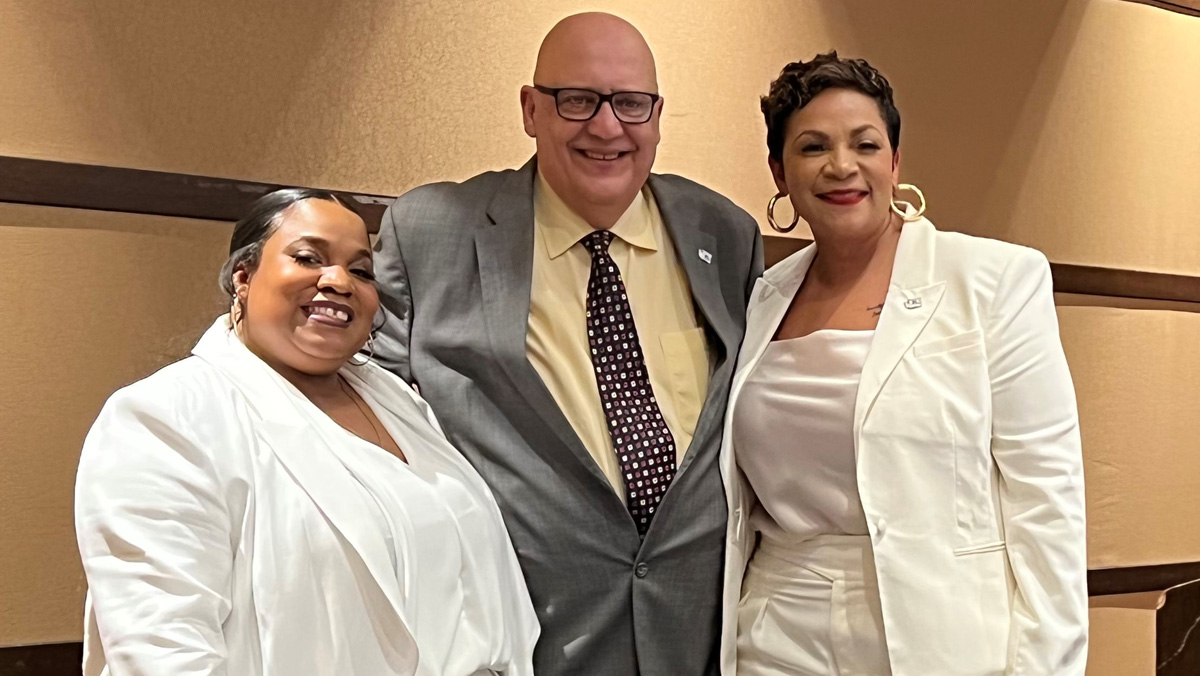 Friday's swearing-in ceremony was broadcast via Zoom and Facebook Live for those who couldn't attend in person. A recording of the event is available at the WSLC Facebook page.
Short URL: https://www.thestand.org/?p=113427
Posted by
David Groves
on Jan 9 2023. Filed under
TAKE A STAND!
,
W.S.L.C.
. You can follow any responses to this entry through the
RSS 2.0
. Both comments and pings are currently closed.