#1 for aerospace | Biden's bold blueprint | Labor secretary leaving
Wednesday, February 8, 2023
---
AEROSPACE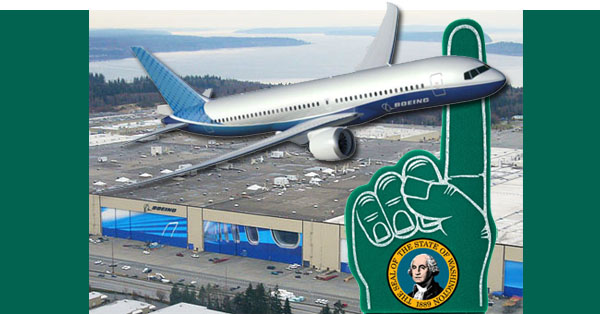 ► From KING 5 — Study: Washington is the most competitive in the country for engineering, manufacturing planes — A new study by the company AeroDynamic Advisory said Washington has the most competitive business environment for the manufacture and assembly of aircraft. "Using identifiable and clearly-laid-out metrics. Everything from the cost of labor on a productivity basis to infrastructure and energy costs," said Richard Aboulafia, the managing director of AeroDynamic Advisory. The 2022 Aerospace Competitive Economics Study (ACES) found that the state scored highest in labor and education, aerospace industry and research and innovation. IAM District 751 President Jon Holden said:
"We want to make sure that it's really clear that our workforce is second to none. We have more people training to be aerospace workers than other states actually have aerospace workers and that's a critical piece moving forward. Who is going to fill these jobs in the next generation?"
---
THIS WASHINGTON

► From Crosscut — Rising rents are drowning Washington's smaller cities — While Seattle may have the highest rents statewide, the most drastic percentage increases over the past four to five years are in smaller cities and rural areas. And affordability is not an issue just for the poor but across different income levels: Even college-educated professionals are feeling the pinch of rapidly rising prices.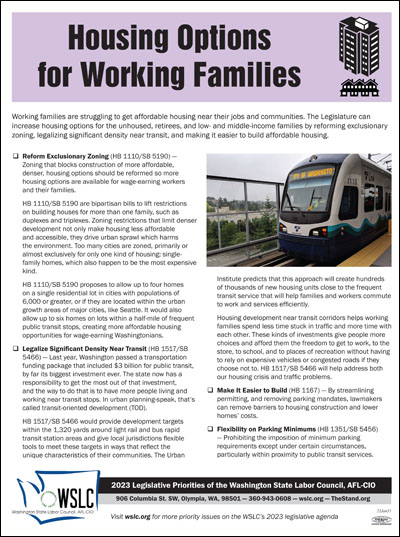 The Stand (Jan. 5) — WSLC announces 2023 agenda for state legislature — Among the legislative priorities of the Washington State Labor Council, AFL-CIO: Housing Options for Working Families. The Legislature can increase housing options for the unhoused, retirees, and low- and middle-income families by reforming exclusionary zoning, legalizing significant density near transit, and making it easier to build affordable housing.
► From the Seattle Times — Red tape keeps WA psychologists waiting for months to enter workforce — For months, Miriam Rubenson has been waiting on Washington regulators to process her psychologist licensing application. A majority of people applying to become clinical psychologists in Washington state are facing delays and wait months or years to get licensed, new state Department of Health data suggests.
► From KUOW — With rulings against racial bias, WA Supreme Court starts 'hard discussions' — Over the past five years, the Washington Supreme Court has issued a series of rulings aimed at combating a fraught problem within the legal system — implicit racial bias. The court has relied on a new legal test: whether an "objective observer" could see racial bias as a factor in who gets to serve on juries, who gets convicted, and who wins in court. Skeptics say these decisions have left confusion and uncertainty in their wake, while supporters say these decisions are a long time coming.
---
LOCAL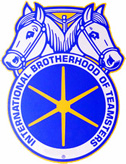 ► From the Cascadia Daily News — Whatcom road crews demand better pay — Whatcom County workers who respond to floods and plow the roads are demanding better pay and better leadership from their county bosses. The union representing about 60 employees in county maintenance and operations has needed to file "several grievances with the county," according to a July 25 letter to county Executive Satpal Sidhu, signed by 34 members of Teamsters Local 231.
► From the Seattle Times — Redmond terminates orders requiring COVID vaccines for firefighters — Redmond firefighters and paramedics will no longer be required to be vaccinated against COVID-19, but those who lost their jobs for not complying with the state's 2021 coronavirus vaccine mandate won't be getting their jobs back. The city says the former firefighters have the option to apply for a job, regardless of their vaccination status — but currently there are no open positions in the department.
► From KIMA — Yakima County could see cases dropped with prosecutor shortage — Despite efforts to bring in and maintain prosecutors, they still have only received one application since November.
EDITOR'S NOTE — All together now: It's not a worker shortage, it's a wage shortage.
---
STATE OF THE UNION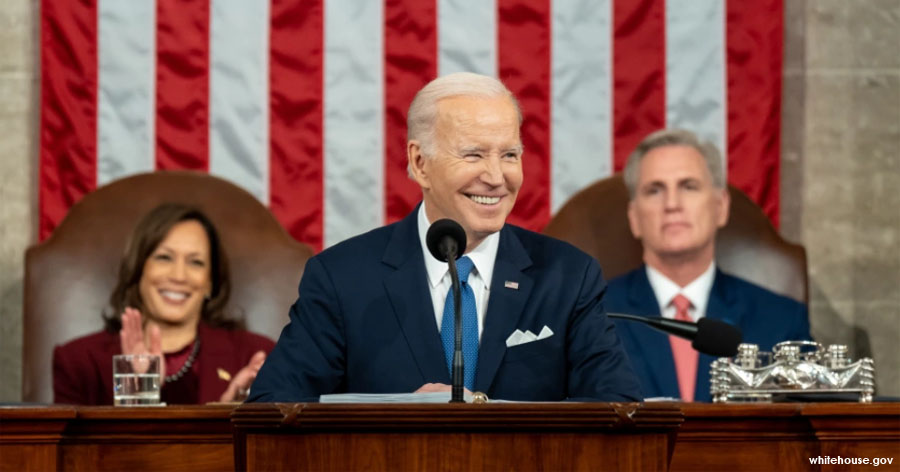 ► From the Washington Post — Biden, in State of the Union, mixes bipartisanship with defiance –In his second State of the Union address Tuesday, President Biden defended his record, made a direct appeal to blue-collar workers and sought to shift voter attitudes about the economy by touting his administration's massive investment in the nation's infrastructure. Alternating between calls for Republicans to unify with Democrats and condemnation of the GOP's least popular policies, Biden showcased both the potential for future cooperation and the likelihood of nasty partisan fights over the next two years.
► From the AFL-CIO — Biden's State of the Union address puts working people front and center — AFL-CIO President Liz Shuler:
"Biden delivered a bold blueprint for an economy that, at long last, puts working people first. Instead of catering to the wealthy and well-connected, the President declared that workers are America's backbone and good union jobs are the keystone of an economy that works for all."
EDITOR'S NOTE — Fun fact: Biden was also the first president in the history of the United States to say the word "ironworkers" in a State of the Union address.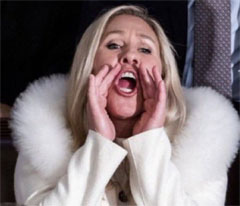 ► From Politico — The state of Biden's union with a GOP Congress: It's tense — After Speaker Kevin McCarthy promised his Republicans would avoid "playing childish games," the night highlighted again just how tough it will be for him to corral them… "Republicans want Medicare and Social Security to sunset," Biden said as the GOP side of the chamber erupted in boos. It was a reference to Sen. Rick Scott's (R-Fla.) proposal last year to wind down all laws after five years, an agenda that split Scott's party. Then, veering from his own remarks, Biden attempted to clarify — "I don't think it is a majority of you" — though he could barely be heard above the GOP outcry on the floor. "So folks, as we all apparently agree, Social Security and Medicare, off the books now, right?" Biden said.
On the left, Republican Senator Mike Lee feigns outrage during the State of the Union when President Biden suggests that some Republicans want to cut Social Security and Medicare.

On the right, Mike Lee says he wants to get rid of Social Security, Medicare, and Medicaid. pic.twitter.com/vi6pYQmhZX

— MeidasTouch (@MeidasTouch) February 8, 2023
► From The Hill — 72% of viewers had positive reaction to Biden speech: CNN poll
---
THAT WASHINGTON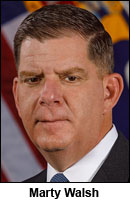 ► From the Washington Post — Biden labor secretary to depart to lead NHL players association — Labor Secretary Marty Walsh is expected to step down sometime this or next month to lead the National Hockey League's players union, according to two people familiar with the matter, who spoke on the condition of anonymity to describe a matter that has not been publicly announced. Walsh has served as Biden's top labor official since the beginning of the administration and played a key role in its attempts to support unionization efforts across the country.
► From Vox — What banning noncompetes could mean for the U.S. workforce — Joe Biden mentioned hamburgers in his 2023 State of the Union address. Specifically, the president wondered why the person who rings up your burger order may have signed a noncompete agreement preventing them from working at a nearby burger restaurant that pays better — the kind of agreement that 30 million workers in the US are also beholden to. Biden vowed that these agreements will soon be banned.
EDITOR'S NOTE — In 2019, labor-backed legislation was approved in Washington state that limits the application of non-compete contracts to workers who earn more than $100,000 per year (now adjusted for inflation to $116,593), $250,000 for independent contractors (now $291,483), and limits the length of time they can be in effect. If employers lay off workers and enforce the non-compete, they must continue paying those workers. Musicians and other performers are also protected from long blackout dates before and after shows, which prohibit them from earning a living.
---
NATIONAL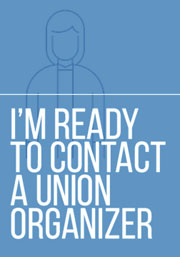 ► From Jacobin — Inland Empire Amazon workers say they've forced concessions from bosses by organizing — Despite recent breakthroughs in Amazon organizing nationally, it's still a tough slog for workers to get the company to change. But workers at an Inland Empire, California, Amazon facility recently showed that it's possible.
EDITOR'S NOTE — Ready for a voice at work? Get more information about how you can join together with co-workers and negotiate a fair return for your hard work. Or go ahead and contact a union organizer today!
► From the Daily Montanan — Montana bill to increase minimum wage tabled in committee — Republican opposition to Democrats' attempts to raise it leaves the state minimum wage at $9.95 an hour. "Workers who make a minimum-wage salary in this state are merely hovering above the federal poverty line," said Amanda Frickle of the Montana AFL-CIO.
---
The Stand posts links to Washington state and national news of interest every weekday morning by 10 a.m.
WASHINGTON IS A UNION STATE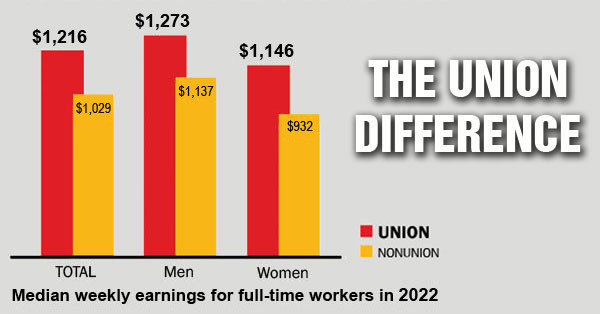 CHECK OUT THE UNION DIFFERENCE in Washington state: higher wages, affordable health and dental care, job and retirement security.
FIND OUT HOW TO JOIN TOGETHER with your co-workers to negotiate for better working conditions and respect on the job. Or go ahead and contact a union organizer today!