Victory for tax justice | Funding state contracts | Unions winning big raises
Monday, March 27, 2023
---
LOCAL
TODAY at The Stand — What'd we miss? A big week in review — While we were out: Jesse Mason returned to Verizon Wireless (with back pay), thousands of Starbucks workers went on strike and rallied to end the company's union-busting, workers organizing a union at the Tacoma Art Museum got some good news, and the Washington State Supreme Court upheld the new tax on extraordinary capital gains.
► From Crosscut — Where the Starbucks union stands after rallies, proposed audit — As a new CEO takes over, employees of the Seattle-based coffee giant are taking their demands to the street: Stop union-busting and bargain in good faith.
EDITOR'S NOTE — Despite the company's illegal union-busting campaign, more and more Starbucks stores continue to file for union elections. The latest in Washington: the Plaza Way store in Walla Walla.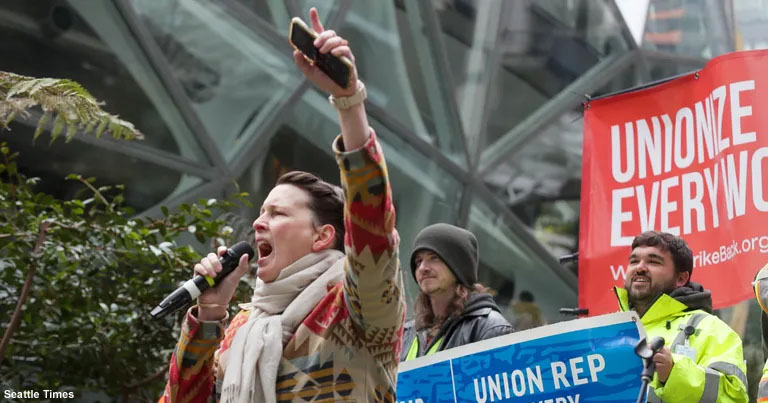 ► From the Seattle Times — Seattle groups rally against Amazon's alleged union busting in Kentucky — Edward Clarke and three of his former colleagues at Amazons' KCVG air hub in Kentucky brought their organizing efforts to Seattle Saturday. They joined local labor groups outside Amazon's South Lake Union headquarters to pressure the company to stop what union advocates say has been a long-running union busting campaign.

► From the (Everett) Herald — Providers at Community Health Center of Snohomish County vote to form a union — About three dozen doctors, nurse practitioners and physician assistants at Community Health Center of Snohomish County voted overwhelmingly Thursday to join the Union of American Physicians and Dentists. The vote was 25-9.
► From Bloomberg — West Coast dockworker labor talks strained over lunch-break spat — Negotiations over a new labor contract for West Coast dockworkers are under increasing strain as their employers say a failure to spread out lunch breaks has disrupted operations at the twin ports of Los Angeles and Long Beach.
► From the Bellingham Herald — BP selects Whatcom County for $1.5 billion investment for these projects — BP is investing $1.5 billion into its Cherry Point refinery to help the energy company meet its net-zero climate goal. Whatcom County is one of five locations worldwide where BP plans new low-carbon projects.
► From KUOW — Seattle Public Schools lays off more staff, but spares teachers for now — SPS officials say they've slashed 74 central office positions for next school year, yet most teachers' jobs will be safe.
---
THIS WASHINGTON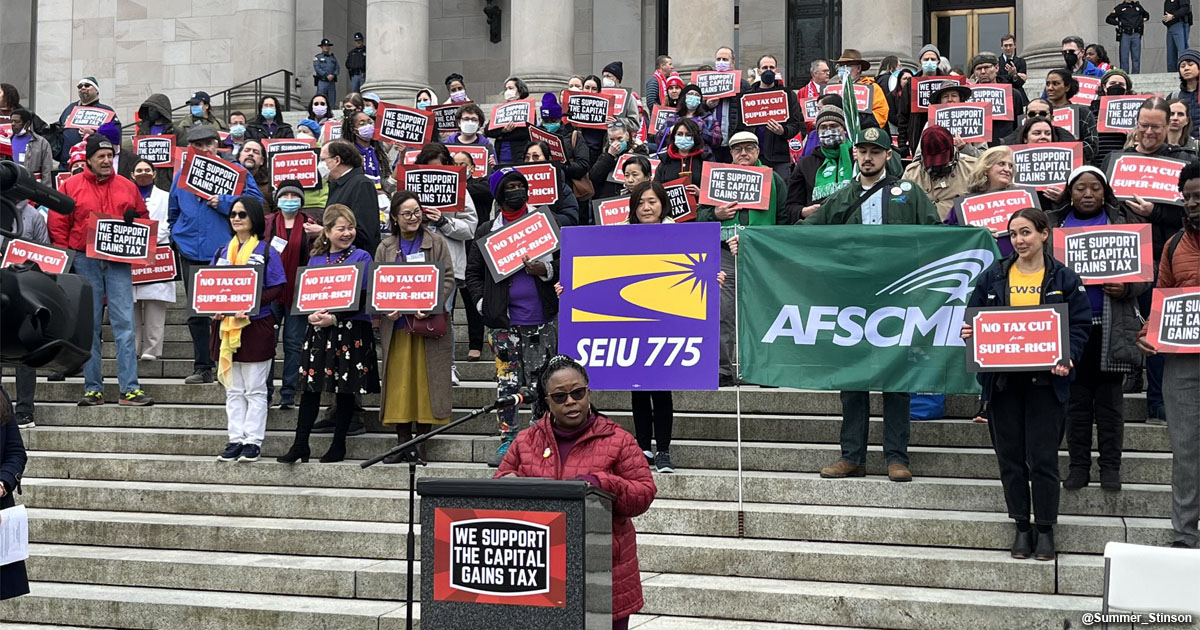 ► From the WA State Budget & Policy Center — Huge victory for tax justice — The Washington state Supreme Court has ruled in an overwhelming 7-2 decision that the capital gains tax passed by the legislature in 2021 is constitutional – and that the critical funding it provides for early learning and schools is secure. This was a hard-fought victory for people who want to create a brighter future for kids, families, and communities in our state. 
TODAY at The Stand — What'd we miss? A big week in review — The WSLC and its affiliated unions have strongly supported this excise tax on capital gains as a step toward making the state's upside-down tax system more fair for working families. Signed into law by Governor Inslee in 2021, the modest 7% excise tax on annual capital gains above $250,000 is exclusively paid by the wealthiest 0.2% of Washingtonians, whose incomes average $2.6 million per year.
► From the News Tribune — It just got a little more expensive to be filthy rich in Washington. Boo-hoo. (by Matt Driscoll) — Legal arguments are fun and all. But if you're clinging to dusty precedents and semantics in defense of a system that benefits the wealthy at the clear expense of everyone else, that's not constitutional righteousness — it's just deluded indifference. Or maybe something worse.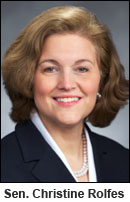 ► From the (Everett) Herald — Schools, housing, salaries score big in Senate Dems $70B budget — Senate Democrats on Thursday released a blueprint for spending $70 billion in the state's next two-year budget with large boosts in funding for special education, housing, behavioral health services and combating climate change. There's $829 million to give state workers raises of 4% on July 1, 2023 and 3% the following July. There's also an opportunity for $1,000 bonuses for getting a COVID booster shot. And $688 million is targeted for rate increases for providers of long-term care which should translate into higher pay for in-home providers and employees of adult family homes, skilled nursing facilities and assisted living facilities.
► From the (Everett) Herald — Health care spending continues to outpace inflation, driven by prices — Can state efforts curb 6.7% growth per year in overall health care spending?
► From the Seattle Times — 'That number is unacceptable.' WA's homeless population is increasing — Washington state's homeless population increased between 2020 and 2022. The cause of the increase is the same in the state's most populous metro as other cities.
---
AEROSPACE

► From the PSBJ — Boeing's KC-46A tanker program takes another financial hit — The company will take a steeper financial hit on its fixed-price defense contracts, thanks to a supplier quality problem on the center fuel tank of its 767-based KC-46A tanker.
► From Reuters — Pentagon probes lapse in Boeing security credentials for Air Force One — The U.S. Department of Defense is scrutinizing why Boeing employees worked on current and future Air Force One planes without the security credentials required for the highly classified jets.
► From Reuters — American Airlines to pause a route due to Boeing Dreamliner delays
► From Reuters — India says 'time has come' for Airbus, Boeing to set up jet assembly plants
---
THAT WASHINGTON
► From Politico — Biden's FAA nominee bows out, after senators waver — Phil Washington, the CEO of Denver International Airport, has withdrawn his nomination following nine months in limbo and amid concerns from senators in both parties over his background and relative lack of aviation experience.
---
NATIONAL
► From the AP — Michigan 1st state in decades to repeal 'right-to-work' law — Michigan, long known as a mainstay of organized labor, on Friday became the first state in decades to repeal a union-restricting law known as "right-to-work" that was passed over a decade ago by a Republican-controlled Legislature. Its repeal is seen as a major victory for organized labor.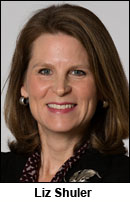 ► From Vox — The bosses still aren't back in charge — Three years after lockdowns swept across the United States, people are no longer quitting at record levels, and some bosses are forcing workers back to the office. Yet workers still have more power than they did before the pandemic. And that's not likely to disappear anytime soon. That willingness of employees to fight for what they want is also turning up in more organized labor actions. The number of strikes was up 52 percent in 2022, compared to a year earlier, and is still elevated, according to data from Cornell University's Labor Action Tracker. AFL-CIO President Liz Shuler said:
"People stopped banging their pots and pans at 6 pm or whatever, and now people are saying, wait a minute, we deserve more, and so they're willing to continue to rise up and fight back."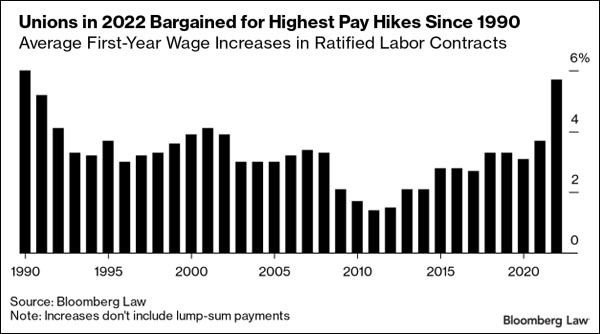 ► From Bloomberg Law — Strikes fuel biggest pay raises in labor contracts since 1990 — Nearly 100 labor contracts ratified in 2022 included a double-digit pay increase in their first year, according to an analysis of Bloomberg Law labor data. Contracts ratified last year called for first-year wage raises averaging 5.7%, the review of 817 deals showed. That marks a significant jump over the 3.7% average first-year increase in agreements ratified in 2021, and the highest average rate in more than 30 years.
► Case in point, from CNN — Unions at Disney World win 37% pay hikes in tentative labor deal — About 32,000 hourly workers at Disney World will get raises equal to $3 an hour by the end of the year, and most will get raises of about 37% of their current pay by 2026 under a tentative five-year labor deal reached with a group of unions on the property Thursday.
EDITOR'S NOTE — Ready to get paid what you're worth? Get more information about how you can join together with co-workers and negotiate a fair return for your hard work. Or go ahead and contact a union organizer today!
► From the AP — Los Angeles strike highlights paltry U.S. school worker pay
► From the LA Times — 'Saturday Night Live' crew ratifies first-ever contract after threats to strike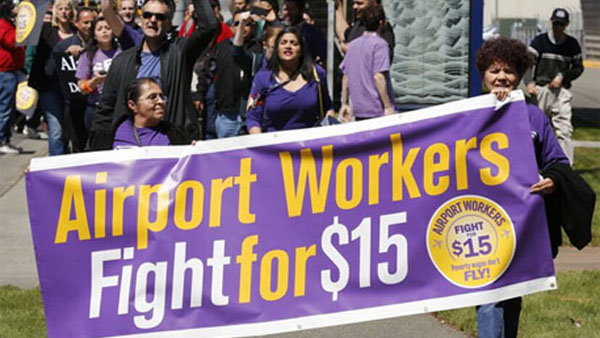 ► From Politico — The minimum wage fight that will define the decade — A decade after the so-called Fight for $15 campaign took root and won minimum wage hikes in some of the biggest states, liberal lawmakers and progressive activists are now aiming higher: $20 per hour or more. California, Washington state and the District of Columbia have already edged beyond the $15 threshold, as of January. And activists are launching lobbying campaigns in more statehouses, hoping to push the minimum wage as high as $22 per hour in coming years.
► From the NY Times — Are we actually arguing about whether 14-year-olds should work in meatpacking plants? (by Terri Gerstein) — When child labor violations come to light, especially horrifying ones, shouldn't elected officials strengthen laws and fund enforcement rather than allow more children to be exploited?
---
INTERNATIONAL
► From The Hill — Unions launch widespread strikes in Israel after Netanyahu fires defense official — Unions in Israel have launched widespread strikes after Prime Minister Benjamin Netanyahu fired a defense official who challenged his controversial plan to reform the nation's judiciary.
► From the AP — Strike over pay paralyzes rail, air travel in Germany
---
The Stand posts links to Washington state and national news of interest every weekday morning by 10 a.m.
Short URL: https://www.thestand.org/?p=115425
Posted by
admin
on Mar 27 2023. Filed under
DAILY LINKS
. You can follow any responses to this entry through the
RSS 2.0
. Both comments and pings are currently closed.