UFW solidarity at UW | We're #2 (you're welcome) | Clarence's perks
Thursday, April 6, 2023
---
LOCAL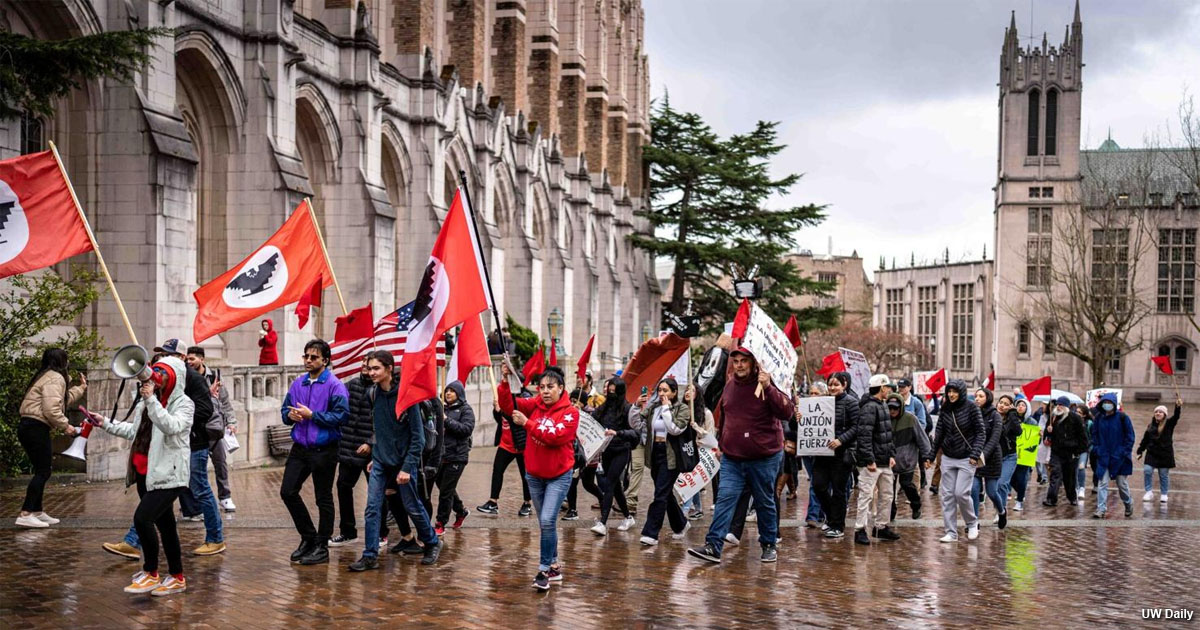 ► From the UW Daily — 'An injury to one is an injury to all' — On March 31, protesters gathered on Red Square to show their solidarity with Greenwood Mushrooms Sunnyside (formerly known as Ostrom Mushroom Farms) farmworkers fighting for union recognition. Farmworkers and other advocates for labor justice joined students from Students for Farm Workers, the university's support group for United Farm Workers (UFW). Taking place on Cesar Chavez's birthday, the protest celebrated the history of farmworker-centered activism on campus and reaffirmed support for the cause across language, age, and workplace. UAW 4121 member Nicel Mohamed-Hinds said the Sunnyside workers' demands also concern issues of economics, gender, immigration, and disability justice:
"An injury to one is an injury to all. And when [the farmworkers] win, they further empower us and the labor movement as a whole to wins, too."
PREVIOUSLY at The Stand:
Farm workers join students for Cesar Chavez Day rally at UW (March 31)
Ostrom Mushroom sold; UFW blasts new anti-union owners (Feb. 24)
Ostrom workers demand fair wages, respect (Sept. 19, 2022)
► From the NW Labor Press — UA 290 wins $13.54 increase in new three-year deal — The agreement, covering Plumbers and Steamfitters in Western Oregon, Southwest Washington, and two Northern California counties, came through an unusual "co-interest" bargaining process first tried 7 years ago, open to any member who wanted to take part.
EDITOR'S NOTE — How do raises like that sound to you? Get more information about how you can join together with co-workers and negotiate a fair return for your hard work. Or go ahead and contact a union organizer today!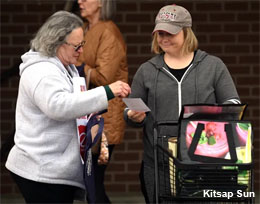 ► From the Kitsap Sun — Kitsap grocery workers voice against Kroger-Albertsons merger as part of national actions — Like many grocery workers at Albertsons and Kroger around the nation, Sandy Pyle of Port Orchard has deep concerns about the negative impacts the Kroger-Albertsons merger could cause once it becomes reality. 70-year-old Pyle, who has worked at Albertsons for almost 20 years, stood outside the door of Safeway at Port Orchard to hand some leaflets and shopping bags to customers on Wednesday. With a "stop the merger" post in her hands, she hoped to raise the public's awareness of the issue because the proposed merger will affect both the shoppers and grocery workers, Pyle said.
The Stand (April 5) — Actions opposing grocery merger this week across state, nation — Leafleting actions continue today (Thursday) in Seattle at noon at QFC, 9999 Holman Rd NW; in Marysville at 3 p.m. at Fred Meyer, 9925 State St.; and in Spokane at 4 p.m. at Albertsons, 6520 North Nevada St.
► From the Seattle Times — Virginia Mason Franciscan Health lays off nearly 400 staffers — The Tacoma-based hospital system says staffers in "non-patient-facing" roles were primarily affected, though a spokesperson was not able to say if others who worked directly with patients, like nurses or aides, were also let go.
► From the PSBJ — Swedish Health Services names interim CEO — Dr. Elizabeth Wako is Seattle-based Swedish's first female and first Black leader in the organization's 122-year history.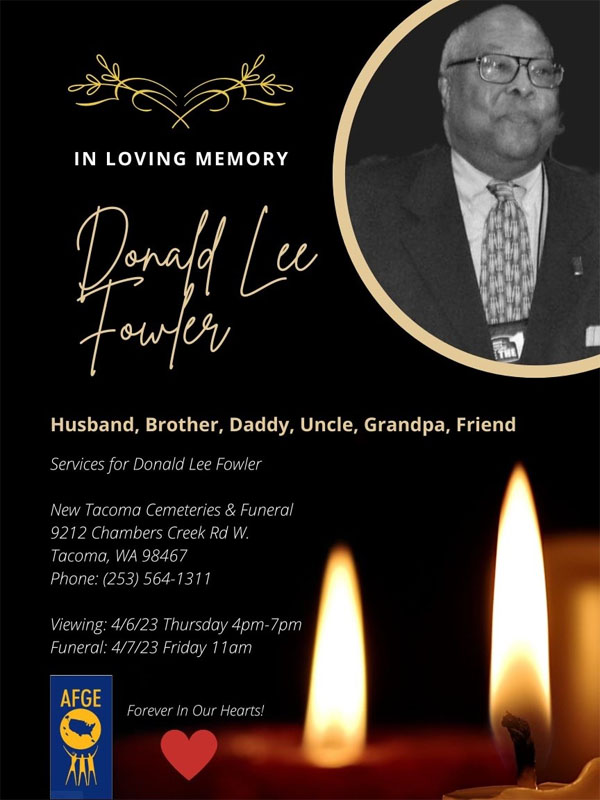 ► From AFGE — AFGE mourns passing of Retiree of the Year Donald Fowler — It is with a heavy heart that we announce the passing of AFGE's long-time union leader, activist, and this year's Retiree of the Year Donald Fowler. Joining AFGE in 1983, Donald worked for the Department of Veterans Affairs in Tacoma and had been active in his local, Local 498, where he served in various capacities including local president.
EDITOR'S NOTE — Services for Brother Fowler will be held Friday at 11 a.m. at New Tacoma Cemeteries & Funeral, 9212 Chambers Creek Road W. in Tacoma. Washington State Labor Council President April Sims and Secretary Treasurer Cherika Carter, both of Tacoma, expressed their sincere condolences to Fowler's family and loved ones:
"Donald was a regular and active presence at WSLC conventions and events. His dedication to his co-workers at the Department of Veterans Affairs, his AFGE union, and the greater labor movement in Washington state will be greatly missed. Rest in Power, Brother Fowler."
---
AEROSPACE

► From Reuters — Boeing resumes 767 freighter deliveries after three-month pause — Boeing was forced to halt deliveries of the 767F freighter and KC-46 tanker earlier this year after it discovered center fuel tanks made by a supplier were not properly sealed.
---
THIS WASHINGTON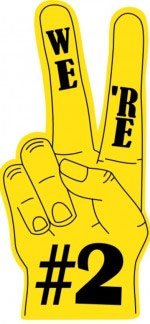 ► From the News Tribune — Is WA a good state for balancing life and work? This report says it's one of the best — Global business website Remote released a study that finds Washington is the second best state in the nation for achieving a healthy life-work balance while also having flourishing careers. The study results are based on numerous indicators about each of the 50 states, such as total days of paid leave, paid maternity leave, minimum wage, health care status, average hours worked per week and LGBTQ+ inclusivity to determine which locations prioritize workers' lives above work. Only Connecticut had a higher rating.
EDITOR'S NOTE — Washington's labor movement: "You're welcome. And Connecticut, we're coming for you."
► From the union-busting Columbian — Wages on the rise in Washington — Payroll processor ADP reports that last month the state's annual pay increased 7.9 percent compared with March 2022.
The Stand (Jan. 19) — Washington remains the 3rd most unionized state — Union membership once again meant higher wages in 2022. Median weekly earnings for union members was $1,216 last year, according to the U.S. Bureau of Labor Statistics, compared to $1,029 per week for non-union workers. In other words, union members earned more than 18 percent higher wages. That's the Union Difference.
JOIN TOGETHER! — If you don't have a union at your job, learn how to join together with your co-workers and get higher wages, better benefits and respect on the job. Click here to get started.
► From the LA Times — Undocumented workers should be able to get unemployment benefits when they're laid off (editorial) — Excluded from unemployment benefits are an estimated 1.6 million undocumented workers in California, whose labor we rely on to pick vegetables and fruits in the fields, care for children, mow lawns and build new homes, even though many of these workers pay taxes. There's a proposal in the state Legislature to remedy this injustice.
EDITOR'S NOTE — Similar legislation in Washington (HB 1095/SB 5109) failed to meet cutoff deadlines, but will be back in the future.
---
THAT WASHINGTON
► From CNN — Fed could easily drive Black unemployment much higher than the overall jobless rate — Millions of jobs could be on the chopping block this year, as the Federal Reserve continues its rate-hiking campaign to tame inflation. But the effects of that action likely won't reverberate evenly across the economy. Economists say that historically disadvantaged groups could be disproportionately affected by the central bank's stringent monetary policy.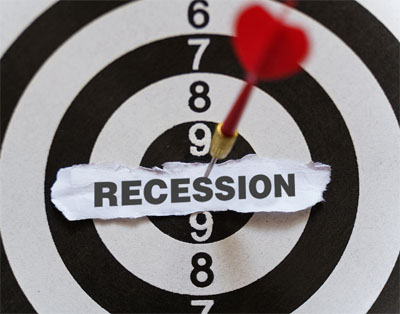 EDITOR'S NOTE — Already, the Fed's interest rate increases have caused bank failures and mass layoffs. Now it risks plunging the country into recession that would disproportionately harm Black and Latino Americans. All of this in a senseless attempt to curb inflation caused by the pandemic's disruption of supply chains, Russia's war on Ukraine, and skyrocketing corporate profits. Now that OPEC production cuts are causing energy prices to rise again, how exactly does throwing more Americans out of work help?
► From Reuters — Analysis: Texas abortion pill ruling could disrupt U.S. drug oversight — A federal judge in Texas could soon order the U.S. Food and Drug Administration to withdraw its approval of abortion pill mifepristone, a move that if allowed to stand could severely undermine the agency, health policy and legal experts said.
► From the Washington Post — Wisconsin Supreme Court election sends message on abortion rights — A liberal victory on the Wisconsin Supreme Court is the latest election pointing toward abortion rights as a galvanizing issue for voters nationwide.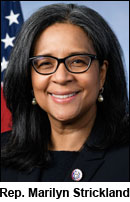 ► From Roll Call — Push is on to boost troops' housing allowance — Democrats in both chambers have been angling for several years to give military families more money to cover housing costs, and they are at it again — this time with some influential GOP support.  Last year, Rep. Marilyn Strickland (D-WA, 10th), and Sen. Raphael Warnock (D-Ga.), filed bills that would require the Defense Department to pay 100 percent of troops' Basic Allowances for Housing.
---
NATIONAL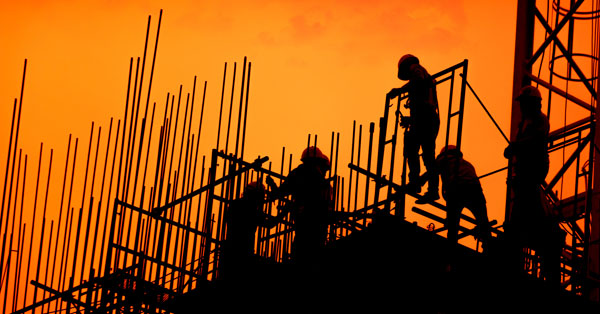 ► From NPR (which isn't "state-affiliated") — Where did the workers go? Construction jobs are plentiful, but workers are scarce — When President Biden inked the $1 trillion deal to give roads, bridges and transit systems a boost, union officials and business leaders said a large scale investment in infrastructure was long overdue. But nearly a year and a half later, and about a third of the way through the funding's lifetime, economists and hiring managers point out that all that infrastructure money won't do any good if there aren't enough people qualified to do the work. The construction industry faces a dire labor shortage. The number of construction job openings jumped by 129,000 in February, even as hiring decreased by 18,000.
EDITOR'S NOTE — Want a career with family sustaining wages plus healthcare and retirement benefits? Check out the Construct a Career website from the Washington State Building and Construction Trades Council about how to get started in a union apprenticeship program today!
► From the Art Newspaper — Strike at New York's Hispanic Society enters second week as museum pushes back long-planned reopening — Staff at the Hispanic Society Museum and Library in New York City have been on strike since March 27, with union members, representatives of their United Auto Workers and local lawmakers joining the picket line at the institution's Washington Heights campus.
The Stand (April 4) — Tacoma Art Museum Board silent on union recognition
---
TODAY'S MUST-READ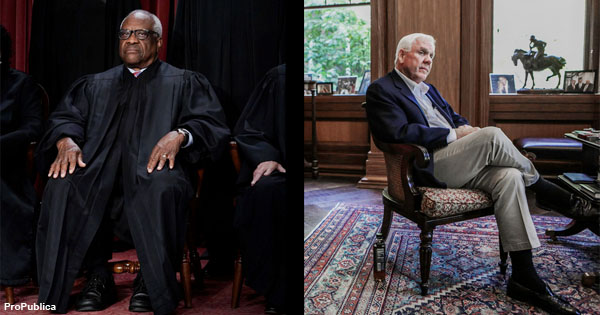 ► From ProPublica — Clarence Thomas and the billionaire — For more than two decades, U.S. Supreme Court Justice Clarence Thomas has accepted luxury trips virtually every year from Texas real estate billionaire and Republican megadonor Harlan Crow without disclosing them, documents and interviews show. A public servant who has a salary of $285,000, he has vacationed on Crow's superyacht around the globe. He flies on Crow's Bombardier Global 5000 jet. He has gone with Crow to the Bohemian Grove, the exclusive California all-male retreat, and to Crow's sprawling ranch in East Texas. And Thomas typically spends about a week every summer at Crow's private resort in the Adirondacks. The extent and frequency of Crow's apparent gifts to Thomas have no known precedent in the modern history of the U.S. Supreme Court.
EDITOR'S NOTE — In 2016, when conservative former Justice Antonin Scalia died in his sleep, he was enjoying a free vacation at the luxury ranch of Texas billionaire and Republican donor John B. Poindexter. Known precedent?
---
The Stand posts links to Washington state and national news of interest every weekday morning by 10 a.m.
Short URL: https://www.thestand.org/?p=115837
Posted by
David Groves
on Apr 6 2023. Filed under
DAILY LINKS
. You can follow any responses to this entry through the
RSS 2.0
. Both comments and pings are currently closed.