AFL-CIO backs Biden | Nurses strike in Oregon | Starbucks: 'You treat us like dirt'
Tuesday, June 20, 2023
---
ELECTION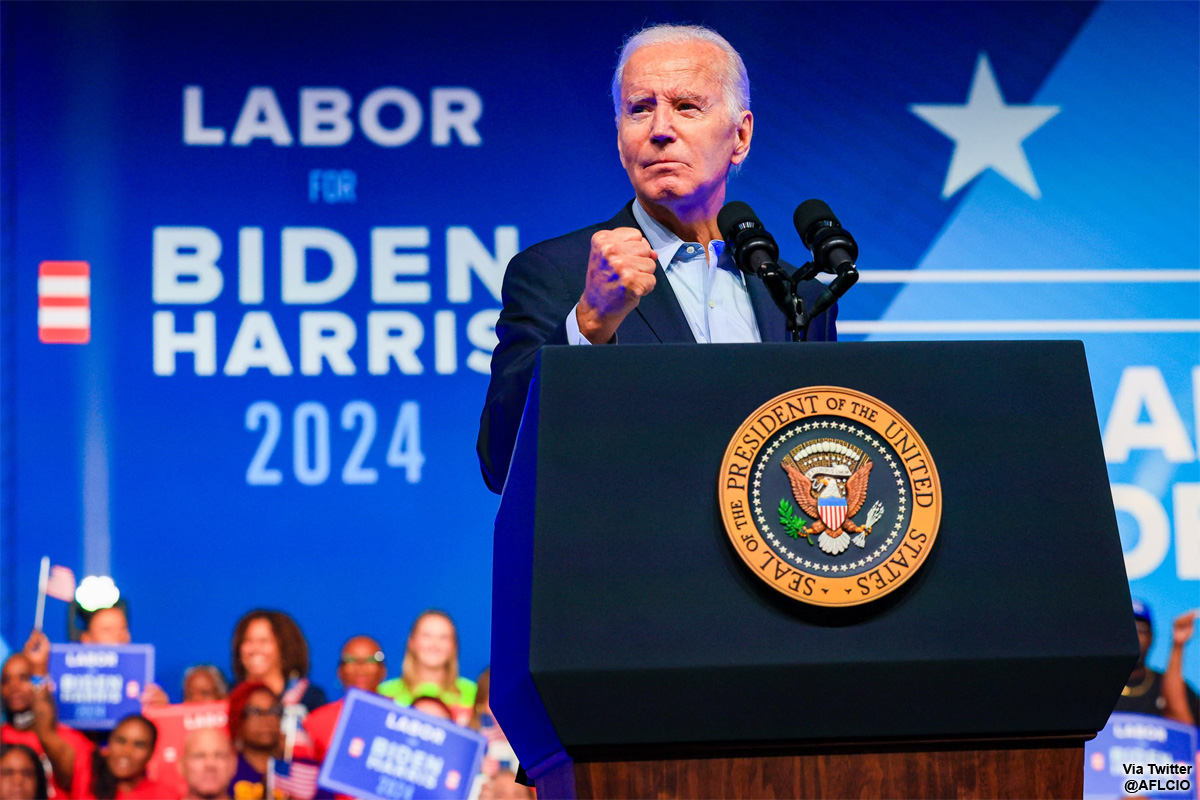 ► From the Hill — AFL-CIO backs Biden in early 2024 endorsement — The nation's top union organization, the AFL-CIO, endorsed President Biden's reelection campaign on Friday, a major win for the president as he works to shore up support from big labor for his 2024 White House bid.
The Stand (June 16) — AFL-CIO votes to endorse President Biden for re-election
► From the Guardian — Joe Biden rallies with union workers in Philadelphia: 'You built America' — At his first political rally since announcing his re-election campaign for president in April, Joe Biden told a crowd of labor union supporters: "Wall Street didn't build America – you did."
"If the investment bankers of this country went on strike tomorrow, no one would notice. If this room didn't show up to work tomorrow, the whole country would come to a grinding halt, so tell me – who matters more in America?"
EDITOR'S NOTE — Watch the rally…
► From the Phildelphia Inquirer — Biden held his first big reelection rally in Philly. Here are four takeaways. — Joe Biden loves a union crowd, and about 2,000 union workers loved him back Saturday at a Philadelphia rally to kick off his reelection campaign. Biden picked extremely friendly territory for his first big rally. The sea of people in neon T-shirts represented an alphabet soup of unions and cheered loudly throughout — interrupting with "Let's Go Joe!" and "USA!" chants. "He has helped the labor movement immensely and it could have all fallen apart during the pandemic," said Cheryl Omlor, a third-generation union member at the rally.
► From Deadline — Actors' Equity joins unions endorsing Biden-Harris
► From the Hill — AFT backs Biden for reelection
---
SOUTH OF THE BORDER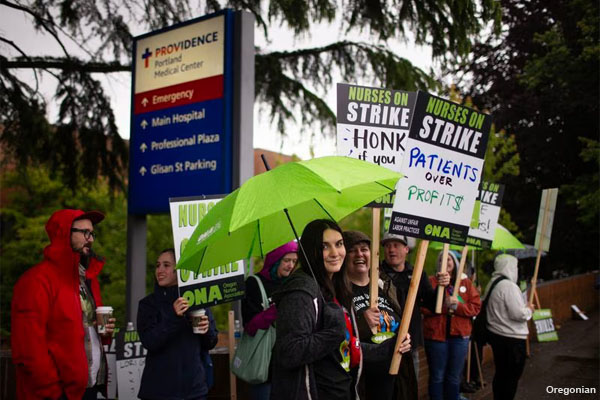 ► From the Oregonian — Providence Portland nurses walk out in city's first nursing strike in 22 years — The first nurses' strike in Portland in 22 years began early Monday at Providence Portland Medical Center, where 1,300 nurses walked off the job. The 100 nurses at Providence hospital in Seaside and 400 at the health giant's home health and hospice service joined the five-day work stoppage soon after. The two sides have been unable to craft a mutually agreeable deal. The union argues that its members' primary demand is new minimum staffing rules to address chronic understaffing they say has become the norm during the pandemic. An Oregon Nurses Association statement:
"This isn't just about money and never has been. It's about sick time and paid time off to care for ourselves and our families, ensuring safe staffing so our patients are properly cared for, and making our careers sustainable."
MORE coverage from KOMO.
TAKE A STAND — You can support striking ONA nurses and healthcare workers in Oregon by signing the public petition to Providence, joining a strike picket, and more.
---
THIS WASHINGTON



► From the Washington State Standard — Pavement politics: Roads chief and legislators at odds on spending priorities — Washington Secretary of Transportation Roger Millar, along with his boss, three-term Gov. Jay Inslee, voiced concern in the legislative session about lawmakers putting too much money into projects and not enough into the increasingly costly upkeep of roads and bridges. In a post-session memo to employees in May, Millar said this "misalignment" in the new 2023-25 transportation budget makes it likely the state will continue to fall behind on maintenance.
► From the Seattle Times — WA ferry service on several routes won't return to normal this year — Plans to restore full ferry service to the routes between Fauntleroy, Vashon and Southworth and Seattle and Bremerton, have been pushed into next year, a blow to the communities that previously had been told sailings would begin returning to normal this year.
---
AEROSPACE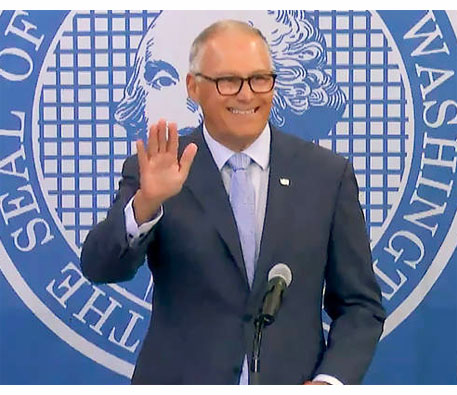 ► From the Seattle Times — WA wins e-fuel and hydrogen power pledges at Paris Air Show — On the opening day of the Paris Air Show at Le Bourget, Washington state Gov. Jay Inslee announced that California-based clean energy startup Twelve plans to set up an industrial facility in Moses Lake to make jet fuel from electricity, water and air. Inslee also announced that another sustainable aviation pioneer working on hydrogen-powered flight, ZeroAvia, will expand its facility in Everett. By the middle of next year, ZeroAvia plans to increase its current 30-strong workforce there by a factor of five.
EDITOR'S NOTE — Thanks to strong advocacy from Machinists District Council 751, Washington State Building and Construction Trades, and the Washington State Labor Council, AFL-CIO (among others), Washington state lawmakers approved SB 5447, sponsored by Sen. Andy Billig (D-Spokane), to promote the alternative jet fuel industry in Washington. Its passage is already paying big dividends. In addition to the new investments described above, Dutch company SkyNRG announced in May it has chosen our state to locate an $800 million plant to produce sustainable aviation fuel, and cited SB 5447 as a factor in its decision. Learn more.
► From the Seattle Times — Airbus wins record order for 500 jets from India's IndiGo at Paris Air Show — India's IndiGo airline is buying 500 passenger jets from European planemaker Airbus, the two companies said Monday, in a record-setting order that underscores surging demand for air travel fueled by the country's economic growth.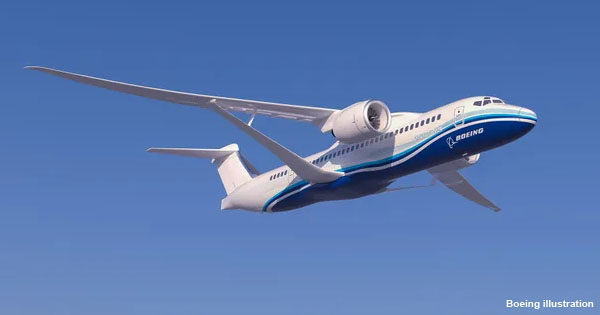 ► From the Seattle Times — In Paris, Boeing leader teases eye-catching new airplane concept — Boeing Commercial Airplanes CEO Stan Deal confirmed Sunday that Boeing is seriously considering a specific innovation for its next new-design airplane that it will develop to enter service in the mid-to-late 2030s.
---
THAT WASHINGTON
► From HuffPost — Biden is having a more productive presidency than you probably realize — New limits on drug prices are hard to see, and maybe even harder to explain, but they're starting to have real effects.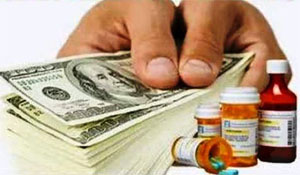 ► From the Washington Post — Inflation Reduction Act foes race to repeal climate, drug pricing programs — A growing roster of corporate and political foes has started to lay siege to the law known as the Inflation Reduction Act, hoping to erode some of its key provisions before they can take effect. The latest broadside arrived Friday, when the pharmaceutical giant Bristol Myers Squibb — a maker of the popular blood-thinner Eliquis — sued the Biden administration over its forthcoming program to lower prescription drug prices for seniors. The case marked the third such legal challenge against the U.S. government this month, raising the prospect that older Americans may never see cheaper pharmacy bills.
► From the Washington Post — Biden plan will give more than 100 federal buildings green upgrades — More than 100 federal facilities will become all-electric or net-zero emissions using nearly $1 billion from Democrats' landmark climate law, dubbed the Inflation Reduction Act.
---
NATIONAL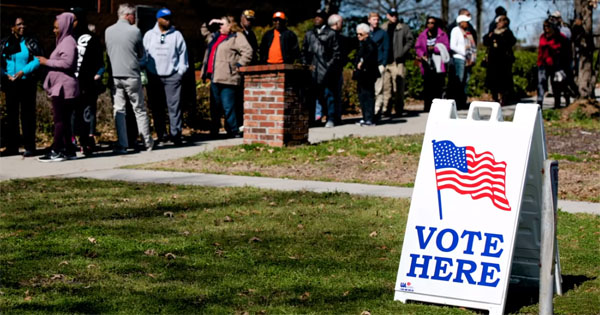 ► From the AFL-CIO — The labor movement is ready to ensure that voting rights are fully restored — The Shelby County v. Holder Supreme Court decision was a wake-up call—that we must always be vigilant to protect our freedoms and rights, and that political extremists will go to terrific lengths for power and personal gain, even if that means jeopardizing our democracy. It also was a wake-up call for the labor movement to re-engage and tighten our relationship with civil and voting rights coalitions.
► From the AP — Americans mark Juneteenth with parties, events and quiet reflection on the end of slavery —  Americans across the country this weekend celebrated Juneteenth, marking the relatively new national holiday with cookouts, parades and other gatherings as they commemorated the end of slavery after the Civil War.
MORE local Juneteenth coverage in the Olympian, Seattle Times, Spokesman-Review,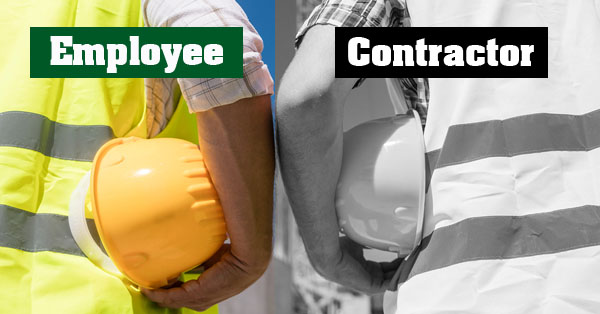 ► From Vice — Amazon drivers are actually just 'drivers delivering for Amazon,' Amazon says — Our headline last week: "Amazon Delivery Drivers Walk Out in First-Ever Driver Strike." This makes sense, given that it is what happened. Delivery drivers who work at an Amazon facility, deliver Amazon packages, and typically drive Amazon-branded trucks, walked out of their Amazon facility. Amazon, however, contests this point. As a spokesperson for the company wrote in an email: these drivers are not Amazon drivers, actually, but drivers who deliver for Amazon, which is a very critical factual difference.
► From the Guardian — My friend Harvey Milk celebrated hope. This Pride month, unions provide it. (by Cleve Jones) — My friend and mentor Harvey Milk always said that you've got to give the people hope, and unions give me hope right now. I'm part of UNITE HERE, the hospitality workers' union that fights every day to defend working people, protect LGBTQ+ rights and stop the forces of hate who seek to divide us.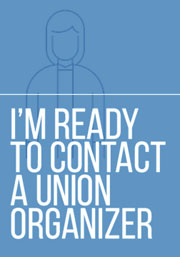 ► From Reuters — 'Great Resignation' continues as quarter of workers look to change jobs — A quarter of workers surveyed by PwC expect to change jobs in the next 12 months, up from 19% last year, as they are increasingly left cash-strapped in a cooling economy while dealing with inflationary pressures.
EDITOR'S NOTE — Great jobs are made by people who refuse to quit. Find out how you can join together with co-workers and negotiate for better wages and working conditions. Or go ahead and contact a union organizer today!
► From the Washington Post — Restaurant used fake priest to hear workers' confessions, feds say — The purported priest asked employees work-related questions, including whether they had stolen from the restaurant's owner.
► From the Washington Post — The professions most likely to be paired up in marriage, and more! — Firefighters apparently have a type. About 1 in 10 firefighters have married a registered nurse, making it the busiest interprofessional marriage pipeline.
---
TODAY'S MUST-READ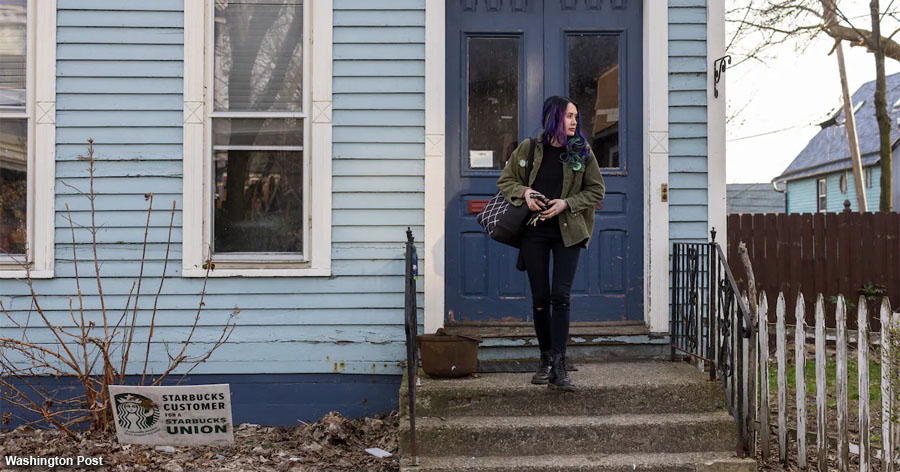 ► From the Washington Post — Lexi Rizzo fought to unionize her Starbucks. Now she's out of a job. Her struggle is just beginning. — For months, Rizzo had clocked in before dawn convinced that the company where she had worked for nearly eight years was determined to fire her. And Rizzo thought she knew why: She was one of 49 baristas from across Buffalo who sent a letter to the company's chief executive in August 2021 informing him that they were seeking to form a union. Today there are about 320 unionized Starbucks stores in the United States — a rare bright spot for the shrinking labor movement. But the gains have come at a price, union officials said. Only 13 of the workers who signed the original Buffalo organizing letter are still with the company… Rizzo's final misstep had occurred on March 1. According to the document, she had been "1 minute late" to a 6 a.m. shift.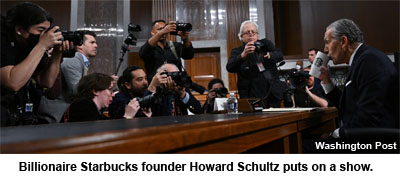 Two days before Rizzo was fired, Howard Schultz, the company's billionaire founder, was summoned to Washington to testify before the Senate. In the last year, judges have ruled that Starbucks violated U.S. labor laws more than 130 times across six states, among the most of any private employer nationwide. The rulings found that Starbucks retaliated against union supporters by surveilling them at work, firing them and promising them improved pay and benefits if they rejected the organizing campaign. The company has denied any wrongdoing. It's against the law to fire workers for organizing. But as Rizzo and the other Starbucks workers were learning, there's also little to stop companies from doing it… "What would you say to Howard Schultz?" one of her colleagues prompted. Risso replied:
"You have hundreds of thousands of people giving everything that they have so you can make another dollar. Then you treat us like dirt. It's disgusting."
---
The Stand posts links to Washington state and national news of interest every weekday morning by 10 a.m.
Short URL: https://www.thestand.org/?p=117793
Posted by
David Groves
on Jun 20 2023. Filed under
DAILY LINKS
. You can follow any responses to this entry through the
RSS 2.0
. Both comments and pings are currently closed.