Double-digit raises | Voting rights win | Strike at UPS? | Movie maestro
Friday, June 16, 2023
---
LOCAL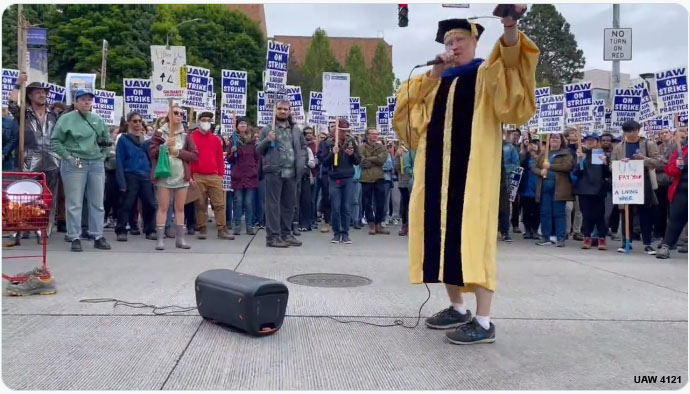 ► From My Northwest — Striking researchers, postdocs reach tentative agreement with UW — After a week-long strike, researchers and post-doctoral workers have reached a tentative agreement with the University of Washington. The new contract is set to increase worker pay and improve the working conditions of the 2,400 union members. Postdoc Scholars will see their pay increased by 28% by Jan. 1, 2024, and their compensation will be re-negotiated before the next increase by Jan. 1, 2025. Researchers will see a pay increase of 33%, along with future wage increases that keep up with the costs of living.
The Stand (June 15) — UW Postdocs, Researchers reach tentative agreements — The strike has been paused; ratification votes begin on Friday.
MORE coverage from the Seattle Times and KUOW.
EDITOR'S NOTE — How do raises like that sound to you? Get more information about how you can join together with co-workers and negotiate a fair return for your hard work. Or go ahead and contact a union organizer today!
► From the Washington Post — Labor dispute at West Coast ports ends with pay hike for dockworkers — After a nearly year-long labor dispute between the ILWU and port operators, West Coast dockworkers have emerged with a tentative new contract that would include a pay raise. If both parties ratify the agreement, they would get a wage increase of 8 to 10 percent for the first year, according to a source who declined to say how much pay would rise for the remainder of the six-year contract.
The Stand (June 15) — ILWU, PMA announce tentative agreement — Acting Labor Secretary Julie Su played a key role in helping reach the 6-year deal, which now goes to members for ratification.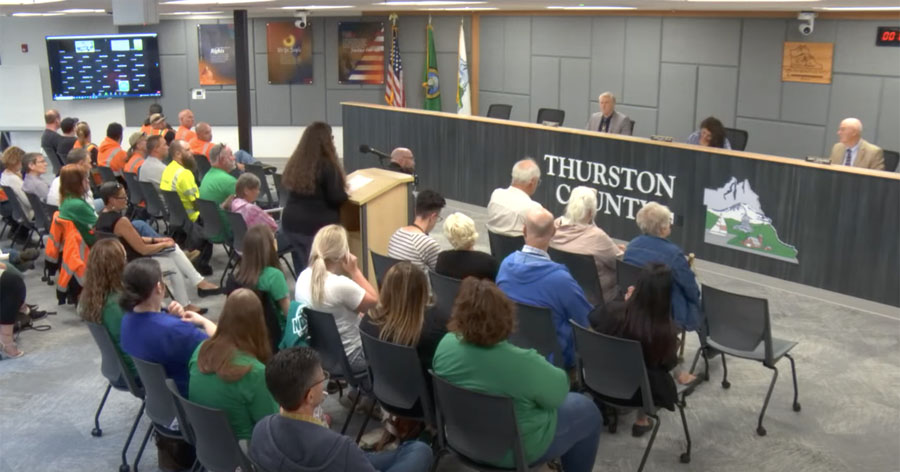 ► From the Olympian — Thurston County workers request 'fair wage' amid prolonged contract negotiations — Several dozen Thurston County employees crowded into the Board of County Commissioners meeting room at The Atrium building on Tuesday to express their frustrations with low wages and high turnover. Many more watched the meeting virtually. Aaron Cole of County and City Employees/AFSCME Local 816 said employees chose to appeal to the board because contract negotiations with county administration have not been going well "at all," particularly on the matter of wage increases. The last agreements expired at the end of 2022.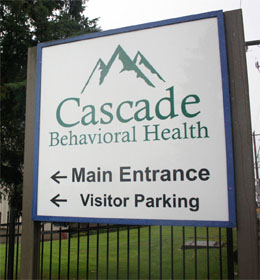 ► From the Seattle Times — What's behind the 'momentous' move to close a WA for-profit psych hospital — In a move that shocked health care workers, families and elected officials alike, the 137-bed Cascade Behavioral Health Hospital in Tukwila announced in early June it intends to close for good. The announcement shows the tenuous status of a behavioral health system that state and local officials are desperately trying to bolster, and the risks of relying on for-profit companies to serve as that system's underpinnings. Cascade's parent company Acadia watched its net income jump 8.5% during the first three months of the year compared to last year, but hospital officials refused to answer questions about Cascade's specific financial situation or other stresses that precipitated the closure. What is clear: Acadia is making money.
EDITOR'S NOTE — Following is a statement by Jane Hopkins, RN, president of SEIU Healthcare 1199NW, which represents employees at Cascade:
"It is no secret that Cascade's corporate parent, Acadia Healthcare, has historically prioritized profits over the well-being of its employees, safe care, and the community it serves. The closure is a devastating blow to the South King County community served by these mental health professionals during a time when the behavioral health needs of many go unmet. Our union's unwavering commitment to fighting for fair treatment and safe working conditions is part of our strength, and we expect to negotiate every aspect of this closure that will affect our members' terms and conditions of work, as well as fight to ensure continuity of care for our patients and community through that process. Our members have shown remarkable resilience throughout the 2021 strike and beyond, and we will not be silenced. We will demand accountability from Acadia Healthcare to ensure that workers' rights are respected."
---
JUNETEENTH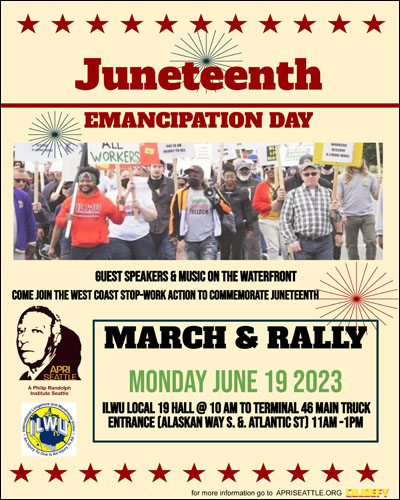 TODAY at The Stand — Join APRI Seattle's Juneteenth March & Rally on June 19 — On Monday, June 19, International Longshore and Warehouse Union (ILWU) Locals 19 and 52 and the A. Philip Randolph Institute Seattle will present the 4th annual Juneteenth March and Rally to Honor Juneteenth and continue the fight to end racism and slavery everywhere. All are invited to gather at 10 a.m. at the ILWU Local 19 Union Hall, 3440 E Marginal Way S. (corner of Spokane and East Marginal). Participants will travel along East Marginal Way either by foot or car caravan to Terminal 46. The march will enter Terminal 46 at the main truck entrance located on Alaskan Way South & S. Atlantic St.
MORE LOCAL Juneteenth events listed in the Bellingham Herald, Cascadia Daily News, Kitsap Sun, Seattle Times, and the Tri-City Herald. Check other local newspapers for more events or visit the How to Celebrate page at Juneteenth.com.
► From the Washington Post — Black Americans more upbeat but fear worsening racism, poll finds — An overwhelming share of Black Americans think the U.S. economic system is stacked against them and a slim majority believe the problem of racism will worsen during their lives, according to a new poll. Nonetheless, nearly half of Black Americans say it's also a "good time" to be a Black person in the country, up from 30 percent in 2020 and from 34 percent last spring after a white supremacist killed 10 Black people at a Buffalo grocery store.
---
THIS WASHINGTON




► From the Tri-City Herald — WA Supreme Court upholds Voting Rights Act. Franklin County must change its elections — How Franklin County commissioners are elected will change next year after a state Supreme Court decision issued Thursday, making their elections more fair for Latino voters. Washington highest court unanimously dismissed the arguments made by a Franklin County precinct committee officer that the Washington Voting Rights Act was unconstitutional. More broadly, the decision was hailed as a big win for voting rights across the country. "As a moment when those rights are under sustain assault nationwide, the court has affirmed that state law and state courts can protect against discrimination in elections," said Yurij Rudensky, senior counsel for Brennan Center for Justice at NYU Law.
---
ELECTION



TODAY at The Stand — AFL-CIO votes to endorse President Biden for re-election — The General Board of the AFL-CIO—representing 60 unions and more than 12.5 million workers—voted today to endorse President Joe Biden and Vice President Kamala Harris for re-election in 2024. The endorsement vote marks the earliest the AFL-CIO has ever voted to endorse in a presidential election, triggering an unprecedented mobilization that will engage millions of working people over the course of nearly 17 months on the Biden–Harris record of transforming the economy to one that works for all.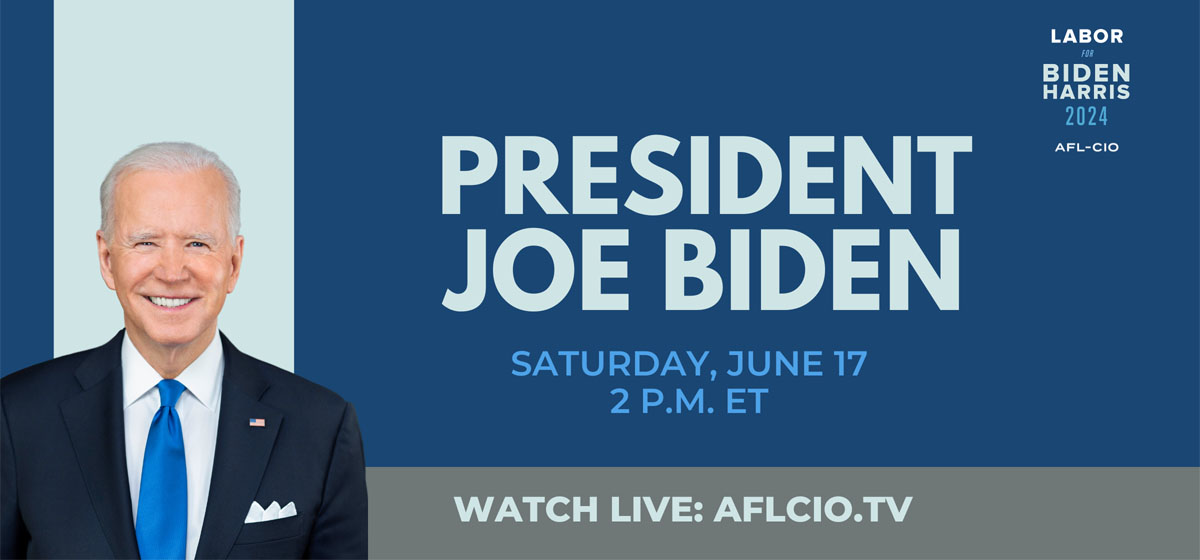 TUNE IN SATURDAY TO WATCH LIVE — Working people helped to elect Joe Biden in 2020, and we're gearing up to do it again. We're hosting a Labor for Biden member event with the president himself tomorrow in Philadelphia. Tune in to aflcio.tv at 11 a.m. PT on Saturday, June 17.
---
AEROSPACE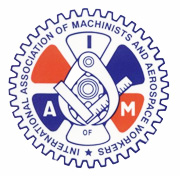 ► From KWCH — Machinists union to vote next week on contract with Spirit AeroSystems — Potentially averting a strike, IAM District 70 unveiled details Thursday of what's described as "the best and final offer" from Spirit AeroSystems regarding a new contract. The offer on which union members are expected to vote next Wednesday includes a 34% pay increase and would continue the "core and enhanced" health insurance plans. The contract offered also includes an increase in paid time off.
► From the (Everett) Herald — Paine Field training center's new lab: a 12-ton Boeing 767 fuselage — Boeing donated the fuselage to a manufacturing program Thursday: "This is going to be a game changer in how we offer our training."
---
THAT WASHINGTON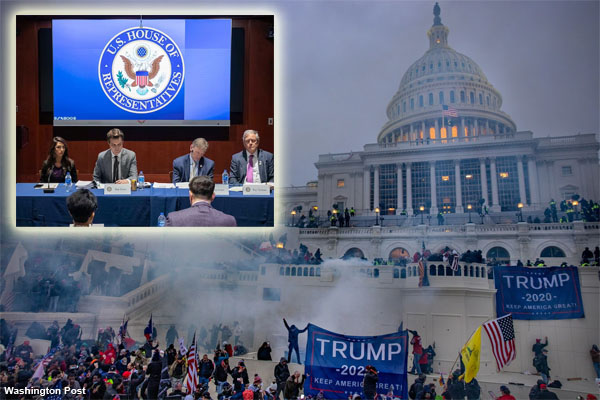 ► From the Washington Post — As Trump is arrested, Republicans honor the insurrectionists (by Dana Milbank) — During the very same hour in which the former president surrendered to federal authorities in Miami, his Republican allies in the House were, in their most visible and official way yet, embracing as heroes and martyrs the people who sacked the Capitol on Jan. 6, 2021, in hopes of overturning Trump's election defeat. In the Capitol complex, Rep. Matt Gaetz (R-Fla.), with sidekick Rep. Marjorie Taylor Greene (R-Ga.) and four other far-right lawmakers, held a "hearing" that honored participants in the riot, family members of Jan. 6 rioters and organizers of the attempted overthrow of the 2020 vote.
► From The Hill — In a first, House Education and the Workforce panel's Democratic staffers look to unionize — Congressional Workers Union announces five successful office elections as well.
---
NATIONAL
BREAKING from Teamster.org — Teamsters authorize strike at UPS — UPS Teamsters have voted by an overwhelming 97 percent to authorize a strike, giving the union maximum leverage to win demands at the bargaining table.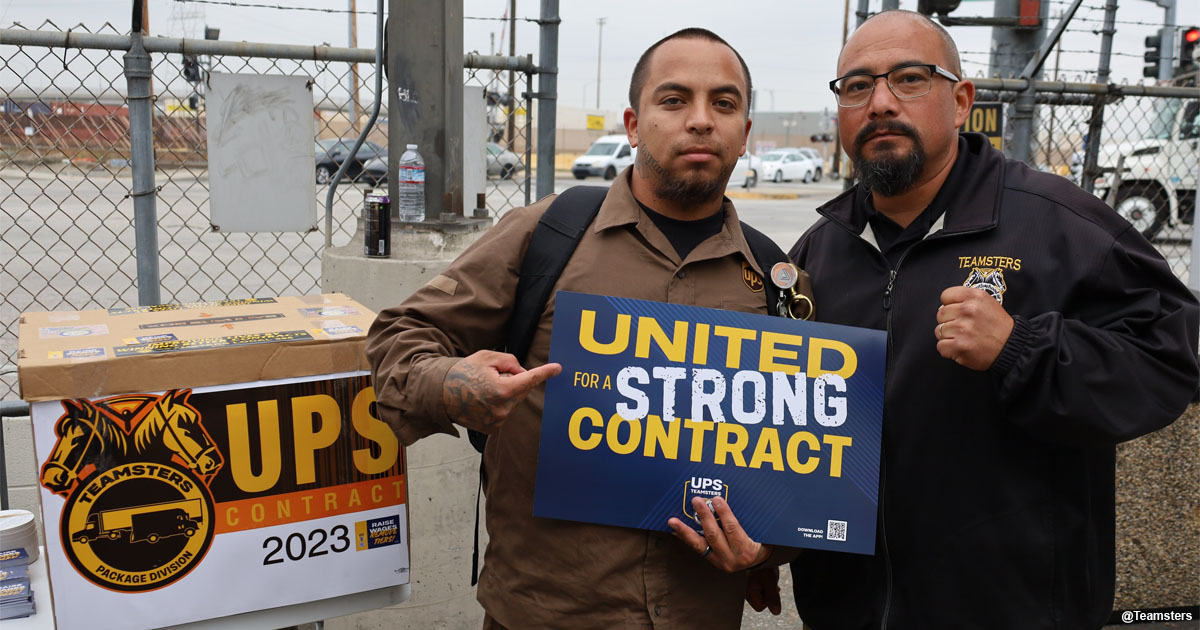 ► From the Washington Post — Teamsters expected to authorize a nationwide UPS strike for this summer — Thousands of Teamster UPS drivers across the United States are expected to authorize a strike Friday, bringing the country a step closer to what would be among the largest work stoppages in decades. An authorization vote does not mean that a strike will happen, but it gives Teamsters union leaders the right to call a national walkout if a contract deal is not reached in negotiations before July 31. It would be the first strike to threaten the nation's transportation system since the last time UPS employees went on strike 26 years ago and the largest of any U.S. industry since the 1950s.
► From Vice — Amazon delivery drivers walk out in first-ever driver strike — The 84 drivers, who work for the Amazon delivery service partner Battle-Tested Strategies in Palmdale, California, unionized with the Teamsters in late April, and are demanding that Amazon come to the bargaining table to negotiate a contract. 
► From Jacobin — One tech subcontractor's road to unionization — Just because you're doing work for a massive company like Google doesn't mean you're technically working for them. And just because you're a Google subcontractor doesn't mean you can't organize a union, as Ben Gwin and his coworkers did in Pittsburgh.
► From Teamster.org — Teamster leaders endorse tentative ABF agreement
► From The Hill — More than half of U.S. employers ready to try 4-day workweek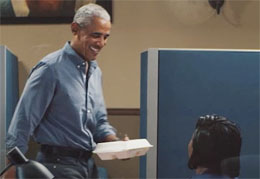 ► From the NY Times Magazine — Has America ignored the workplace for too long? (by Robin Kaiser-Schatzlein) — Barack Obama's Netflix series "Working" tries to catch you up on decades of change — more than it has time for. The fact that the show needs to reach all the way back to the New Deal era underlines a key problem: America's perception of its own workplaces may be astonishingly out of date, steeped in denial about just how profoundly things have changed. The series wants to hang around working people to understand their hopes and dreams and contradictions. But it also wants to put forward an argument about what's happened to American workers that involves catching the viewer up on several decades of complex changes — all presented by a politician who, you can't help noting, happened to be in charge of the country for a key stretch of the time being explored.
---
T.G.I.F.
► Wednesday's Los Angeles premiere of the new film, Indiana Jones and the Dial of Destiny, featured a surprise musical performance by, as director Steven Spielberg put it, "the person who is the glue to all five of these (Indiana Jones) films – that gave us all of our rhythm and all of our melody – the great maestro John Williams." The legendary composer then led a full orchestra through several pieces from the film's score. This guy has won 25 Grammys, five Oscars, seven BAFTAs, four Golden Globes, and with 53 Academy Award nominations, he is the second most-nominated individual after Walt Disney. And here he is — at the age of 91! — still doing his thing. Pretty cool.
---
The Stand posts links to Washington state and national news of interest every weekday morning by 10 a.m.
Short URL: https://www.thestand.org/?p=117736
Posted by
David Groves
on Jun 16 2023. Filed under
DAILY LINKS
. You can follow any responses to this entry through the
RSS 2.0
. Both comments and pings are currently closed.