UW Postdocs, Researchers reach tentative agreements
UPDATE: Strike has been paused, ratification votes begin on Friday
The following is from UAW Local 4121. It has been UPDATED with additional information, including that the strike has been paused.
SEATTLE (June 15, 2023) — After a historic strike supported by strong solidarity from other UAW 4121 members in the Academic Student Employee unit, UW campus workers, community allies, and more, Postdocs and Research Scientists/Engineers at the University of Washington reached Tentative Agreements with UW Administration. Their agreements secure massive gains to their pay and working conditions, centered on the needs of the most vulnerable and lowest paid members of the bargaining units.
This was the second longest strike at the University of Washington, and first-ever strike exclusively by researchers in the U.S. Postdocs and RSEs power research at UW and they are part of UAW 4121, the union of just shy of 1,500 staff researchers, 900 Postdocs, and over 6,000 Academic Student Employees at UW.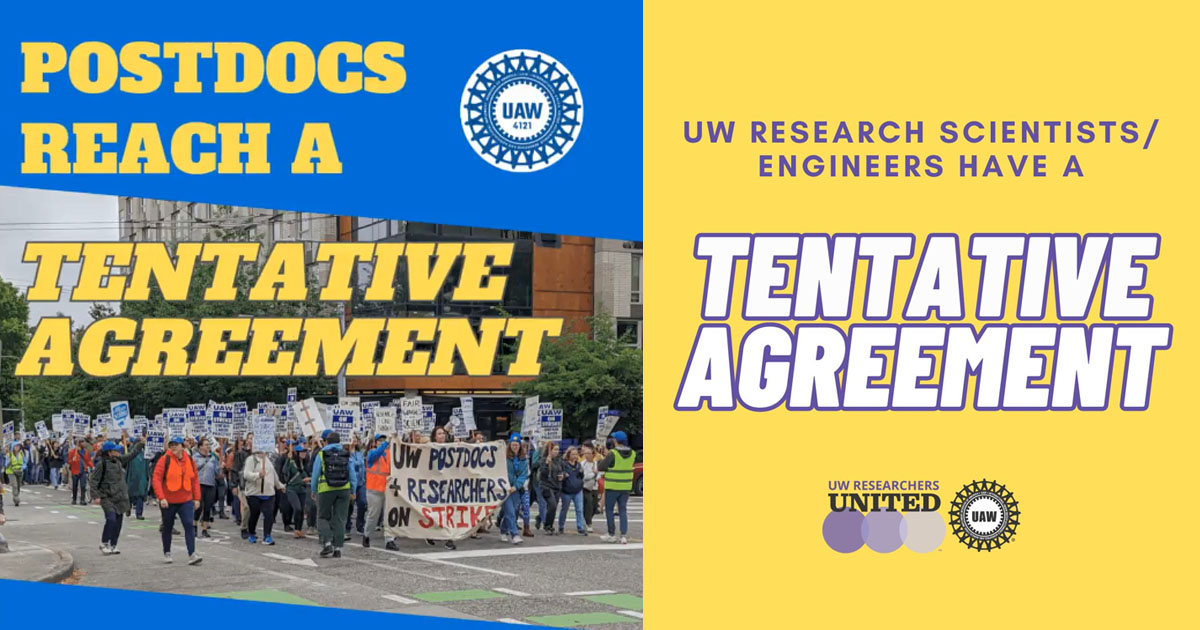 Overcoming intense objections by the University administration, striking Postdocs secured minimum pay that keeps up with living wage standards in the Washington State Minimum Wage Act. This ensures that the minimum for Postdoc Scholars will have increased 28% by January 1, 2024, and will be re-negotiated before the next increase January 1, 2025. This was not only a huge win for Postdocs, but has important implications for Washington workers and ensures that a large employer like the University of Washington maintains living wage standards established by the state. Postdocs also won an increased childcare fund, improved fee waivers and visa programs for international scholars, better reasonable accommodations for workers with disabilities, and access to the Equity Survey which is a critical tool for identifying and driving systemic change within UW.
The tentative agreement for Research Scientists/Engineers (RSEs) features wins that similarly prioritize the lowest paid and most vulnerable, including a 33% increase to the minimum pay over the life of the contract. The strike also resulted in RSEs winning future wage increases that keep up with costs of living and make up for lost ground due to flat or withheld wage increases in recent years. In addition, RSEs succeeded in creating more transparent and enforceable career advancement pathways, which is key to improving equity and diversity in science and has been a key goal since the beginning of the campaign (see this op-ed about the shocking lack of representation amongst higher level Research Scientists positions). This includes unprecedented pathways for RSEs to become Principal Investigators, access to bridge funding in the case that grant funding drops, stronger protections against arbitrary layoffs, the right to performance reviews, and more. The agreement finally brought to a successful close their fight for a first union contract, which began 1.5 years ago.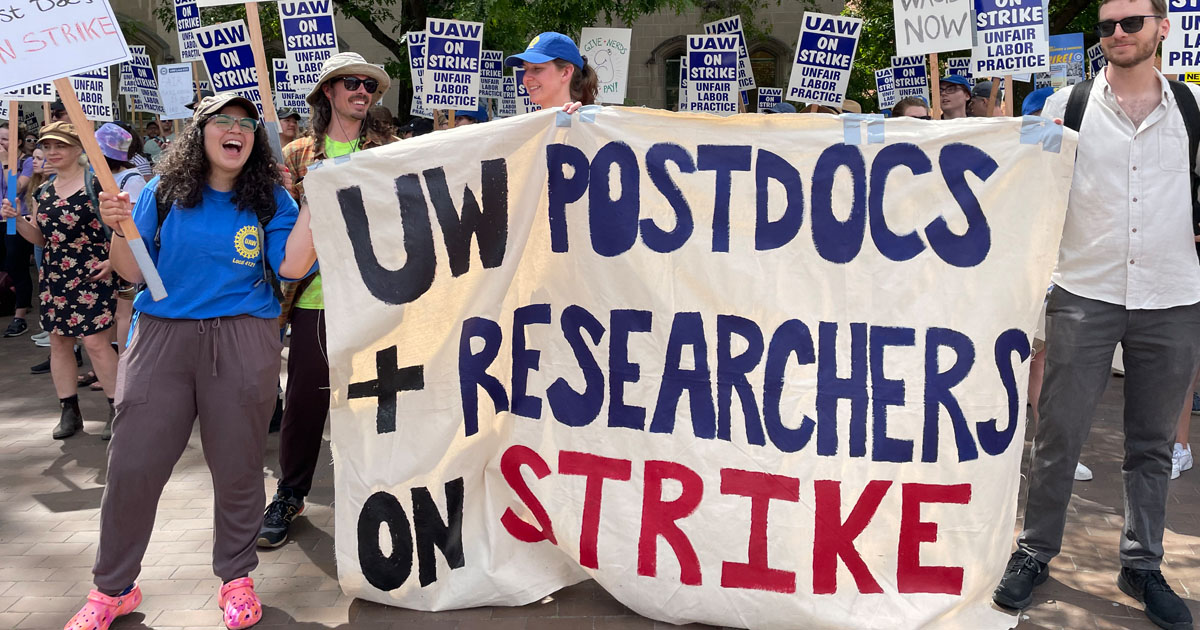 "UW wanted us to choose between economic security and a program to help us fight back against exploitative and discriminatory supervisors. But this was a false choice—by standing together we won the pay increases and back pay we deserve, plus a safer, more supportive working environment," said Tricia Wu, Research Scientist in Biological Structure. "Every single day on the picket lines, we came together as workers united in a shared struggle to improve our working conditions for the sustainability of our positions now and into the future. I am so proud of what we were able to accomplish with this contract."
"It took a massive display of solidarity and power by researchers, the UW community, our labor allies and beyond to force UW to do the right thing and pay us according to the law. Ultimately, we prevailed and that means that Postdocs at UW can go back to focusing on our work knowing that our pay reflects the high cost of living here. It also sends a clear message that all workers in Washington deserve a living wage," said Patrick Erickson, Postdoc in the Institute of Protein Design.
The 6,000 Academic Student Employees, also members of UAW 4121, were a critical part of the strike solidarity actions, as well as delivery drivers, construction workers, UW staff, and others.
"The University tried every trick in the book to avoid paying Postdocs and Research Scientists/Engineers fairly, but ultimately, Postdocs and RSEs walking off the job showed how essential they are and how much of an impact the loss of their labor had on University operations. Through the power they displayed and support of their allies, Postdocs and RSEs forced the University to meet their demands, and won strong contracts which will make science and research at UW more inclusive and sustainable," said Mike Miller, Director of UAW Region 6.
Both units have paused the strike which began on June 7. The ratification votes will begin on Friday, June 16. The UAW represents 100,000 higher education workers across the U.S., including more academic student employees and more postdoctoral scholars than any other union.
---
PREVIOUSLY at The Stand:
Univ. of Washington strikers are holding the line for all of us (June 14) — The WSLC and Washington's union movement are rallying behind UW researchers as the state's largest public employer attempts to evade wage standards.
UW Postdocs, Researchers are on STRIKE! (June 7) — About 2,400 Postdoctoral Researchers and Research Scientists/Engineers (RSEs) at the University of Washington represented by UAW Local 4121 are on strike today after not reaching agreement with UW administration in bargaining. Picket lines were set up at 5 a.m. Hundreds gathered today for a strike kickoff rally at noon on Red Square.
Short URL: https://www.thestand.org/?p=117724
Posted by
David Groves
on Jun 15 2023. Filed under
LOCAL
. You can follow any responses to this entry through the
RSS 2.0
. Both comments and pings are currently closed.