Show support for Seattle Times employees
Sign solidarity petition to Seattle Times management: Quality journalism demands quality working conditions!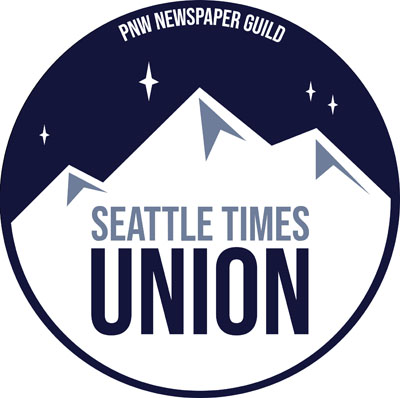 The following is from the Seattle Times Union, part of the Pacific Northwest Newspaper Guild, TNG-CWA Local 37082:
SEATTLE (July 10, 2023) — Despite the challenges faced by the newspaper industry, The Seattle Times remains a powerful example of a local newspaper that provides vital information and holds those in power accountable. Through protests, a pandemic and political strife, members of the Seattle Times Union have worked tirelessly to preserve this community institution.
But for far too long, the company has neglected the needs of these workers, driving them out with low pay and poor benefits. We need your support to change that as we bargain our next contract. The journalism in this region depends on it.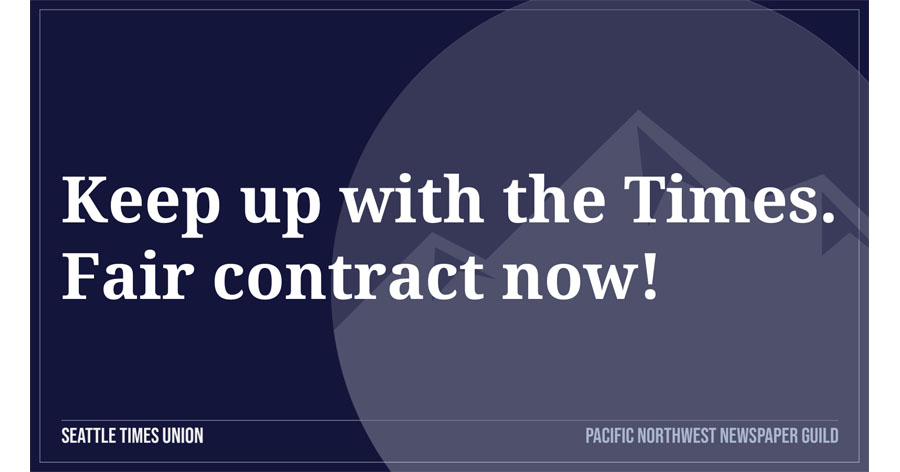 TAKE A STAND — Please sign this petition to Seattle Times CEO Frank Blethen, President Alan Fisco and Executive Editor Michele Matassa Flores in solidarity with members of the Seattle Times Union as they struggle to get a new contract.
The Seattle Times Union is calling for:
Pay raises that keep up with inflation: At least half of the 170 members of the Seattle Times Union are rent burdened, meaning they spend more than 30% of their income on housing expenses. Raises for Seattle Times employees — from reporters and photographers to circulation and advertising workers — have failed to keep up.
True parental leave: Employees at the The Times can accrue unused sick time for several years which is set aside in an "illness bank" to support employees in the event of a catastrophic illness or injury. But the company's current parental leave policy relies on employees using that same resource in order to take paid leave beyond the minimal parental benefits offered by Washington state. Employees face an impossible choice: use accrued leave to start a family and lose their medical safety net? Or save it for when the worst happens?
Equal rights for all employees: The Seattle Times has celebrated its ability to hire new reporters thanks to an influx of community grant funding. We agree! Seattle needs more journalists. But because of outdated contract language, these employees don't have full union rights, and that disconnect has undermined the rights of all workers in the newsroom.
These conditions are pushing media workers out. Rampant turnover reduces the integrity of our journalism, leaves us with a less diverse workforce and leads to gaps in our coverage. It is unsustainable.
Please sign the petition to join us in calling on The Seattle Times to recognize that quality journalism demands quality working conditions.
Seattle Times employees have been banding together to speak with a collective voice since 1936. The Seattle Times Union represent 170 workers across The Times, from the newsroom to the advertising, marketing, circulation and operation departments. In 2020, digital employees in the newsroom joined the union, closing an arbitrary divide and making us even stronger. The Seattle Times Union is part of the Pacific Northwest Newspaper Guild, TNG-CWA Local 37082.
Short URL: https://www.thestand.org/?p=118215
Posted by
David Groves
on Jul 10 2023. Filed under
LOCAL
. You can follow any responses to this entry through the
RSS 2.0
. Both comments and pings are currently closed.