'Students needs are unmet' | Blindsided at Larch | Big win at NLRB
Monday, August 28, 2023
---
LOCAL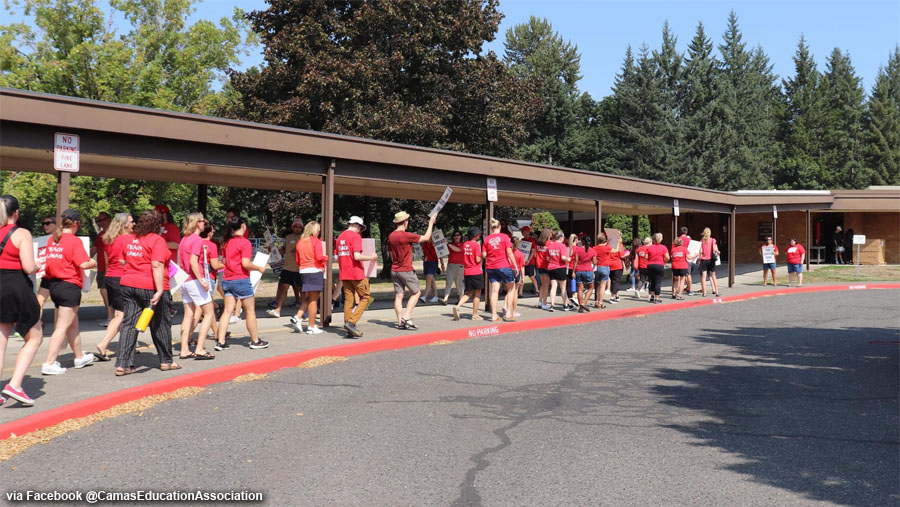 ► From the union-busting Columbian — Camas teachers to strike Monday — The Camas Education Association will strike starting Monday after weekend contract negotiations with the Camas School District failed to result in a deal. Schools throughout the district will be closed Monday, which was slated to be the first day of the 2023-2024 school year. A statement from the Camas Education Association reads:
"Bargaining broke off for the day today (Sunday) after the district refused to make commitments to reasonable class sizes or equitable funding for music, (physical education), and libraries. The district is instead stockpiling nearly one out of every five student dollars, amassing $15 million in the bank while student needs are unmet."
Evergreen Public Schools and Battle Ground Public Schools — each significantly larger in student population than Camas — are also facing potential school closures later this week over stalled contract negotiations.
The Stand (Aug. 25) — Camas educators OK strike beginning Aug. 28 if no deal
The Stand (Aug. 24) — Evergreen educators vote to authorize strike — Vancouver district's teachers will strike if no agreement; classes scheduled to start Aug. 30.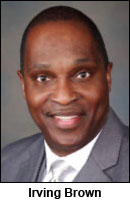 ► From the Tri-City Herald — 'Unacceptable' racist message left near Black councilman's vandalized sign in Tri-Cities — The Pasco community is condemning the actions of a person who left a racist message by a vandalized campaign sign for city council incumbent Irving Brown Sr. In a Facebook Live video, Brown said he was "more than frustrated" though "definitely not angry" to find the written message next to one of his damaged signs along Road 68.
TODAY at The Stand — Teamsters, labor rally in support of Pasco's Irving Brown
TAKE A STAND — There will be a rally Monday at Teamsters Local Union No. 839 – 1103 W. Sylvester St. in Pasco at 5:30 pm — to show labor's and the community's support for Irving Brown, Sr., and against these racist attacks.
► From the NW Labor Press — OFNHP decries layoffs at PeaceHealth as Vancouver clinic closes — PeaceHealth will lay off nearly 30 union-represented workers this fall when it closes an urgent care clinic in Vancouver.
► From the NW Labor Press — PeaceHealth says it's done with bargaining at Longview hospital — PeaceHealth St. John Medical Center declared impasse and walked away from contract negotiations with 14 lab professionals on July 31.
---
THIS WASHINGTON



► From the Washington State Standard — 'Blindsided' by a Washington prison closure — When the state Department of Corrections said in June it would close Larch Corrections Center by October, workers, prisoners, and lawmakers were all among those caught off guard. Supporters of keeping Larch open say Corrections arrived at the decision to close the prison in secret, without input from those who would be affected. The closure, they say, will hurt the families of 115 employees who have to relocate, incarcerated individuals who benefit from education and work programs only available at Larch, and Washington's ability to fight wildfires in the region since Larch prisoners assist firefighting crews.
► From the Washington State Standard — Tough choices ahead as costs soar for Washington transportation projects — Contract prices to build roads, remove culverts, and overhaul ferries continue to soar due to a confluence of factors: inflation, supply chain woes, worker shortages, and fewer bidders. The bill for pretty much every undertaking is upwards of 30% more than state Department of Transportation estimates. In many cases, the amounts earmarked in the state transportation budget or funding packages are not enough to cover the tab. It's forcing lawmakers and the governor to ponder tough choices – forgo projects, delay some to pay for others, find new sources of revenue, or all three.

► From the Washington State Standard — Violence against staff rises sharply at a Washington psychiatric hospital — At Eastern State Hospital, which is located near Spokane and treats adult psychiatric patients, assaults on staff rose 63% from 2021 to 2022, from 51 to 83. SEIU Healthcare 1199NW, which represents 437 nurses across the three hospitals covered in the report, said they appreciate recent efforts made by the state to reduce violence — but the data "is very concerning and cannot be ignored."
---
AEROSPACE
► From Bloomberg — Boeing readies 737 MAX deliveries to China after 4-year halt — Boeing is preparing to restart delivery of 737 MAX jets to China for the first time in four years, according to people familiar with the matter, a long-awaited breakthrough that would bolster the planemaker's comeback from one of the worst crises in its history.
► From the PS Business Journal — As Boeing tries to hike 737 MAX production, suppliers struggle to keep up — The jet maker has had trouble increasing production "in an environment where everyone was so starved for cash and people," an aerospace analyst says.
---
SOUTH OF THE BORDER

► ALSO from the Northwest Labor Press:
EDITOR'S NOTE — All that and more in the giant Labor Day edition of the Northwest Labor Press. For more great labor news in Oregon and Southwest Washington, subscribe today!
---
STARBUCKS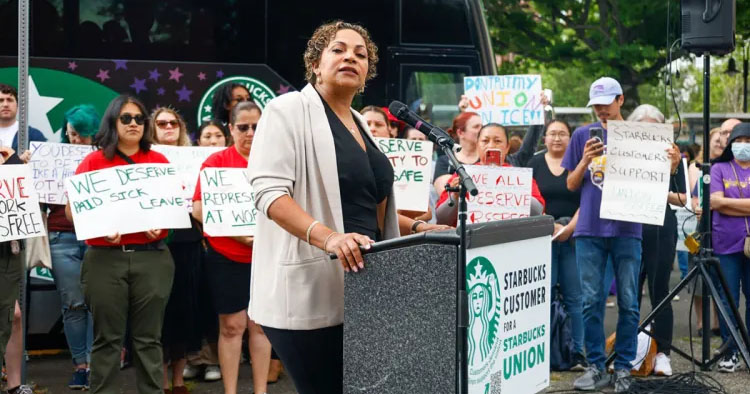 ► From the NW Labor Press — Starbucks refusing to bargain with union — Nearly two years after the first Starbucks store unionized, not one Starbucks location has a first union contract. In late July, Starbucks Workers United, the SEIU affiliate that now represents more than 8,500 baristas, launched a nationwide bus tour to put pressure on coffee company executives. "The Union Is Calling" bus tour stopped in the Portland metro area and in Seattle.
► From the Guardian — Will Starbucks' union-busting stifle a union rebirth in the U.S.? — Two years on since workers at a Buffalo, New York, Starbucks location started the first successful campaign to form a union at a company-run store, labor experts say the coffee chain's aggressive union-busting is shining a harsh light on the shortcomings of the NLRA.
EDITOR'S NOTE — Pass the PRO Act to restore the freedom to unionize.
---
THAT WASHINGTON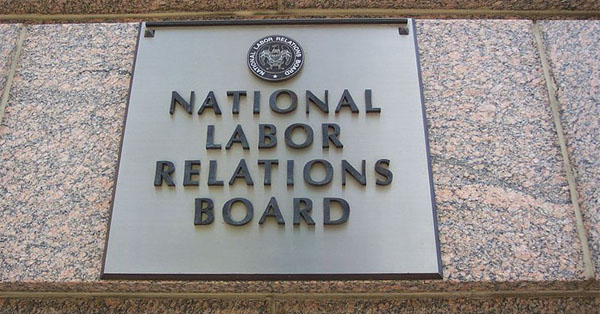 ► From Vice — Companies that union-bust must now automatically recognize union, NLRB rules — The National Labor Relations Board issued a ruling on Friday that changes the framework for unionizations, making it easier for workers to organize and harder for companies to fight back against them. The new process comes as part of a decision in the case between Cemex Construction Materials Pacific, LLC and the International Brotherhood of Teamsters, where the Board found that the employer had committed over 20 "instances of objectionable or unlawful misconduct" between the filing of the union election petition and the election itself, intending to dissuade workers from organizing. The decision requires that if a majority of workers ask a company for voluntary recognition of their union, the company must either immediately recognize them or promptly file a petition asking the Board to hold a union election.
► From Bloomberg — Quickway's post-unionizing terminal closure unlawful illegal, NLRB rules — Quickway Transportation Inc. must reopen a terminal in Louisville, Ky., that the company illegally shut down in 2020 after drivers there formed a union, the NLRB ruled.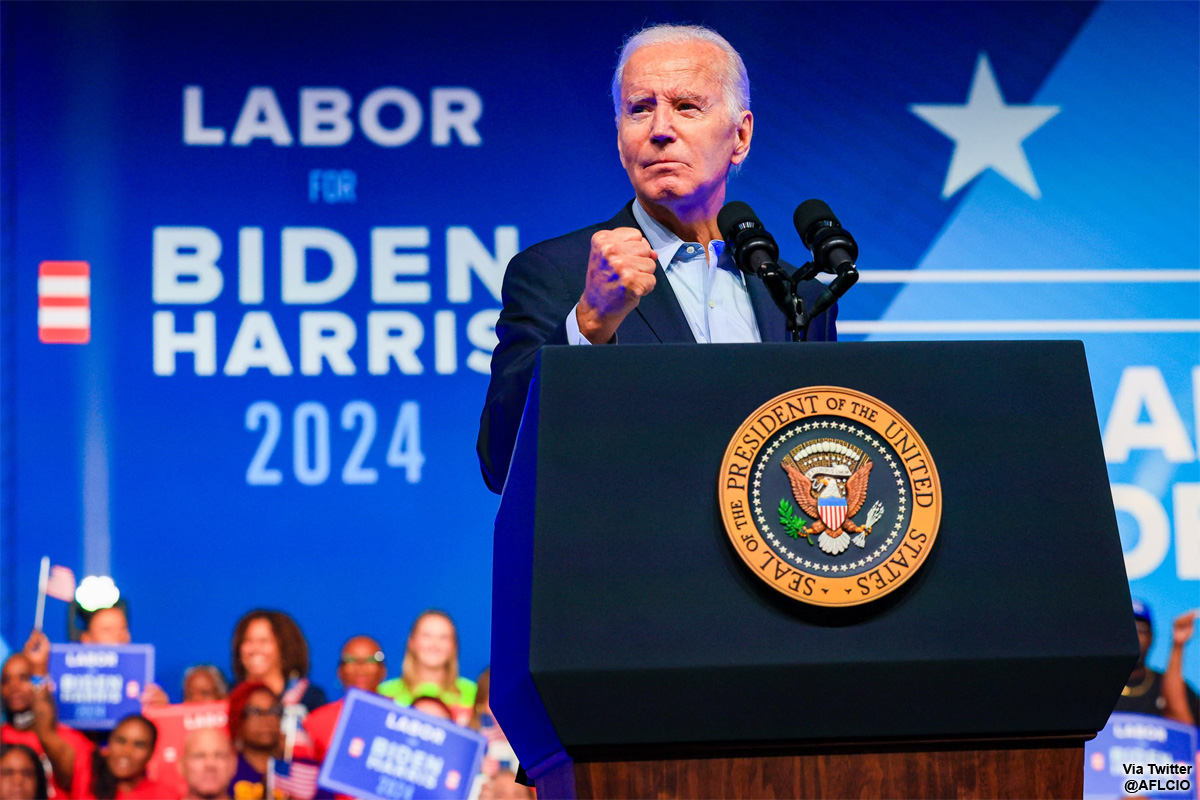 ► From the Washington Post — Biden's course for U.S. on trade breaks with Clinton and Obama — President Biden is making it clear that the United States' rejection of full-throttle globalization during the Trump administration was no aberration, as he continues a remarkable break with decades of trade policy that spanned both Republican and Democratic administrations. Blending a tough-on-China stance with lavish federal subsidies for favored industries, the president is reshaping the U.S. approach to cross-border commerce to focus on the needs of Americans as workers rather than consumers.
The Stand (June 16) — AFL-CIO votes to endorse President Biden for re-election
► From Roll Call — Biden, Harris to commemorate March on Washington on Monday
► From the AFL-CIO — America's unions continue the march toward justice
► From The Hill — GOP tensions between Senate, House raise shutdown odds — Senate Republicans are signaling that they're in no mood to back conservative members of the House Freedom Caucus who are demanding major concessions from Democrats in the annual spending bills, raising the odds of a government shutdown this fall.
---
NATIONAL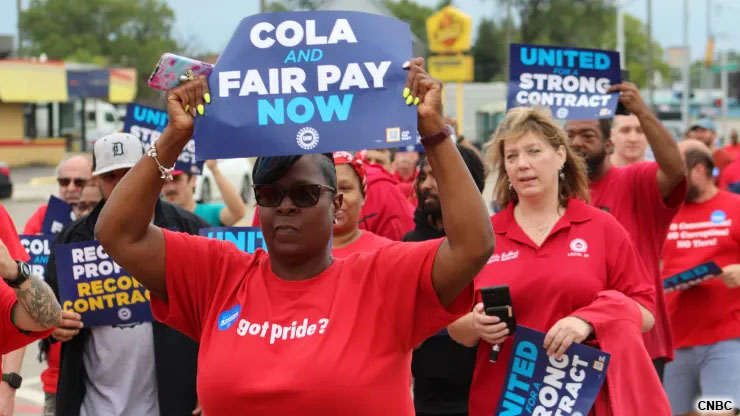 ► From MSNBC — Labor unions are pushing hard for double-digit raises and better hours. Many are winning. — Emboldened in the wake of shifting job security and grueling conditions during the Covid-19 pandemic, skyrocketing company profits, inflation, a decades-high approval rating for labor unions and growing disparity between worker pay and executive compensation, more workers across industries have taken a hard stance against companies for dramatic improvements in compensation and working conditions.
EDITOR'S NOTE — Ready for a double-digit raise and better hours? Get more information about how you can join together with co-workers and negotiate for better wages and working conditions. Or go ahead and contact a union organizer today!
► From the Washington Post — United Auto Workers authorize leadership to call strike against Big Three — Members of the United Auto Workers edged closer to a strike, with 97 percent voting to give their leaders permission to call a work stoppage at the Big Three automakers after their contract expires on Sept. 14, if contract negotiations don't succeed before then, the union announced Friday.
► From Vox — What a UAW strike could mean for labor — The UAW strike authorization — much like the SAG-AFTRA and WGA strike — is about more than just the conditions under which workers will perform their duties. What the UAW wants, too, is a say in what the industry looks like as it changes with technological developments like the switch to electric vehicles.
► From Vice — Dozens of freight trains, including at least 15 carrying hazardous materials, have derailed since East Palestine — Six months after East Palestine, it's back to business for America's freight railroads.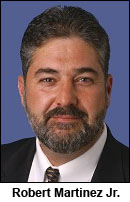 ► From the IAM — IAM International President Robert Martinez Jr. announces retirement after historic career — After nearly eight years leading the union, two decades on the Executive Council and more than 43 years of membership, IAM International President Robert Martinez Jr. has announced that he will retire, effective Jan. 1, 2024. IAM Resident General Vice President Brian Bryant will succeed Martinez as the IAM's next international president.
► From the Washington Post — 5,000 pilots suspected of hiding major health issues. Most are still flying. — Federal authorities have been investigating nearly 5,000 pilots suspected of falsifying their medical records to conceal that they were receiving benefits for mental health disorders and other serious conditions that could make them unfit to fly, documents and interviews show.
► From the AP — Workers exposed to extreme heat have no consistent protection in the U.S. — A historic heat wave that began blasting the Southwest and other parts of the country this summer is shining a spotlight on one of the harshest, yet least-addressed effects of U.S. climate change: the rising deaths and injuries of people who work in extreme heat, whether inside warehouses and kitchens or outside under the blazing sun. Many of them are migrants in low-wage jobs.
---
INTERNATIONAL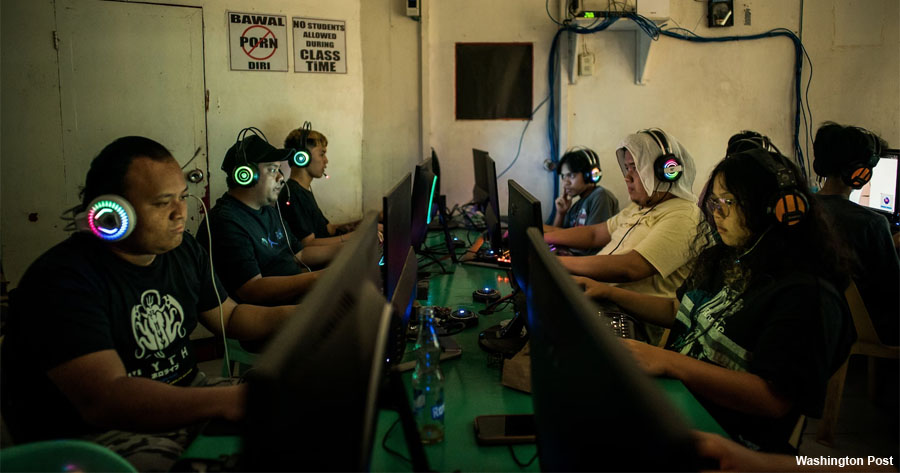 ► From the Washington Post — Behind the AI boom, an army of overseas workers in 'digital sweatshops' — More than 2 million people in the Philippines perform "crowdwork," according to informal government estimates, as part of AI's vast underbelly. While AI is often thought of as human-free machine learning, the technology actually relies on the labor-intensive efforts of a workforce spread across much of the Global South and often subject to exploitation.
---
TODAY'S MUST-READ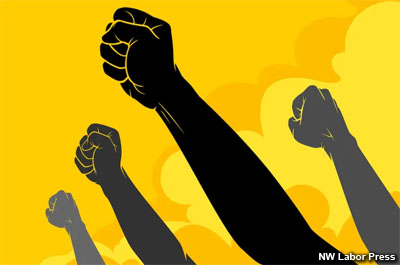 ► From the NW Labor Press — Hot labor summer: Hype, or a real shift in mood? (by Mallory Gruben) — Strike: It's what every worker is thinking about right now, says Oregon AFL-CIO President Graham Trainor. The Los Angeles Times named the moment "hot labor summer," and labor activists nationwide have adopted that phrase, updating last year's "Strike-tober" as a way to describe the stepped up pace of strike and near-strike situations. So how hot is this hot labor summer, really? Is it hype? Wishful thinking? Or is there a real shift under way? To answer that question and understand this moment in the labor movement, the Labor Press spoke with labor leaders, union activists, and a professor… Washington State Labor Council President April Sims says young people see the labor movement as an ally in those fights because unions have long been advocates for economic equality and racial justice:
"More and more young people in particular but workers everywhere are realizing if you care about climate justice and income inequality and worker dignity and reproductive freedom and racial equality and immigrant rights, there is no better place to be than in the labor movement, because our work is at the center of all of those things."
---
The Stand posts links to Washington state and national news of interest every weekday morning by 10 a.m.
Short URL: https://www.thestand.org/?p=119339
Posted by
admin
on Aug 28 2023. Filed under
DAILY LINKS
. You can follow any responses to this entry through the
RSS 2.0
. Both comments and pings are currently closed.