Unions are the future | Strikes continue | Dockworkers' deal
Tuesday, September 5, 2023
---
LABOR DAY
► Check out some scenes from yesterday's Labor Day celebrations in Lakewood and SeaTac, and Post Falls, Idaho.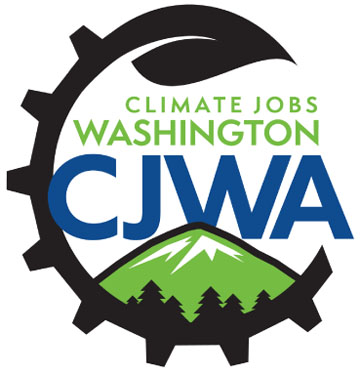 ► From the News Tribune — Labor Day celebrates American workers' victories. WA unions are fighting for more. (by April Sims, Mark Riker and Jon Holden) — From rising temperatures to worsening wildfires across the state, the climate crisis is having a direct impact on Washington's communities. While it is impacting all of us, it is especially hard on communities of color and rural areas. At the same time, economic inequality is making it harder for working families in those communities to make ends meet. That's why a wide group of labor unions representing hundreds of thousands of workers across Washington have formed the Climate Jobs Washington coalition to advance a plan to build a strong clean energy economy that prioritizes the needs of workers and their families. As we celebrate Labor Day, our state's labor movement is confident that we can tackle both climate breakdown and inequality.
ALSO at The Stand — This Labor Day, unions are leading on climate action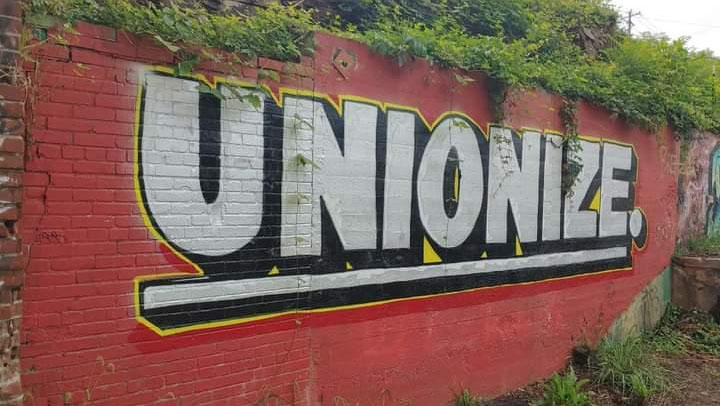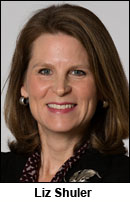 ► From Newsweek — Unions are America's future. The numbers say so. (by Liz Shuler) — This Labor Day, I'd urge every American to ask a young person in your life why their generation is so strongly pro-union. They will point to an economy that has been broken by corporate greed and their place in it; where they worry every month about making enough to pay the rent, let alone afford a mortgage, while CEOs hand themselves tens of millions of dollars… All the while, they must contend with the existential crises that loom above all: a climate crisis that has them working in 110-degree temperatures. Politicians actively trying to destroy our democracy. Tech and artificial intelligence that executives may use to replace them.
EDITOR'S NOTE — Ready for a voice at work? Get more information about how you can join together with co-workers and negotiate a fair return for your hard work. Or go ahead and contact a union organizer today!
► From KOIN — 'Reclaiming our power': Oregon AFL-CIO president talks union growth — The Labor Day Powell's strike and looming strike authorization vote for OHSU nurses come amid an increased movement to unionize across the United States, with public support for unions reaching a 50-year high, according to the Economic Policy Institute. Oregon AFL-CIO President Graham Trainor said:
"Workers who want to join a union or form a union in their workplace are looking for much more than just a bigger paycheck. They're looking for dignity, they're looking for a say in their working conditions."
► From the Guardian — Why this Labor Day is so consequential (by Sen. Bernie Sanders) — It's not utopian thinking to imagine that, for the first time in world history, everyone could have a decent standard of living.
► From Variety — 'All of American labor has joined our fight': SAG-AFTRA chief pushes studios to negotiate as actors strike hits Day 53 (by Duncan Crabtree-Ireland)
► From the LA Times — Healthcare workers rally for new contract with Kaiser Permanente — A Labor Day demonstration that blocked part of Sunset Boulevard led to the peaceful arrest of roughly two dozen people protesting Kaiser Permanente's labor practices in front of the HMO's medical center in Hollywood.
---
LOCAL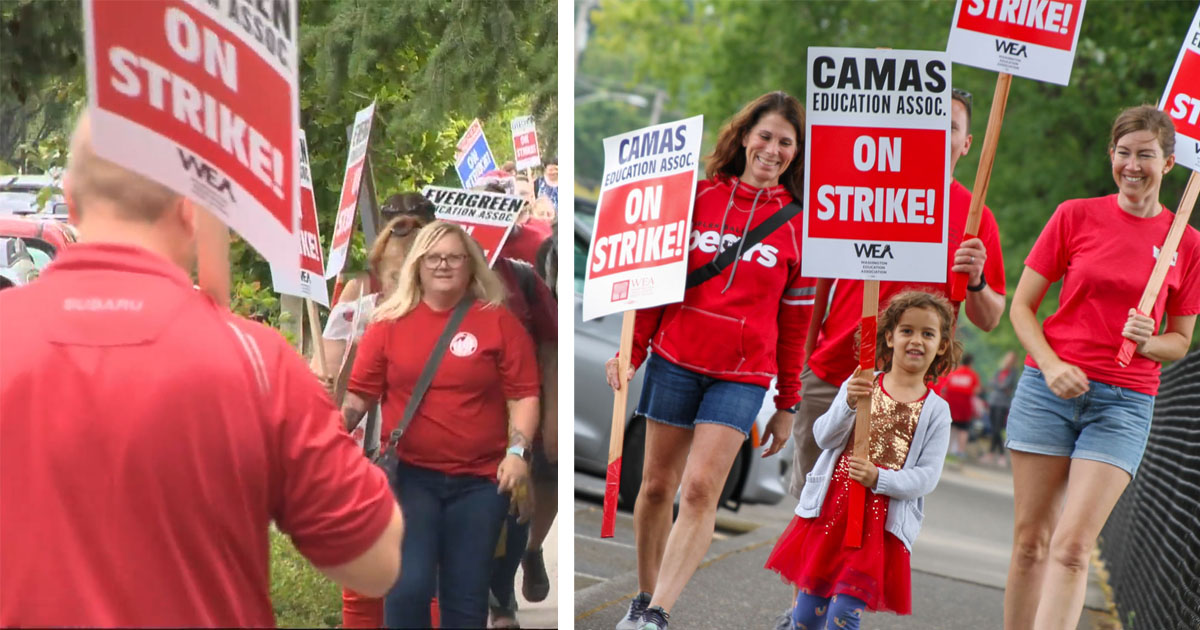 TAKE A STAND — Educators' strikes in Vancouver and Camas continue today. Negotiations continue for contracts that reduce class sizes and improve student outcomes. All union members and community supporters are invited to join educators from the Evergreen and Camas school districts on the picket lines at all public school sites from 9 a.m. to 3 p.m. Also, send a message of support for the teachers to the Evergreen School Board and the Camas School Board telling them your support the teachers.
► From KUOW — Strike is 'looking more likely,' some Seattle school staff say — Students are due to return to classrooms Wednesday. It's unclear how soon the union is considering a strike and whether it could affect the start of the school year. The International Union of Operating Engineers Local 302 represents about 600 SPS employees, including school custodians, gardeners, food service workers, and security staff. The district's contract with the union expired last week. They have yet to come to a new agreement.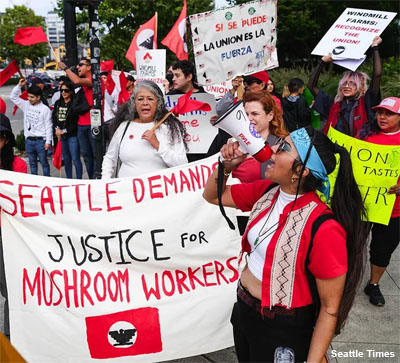 ► From the Seattle Times — Advocates ramp up support in Seattle for farmworker union recognition — About 300 people lined a Mercer Street sidewalk from Warren Avenue North to Westlake Avenue North in a nearly mile-long chain. The rally comes as advocates continue asking consumers and retailers to stop buying Windmill Farms mushrooms and instead pick up union produce. They aim to ramp up public pressure on Windmill Farms to recognize the United Farm Workers union, after a majority of workers voted to unionize last year. WSLC President April Sims vowed to support farmworkers until they get a contract:
"We will be outside Windmill Farms. We will be in the grocery stores and we will be in the streets fighting with you until you get the justice, the respect and the dignity you deserve."
The Stand (Sept. 1) — Support for Windmill workers mushrooms — In Seattle, Windmill Farms workers vow to keep fighting for union recognition.
► From KUOW — WA farmworkers fight for union recognition at mushroom farm that was sued over discrimination, retaliation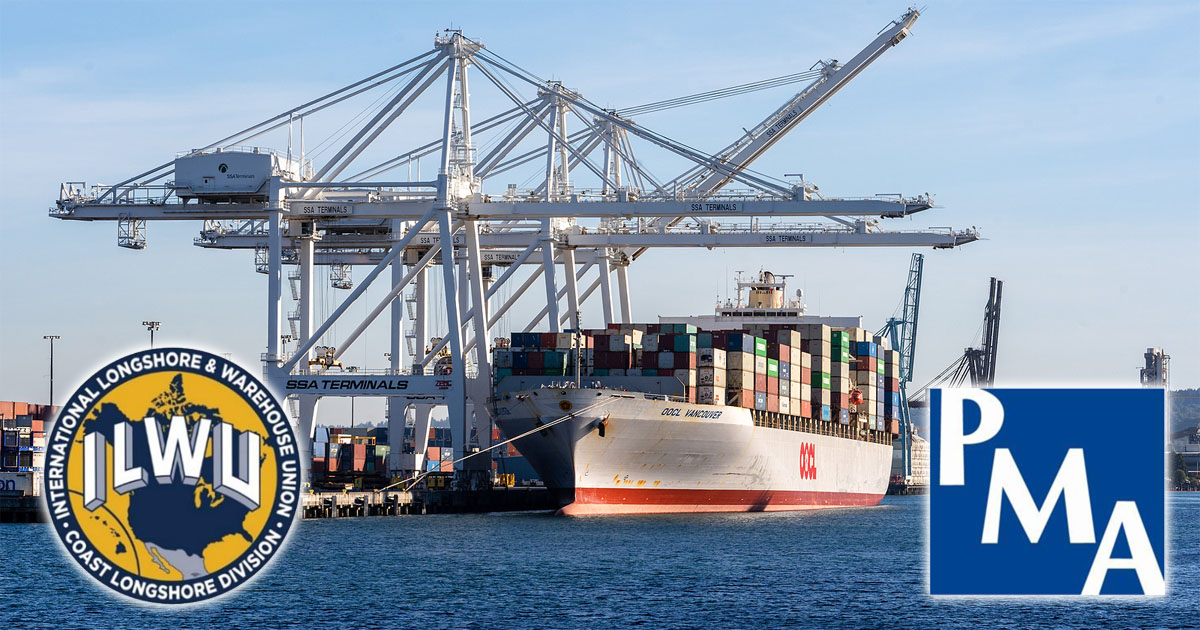 ► From the Seattle Times — West Coast dockworkers ratify a new six-year contract — Dockworkers 29 ports from Los Angeles to Seattle have ratified a new six-year contract, bringing labor peace that experts said should help attract more business and jobs. The new contract, tentatively agreed to in June after intervention from acting Labor Secretary Julie Su, came after nearly a year of contentious negotiations between the ILWU and the Pacific Maritime Assn., which represents the shipping lines and terminal operators that employ the dockworkers.
The Stand (June 15) — ILWU, PMA announce tentative agreement for West Coast ports
► From the Seattle Times — Brewery workers at Seattle's Elysian Brewing join Teamsters — Workers at Seattle-based, Anheuser-Busch InBev-owned Elysian Brewing have joined the Teamsters union, making them one of the few unionized craft breweries in the U.S. The group of 33 brewery, packaging, quality assurance and warehouse workers, employed at the company's Georgetown neighborhood brewery, voted to join Teamsters Local 117, citing a variety of issues including equitable wages, job security and working conditions.
The Stand (Aug. 24) — Cheers for Union beer! Elysian Brewing workers join Teamsters
► From KING — Employees of downtown Seattle Starbucks location walk out over 'unsafe' staffing — Employees said there were not enough of them to meet the overwhelming demand over Labor Day weekend.
► From KATU — Powell's employees go on labor strike for first time in 20 years — Powell's Books in Portland was closed Monday after the staff announced in early August that they would strike on Labor Day.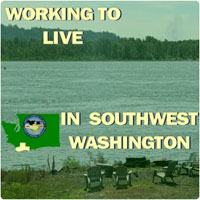 ► From Working to Live in SW Washington — What is a convention, and why do unions have them? (podcast) — We share some inside information about unions those who are new to the movement may not know much about: union Conventions. Harold talks with WFSE Local 313 member Joshua Eaton and IBEW 48 member (and Southwest Washington Central Labor Council Secretary Treasurer) Kevin Lux about what conventions are and why they're so important.
---
THAT WASHINGTON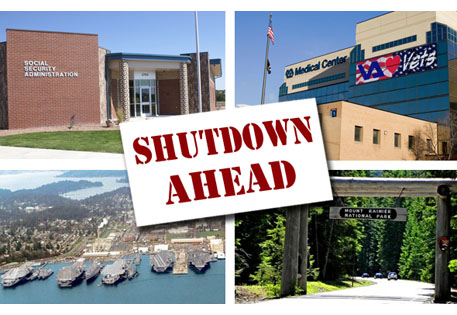 ► From the AP — Congress returns to try to prevent a government shutdown while the GOP weighs an impeachment inquiry — A short-term funding measure to keep government offices fully functioning will dominate the September agenda. Time is running short for Congress to act. The House is scheduled to meet for just 11 days before the government's fiscal year ends on Sept. 30, leaving little room to maneuver.
► From the NY Times — A huge threat to the U.S. budget has receded. And no one is sure why. — Something strange has been happening in this giant federal program. Instead of growing and growing, as it always had before, spending per Medicare beneficiary has nearly leveled off over more than a decade. The trend can be a little hard to see because, as baby boomers have aged, the number of people using Medicare has grown. But it has had enormous consequences for federal spending.
► From Roll Call — GOP courts union support, but not when it comes to teachers — Republicans have taken a more favorable view of labor unions in recent years, but that hasn't stopped the party from attacking unionized teachers at the recent GOP presidential debate, with one candidate vowing to "break the back" of the teachers' unions.
► From ABC News — Nursing homes must boost staffing levels under new Biden plan — Nursing homes that accept Medicaid and Medicare must adhere to new federally required staffing levels in order to keep receiving taxpayer money, according to a rule announced Friday by the Biden administration that would apply to some 15,000 centers.
► From the Seattle Times — How new federal staffing requirements affect WA nursing homes — Washington's staffing standards for nursing homes, on average, already exceed the proposed federal staffing minimums.
► From the Washington Post — Child care is about to get more expensive, as federal funds dry up — An estimated 70,000 child-care centers are expected to close, leaving parents with even fewer — and less affordable — options.
---
NATIONAL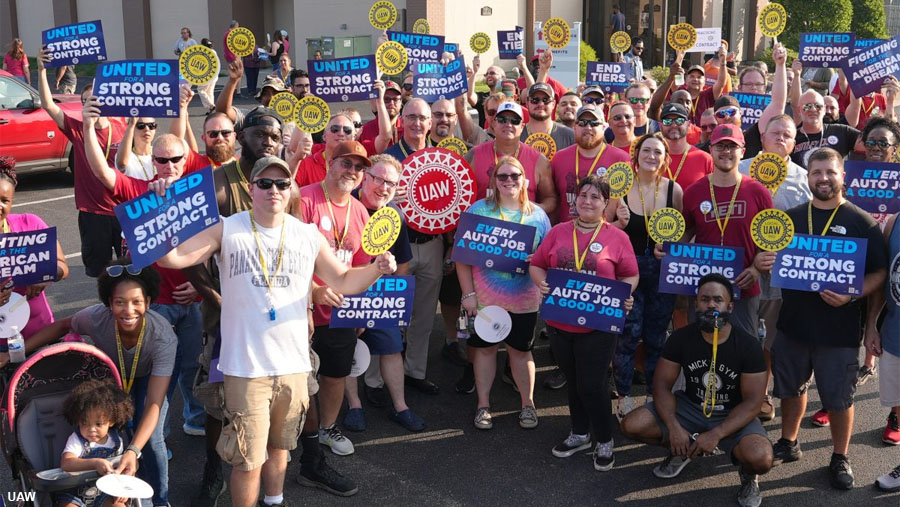 ► From the AP — UAW's clash with Big 3 automakers shows off a more confrontational union as strike deadline looms — A 46% pay raise. A 32-hour week with 40 hours of pay. A restoration of traditional pensions. The demands that a more combative United Auto Workers union has pressed on General Motors, Stellantis and Ford — demands that even the UAW's own president calls "audacious" — are edging it closer to a strike when its contract ends Sept. 14.
► From The Hill — High-speed rail is a huge opportunity for American workers (by Ray LaHood and Greg Regan) — In addition to transforming daily commutes, expanding access to affordable housing and helping win the fight against climate change, high-speed rail projects will create a whole new field of exciting work opportunities — and they're already creating thousands of good union jobs today.
► From Bloomberg — States put new spin on pay gap laws with promotion transparency — As a growing share of U.S. companies are forced to tell job applicants and employees upfront how much they'll pay for work, lawmakers are beginning to ask them to be equally transparent about opportunities to get a promotion.
---
The Stand posts links to Washington state and national news of interest every weekday morning by 10 a.m.
Short URL: https://www.thestand.org/?p=119518
Posted by
David Groves
on Sep 5 2023. Filed under
DAILY LINKS
. You can follow any responses to this entry through the
RSS 2.0
. Both comments and pings are currently closed.