School strike updates | Bidenomics at work | Working Class Hero
Friday, September 1, 2023
---
PUBLIC EDUCATION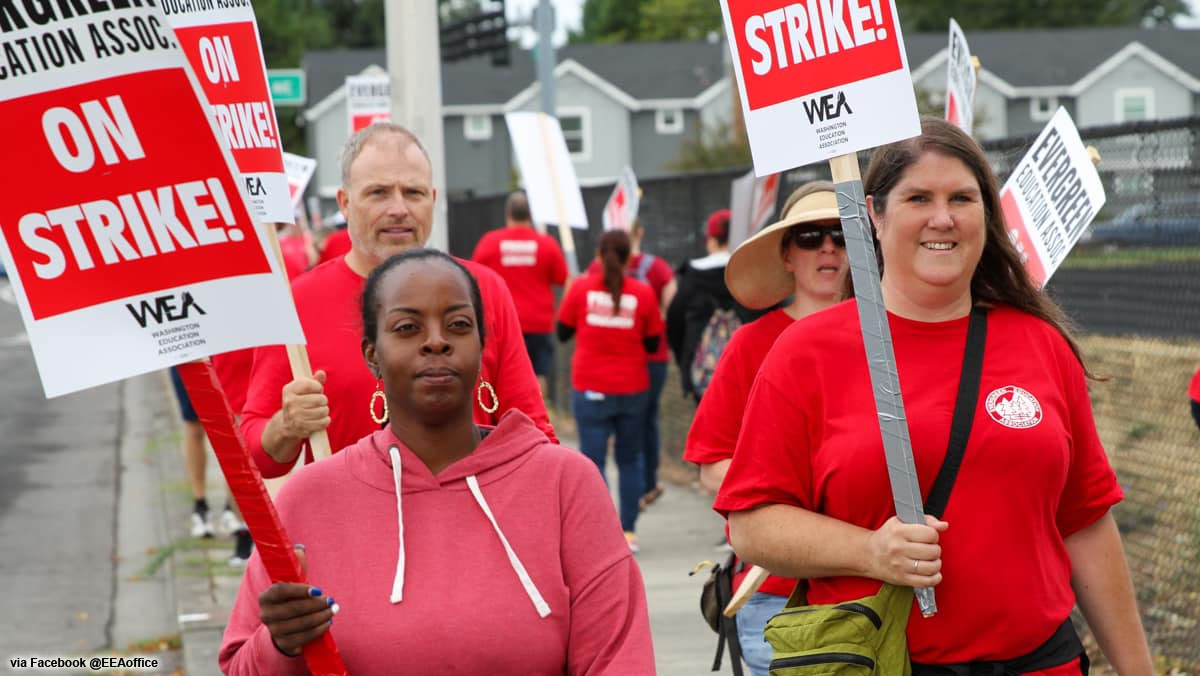 ► From the union-busting Columbian — Evergreen teachers to continue striking for third day — Teacher strikes continued in Evergreen and Camas on Thursday, withstanding an odd mixture of intermittent showers and waves of wildfire smoke from the northeast. Schools in Evergreen will remain closed Friday, marking the third day of the strike. In Camas, schools are closed Friday and a union representative said they are prepared to return to the picket line on Tuesday if a deal can't be reached over the weekend. Battle Ground Public Schools, though still engaged in bargaining with its own teachers union, remains open Friday for its first week of classes.
TAKE A STAND — As its strike continues in Vancouver, the Evergreen Education Association will temporarily shut down pickets at all schools to rally from 1 to 3 p.m. today (Friday, Sept. 1) outside the School District office, 13413 NE LeRoy Haagen Memorial Dr. All union members and supporters of EEA educators are invited to participate.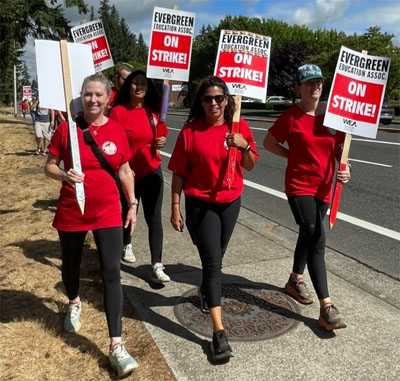 ► From the Washington State Standard — One of the teachers on strike in southwest Washington is a state lawmaker — It's a familiar sight: a Democratic lawmaker walks a picket line, champions labor rights and meets with workers on strike. But it's not often a state representative participates in a walkout because they're one of those workers. Enter Rep. Monica Stonier, a Vancouver Democrat who is an instructional coach, providing professional development training to teachers at Evergreen Public Schools. About 1,500 educators in the district went on strike this week after failing to reach agreement in contract negotiations over issues including special education support, planning time and wages.
► From KATU — Camas teachers rally with community in park on fourth day of strike — Several parents said the schools are why they live in Camas, and they said they stand behind the teachers' fight, especially when it comes to class sizes.
► From the (Everett) Herald — To solve $17.5M shortfall, Marysville schools could borrow millions — Before Monday's special meeting to approve the budget, dozens of employees protested outside the board room over union contracts, budget cuts and the district's financial transparency.
► From the Peninsula Daily News — Collective bargaining pact OK'd in Port Angeles SD — The Port Angeles Education Association this week ratified a three-year contract with the Port Angeles School District just days before its previous collective bargaining agreement expired on Thursday.
---
AEROSPACE



► From the PS Business Journal — Boeing said to be nearing deals with international airlines for 737 MAX, 777X jets — New orders from two Asian carriers are expected to hit Boeing's order books soon, as airlines in Taiwan and the Philippines are said to be weighing fleet transitions. The deals could mean more work for Boeing's Everett and Renton factories.
---
SOUTH OF THE BORDER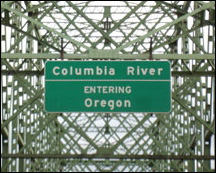 ► From OPB — Oregon Capitol staffers have reached a tentative union contract with lawmakers — Aides in the Oregon Capitol have reached a tentative labor contract with the Legislature, more than two years after staff first voted to unionize. The agreement would put an end to negotiations that have stretched on almost 20 months. A final contract would also make Oregon's legislative aides the first workers of their kind in the nation to sign a collective bargaining agreement with lawmakers.
---
THIS WASHINGTON



► From the Tri-City Herald — E. WA chemical company fined $480K after worker exposed to toxic gas falls 12 feet — Two Rivers Terminal has been fined nearly $480,000 by the state Department of Labor and Industries after a worker was seriously injured at its Moses Lake plant. The state fined the same firm, with plants in Tri-Cities and Umatilla, nearly $200,000 last year.
---
THAT WASHINGTON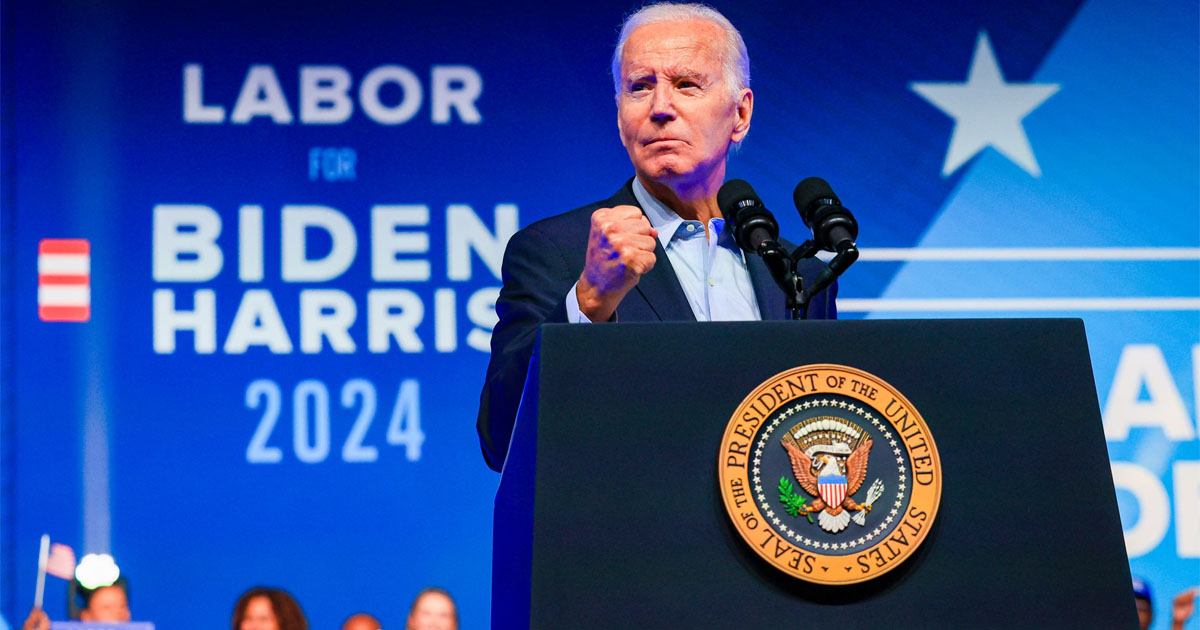 ► From HuffPost — Biden appointees just made it easier for workers to form unions — Joe Biden likes to think of himself as "the most pro-union president in American history." Only time will tell if his assessment is correct, but his case just got a little stronger thanks to his progressive appointees at the NLRB. Last week the federal agency that oversees collective bargaining issued a landmark ruling that experts believe will make it easier for workers to form unions. The decision, known as Cemex, creates real consequences for employers who break the law in an effort to keep a union out.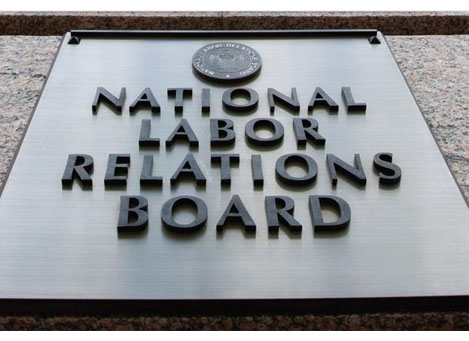 ► A MUST-READ from the LA Times — It's a happy Labor Day indeed after NLRB cracks down on employer sabotage of union elections (by Michael Hiltzik) — For decades, employers have felt free to trample workers' right to organize unions and engage in collective bargaining. They've fired pro-union workers, threatened to close unionizing plants, subjected workers to surveillance and interrogations about their union activities, and posted menacing security guards around locations of union activity. All these practices are illegal in the context of union organizing drives, but employers have engaged in them with impunity because the penalties have been almost nonexistent. No longer. On Aug. 25, the National Labor Relations Board issued a landmark ruling stating that whenever an employer commits an unfair labor practice while its request for a union election is pending, the board will order the employer to recognize the union without an election and move immediately to contract bargaining.
► From WISH TV — Buttigieg, city officials celebrate Indianapolis infrastructure funding — U.S. Secretary of Transportation and former South Bend Mayor Pete Buttigieg on Thursday said simple changes to the city's streets will make them much safer. Buttigieg, along with AFL-CIO President Liz Shuler, visited the Sheet Metal Workers Local 20 training center on 45th street. Union leaders told them the demand for workers created by infrastructure law projects has led to record numbers of people enrolling in the union's apprenticeship programs. Shuler said the infrastructure law has led to trillions of dollars' worth of infrastructure projects for a host of skilled union trades.
The Stand (June 29) — 'Biden is making good on his promises to workers' — Washington's Building Trades unions gather in Seattle and spotlight job creation under Biden Administration.
► From the AP — U.S. employers added a solid 187,000 jobs in August in sign of a still-resilient labor market — The job growth marked an increase from July's revised gain of 157,000 but still pointed to a moderating pace of hiring compared with earlier this year.
► From the Spokesman-Review — Biden weighs in on Spokane's lowest unemployment on record — "Under Bidenomics, America is back to work and leading the world again, and with the Spokane area at its lowest unemployment rate on record, it is helping drive America's strong economic growth," Biden said in a statement. "With my investments to help rebuild Spokane's infrastructure and private sector investments pouring in across the state, Spokane can help lead America's economy for the next generation too."
► From the Washington Post — Amtrak launches $1 billion in rail yard upgrades to prep for new trains — Federal infrastructure funding will be used to modernize six sites across the nation — including in Seattle — ahead of delivery of new passenger trains. The upgrades are part of a rail improvement program using funding from the federal infrastructure law, which allocated $66 billion for rail.
► From Roll Call — Biden triggers hefty pay raise for federal workers — President Joe Biden submitted the paperwork to move forward with what averages out to a 5.2 percent federal pay increase next year. The president notified Congress of his intent to implement a previously announced alternative pay schedule for many federal civilian workers in 2024, in line with his budget request earlier this year.
► From NPR — Justices Thomas and Alito file 2022 financial disclosure forms with new trips and gifts — In a statement accompanying Thursday's disclosure, a lawyer for Thomas said there had been "no willful ethics transgressions" and called prior reporting errors "strictly inadvertent."
---
NATIONAL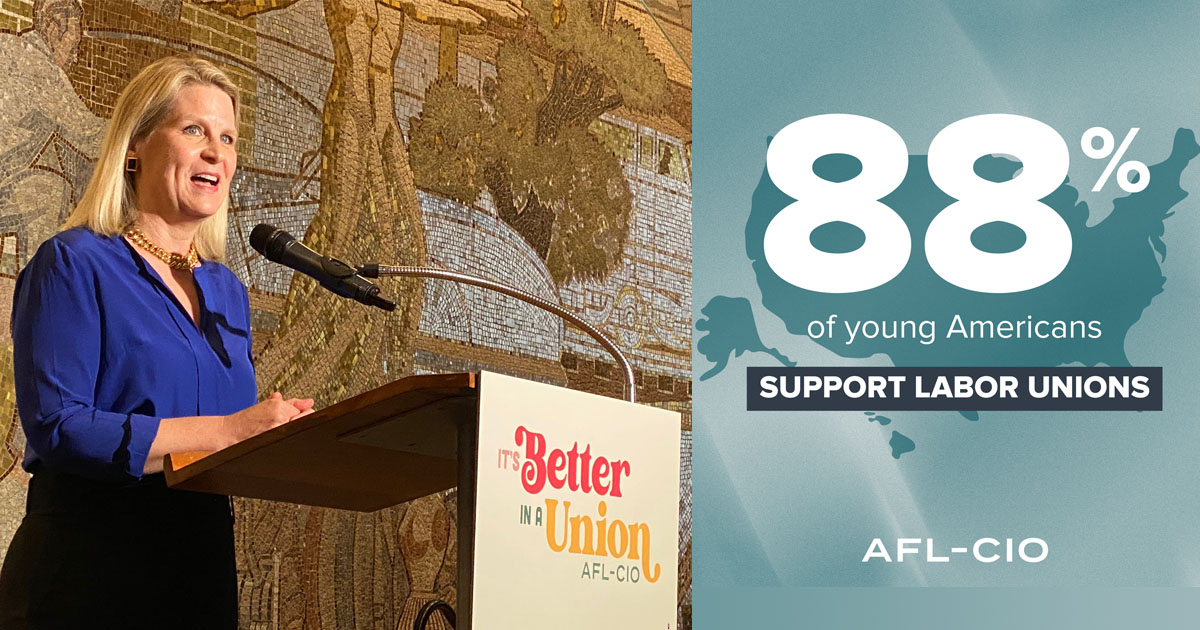 ► From Truthout — Nearly 90 percent of young people support unions, poll finds — As labor activity is surging across the country, polling has found that young people are saying they favor unions at overwhelmingly high levels — support that labor organizers say is "unprecedented." AFL-CIO President Liz Shuler:
"The idea of a union may sound complicated, but in reality, unions are just a group of people coming together. They are about each of us becoming the most powerful version of ourselves that we possibly can. People in this country have been searching for their power for a long time now, young people especially."
The Stand (Aug. 30) — AFL-CIO's 2023 State of the Unions: Strong
► From the AP — From strikes to new union contracts, Labor Day's organizing roots are especially visible this year — Labor Day is right around the corner, along with the big sales and barbecues that come with it. But the activist roots of the holiday are especially visible this year as unions challenge how workers are treated — from Hollywood to the auto production lines of Detroit.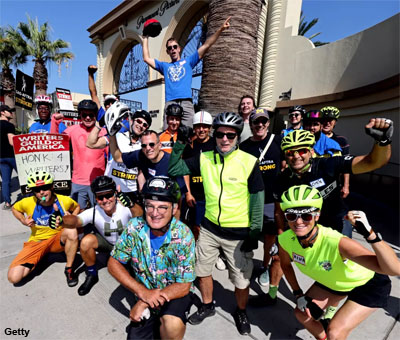 ► From the LA Times — Hollywood studios have already lost the strikes. Now it's time to surrender. (by Mary McNamara) — Whatever short-term financial gain the studios represented by the Alliance of Motion Picture and Television Producers hoped to gain by forcing the first dual strike of writers and actors in 40 years has long since been overshadowed by all that they are losing. Public support, brand loyalty, individual reputations and group unity, not to mention, as the strikes threaten the fall TV lineup, theatrical release calendar, film festivals and the Oscar race, months' — perhaps an entire year's — worth of profit and prestige. The writers and actors have already won the battle of solidarity and righteousness; the question now is how long before the studios get over themselves and make a deal.
► From Hollywood Reporter — Majority of Americans support writers, actors over studios in strikes, Gallup poll finds — Union support remains high among Americans, as more than 70 percent side with the writers.
► From the AP — 'Walking Dead' spinoffs, 'Interview With the Vampire' can resume with actors' union approval
► From the LA Times — Striking Los Angeles hotel workers vow 'dirty rooms and nonstop noise' at downtown conference — Hotel workers at the JW Marriott, Sheraton Grand, Hotel Figueroa and several other properties, primarily in downtown Los Angeles, walked off the job early Wednesday morning in an action timed to coincide with the start of the American Political Science Association's annual conference.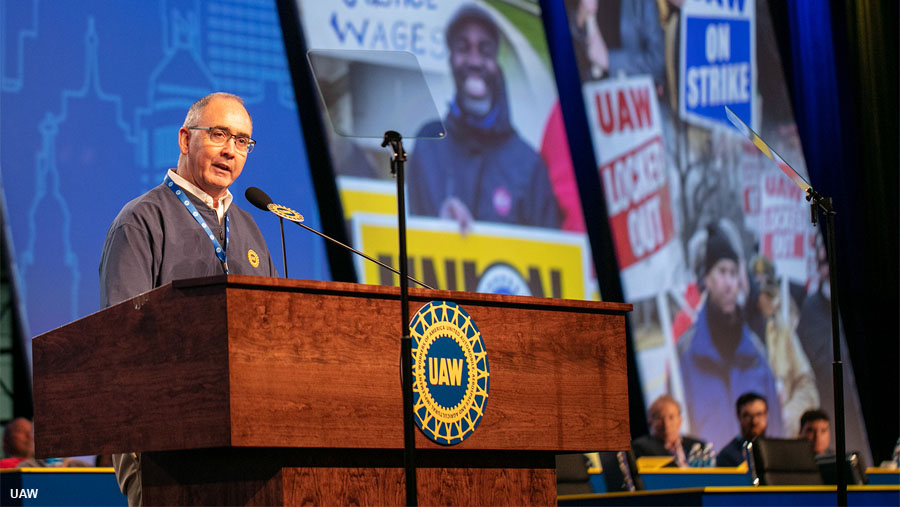 ► From CNN — UAW alleges GM, Stellantis not bargaining in good faith — United Auto Workers union President Shawn Fain said Thursday the union has filed an unfair labor practice complaint against General Motors and Stellantis, a new sign of how far apart the union and the automakers remain as they negotiate a new contract only two weeks before a strike deadline.
► From the Washington Post — Why a looming UAW strike is focused on temp workers, tiered employment — One of the biggest changes most workers say they want is an end to a tiered employment system that puts newer workers on lower pay scales with worse benefits.
► From Vice — 'It feels horrible': Amazon workers delivered packages during destructive tropical storm — "It was tough being on the road," said one driver who delivered in California the day it experienced flooding and record rainfall.
► From NPR — As U.S. COVID hospitalizations rise, some places are bringing mask mandates back
---
INTERNATIONAL
► From the Washington Post — Amid record heat, even indoor factory workers enter dangerous terrain — Extreme heat caused by human-induced climate change has wreaked havoc on the bodies of outdoor workers, from delivery drivers in India to construction workers in Qatar. Now, heat scientists and labor researchers say even those who labor indoors are not safe. Across Southeast Asia's manufacturing hubs, rising temperatures, mixed with high humidity, are leaving workers baking in poorly ventilated sweatshops.
---
T.G.I.F.
► The Entire Staff of The Stand wishes all a very Happy Labor Day!
---
The Stand posts links to Washington state and national news of interest every weekday morning by 10 a.m.
Short URL: https://www.thestand.org/?p=119484
Posted by
David Groves
on Sep 1 2023. Filed under
DAILY LINKS
. You can follow any responses to this entry through the
RSS 2.0
. Both comments and pings are currently closed.