Boeing to cut jobs once S.C. plant running
By Bryan Corliss, editor
The Aero Mechanic
---
Boeing will eliminate as many as 1,800 production jobs on its Everett 787 production lines after it gets its new Dreamliner facility in Charleston running at capacity, according to estimates by the union for hourly workers at the company's Puget Sound plants.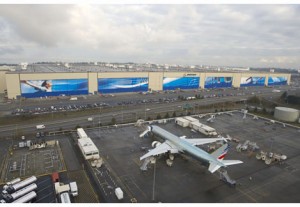 That fact is being obscured by Boeing and its political allies in their rush to attack the National Labor Relations Board for its complaint against the company over moving 787 work from Everett to Charleston, said Tom Wroblewski, the president of Machinists Union District Lodge 751.
Boeing CEO Jim McNerney and "his fan club" like to talk about jobs they're "creating" in South Carolina, but "they conveniently omit key facts about the cost Everett will have to pay," Wroblewski wrote in his monthly message to union members.
"Maybe it takes a Harvard MBA to understand this, but I can't see how taking thousands of jobs away from our members in Everett and giving them to South Carolina workers helps the U.S. economy at all," he added.
Wroblewski's comments are included in this month's AeroMechanic newsletter, which is now available online. The newsletter includes several stories on the NLRB complaint, including one that outlines the next steps in the legal process, beginning with a hearing before a judge that's scheduled to begin June 14 in Seattle.
There is also a report on a May 12 Congressional hearing where Boeing's lead lawyer, Michael Luttig, told a U.S. Senate committee that he expects the company will lose its case, but he's determined to fight it through the federal courts anyway.
Boeing and its allies have attacked the NLRB for filing the complaint, which accuses the company of violating long-standing federal labor law when it moved 787 final assembly and parts fabrication work to Charleston in retaliation for Machinists Union strikes.
In a recent Wall Street Journal article, McNerney claimed that the NLBR's complaint damages the U.S. economy by stopping Boeing from creating jobs in Charleston.
But the jobs that are going to South Carolina now will merely replace jobs Boeing plans to eliminate in Everett, Wroblewski said.
Right now, there are some 3,300 Machinists Union members working on 787s for Boeing in Everett, Wroblewski said. Many are working on the main final assembly line or are reworking sections of planes that were incorrectly built by suppliers and must be fixed to meet standards for Federal Aviation Adminstration certification. Still others are doing parts fabrication work or starting work on the new "surge line" that Boeing plans to run in Everett.
Boeing plans to operate the surge line – which will use tooling identical to that on the 787 main line – for only three years, Wroblewksi noted. Boeing recently told employees that some point in 2014, the surge line will shut down, he noted. By that point, the planes now being reworked will also have been completed and delivered.
When those two things happen "at the end of three years, we estimate as many as 1,800 jobs on the 787 line will be gone," Wroblewski said. "That's the truth in this case, but it's a truth that has been ignored."
The case will be heard by a federal administrative law judge in Seattle starting June 14. Lawyers for Boeing and the NLRB will spend the first few days filing preliminary motions and addressing various subpoenas before they make their opening arguments and begin calling witnesses and presenting evidence.
The hearing is expected to last several weeks, with a decision to come later. The losing side has the right to appeal the decision to the National Labor Relations Board itself in Washington D.C., and NLRB decisions can be appealed into the federal courts.
Attorneys for District 751 will be in the courtroom to represent the interests of the union, but at this point, the case is in the hands of the NLRB, Wroblewski said.
---
This story originally appeared at IAM District 751's blog.

Short URL: https://www.thestand.org/?p=1747
Posted by
David Groves
on Jun 6 2011. Filed under
LOCAL
. You can follow any responses to this entry through the
RSS 2.0
. Both comments and pings are currently closed.