Agenda for this week's WSLC Convention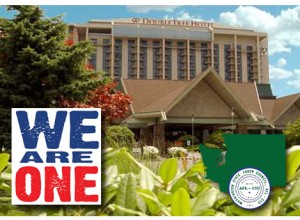 U.S. Sen. Maria Cantwell, U.S. Reps. Dennis Kucinich, Jay Inslee and Jim McDermott, and Mary Beth Maxwell of the U.S. Department of Labor highlight the agenda for the 2011 Convention of the Washington State Labor Council, the state's largest union organization which represents more than 500 union organizations with 400,000 rank-and-file members, to be held Thursday through Saturday, Aug. 4-6 at the SeaTac DoubleTree Hotel. Below is the full agenda.
Note that this year, on the day preceding the convention (Wednesday, Aug. 3), there will be an important Layoff Aversion & Response Conference, the WSLC's annual golf fundraiser, and a happy hour social hosted by Washington Young Emerging Labor Leaders (WA YELL).
Here is the tentative agenda (subject to change):
WEDNESDAY, AUG. 3
8:30 a.m. — Layoff Aversion & Response Conference (registration begins at 7:30 a.m.) — NW 3 Room — The WSLC hosts this unique conference showcasing under-utilized layoff aversion and layoff response tools. We are all in the trenches working to save jobs, create jobs and keep businesses sound, but how often do we get together and share resources? Here's our opportunity. For more information, including a complete agenda, and to register visit: www.regonline.com/layoffaversion. This conference, presented in partnership with the Washington State Employment Security Department and Washington State Department of Commerce, caters to a diverse group of business services and workforce development organizations.
2 p.m. — Golf Tournament (registration starts at noon) — Washington National Golf Course, Auburn — "The Tournament in '11," the annual golf fundraiser to benefit the Foundation for Working Families. Immediately following the tournament will be a banquet. If you are not a golfer, please join us at the banquet ($20 per person). There will be fantastic prizes and all proceeds benefit the Foundation for Working Families and community service agencies in Washington state. For more information contact the FWF at 206-281-8901 x14, or download the tournament flier/registration form.
6 p.m. — Early convention registration — Grand Foyer
6 to 9 p.m. — YELL Happy Hour — Maxi's Restaurant (at the DoubleTree Hotel) — The Washington Young Emerging Labor Leaders (WA YELL) invite all labor activists to come and mingle and discuss what WA YELL will be doing in 2011 and beyond. Who will lead Washington's labor movement in the struggle for social and economic justice in the 21st Century? Working families need the leaders of tomorrow to come together today to plan for the future. Click here for the event flier.
THURSDAY, AUG. 4
7:30 a.m. — Rules & Order of Business/Sgt-at-Arms Breakfast — Cascade 7 & 8
8 a.m. — New Delegate Workshop — Cascade 1 & 2
9 a.m. — CONVENTION CONVENES — Grand Ballroom
Welcomes — Dave Freiboth, MLK CLC Executive Secretary/Treasurer
King County Executive Dow Constantine
SeaTac Mayor Terry Anderson
9:15 a.m. — WSLC President Jeff Johnson
9:30 a.m. — Solidarity Project Video
9:40 a.m. — U.S. Rep. Dennis Kucinich
Panel — Our Community Allies (One America, Casa Latina, WA Community Action Network, Faith Action Network)
10:40 a.m. — Robert Pollin – Building an Industrial Policy
Panel: Sustainable Works, SB&CTC, Fair Trade, SAGE, Industrial Land Bank
11:45 a.m. — Bruce Brennan Award
Noon — LUNCH – Everyone on their own
1:30 p.m. — Workshops:
"Building an Industrial Policy" — Cascade 1 & 2
"Winning Through Politics" — Cascade 3 & 4 — When we have a tough legislative session (or two, or three…), we don't mourn, we organize! Join us for a discussion about how we use voter registration, candidate recruitment, and an updated Labor Neighbor program to elect real champions in Olympia and beyond.
2 p.m. — Legislative Committee — Evergreen 1
Resolutions Committee — Evergreen 3
Safety & Health Committee — Cascade 11
3 p.m. — Card & Label Committee — Cascade 11
3:15 p.m. — Workshops:
"The Aging Workforce: Still Good After All These Years" — Cascade 1 & 2 — Hear a unique perspective from an employer with a successful program that retains injured workers as well as older workers. Paul Caddy, SPHR, Human Resources Generalist of Berry Plastics Corp., will provide a positive outlook on how to retain the aging workforce, utilize their skills, abilities and knowledge to the benefit of the employer, the union and the injured worker. Also, Labor and Industries staff, along with the Project Help Director, will present educational resources on workers' compensation benefits for injured workers.
"Telling Our Own Story" — Cascade 3 & 4 — An overview of the latest efforts to get labor's story and message out, without trying to rely solely on the commercial media. The WSLC's Kathy Cummings and David Groves will discuss and demonstrate The Stand, the WSLC's new online newsstand; YouTube and video coverage of labor events; and the WSLC's new Solidarity Project, a collection of profiles of rank-and-file union members and the work they do. Workshop attendees will be encouraged to share their ideas and experiences using social media to communicate both internally to members and externally to the public.
"Popular Economics: Fight for a Fair Economy" — Cascade 5 & 6 — We will discuss the current economic circumstances and specifically how the economy has impacted families in Washington State. We will discuss the disparity of wealth, the challenge of confronting corporate power and strategies to change the narrative and build power for private sector organizing.
4 p.m. — Grievance Committee
4:45 p.m. — UNITE HERE Rally Outside Hotel – Front Parking Lot – Click here for more information about the campaign.
5:30 p.m. — COPE Barbecue – IBEW 46 Hall — Buses begin loading at 5 p.m. outside hotel
8 p.m. — Statewide COPE meeting — NW 3
9:30 p.m. — Fair Trade Hospitality Suite — TBD
FRIDAY, AUG. 5
7:30 a.m. — CLUW/Women's Committee Breakfast – NW 1 — Special guest speaker: Wisconsin Sen. Lena Taylor, one of the Wisconsin 14 champions standing up for working families
9 a.m. — CONVENTION RECONVENES — Grand Ballroom
9:10 a.m. — Mary Beth Maxwell, Sr. Advisor, U.S. Dept. of Labor
9:40 a.m. — Mark Dudzic on Creating a Single Payer Health Care System
Health Care Panel
10:40 a.m. — Labor Education Panel
11 a.m. — WSLC Constituency Groups Presentation
11:30 a.m. — Spoken Word Youth Presentation
11:40 a.m. — IAM Presentation on NLRB Case
Denny Heck, Candidate for 10th Congressional District
Noon — Elsie Schrader Award
Legislator of the Year Awards and special legislator awards
12:15 p.m. — LUNCH
12:15 p.m. — PRESIDENT'S CLUB LUNCHEON – U.S. Rep. Dennis Kucinich, Guest Speaker
1:30 p.m. — Workshops:
"Diversity Committee Development" — Cascade 1 & 2 — The Diversity Committee works to build a stronger labor movement by promoting active involvement and participation in WSLC-affiliated constituency groups, and training and leadership opportunities for members and retirees of all racial and ethnic heritages, genders, and sexual orientations. Come learn more and help build the movement.
"Apprenticeship: Building Labor's Next Generation" — Cascade 3 & 4 — Now more than ever apprenticeship is fast becoming the best alternative for graduating high school seniors. Compared to college, it's inexpensive and you're paid while you learn. This valuable resource needs to be continually replenished, let's talk about how we do that. Labor's next generation depends on it.
"Legislative Organizing: Let's Make Our Voices Heard" — Cascade 5 & 6 — The best way for legislators to learn about issues is by talking to our members! Come discuss creative ideas for generating enthusiasm and engagement in our policy fights, get tips on talking to legislators (and for training your members to talk to lawmakers) and hear how other unions prepare and organize lobbying at the state and local level.
2 p.m. — Legislative & Resolutions Committees continue (if needed)
3:15 p.m. — Workshops:
"Single Payer, Health Reform Implementation & State Level Actions" — Cascade 1 & 2 — How does a state move forward on true health care reform that will guarantee health coverage for all residents? Community and labor activists will discuss health care reform implementation efforts at the state level, analyze other states advancing single-payer health coverage, and identify action steps for 2012 to create health coverage for all. Federal health care reform was a good first step, and the only way more people are going to get coverage is if there is robust and successful implementation at the state level.
"Boards & Commissions: Expanding Labor's Voice" — Cascade 3 & 4 — Come hear why labor participates in advisory Boards and Commissions, particularly in workforce and economic development, and how our participation in career and technical education venues improves and strengthens the link between education and family-wage work. Hear perspectives from the State Board for Community and Technical Colleges, labor college advisory board members and labor trustees, and labor members on commissions relating to economic development.
"Living History: Lessons Learned from the Past Can Move Us Forward" — Cascade 5 & 6 — Participants will examine original source documents from significant struggles in the labor history of our region. Staff and faculty from the Labor Education and Research Center, the Harry Bridges Center for Labor Studies, and the Labor Archive of Washington State will explain how these documents were produced, used, lost, and found again. Then we'll dig into the significance of those historical events to extract the lessons for the future. Given the current attacks against working people we need all the tools we can gather to fight back and win! Come experience using living history as a building block for the future.
6 p.m. RECEPTION — Grand Ballroom
7 p.m. BANQUET — Grand Ballroom
Mother Jones and Joe Murphy Power to the People Awards
Jon Fromer, "We Do the Work"
"Our WalMart" Campaign
Seattle Labor Chorus
SATURDAY, AUG. 6
9 a.m. — CONVENTION RECONVENES — Grand Ballroom
9:10 a.m. — U.S. Sen. Maria Cantwell
U.S. Rep. Jay Inslee
U.S. Rep. Jim McDermott
Panel on Initiatives
10 a.m. — Roger Goodman
Marco Liias
Laura Ruderman
Affiliate Reports
Lori Ortega
11 a.m. Working Plenary — COPE action and resolutions (until adjournment)
WASHINGTON IS A UNION STATE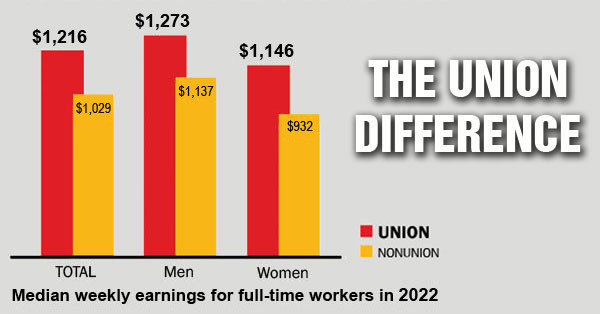 CHECK OUT THE UNION DIFFERENCE in Washington state: higher wages, affordable health and dental care, job and retirement security.
FIND OUT HOW TO JOIN TOGETHER with your co-workers to negotiate for better working conditions and respect on the job. Or go ahead and contact a union organizer today!