Connect the dots, Occupy and labor, immigration…
---
CONNECT THE DOTS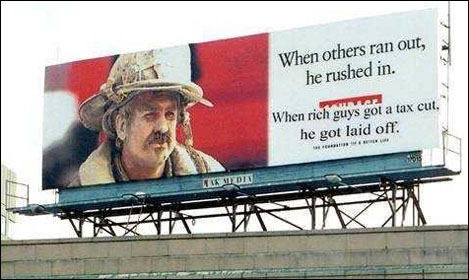 ► In today's NY Times — Obama's jobs plan is blocked again by Senate Republicans — For the second time in 10 days, Senate Republicans filibustered Democratic efforts to take up a jobs bill championed by the president. This time, the bill was narrowed to provide $35 billion to state and local governments to prevent layoffs of teachers, police officers and firefighters. To offset the cost, the bill would impose a surtax of 0.5%, starting in 2013, on income in excess of $1 million. Republicans objected to the tax.
► Today from AP — Obama signs 3 trade deals, biggest since NAFTA — Obama signed deals with South Korea, Colombia, and Panama with none of the ceremonial fanfare that normally accompanies such triumphs. Republicans, while supportive of the deals, continue to find fault with Obama's trade policies. And nearly three-fourths of House Democrats voted against the trade measures.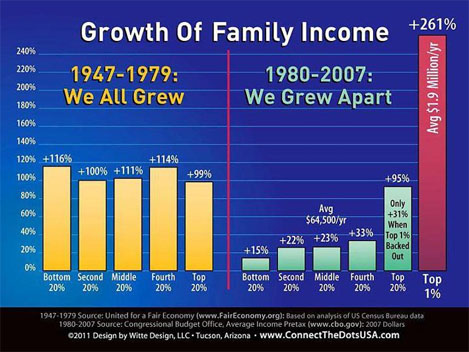 ► From AP — High income workers' share of total wages grows — Fifty percent of U.S. workers earned less than $26,364 last year, reflecting a growing income gap between the nation's rich and poor. The number of people making $1 million or more soared by more than 18% from 2009. Despite population growth, the number of Americans with jobs fell again last year, with total employment of just under 150.4 million — down from 150.9 million in 2009 and 155.4 million in 2008. In all, there were 5.2 million fewer jobs than in 2007, when the deep recession began.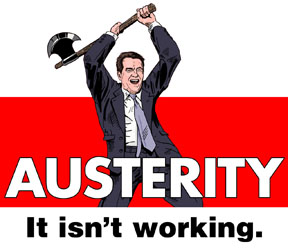 ► In today's Seattle Times — State's 'jobs engine' has monkey wrench tossed in (Jon Talton column) — An estimated 290,000 people lost public-sector jobs nationally between December 2009 and June 2011. Personnel Today reports, "The scale and speed of job cuts in the public sector have been far more severe than initially predicted and are on course to exceed the Government's estimate of 400,000 job losses by 2016." So much for the benefits of "austerity." In the Great Depression, the New Deal put people to work in the public sector until the private labor market could heal. Now the message from D.C. is: You're on your own.
---
OCCUPY WASHINGTON



► In today's Washington Post – Occupy Wall Street, unions get their activism together — The Occupy Wall Street protests that began as a nebulous mix of social and economic grievances are becoming more politically organized — with help from some of the country's largest labor unions, which are mobilizing to provide office space, meeting rooms, photocopying services, legal help, food and other necessities to the protesters. The support is lending some institutional heft to a movement that has prided itself on its freewheeling, non-institutional character.
► In today's Columbian — Occupy Vancouver to hold second rally Oct. 29 — Seeking to keep up momentum in Vancouver's Occupy movement, organizers will hold a second rally at noon Saturday, Oct. 29, at Esther Short Park, 301 W. Eighth St.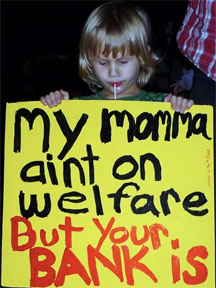 ► Washington's Occupy protests on Facebook: Occupy Bellingham – Occupy Olympia – Occupy Seattle (website) – Occupy Spokane – Occupy Tacoma – Occupy Tri-Cities – Occupy Wenatchee – Occupy Yakima
► In today's Washington Post — It's hard to hate these Occupiers (Harold Meyerson column) — At its best, American radicalism kick-starts an era of liberal reform, to which, as in the '30s and '60s, its zeal is essential. At its worst, that radicalism can hinder those reforms by itself becoming an object of public ire. But Occupy Wall Street, all our assumptions about cultural polarization to the contrary, isn't an object of ire. It's channeling ire — our ire — where ire should go: toward the banks that have fostered and profited from America's decline.
---
LOCAL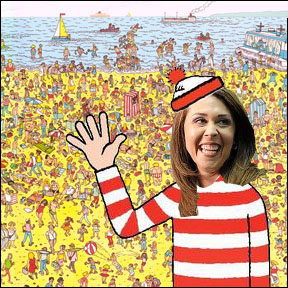 ► At SeattlePI.com — A Tea-Party-backed congresswoman dodges constituents (Joel Connelly) — She was elected in 2010 with backing by Tea Party activists, a boisterous presence at town halls, but U.S. Rep. Jaime Herrera Beutler (R-3rd) has spurned such meetings and speaks to invitation-only gatherings. It raises two questions: Is Herrera Beutler smart and nimble enough, and personally strong enough, to meet  Southwest Washington constituents who like her — and don't like her? Is she hiding from a hurting part of the state where people might bring concerns that can't be answered with sound bites, and speak critical words to their member of Congress?
ALSO SEE — Where's Jaime? Rep. Herrera Beutler avoids her constituents (Aug. 31, The Stand)
► In today's Columbian — DSHS town hall draws a crowd — More than 350 recovering drug addicts, long-term care providers, caregivers for the disabled and others who depend on Washington's tattered safety net got a stark look Thursday at what another $883 million in state social services and health cuts would feel like.
► At SeattlePI.com — Hertz fires 26 Muslim workers over prayer breaks — Car rental firm Hertz fired 26 employees at its Sea-Tac Airport location for failing to clock out when they take their prayer  breaks. The employees say Hertz is trampling on their right to religious freedom.
---
NATIONAL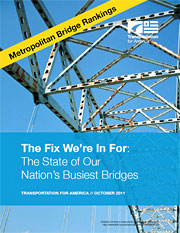 ► At AFL-CIO Now — 18,000 city bridges 'structurally deficient;' fix them and ease the jobs crisis! — A new report shows that more than 18,000 of the nation's busiest bridges clustered in the nation's metro areas are rated as "structurally deficient," meaning they need substantial repair or replacement. A major portion of President Obama's American Jobs Act included funds to put hundreds of thousands of Americans back to work fixing the nation's bridges and roads.
► In today's LA Times — Airline industry continues to hire, for now — For the ninth straight month, the airline industry has added full-time employees. But the industry has yet to reach the pre-recession peak of nearly 420,000 workers in early 2008, and airline execs are now planning to cut back on flights in response to higher fuel prices and decreasing demand.
► In today's NY Times — Wal-Mart cuts health care benefits — After trying to mollify its critics in recent years by offering better health care benefits to its employees, Wal-Mart is substantially rolling back coverage for part-time workers and significantly raising premiums for many full-time staff.
► In today's Washington Post — Anthrax attacks still resonate with postal workers 10 years later — The memories are fresh for those directly affected by the October 2001 anthrax attacks that killed five people, including two postal workers. The bitterness and anger are gone — almost.
► In today's LA Times — California becomes first state to adopt cap-and-trade program
---
IMMIGRATION
► From AP — Few Americans take immigrants' jobs in Alabama — Potato farmer Keith Smith saw most of his immigrant workers leave after Alabama's tough immigration law took effect, so he hired Americans. It hasn't worked out: Most show up late, work slower than seasoned farm hands and are ready to call it a day after lunch or by midafternoon. Some quit after a single day.
► In today's NY Times — Migrants from sanity (Timothy Egan column) — While thousands of jobs go unfilled, politicians talk about death fences and illegal lawn help in the Great Disconnect over immigration.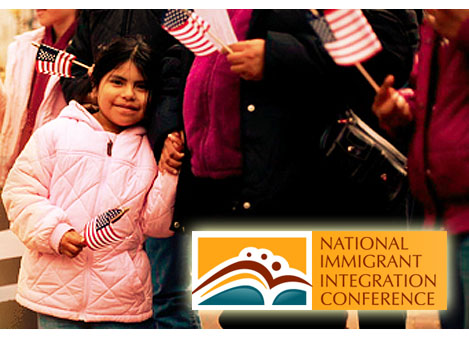 ALSO SEE — Register for national immigration conference Oct. 24-26 in Seattle (The Stand)
---
The Stand posts links to Washington state and national news of interest every weekday morning by 9 a.m. Make this electronic "clip service" your first stop each morning! These links are functional on the date of posting, but sometimes expire.
Short URL: https://www.thestand.org/?p=6397
Posted by
David Groves
on Oct 21 2011. Filed under
DAILY LINKS
. You can follow any responses to this entry through the
RSS 2.0
. Both comments and pings are currently closed.