Keeping WA moving, Hanford charges, labor vs. Obamacare, Unfit for Work…
Tuesday, May 21, 2013
---
STATE GOVERNMENT
► In today's News Tribune — Party lines blur at transportation rally — At least three Republican state lawmakers rallied Monday on the Capitol steps with backers of a gas tax and fee increase that would pay for roads, ferries, mass transit and other transportation improvements. Democrats such as House Transportation Committee Chairwoman Judy Clibborn, Gov. Jay Inslee and U.S. Rep. Denny Heck want it approved in the Legislature this year. The only action so far has been a party-line vote in Clibborn's committee. But organizers promoted the rally's bipartisan flavor.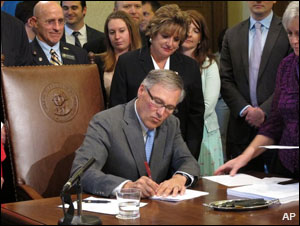 ► In today's Oregonian — Gov. Inslee vetoes anti-Columbia River Crossing measure — Inslee vetoed several sections of a state transportation bill, including one that would have prohibited spending federal money on the project to replace the I-5 Bridge between Portland and Vancouver. Earlier Monday, he announced that officials are close to reaching a mitigation agreement with the second of three upriver companies that make products too large to fit beneath the proposed span.
► In today's Columbian — Inslee vetoes $8.1 million for CRC — It's all or nothing, Gov. Jay Inslee indicated Monday in the battle to get $450 million for the Columbia River Crossing project.
► From AP — Inslee signs $8.7 billion transportation budget — Gov. Jay Inslee signed off on an $8.7 billion transportation budget Monday that puts money toward maintaining state roadways and continues spending on existing big-ticket projects. Earlier in the day, Inslee spoke at a rally in support of a funding package for transportation projects. House Democrats support a proposal to raise the gas tax by 10 cents per gallon to help maintain existing roads, as well as to fund a handful of pending big-ticket projects, but the plan faces skepticism from the Senate majority.
---
LOCAL

► In today's Tri-City Herald — NLRB to issue complaint against Hanford contractors — The NLRB is preparing to issue a complaint on contractor actions during union negotiations with the Hanford Atomic Metal Trades Council. The board proposed a settlement agreement, but CH2M Hill Plateau Remediation Co., which has taken the lead in negotiations for Hanford contractors, declined to sign.
► Last week at AFL-CIO Now — Tacoma union members make it a banner year for union-made peanut butter donations — Alice Phillips of Tacoma is a union leader who's willing to create a little buzz. At least, that's the sound the clippers will make when Phillips, the IBEW business manager, fulfills her pledge to get a Mohawk haircut if the members of IBEW Local 483 would double last year's donation of union-made peanut butter as part of the Letter Carriers' National Food Drive. They brought the jars. So she's on the hook.
ALSO at The Stand — Pierce County unions collect record haul of peanut butter
► In today's Seattle Times — UW Medicine, Catholic health system to have 'strategic affiliation' — The latest in a long list of affiliations in Washington between secular hospitals and religious health-care systems is a shocker: UW Medicine and PeaceHealth announced Monday they had signed up to create a "strategic affiliation," with details to be spelled out by the end of September.
ALSO at The Stand — Tell PeaceHealth execs to 'do the right thing' — The WSNA reports that nurses at PeaceHealth St. Joseph in Bellingham are not being treated fairly during contract negotiations, with management proposing drastic takeaways. A solidarity rally is planned in Vancouver on Wednesday, May 29. Also sign this petition!
► In today's Spokesman-Review — Spokane City Council wants initiatives sent to voters — Voters should have a say on two controversial citizens' initiatives, the Spokane City Council decided Monday on a 4-3 vote. One measure would force developers to seek voter signatures to win approval for certain kinds of development, boost union rights and challenge the rights of corporations. The other would ban corporate donations to city political campaigns.
► In today's Seattle Times — Kemper Freeman plans $1.2 billion expansion in Bellevue — Kemper Development wants to build 2 million square feet of additional retail, office, hotel and residential space covering more than a block of prime real estate in downtown Bellevue.
► In today's Columbian — Fisher Investments plans 2nd building on Camas campus — Forbes columnist and billionaire Ken Fisher plans to break ground in July on a second office building, which will be able to accommodate some 700 workers, at his Fisher Investments' campus in Camas. The company's local presence has grown steadily since 2007 when Fisher opened a temporary office in Vancouver with 50 employees while complaining loudly over what he calls an anti-business climate in California.
EDITOR'S NOTE — Maybe we don't suck!
---
FEDERAL HEALTH REFORM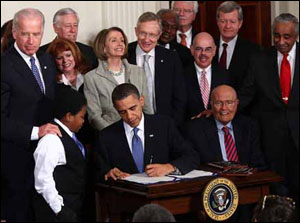 ► In The Hill — Labor uni0ns break with White House on Obamacare — Months after the president's reelection, a variety of unions are publicly balking at how the administration plans to implement the landmark law. They warn that unless there are changes, the results could be catastrophic. The UFCW, the Roofers, UNITE HERE and the International Brotherhood of Teamsters are among the unions pushing for changes.
► In The Hill — Treat nonprofit healthcare fairly (by UFCW President Joe Hansen) — "If you already have health insurance through your job — and because many of you are members of unions, you do — nothing in this plan will require you or your employer to change your coverage or your doctor. Let me repeat: Nothing in this plan will require you to change your coverage or your doctor." Those were the words spoken by President Obama at the AFL-CIO Convention in Pittsburgh on Sept. 15, 2009. But it has become increasingly clear with each passing day is that the president's statement to labor in 2009 is simply not true for millions of workers.
---
CONGRESS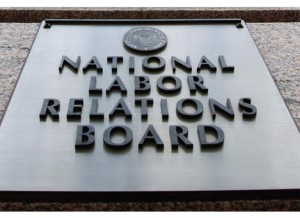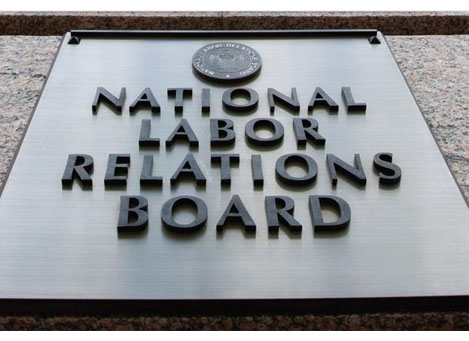 ► At Politico — Clearing NLRB nominees is a clear step forward (by Wilma Liebman) — For more than a year, the National Labor Relations Board has been in limbo, with two of its five seats vacant, and two others under legal challenge. Controversy surrounding the board and broader political battles resulted in Senate deadlock over nominations. But there is an opportunity to bridge the divide and provide some stability to this federal agency. This week, the Senate Committee on Health, Education, Labor, and Pensions will vote on President Barack Obama's nominees to fill all five seats on the board. A committee hearing was held last week. Swift action to confirm these nominees is imperative. It would serve the public's interest in good government and the rule of law.
► In The Hill — Sen. Hatch: No deal yet on tech-backed H-1B visa amendments –Time is running out for Hatch and Schumer to reach a compromise on the amendments; Senate Judiciary Committee Chairman Patrick Leahy (D-Vt.) is aiming to wrap up the panel's markup of the sweeping immigration bill by mid-week. Winning Hatch's support for the bill is seen as critical to its passage by the Gang of Eight because they believe his backing could help sway other GOP members to vote for the bill.
► In today's Washington Post — As rich gain optimism, lawmakers lose economic urgency — Washington has all but abandoned efforts to help the economy recover faster — and lawmakers don't seem worried that voters will punish them for it.
---
NATIONAL
► In today's NY Times — Apple's web of tax shelters saved it billions — Even as Apple became the nation's most profitable technology company, it avoided billions in taxes in the United States and around the world through a web of subsidiaries so complex it spanned continents and went beyond anything most experts had ever seen, Congressional investigators disclosed on Monday.
► At AFL-CIO Now — Make it a union-made Memorial Day holiday — Memorial Day is the unofficial kickoff to the summer holiday season. While the day honors those who have given their lives defending the nation, the weekend also marks the start of grilling season. Here's some union-made food and drink to get your barbecue off to a great start.
---
TODAY'S MUST-READ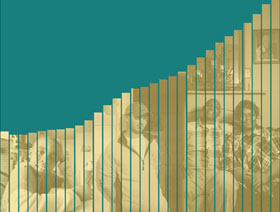 ► From NPR — Unfit for Work: The startling rise of disability in America — In the past three decades, the number of Americans who are on disability has skyrocketed. The rise has come even as medical advances have allowed many more people to remain on the job, and new laws have banned workplace discrimination against the disabled. Every month, 14 million people now get a disability check from the government. The story of these programs — who goes on them, and why, and what happens after that — is, to a large extent, the story of the U.S. economy. It's the story not only of an aging workforce, but also of a hidden, increasingly expensive safety net.
EDITOR'S NOTE — This in-depth report does not belie a partisan agenda. It is a balanced look everywhere from Hale County, Ala., where 1 in 4 working-age adults are on disability, to Grays Harbor County, Wash., where many former mill workers have gone on disability in some cases because there are no other jobs. It notes that the "end of welfare as we know it" in the Clinton era 1990s corresponds to the sudden growth in Americans on disability, and exposes a "Disability-Industrial Complex" that pushes more and more people on disability. It's a thought-provoking read.
---
The Stand posts links to Washington state and national news of interest every weekday morning by 10 a.m.
Short URL: https://www.thestand.org/?p=23962
Posted by
David Groves
on May 21 2013. Filed under
DAILY LINKS
. You can follow any responses to this entry through the
RSS 2.0
. Both comments and pings are currently closed.