SAFE group defends Seattle ironworker against eviction
UPDATE (May 28, 2013) — On May 24, the King County Superior Court stayed the bank eviction of South Park resident Jeremy Griffin, a member of SAFE (Standing Against Foreclosure & Eviction) who has been fighting to stay in his home since 2008. Earlier this month two Court commissioners refused to stay Jeremy's eviction, but on May 24 Commissioner Pro Tem Henry Judson ruled in favor of Griffin following a 10-day blockade of his home set in place by SAFE.
In his Motion to Stay the eviction, Griffin pointed out that the banks involved in this litigation are now claiming they do not own his property. According to the King County Recorder's Office, Griffin's home is owned by Morgan Stanley, with Deutsche Bank acting as their Trustee. But now Morgan Stanley claims they have nothing to do with Griffin's home, which they say is owned by Deutsche Bank. Deutsche Bank, however, says Wells Fargo is the owner, not Deutsche Bank. Wells Fargo, though, contends they are not the owner.
"The Court stay gives us time to sort out which bank owns my home," Griffin said. "Perhaps because of the eviction blockade, no bank wants to admit its involvement."
The stay on the eviction is in effect until June 25 when all parties will next argue their case in Superior Court. SAFE has suspended its blockade until the June 25 hearing.

---
By STEPHEN PRICE
Special to The Stand
SEATTLE (May 21, 2013) — On the same day a King County Superior Court commissioner denied Jeremy Griffin's motion to avoid eviction from his South Park home, the Sheriff posted a notice ordering the union ironworker to vacate his home by midnight on Tuesday, May 14.
This is a scene that has played out millions of times across the country and thousands of times in Washington State since the recession began. But this time, the Sheriff met some resistance, thanks to a group called SAFE (Standing Against Foreclosure & Eviction).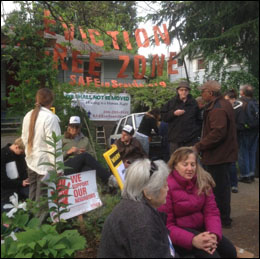 A week later, SAFE members are still camped out in Griffin's yard waiting for the Sheriff to arrive. His home is covered with banners reading: WE SHALL NOT BE MOVED, EVICTION-FREE ZONE, and TOGETHER WE CAN FIGHT THE BANKS. Many of the protesters, whose tactics are strictly non-violent, are prepared to risk arrest by standing between authorities and Griffin's home. (Visit SAFE's Facebook page for the latest updates.)
With numerous lawsuits pending against the big banks that allege illegal evictions, refusal to negotiate with families, and documented acts of fraud, SAFE members say that the banks "have lost their right to prey on our community."
"Hundreds of Seattle homes go to auction each month" said SAFE's Josh Farris, a member of the Electrical Workers (IBEW). "With more vacant homes than people sleeping on the street, we need a moratorium on all bank evictions."
According to Larry Benes, a SAFE member, military veteran, and 10-year union stevedore whose home is also in foreclosure, "The big banks are corrupt and should not be allowed to ruin families and blight our communities. At some point, you've got to say, 'Enough'!"
Jeremy's Story
For years, Jeremy Griffin has labored as an ironworker on construction projects, reading plans, and physically carrying on his shoulders tons of rebar each day.
When the Great Recession hit, the construction industry dried up, along with Jeremy's income. After the stress of years of unemployment and underemployment, his life partner left him. Soon his mortgage went into default.
Then in 2012, the construction industry began to revive, and Jeremy got a job again as an ironworker on a bridge near his South Park home. He told his bank, Wells Fargo, he could now pay his mortgage, but they weren't interested. He even delivered to Wells Fargo's Seattle headquarters his $1,200 rent checks.
On his first rent delivery, Wells Fargo threatened to call the police. On his second delivery, they opted to close the entire 47-story headquarters for the afternoon, rather than accept his money.
"The building trades went through a tough time with the recession," said Ironworkers Local 86 Business Manager Steve Pendergrass. "Jeremy always wanted to work, now things are looking good and he has solid work — it's a terrible thing that the bank won't renegotiate and keep him in his home."
Learn more about Jeremy's story here.
How You Can Help
If you want to be part of SAFE's Rapid response Network to protest when authorities come to evict (you can protest without risking arrest), here's how you sign up:
1. Go to SAFE's website: www.SAFEinSeattle.org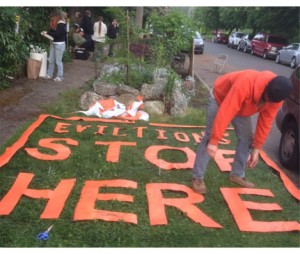 2. Click JOIN RRN
3. Complete contact information
4. Click SUBMIT
If you are nearing foreclosure, or would like to stand together to fight the banks, please contact SAFE, 206-203-2125 or info@SAFEinSeattle.org. SAFE also has weekly meetings at 7 p.m. on Tuesdays, at Bethany UCC, 6230 Beacon Ave. South (corner of Graham St.). All are welcome.
SAFE is made up entirely of volunteers and homeowners dedicated to building a mass movement to stop bank evictions, achieve principal reductions, and put people before profit. SAFE believes Housing is a Human Right.
Short URL: https://www.thestand.org/?p=23858
Posted by
David Groves
on May 21 2013. Filed under
LOCAL
. You can follow any responses to this entry through the
RSS 2.0
. Both comments and pings are currently closed.