AFL-CIO moves to address diversity, protect women, align with community
By JEFF JOHNSON
President, Washington State Labor Council, AFL-CIO

---
LOS ANGELES (Sept. 9, 2013) — The AFL-CIO is holding its 2013 Convention here this week. Washington State Labor Council Secretary-Treasurer Lynne Dodson, WSLC Vice President Mari Wyatt and I are here representing our state federation.
This convention brings together community partners with labor to build a movement committed to creating shared prosperity for America's working class and to organize around a collective voice at the workplace and in our communities. The goals of the convention are to begin the process of building labor-community density for leveraging real power to change the path of our economy and democracy to reflect the needs of the America's working families.
Prior to the start of the convention a conference attended by more than 1,000 labor and community leaders focused on building a truly diverse and inclusive labor movement.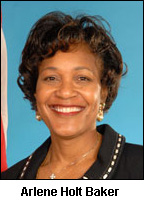 "Our goal is beautiful in its simplicity, we need a labor movement that reflects the whole of society," said AFL-CIO Executive Vice-President Arlene Holt Baker. "America is soon to become a majority minority country, where women will represent more than 50% of the workforce and we will have the largest wave of young workers since the baby boom generation."
Civil and human rights leader the Rev. James Lawson and Kent Wong of the UCLA Labor Center repeatedly brought the audience to their feet projecting a human-rights frame:
"When seven out of 10 workers work at poverty wages, that is just another name for slavery;"
"We have to fight against the Walmartization of our economy and society;"
"Criminalizing communities of color through mass deportations and mass incarceration has to stop;"
"We need more strikes, sitdowns, and nonviolent direct action — back to the traditions of the '20s and '30s."
When the AFL-CIO Convention convened Sunday afternoon, three resolutions were brought to the floor for discussion and a vote that reflected the morning's discussions recognizing the changing demographics of our workforce and country. Resolutions 18, 19 and 20 addressed building a diverse labor movement through investing in and engaging young workers, building racial and gender diversity in leadership positions up and down the labor movement, and standing with women for equality of pay, the right of women to control their bodies and reproductive choices and to be free from violence; and the right of every woman to meet her fullest potential. All three resolutions passed.
U.S. Sen. Elizabeth Warren (D-Mass.) energized delegates when she listed a series of things labor believes in, such as regulating the banks, taxing the wealthy, affordable health care, etc. , that business interests oppose. But as she said, "The American people are on our side. Our agenda is America's agenda. The American people know that the system is rigged and against them and they want us (labor) to level the playing field. That's our mandate. That's what we're here to do."
UFCW President Joe Hansen spoke passionately about how important it was for labor to speak with one voice and how proud he was for UFCW to rejoin the AFL-CIO. It was exciting to see the UFCW gold back in the room and the house.
The most emotionally impactful moments of the first session were when Myrtle Witbooi, the South African leader of the International Domestic Workers Network, marched in with a delegation of domestic workers from around the world and the country singing:
My mother was a kitchen girl.

My father was a garden boy.

That is why I'm a unionist, a unionist, a unionist.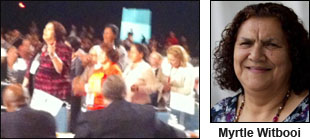 "We decided, enough of slavery, we want to be treated as workers, but we need your help," Myrtle said. "Some employers like to say we are like family to them. We are not their family. If we are family then we should sit at the dining room table and they should get up and serve us. We need a union. We need your help."
President Trumka declared, "I gotta tell you, these women are my heroes."
Well, let me tell you, they were everyone's heroes today.
---
Jeff Johnson is President of the Washington State Labor Council, AFL-CIO, the state's largest union organization, representing approximately 400,000 rank-and-file union members.
Short URL: https://www.thestand.org/?p=26512
Posted by
David Groves
on Sep 9 2013. Filed under
NATIONAL
. You can follow any responses to this entry through the
RSS 2.0
. Both comments and pings are currently closed.