Fast for Families, classrooms for kids, minimum wage must-read…
Wednesday, March 5, 2014
---
LOCAL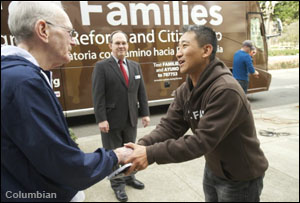 ► In today's Columbian — Immigration reform advocates stop in Vancouver — A traveling campaign for federal immigration reform stopped in Vancouver on Tuesday, urging leaders to get behind a broad overhaul of the nation's immigration system. Advocacy group Fast for Families and its supporters rolled through Clark County to call on U.S. Rep. Jaime Herrera Beutler (R-Camas) to back immigration reform.
ALSO at The Stand — Immigration reform bus tour arrive in state this week —  Welcome the Fast for Families bus TONIGHT in Yakima from 6:30 to 8 p.m. at St. Michael's Episcopal Church, 5 S. Naches Ave, and tomorrow night in Spokane at 6 p.m. at Gonzaga University's Foley Library (1st floor), 502 E. Boone Ave.
► In today's Olympian — Behavioral Health workers set strike — Employees at the cash-strapped Behavioral Health Resources (SEIU Healthcare 1199NW) have scheduled a weekend-long strike in response to contract negotiations.
ALSO see SaveBHR.com — Workers are calling on management to work together with them to maximize billable hours and find a way to work smarter to stabilize finances of the struggling provider that services Thurston, Mason, and Grays Harbor counties.
► In today's News Tribune — Rally backing $15 hourly wage set for Tacoma — Proponents of a $15-an-hour minimum wage will rally near Walmart on Saturday to promote their effort to raise entry-level pay rates.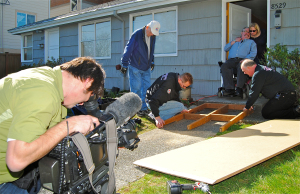 ► At IAM 751's blog — IAM volunteers rebuild ramp, and man's faith — "It's so fantastic — I can't believe this is happening," said Tim Owens, as volunteers from Machinists Union District Lodge 751 installed a new 6-foot ramp at his north Seattle home. "Yesterday, I was in total despair. Today, I have hope." On Feb. 27, Owens discovered that the aluminum wheelchair ramp he had used to get out his front door had been stolen.
---
BOEING



► In today's P.S. Business Journal — St. Louis was runner-up site for Boeing 777X, leaders suggest — New details give weight to Boeing's contention that it wasn't bluffing about the possibility of building its next new plane in another state, when it pressured Puget Sound-area Machinists to reopen their contract and accept the loss of their hard-fought pension plan.
---
STATE GOVERNMENT



► From House Democrats — House approves bipartisan plan to build classrooms — On a strong bipartisan 90-7 vote, the House of Representatives approved a plan to put as much as $700 million toward building schools to reduce K-3 class sizes and comply with the state Supreme Court's order to fully fund education.
ALSO at The Stand — Bipartisan school construction plan would benefit K-3 classes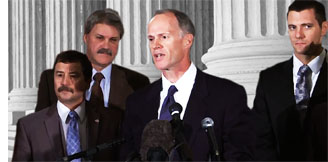 ► In today's News Tribune — State treasurer raises doubts over popular House plan to fund school classrooms — Washington Treasurer Jim McIntire has warned state legislators that a $700 million proposal to pay for new school classrooms using Lottery funds could risk the state's bond rating and drive up borrowing costs. Key members of the Senate Majority Coalition Caucus are skeptical of tying up Lottery funds, and McIntire's letter likely gives them ammunition to shoot at the House proposal.
---
AFFORDABLE CARE ACT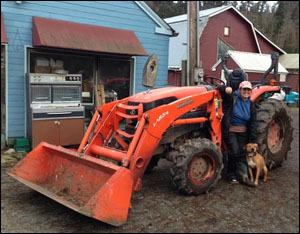 ► At Crosscut — Local farmer to state lawmakers: Keep health care affordable (by Carrie Little) — A few weeks ago, as I was carting hay out to the sheep, all hell broke loose. A ram went on a rampage, charging me again and again. I wound up scraped and bruised, with a broken leg. Fortunately, my brand new health coverage worked just fine — I was whisked through the ER, and my hospital bills, cast and orthopedic doctor visits were fully paid. However, the injury forced me to cancel a trip to Olympia I'd planned for the next day. As luck would have it, I'd intended to thank lawmakers for accepting the federal dollars offered by the Affordable Care Act to broaden Medicaid, which is now Apple Health. Had I been able to go, I would have told our elected leaders just how important health care is to farmers. Nobody who works this hard should have to count the years before they get Medicare.
► In The Hill — Poll finds voters warming up to Obamacare — While 34% said they would be more likely to vote for a candidate who supports the healthcare law, 36% said they would be less likely to vote for that candidate. For supporters of the healthcare law, the poll's findings are a marked improvement from November, when those numbers were 21% and 37%, respectively.
► At Huffington Post — Obamacare just made Americans richer without anyone noticing — Glenn Beck once said Obamacare would mean "the end of prosperity in America forever." But so far, it turns out President Obama's 2010 health law is actually putting money in Americans' wallets. To be exact, President Obama's 2010 health law was responsible for about three-quarters of a surprising January rise in U.S. consumer spending and American income growth, according to calculations by the Wall Street Journal.
---
FEDERAL GOVERNMENT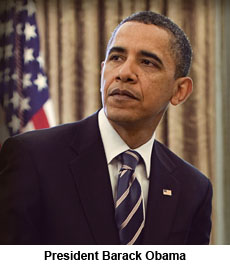 ► In today's Washington Post — Obama sends $3.9 trillion budget plan for fiscal 2015 to Congress — President Obama sent Congress a $3.9 trillion budget blueprint Tuesday that seeks fresh spending to boost economic growth but also aims to tame the national debt by raising taxes on the rich, squeezing payments to health-care providers and overhauling immigration laws.
► At AFL-CIO Now — Obama budget 'good starting point' to address income inequality — AFL-CIO President Richard Trumka: "President Obama's proposals to invest in jobs, raise the minimum wage, expand the (earned income tax credit), close tax loopholes for the wealthy and provide access to universal pre-kindergarten are good starting points to seriously address inequality."
► In today's Spokesman-Review — Hanford cleanup money cut back in Obama budget plan — President Barack Obama has proposed cutting $67 million from efforts to clean up the Hanford nuclear waste site, drawing the ire of lawmakers from both sides of the aisle.
► In today's NY Times — The what-might-have-been budget (editorial) — President Obama's proposal for 2015 shows how many national goals could be won by cutting unnecessary and unfair tax breaks for the rich.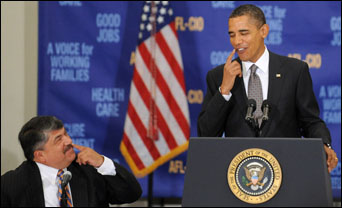 ► From Bloomberg — Labor gains in D.C. amid falling membership — Democratic leaders have shelved a measure to encourage free-trade agreements — which unions hate — and are moving to raise the minimum wage to $10.10 an hour. President Barack Obama is seeking more for labor-backed job training programs in his budget request. And workers are winning key decisions by the Democrat-dominated National Labor Relations Board, after Obama helped clear the way for it to operate again at full strength.
EDITOR'S NOTE — These policies — opposing more NAFTA-like trade deals, supporting a higher minimum wage and job training — are all popular positions among the American public, not just union members. And having a functional NLRB that actually enforces existing labor laws is not a gift to unions, it is the bare minimum in a country that purports justice for all. These aren't just gains for labor, these are gains for all American workers. We all do better when we all do better.
---
TODAY'S MUST-READ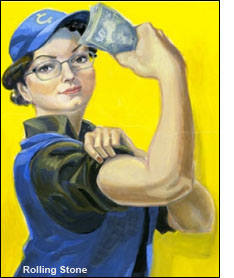 ► In Rolling Stone — Hey, Washington! The pay is too damn low — There are few government interventions that can match the elegance of a higher minimum wage. It boosts the fortunes of the working poor and the economy at large, with minimal trade-offs. Raising the minimum wage does little or nothing to dampen job growth.
Outside of Washington, D.C., raising the minimum wage is not a partisan issue. Supported by more than 70 percent of Americans, the policy achieves both liberal and conservative goals: It alleviates poverty even as it underscores the value of hard work. It reduces corporate welfare even as it lessens dependence on the social safety net. Today, taxpayers are shelling out nearly $250 billion a year on welfare programs for the working poor. Nearly 40 percent of food stamps are paid out to households with at least one wage earner.
And for Democrats, the politics of a higher minimum wage are as solid as the economics.
---
The Stand posts links to Washington state and national news of interest every weekday morning by 10 a.m.
Short URL: https://www.thestand.org/?p=30277
Posted by
David Groves
on Mar 5 2014. Filed under
DAILY LINKS
. You can follow any responses to this entry through the
RSS 2.0
. Both comments and pings are currently closed.