Eyman sans business, grain talks, best worst president…
Wednesday, July 9, 2014
---
ELECTION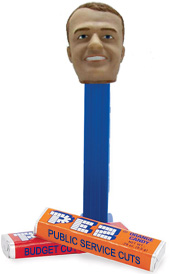 ► In today's Seattle Times — Tim Eyman losing support, money from business (by Danny Westneat) — In recent election cycles, 2009 through 2012, Eyman raised an average of $1.1 million a year. It peaked in 2012, when his tax-limiting Initiative 1185 raised $1.4 million, almost all of it from large corporations or their associations (the beer industry, big oil, restaurants, etc.). All were seeking to resist a drive in the Legislature to raise taxes. This year Eyman raised only about one-tenth that amount and couldn't afford to hire professional signature gatherers. In the past he's had some wealthy individual donors, but they didn't step up this year. One of them, Michael Dunmire, of Woodinville, died in March. But more notable was that Eyman got next to nothing from business.
► In today's Spokesman-Review — Washington gets reprieve from Eyman initiatives (editorial) — Tim Eyman often refers to Olympia's "insatiable" desire for tax dollars, but he exaggerates the state's level of taxation and revenue collection. Because of the Great Recession, the Legislature cut $11 billion over several budget sessions. Lower tax collections also led to large state college tuition increases and a hefty annual fee to visit state parks. From 2001-2011, only seven states limited spending more than Washington, and the tax burden has dropped relative to previous decades. In 1990, state revenue collection was about 7 percent of total personal income. In 2013, it was below 5 percent, according to the State Economic Revenue and Forecast Council.
► In today's Tri-City Herald — Congressional forum stokes Tea Party issues — Six of the eight Republicans seeking to replace Doc Hastings in Congress offered plenty of red meat for the staunchly conservative audience at a Yakima candidate forum Tuesday. Protecting gun rights, impeaching Obama, cutting federal agency budgets and strictly interpreting the U.S. Constitution came up again and again throughout the two-hour forum.
---
STATE GOVERNMENT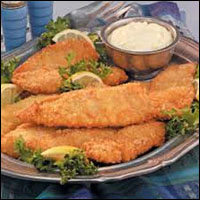 ► In today's (Everett) Herald — Inslee to outline fish consumption plan — Gov. Jay Inslee is scheduled to say today in Olympia how he plans to handle the issue. The governor is in a tough spot politically. Indian tribes and environmentalists say people deserve more protection from pollution. But other key Inslee constituencies including the Association of Washington Cities and some labor groups have aligned with Boeing, as well as the Greater Seattle Chamber of Commerce and other business interests, saying that if the pollution rules are tightened, there is no technology available to meet the new discharge limits that would result.
---
LOCAL



► In today's Oregonian — Federal mediator calls ILWU, grain handlers to Portland area to renew talks — Negotiations between the ILWU and the Pacific Maritime Association, whose members operate West Coast ports, are on a three-day break so the union can negotiate with a group of Northwest grain handlers. The union is bargaining with "grain employers Louis Dreyfus Commodities, Marubeni-Columbia Grain and Mitsui-United Grain," said a union spokesperson. Relations between the union and the companies have been chilled since longshore workers were locked out by United Grain and Columbia Grain more than a year ago.
---
FEDERAL GOVERNMENT



► In The Hill — Lawmakers hit the gas to save highway fund — A sense of urgency took hold in the Capitol on Tuesday, as lawmakers ramped up work on legislation to prevent states from suffering a 28 percent cut in transportation funding next month. But even with the burst of activity, top tax writers in both the House and the Senate stopped short of saying they had a deal that would avert sidelining thousands of construction workers in the heat of an election year.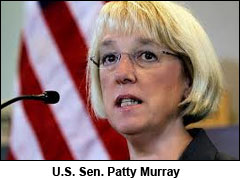 ► At Huffington Post — Democrats fast-track bill to override Hobby Lobby decision — Senate Democrats are expediting legislation that would override the Supreme Court's decision in the Hobby Lobby case and compel for-profit employers to cover the full range of contraception for their employees, as required by the Affordable Care Act. The bill, which is co-authored by Sens. Patty Murray (D-Wash.) and Mark Udall (D-Colo.), would ban for-profit companies from refusing to cover any federally guaranteed health benefits for religious reasons, including all 20 forms of contraception detailed in the Affordable Care Act.
► At Think Progress — How corporate tax cheats still get billions in government business — Despite supposed bans on companies that move offshore to avoid paying U.S. taxes getting federal contracts, more than a dozen large offshored companies get more than $1 billion a year from government work, according to a Bloomberg News investigation.
► In today's NY Times — Obama asks for $3.7 billion to aid border — The request quickly became entangled in the fierce political debate over immigration: Republicans said they could not immediately support Obama's request, given what they called his administration's failure to secure the Mexican border after years of illegal crossings. Obama could face resistance from members of his own party as well.
► At Politico — Obama's warning: 'Right-size' immigration expectations — Just after President Barack Obama had finally soothed frustrated immigrant-rights activists by vowing to use his executive power to patch the immigration system, he issued a plea of his own to the group assembled at the White House. "We need to right-size expectations," Obama said.
EDITOR'S NOTE — Really? Somebody thinks it's a good idea for the president to use corporate-speak associated with mitigating PR fallout from mass layoffs to temper expectations on immigration reform?! That's definitely not the "creative breakthrough" in messaging that Obama needs to stay relevant.
► In today's Washington Post — VA employees testify about retaliation against whistleblowers — Four Department of Veterans Affairs employees on Tuesday night testified before a House panel that supervisors retaliated against them for exposing problems at VA medical centers, saying whistleblower-protection issues deserve as much attention as the agency's recent scheduling scandal.
---
NATIONAL



► MUST-READ at Huffington Post — Why collective bargaining is a fundamental human right (by Robert Creamer) — The right to freedom of association — and to collectively bargain wages and working conditions — is a foundational principle of every democratic society on earth. It's time for us to make the right to join a union and bargain collectively the keystone of the progressive agenda. After all, collective bargaining is the fundamental cure to the growing inequality that threatens to destroy the middle class and eats away at the very foundation of our democratic society.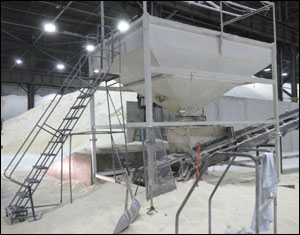 ► At Daily Kos — Temp worker killed on the job 13 days after managers removed safety device — In states across the country, temp workers are dramatically more likely to be injured on the job — 50 percent more in California and Florida, 72 percent more in Minnesota. In at least four states, temp workers are three times more likely to suffer amputations than permanent employees. Numbers like that are the product of reckless disregard by employers. Disregard like this: In 2013, a temp named Janio Salinas was buried alive in sugar in a Pennsylvania warehouse staffed entirely by temps, up to and including the warehouse manager. A screen that OSHA said would have prevented workers from falling into the sugar hopper was removed 13 days before Salinas' accident because it was slowing down production. For this, the company was hit with a $25,855 fine that was dropped to $18,098 when it installed a safety guard and improved its safety procedures.
► In today's LA Times — Truckers strike briefly shuts 4 terminals at L.A., Long Beach ports — More than a 120 truck drivers launched a strike Monday alleging widespread workplace violations against three harbor-area firms that haul freight from the Los Angeles and Long Beach ports.
► In today's NY Times — Lessons of a for-profit college collapse (editorial) — A deal reached with Corinthian Colleges in which the company will shut down or sell scores of campuses makes clear that stronger rules are needed to qualify for federal aid.
---
TODAY'S MUST-READ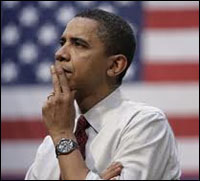 ► In today's SF Chronicle — The best worst president ever (by Mark Morford) — "Obama is the worst thing to ever happen to this country," declares the wealthy, rakish, silver-haired Newport Beach white guy to his small group of perfectly tanned 50-something females sitting just a few feet away from us at a stunning restaurant patio overlooking the sun-kissed California coastline, just off of Highway 1, as he sipped his pinot and adjusted his wraparound Ray Bans, flush from the economy's spectacular recovery that has benefited his exact demographic most of all, stroking his purebred dog and taking various selfies with their $500 phones, oblivious to the furious swirls of irony and hypocrisy fluttering just above their heads… I desperately wanted to ask Mr. Newport Beach what his stock portfolio looked like a mere six or seven years ago, when Bush & Co. ravaged the country and led us into one of the deepest, most brutal social and economic pits in modern history. Did he lose half his net worth? More? Was he worried he couldn't feed his family or pay his mortgage? Did he lose his house? His job? Did he blame Bush? Clinton? Islam? The gays? And by the way, how does he like the recovery so far? Which of his three perfect, multimillion-dollar homes was he on his way to, right now?
EDITOR'S NOTE — This excellent rant reminded me of this excellent rant.
---
The Stand posts links to Washington state and national news of interest every weekday morning by 10 a.m.
WASHINGTON IS A UNION STATE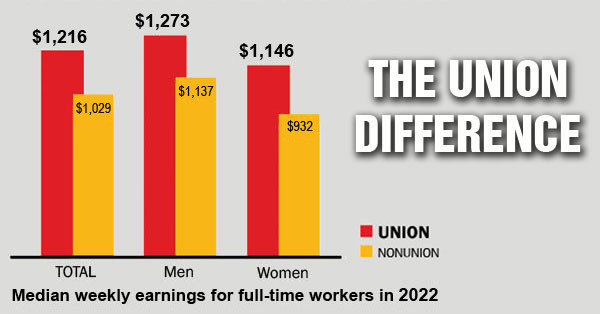 CHECK OUT THE UNION DIFFERENCE in Washington state: higher wages, affordable health and dental care, job and retirement security.
FIND OUT HOW TO JOIN TOGETHER with your co-workers to negotiate for better working conditions and respect on the job. Or go ahead and contact a union organizer today!