WASHINGTON, D.C. (July 28, 2014) — Across America, state budgets are being balanced on the backs of current and former public employees by breaking commitments to fund their defined-benefit retirement plans. Gov. Chris Christie (R-NJ) is the latest to go this route, warning his state's fire fighters, police officers, teachers and other public employees last week that he'll propose skipping a couple (more) yearly installments against the state's pension liability due to an unexpected revenue shortfall.
"Promises were made that can't be kept," said the Republican presidential hopeful. "Welcome to the real world, folks."
These pension attacks come amid what many experts consider to looming retirement crisis not seen since the creation of the Social Security system. In Forbes magazine, Edward Siedle went a step further, declaring that America is on the precipice of the greatest retirement crisis in the history of the world:
In the decades to come, we will witness millions of elderly Americans, the Baby Boomers and others, slipping into poverty. Too frail to work, too poor to retire will become the "new normal" for many elderly Americans.
This excellent new video produced by the International Association of Fire Fighters (IAFF) reminds us that, especially for fire fighters who won't receive Social Security benefits, these defined-benefit pensions are deferred wages, not some gold-plated luxury, and they are absolutely necessary to keep them out of poverty.
The IAFF video also calls out the ideologically driven billionaires who are behind these attacks on public employees' pensions.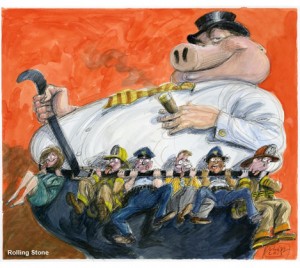 For more information on that, read Rolling Stone magazine's excellent report — The Looting of Pension Funds — that blows the lid off who's behind the attacks on public employee pensions: the very billionaires who caused the Great Recession in 2008. They've waged a campaign to brainwash many politicians so that "states all over the country are claiming they not only need to abrogate legally binding contracts with state workers but also should seize retirement money from widows to finance years of illegal loans, giant fees to billionaires… and billions in tax breaks."